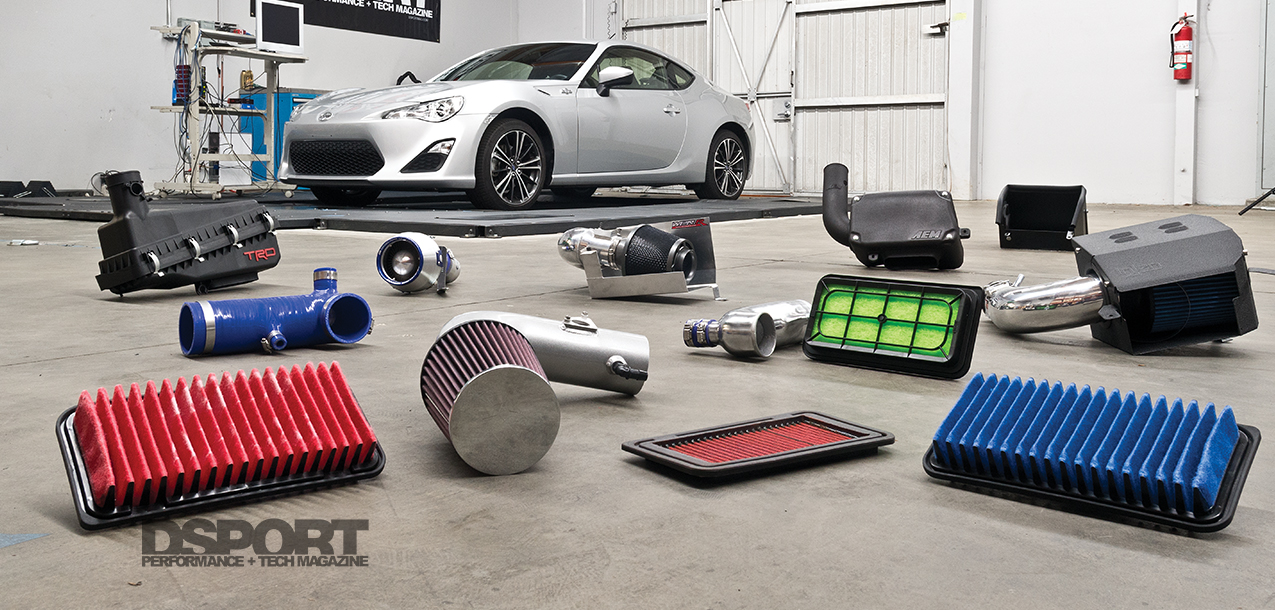 INJEN SP Series Intake
QUICK FACTS Positive + Highest Horsepower in 6,000-6,500 RPM range + Highest Horsepower in 5,000-5,500 RPM range + Highest Horsepower in 4,500-5,000 RPM range + Highest Horsepower in 4,000-4,500 RPM range + Second Highest Horsepower in 5,500-6,000 RPM range + Second Highest Horsepower in 3,500-4,000 RPM range Negatives – Steel air box is a bit heavy – Sound tube deleted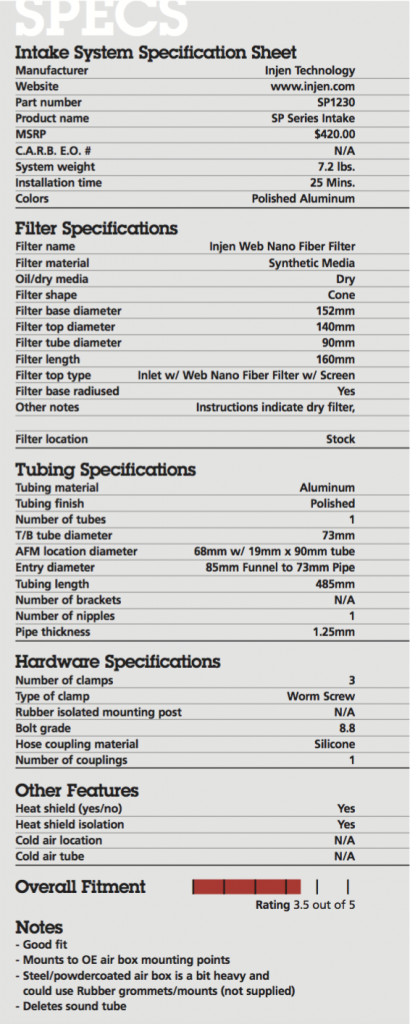 Overview:
The Short Ram SP Series is a traditional, underhood air intake system that takes the place of your factory airbox and air filter, and the factory air intake tube. A synthetic dry filter media is used.
Analysis:
The Injen SP Series intake system scored well from 3,500 RPM until redline. The OE mounting points are used to to secure the air box. Overall, a good fit but rubber mounts or grommets would be a nice addition.
(Left) A calibration tube is used to optimize the MAF sensor signal. (Right) This box helps isolate the filter from heat in the engine compartment.
(Left) The Injen SP Intake provides a machined MAF sensor boss. (Right) The synthetic media with screen mesh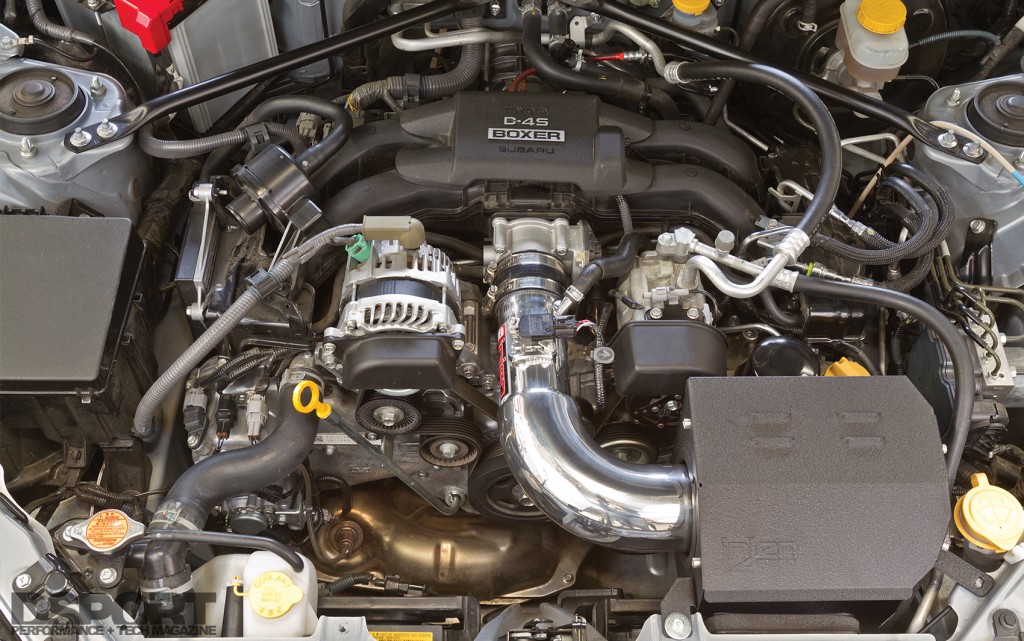 Average Horsepower + Average Air Fuel Ratio
---
Scion FR-S/BRZ Intake Test: Pt 1 (Stock ECU)
• Part One Intro
• Intake Showcase (Part One)
AEM ETI INTAKE SYSTEM
,
BLITZ ADVANCED POWER AIR
,
HKS PREMIUM SUCTION
,
INJEN SP SERIES
,
K&N 69-SERIES TYPHOON
,
TAKEDA MOMENTUM
,
TRD PERFORMANCE AIR INTAKE
,
WEAPON-R SECRET WEAPON
,
APEXI POWER INTAKE FILTER
,
AVO TURBO WORLD SILICONE INLET COMBO PIPE
,
BLITZ SUS POWER FILTER LM
,
K&N REPLACEMENT AIR FILTER
• Part One Conclusion
Ecutek FR-S | Reprogramming the Power-Limiting Factory ECU
Scion FR-S/BRZ Intake Test: Pt 2 (EcuTek ECU)
• Part Two Intro
• Intake Showcase (Part Two)
AEM ETI INTAKE SYSTEM
,
BLITZ ADVANCED POWER AIR
,
HKS PREMIUM SUCTION
,
INJEN SP SERIES
,
K&N 69-SERIES TYPHOON
,
TAKEDA MOMENTUM
,
TRD PERFORMANCE AIR INTAKE
,
WEAPON-R SECRET WEAPON
• Part Two Conclusion