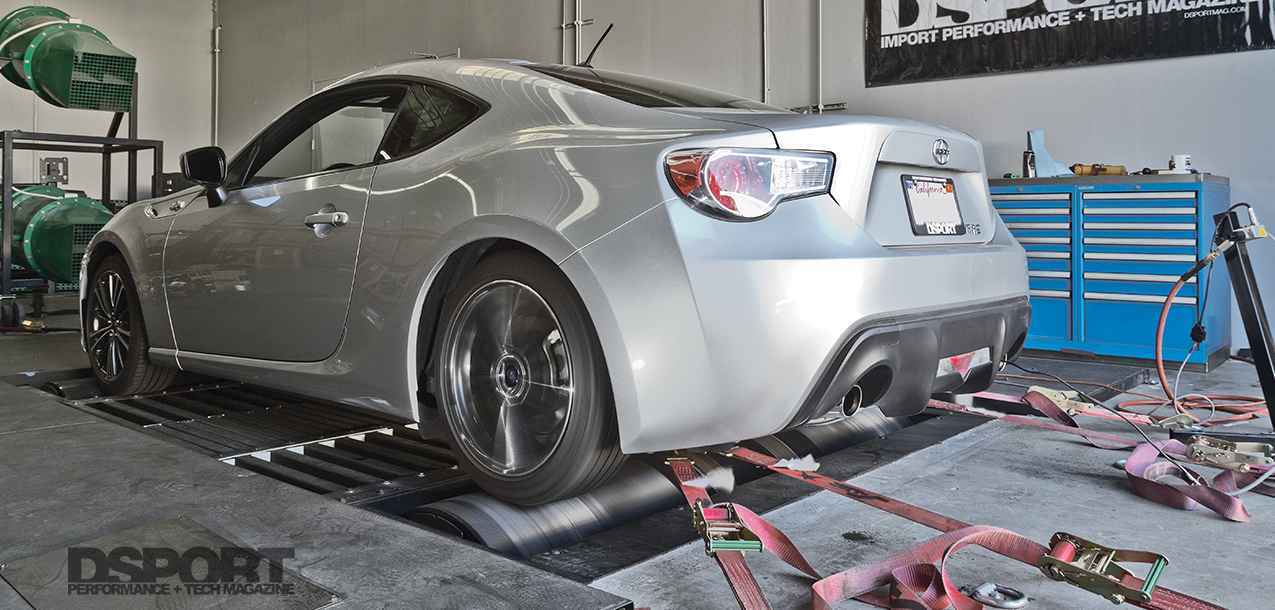 INJEN
SP Series Intake
QUICK FACTS

Positive + Best performer at 3500 RPM, 5100-5500RPM + Best performer at 5700, 6100-6300, 6600, 7000 RPM + Second Highest Peak Power + Best Average Power in 5000-5500 RPM Range + Best Average Power in 6000-6500 RPM Range + Largest Area Under the Curve Negatives – Limited power gained in the 3000-3400RPM range
[pullquote] 183.14 WHP w/ EcuTek 179.41 WHP w/ Stock ECU 170.89 WHP Baseline [/pullquote]
Overview:
The SP Series Intake from Injen provided some of the best performance on the stock ecu tune. This remained true through the dyno tuning process. This intake produced a consistent horsepower increase throughout the power band and one of the highest peak horsepower numbers. The tuning also helped to produce some of the most significant gains in torque production over the stock ecu tune.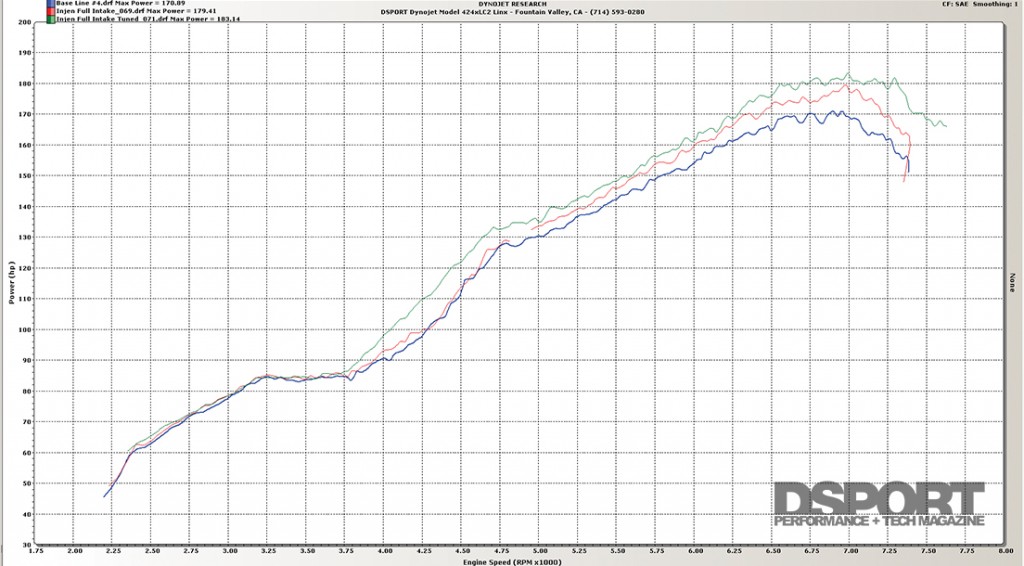 Peak Results- HP: +3.73 @ 7000 RPM TQ: +6.91 @ 4700 RPM
Max Gains- HP: +15.69 @ 7300 RPM TQ +13.26 @ 4300 RPM
Tech Notes:
Injen's SP Series intake produces its best power from the end of 4,800 RPM all the way to the end of the run. The EcuTek tuning provided substantial gains in the mid range and continued to make power until redline.
---
Scion FR-S/BRZ Intake Test: Pt 1 (Stock ECU)
• Part One Intro
• Intake Showcase (Part One)
AEM ETI INTAKE SYSTEM
,
BLITZ ADVANCED POWER AIR
,
HKS PREMIUM SUCTION
,
INJEN SP SERIES
,
K&N 69-SERIES TYPHOON
,
TAKEDA MOMENTUM
,
TRD PERFORMANCE AIR INTAKE
,
WEAPON-R SECRET WEAPON
,
APEXI POWER INTAKE FILTER
,
AVO TURBO WORLD SILICONE INLET COMBO PIPE
,
BLITZ SUS POWER FILTER LM
,
K&N REPLACEMENT AIR FILTER
• Part One Conclusion
Ecutek FR-S | Reprogramming the Power-Limiting Factory ECU
Scion FR-S/BRZ Intake Test: Pt 2 (EcuTek ECU)
• Part Two Intro
• Intake Showcase (Part Two)
AEM ETI INTAKE SYSTEM
,
BLITZ ADVANCED POWER AIR
,
HKS PREMIUM SUCTION
,
INJEN SP SERIES
,
K&N 69-SERIES TYPHOON
,
TAKEDA MOMENTUM
,
TRD PERFORMANCE AIR INTAKE
,
WEAPON-R SECRET WEAPON
• Part Two Conclusion