Sony and Ericsson. Apple and Intel. Boeing and McDonnell Douglas. Former rivals turned staunch allies have formed some of the most powerful collaborations in the world. When determination and a competitive spirit drive two competing companies, it's no wonder that their combined strength grows exponentially when they form a partnership.
Text and Photos by Richard Fong
---

Forging An Alliance
Anthony Le and Doug Jenkins of Power Pros were bitter opponents at the track and anywhere else they interacted since the infancy of import racing. Every encounter was a test to see whose latest upgrades made more power. As time passed, these rivals grew to be allies. They started to help one another on the way to faster passes down the quarter mile.
Although Anthony gave up street racing to focus on his career as a mechanical engineer, his visits to Doug's shop brought him back into the scene. Limited on funds but hungry for power, Anthony agonized whether he should build another street-class racer. To make that decision easier, Doug offered to help him build a turbocharged monster if Anthony could come up with a decent chassis. Presented with an opportunity he couldn't pass up, Anthony went on the hunt. He found this clean 2001 DC2 Integra chassis and the team went to work on the car.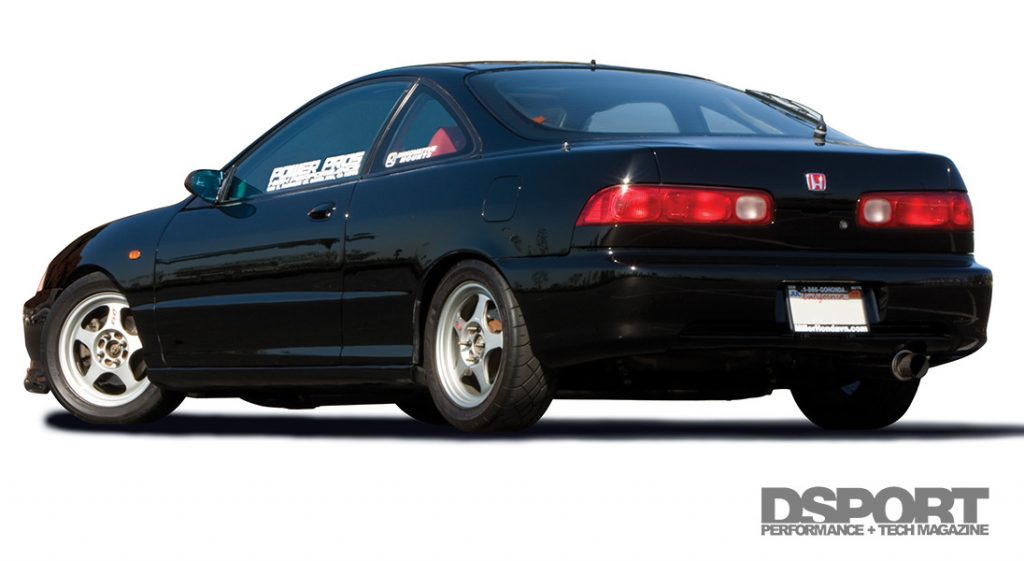 Team Effort
A B18C1 block from an Integra GSR became the cornerstone of this build. The block received ductile-iron sleeves from RS Machine in preparation for the Arias forgedaluminum pistons. The 9.0-to-1 compression pistons with Tefloncoated skirts (to reduce friction) were selected to make the connection to the crankshaft by way of Crower forged-steel connecting rods. Up top, the cylinder head received a port and polish service by Portflow's Tom Fujita before being fitted with a complete Portflow valvetrain. With the head now flowing more efficiently, the longblock could be assembled. A Cometic head gasket provided the seal while ARP head studs cinched the longblock together. Japan-spec Honda Civic Type-R cams actuate the valves while Innovative Mounts position the B18C1 in the engine bay.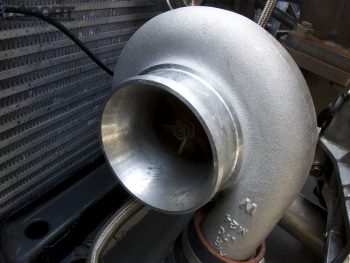 With a solid engine in place, the team now focused on generating power. Forced-induction was the power adder of choice. Power Pros selected a Precision Turbo & Engine GT3567R ball-bearing turbocharger. Capable of supplying the necessary boost pressure to reach the horsepower targets, the responsive GT35 receives hot exhaust gases by way of a Power Pros equal-length stainless-steel exhaust manifold. From the turbine outlet, the spent gases flow through an easy-breathing Power Pros custom three-inch downpipe and custom three-inch exhaust
finished with a Magnaflow muffler.

Strength In Numbers
The compressor forces incoming air through custom piping to the Precision Turbo & Engine intercooler. Once chilled, the charge air makes its way to the Spoon Sports 68mm throttle body and Edelbrock Victor X intake manifold. RC Engineering 1,600 cc/min fuel injectors spray a fuel blend of 91-octane and VP Racing Q16 race fuel into the combustion chamber. Doug tuned the Hondata s300 engine management system with the boost control set to 24 psi. Strapped to a Dynojet 224 dynamometer, the powerful B18C generated 603 horsepower and 388 lb-ft of torque.

Max Power = 602.59 Max Torque = 387.58 lb-ft
Power Transcription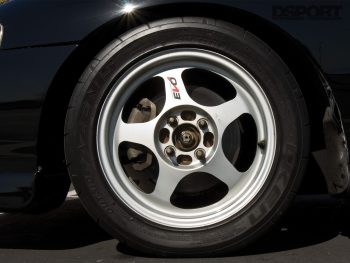 To transfer the power from the crankshaft to the pavement, driveline improvements were in order. A Competition Clutch twin-disc clutch harnesses the B18's muscle and transfers it through the factory transmission. In order to avoid a peg-legged launch, a Quaife torque-biasing differential replaced the factory open differential to split the power evenly between the wheels. Lowering the center of gravity and further enhancing traction, a set of Progress Technology adjustable coilovers manages suspension travel at all four corners. Progress sway bars deliver tack-sharp handling on command. Taking full advantage of these performance components, Anthony selected classic Regamaster Evo wheels in a 15×6.5-inch rim size. Falken Azenis tires in a 205/50R15 offering mount to the wheels and provide the hookup.
JDM Facelift
Now that the performance aspects had been addressed, it was time to improve the looks. To add flair to this DC2, Japanese-spec Recaro SRD front seats and rear seats replace the US-spec interior. On the outside, the US-spec front end was ditched and replaced with a Japanese Integra Type-R front end. The chassis then received a fresh coat of paint by M.O.B. Works before finally making its way to the road.

Red Recaro SRD seats from a JDM Integra Type-R replace the factory units.
Build It Fast
From its inception to its completion, the DC2 evolved from stock to shock in about one month's time. The combined effort of two determined parties has proven once again the value of an alliance. Having spent every spare minute and dollar on the build, Anthony has gotten more than he bargained for. With Doug's help, his street machine concept became a daily-driven reality.