These days, few can claim to have truly built an entire vehicle by themselves. Since the tuning knowledge base and information online (both good and bad) have grown exponentially, automotive enthusiasts theoretically have more data about how to modify vehicles than ever before. But too often, use of incorrect information, along with misuse or misinterpretation of proper knowledge lead to damaged engines and bad experiences that prove discouraging. Jeff Chang stands among the few enthusiasts that refused to give up, and despite his early misadventures, Jeff forged ahead by learning and doing much of the work on his Subaru himself.
Text by Richard Fong // Photos by Michael Ferrara
---
AWD DECISION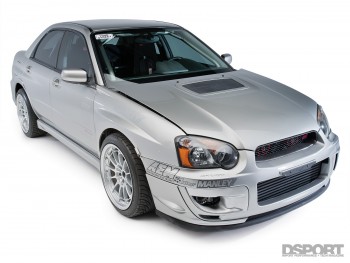 As a typical starving student, Chang's first ride was a thrice handed down 1992 Honda Accord. He admits that he ignorantly "riced" the Accord out, not knowing enough about performance to make the right choices. Around the same time as Chang owned his Accord, he had his first experience in a Subaru when he enjoyed a quick spin in a friend's then-new 2002 Subaru WRX. The all-wheel-drive launch got him hooked immediately, as did the torque of the boxer engine. When he was ready to go car shopping, he went a step further than his buddies' WRX and put his money down on a 2005 Subaru STi. Early on, Chang realized the uphill battle he would face with his new car, should he decide to take it to the next level. "It is very hard to make a Subaru go fast. It is even harder to have a fast Subaru and make it reliable, especially as a drag car. The STi was designed for rally, so the engine produces a lot of torque and the drivetrain is engineered to handle the abuse. Unfortunately, the engine was not made to handle 30+ psi boost and engine speeds in excess of 8,000 RPM," he said. With this statement, Chang foreshadowed his future objectives with the STi.
SCHOOL AND TUNING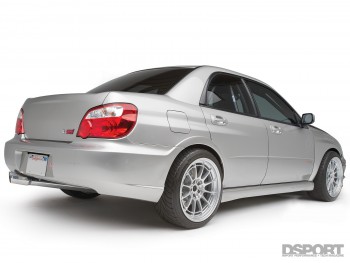 Given the STi's rally heritage, Chang initially planned to purpose his STi for road courses. However, with few road courses near his school, Chang drew on influence from drag racers like Norris Prayoonto and began leaning toward drag racing. Since even drag racing required a small investment, Chang sought a means to earn while learning to race. He started learning to tune cars using Cobb Tuning's Street Tuner software and eventually secured a tuning session with Doug from Topspeed Motorsports. After a few months and with some hard work, Chang managed some low 12-second time slips on a stock engine and turbocharger. Funding his hobby and car payments with money earned from tuning cars on the side, his learning curve ramped quickly. Once Chang graduated and moved to the Left Coast, he took the opportunity to drive the STi on road courses, including a fun but brutal day on the Streets of Willow at Willow Springs International Raceway. This technical road course opened his eyes to the abuse his engine sustained and how poorly built it actually was. He had relied on a "Subaru Specialist" to build this block, and the use of a larger but less responsive turbocharger, required him to run the engine at higher engine speeds to stay in the boost. The piston slap alone was enough to embarrass even the proudest Subaru owner. Chang noted, "That engine had excessive slap and always puffed a cloud of smoke at startup, which really bothered me. It was time to take matters into my own hands and build the EJ257 properly."