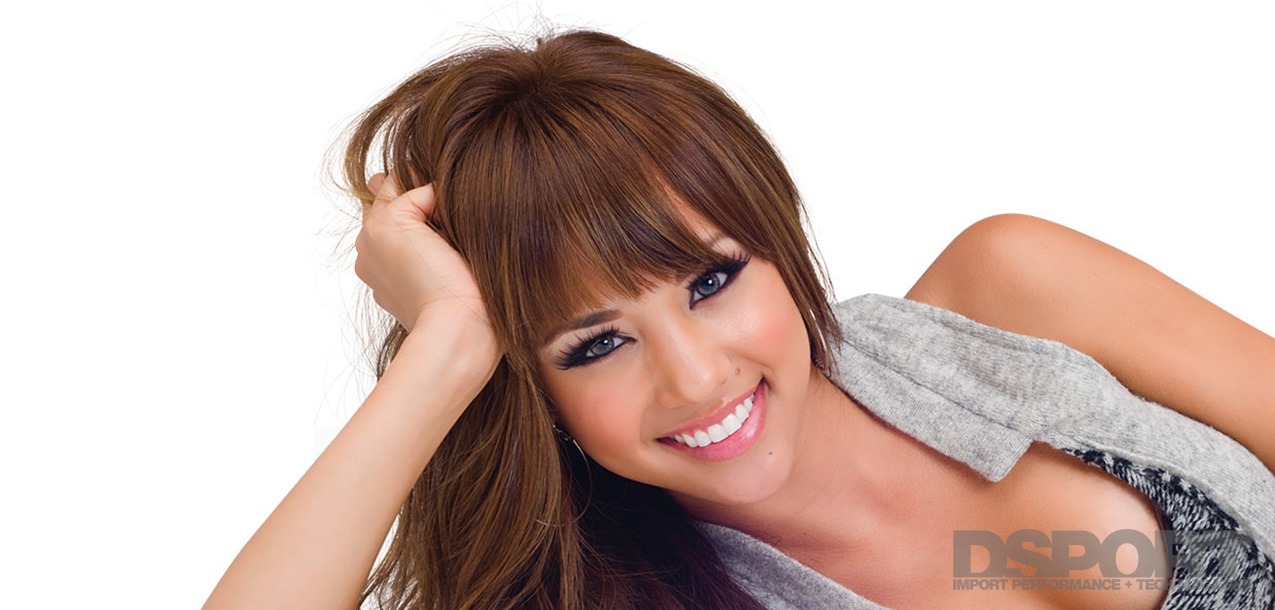 If you've been to any industry events over the past five years,
you've probably already seen this month's cover model, Danielle Lo. From model to cosmetologist to business marketing guru, Danielle not only wants to travel the world but wants to take it over as well. Come with us to see how the brain behind the pretty face works.
DSPORT: Hello and welcome to First Date. Let's start by finding a little bit about where you're from.
Danielle Lombard: I'm just a small town girl that hails from the San Francisco Bay Area where I've lived most of my life. I was actually born in San Jose and I recently moved to San Diego for school, but I've spent most of my life in the Bay.
DSPORT: How did you start modeling and how did you get into the import scene?
Danielle Lombard: Modeling was something that my family wasn't too supportive of in the beginning. When I was seventeen, I decided that I was ready to start making my own decisions so I just went ahead and started booking jobs. After a while, my mom started supporting me and now my family is my biggest fan and supporter. As far as the import scene, I had a few friends that produced carbon-fiber parts that asked me to be in their booth at a HIN event in 2009. I met a lot of contacts in the industry on that day and my import modeling career just grew from there.
DSPORT: Has modeling allowed you travel to exotic or faraway places outside of the United States?
Danielle Lombard: There are so many places to visit but the region I love the most is Europe. While I was there, I had a chance to visit France, Spain and England. There's something enchanting about Europe. I love the architecture, the history, the different cultures and the food. By far my most favorite place in Europe is London, but I just love traveling – anywhere, any time.
DSPORT: Jolly-good times, then. When you're not traveling, how do you occupy the rest of your time?
Danielle Lombard: That's sort of a funny story. When I was just out of high school and into community college, I experienced a moment of clarity and decided that I wanted my career to be something that I loved so I enrolled and completed cosmetology school. After working as a cosmetologist for a year, I missed being in school. So I re-enrolled and transferred into UCSD for Business with an emphasis in Marketing. So, aside from being a full-time student and having a full-time job, I don't really have very much spare time. With that said, whenever I do have time, I love to go to the beach since it's right around the corner from school. I'm a hardcore foodie, too, so I love to cook and try all different types of food. Since I love to eat so much, I try to go to the gym to work it all off too. I'll do anything that
involves being active or being outdoors.
DSPORT: Well, it certainly looks like your workouts are paying off. What kind of business would you like to run when you graduate?
Danielle Lombard: I'm really fascinated by the marketing aspect of business, not so much running the business. The idea of coming up with a company name, creating a logo, establishing branding and everything else involved with marketing a company and its product is really interesting . Modeling has really had an influence on my interest and understanding that side of business, so I'm grateful for that.
DSPORT: It sounds like there really is a brain behind the pretty face. Do you have any parting words for DSPORT readers?
Danielle Lombard: First I want to thank DSPORT for giving me the opportunity to be on the cover. I also want to thank my family who have been very supportive of me and my modeling career. Last but not least, I want to thank all of my fans for their continued support. Much love!
---