For the Gear Heads
The craftsmen at track-art in Bristol UK, create precision cut sculptures from premium laminated birch plywood and hand finish them. With a variety of sizes and thickness's available you can customize your choice to fit in the perfect location. Hang it on a wall or let it free stand on the table, a Track Art sculpture will be a conversation piece in any situation.
One of the most durable and heavy duty coaster sets in the world, our brake disc coaster has a die cast metal brake caliper with sufficient weight to serve as the base for holding six brake disc rotor coasters. The 9 cm (3.5") coasters are made of brass with a photo-etched pattern and then manually brushed on the surface to produce hairline braking marks.
This portable industrial heater comes in as the best electric space heater to keep your garage area warm. Not only is this forced-air space heater portable, it comes with an adjustable thermostat, built-in handle with cord storage, and finger-proof grill for protection.
AUTOart is committed to producing the best quality scale models in the marketplace.  With a factory dedicated to manufacturing only AUTOart brand products, the quality level is consistent and always of a high order.  We accept no compromise on quality issues.  The superb standard of the paint finish and the detailing of the steering wheels, brakes and other component parts are just some of the unique features of AUTOart models.  Each model car involves the input of several hundred trained pairs of hands applying their skills throughout the production process.  Established in 1998, AUTOart now has the largest range of scale 1:18 models, with more than two thousand items developed to date.
Ultra-bright and built to last, Garage Light fixtures come pre-wired and include S-hooks for simple installation. The light's high-efficiency LEDs put out more light than 16 60-watt bulbs and are rated to last for more than 70 years. To top it off, the whole fixture is protected by a 7-year warranty.
Some may argue that $2,000 is expensive for a simulation experience versus racing in real life. But here's the main point to keep in mind. If you want to rent a racecar to drive on an acclaimed track, you're almost always guaranteed to pay more than $8,000 after rental fees, fuel, tires, transport, and your own personal airfare and hotel stay. If you want to drive a higher-end Porsche Cup Car or a GT3 racecar, you're looking at well beyond $20,000 for a single race weekend. On a simulator, you have access to unlimited practice and racing at minimal to no additional cost, without the risk of balling up a car in the wall. Check out our video review to learn more..
Mark your calendars and get ready to join DSPORT Magazine in Japan for the 2017 Tokyo Auto Salon! This once-in-a-lifetime opportunity is packed with an itinerary to cover all the best automotive culture of Japan. The official tour begins in Los Angeles, California as the DSPORT staff and attendees kick off the tour with the included flights to Tokyo. Once in Japan, the highlights of the tour include lodging at the Shinagawa Prince Hotel near the heart of Tokyo, private guided tours to the Nissan DNA Garage, TOMEI, Toyota Megaweb, and other facilities. VIP track day with ride alongs in Pro D1 cars. Exclusive tuning parts shopping at UP Garage. VIP entries to the Tokyo Auto Salon with DSPORT Magazine press passes. Attending an all-out Izakaya Experience party with the staff and attendees. And this year, a private drift ride-along event makes its return for attendees to get sideways at Fuji Speedway. The tour is 75% booked, so grab a seat before it's too late!
---
For the Kids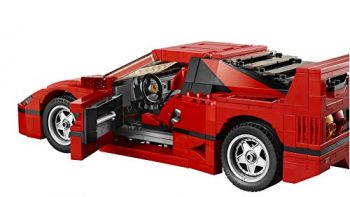 Get up close to one of the world's greatest supercars—the Ferrari F40! This awesome LEGO Creator Expert replica of the iconic sports car with its sleek aerodynamic lines, distinctive rear spoiler and racing-red bodywork is packed with authentic brick-built details, including pop-up headlights, side air intakes and a vented rear hatch that opens to reveal a twin-turbocharged, 90-degree V8 engine! Open the doors and you'll discover complete authenticity, right down to the crafted cabled door handles, steering wheel with Ferrari logo and 2 red racing seats, while under the hood you'll find a luggage compartment and tools. A special windscreen element with printed A-pillars and custom-made, molded rim inserts with sturdy, road-gripping tires add the final touches to this intricately designed model, a must-have for all Ferrari fans!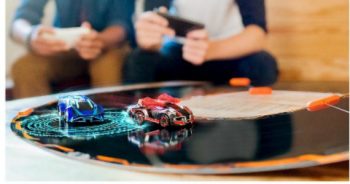 With the Anki OVERDRIVE Starter Kit, you get the future of battle-racing. The track snaps together quickly, and can be set up anywhere thanks to the wireless and durable design. Once you're ready, let the Anki Overdrive app handle everything else, from getting you connected to teaching you gameplay. With Anki OVERDRIVE, anyone can play from the get-go! Your Supercar stays on the track by itself, letting you focus on strategy. Plus, new players can battle experienced pros with confidence in Balance Mode, which helps level the playing field. Whether you take on A.I. opponents or friends, this game is ever-changing with the addition of tracks, Supercars and automatic software updates, keeping the gameplay fresh and exciting.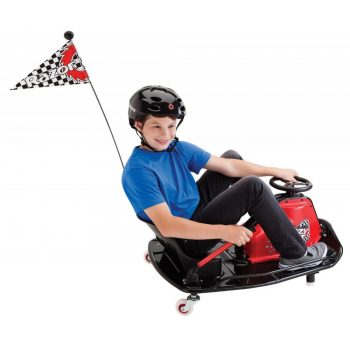 Drive, spin, or drift like a pro – at home! Drive like a go cart or lift the Drift Bar to kick into Crazy Cart mode. Patented drift system allows the driver to vary the rear caster angle so you can drive and drift forward, backward, sideways, diagonally, and everything in between! Another revolution in riding from Razor.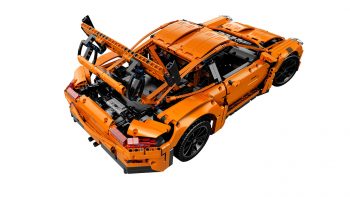 Experience the iconic Porsche 911 GT3 RS with this authentic LEGO® Technic replica. Inside the box you'll discover a special collector's book chronicling the history of LEGO Technic and Porsche GT cars, together with 4 original-design rims bearing the RS emblem. The sets of elements are boxed, and the building sequence gives an insight into the real-life vehicle's assembly process. The model features detailed, orange bodywork, red suspension springs, detailed headlights, taillights, brake calipers and rims with low-profile tires. The accessible cockpit features a detailed dashboard, working gearbox, steering wheel with gearshift paddles, racing seats and a glove compartment containing a unique serial number. Functions include opening doors and hood with storage compartment and suitcase, and an opening rear lid that houses a detailed flat 6 engine with moving pistons. This 1:8 scale model has been designed to provide an immersive and rewarding building experience.
---
Video Camera Gifts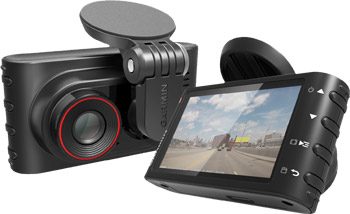 Dash Cam 35 is an easy-to-use high-definition driving recorder with 3.0-inch LCD display. With a wide-angle lens it captures the entire road, and includes GPS for detailed time and location data, pinpointing exactly where and when events occurred. Rely on your Dash Cam 35 to capture excellent video detail in both bright or low-light conditions. Mount the camera to your windshield and record your drive in 1080p or 720p. Dash Cam records in a continuous loop, using the included replaceable microSD card. To add more memory, add a larger microSD card (accepts up to 64 GB, sold separately; Class 4 required). Play back the footage right on the display or review later on your computer.
Get into the drone game for a steal of a price. Using the Solo's smart flying features, you don't have to be on the sidelines to capture memories — you can be a part of them, too. Choose from a variety of autopilot modes, from premapped flight paths, to orbit, lock-on-and-follow, and more. Now you can worry less about keeping the drone in the air, and focus on taking amazing footage to share with your friends and family.
Hit the road with this GoPro HERO5 Black camera in your pocket, and share every moment with your subscribers and friends. One-button control lets you snap a photo or capture a video with a simple touch of the shutter. This GoPro HERO5 Black camera is compatible with all GoPro accessories for easy incorporation.
The Osmo Mobile Gimbal brings DJI's expertise in aerial and pro video gimbal technology to the smartphone world. It allows you to capture smooth footage while shooting handheld, even when tracking a moving subject. With the DJI GO app, you can use the Osmo Mobile Gimbal to create time-lapse videos, panoramas, and even stream stabilized footage live for the world to see. There are also separately available mounting options, opening up shooting possibilities still further.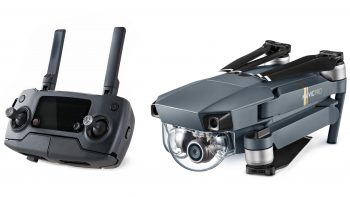 The DJI Mavic Pro is a small yet powerful drone that turns the sky into your creative canvas easily and without worry, helping you make every moment an aerial moment. Its compact size hides a high degree of complexity that makes it one of DJI's most sophisticated flying cameras ever. 24 high-performance computing cores, an all-new transmission system with a 4.3mi (7Km) range, 4 vision sensors, and a 4K camera stabilized by a 3-axis mechanical gimbal, are at your command with just a push of your thumb or a tap of your finger. Using Flight Autonomy it can see obstacles as far away as 49ft (15m) in front, so that it can fly at up to 22mph (36kph) while avoiding the things it sees. Absolute Precision Flight Autonomy technology means the Mavic can hover precisely in more environments, and automatically land almost exactly where you took off. The Mavic is the only drone of its size to carry an integrated high-precision 3-axis mechanical camera stabilization system, giving you crystal clear photos and smooth videos, without losing a single pixel.
---
Gag Gifts
SoundRacer is the perfect novelty gift for any car owner, easy to use and compatible with most cars on the market. The new SoundRacer GH-SRVX x car fm transmitter with 6 pre-installed super sports car and motorcycle engine sounds for your car! More sounds can be downloaded to the microsd card.