Lexus has revealed their first vehicle in the F SPORT Performance line, the IS 500 F SPORT Performance. The new compact sport sedan has been outfitted with a larger V8 that will appeal to driving enthusiasts that wish for even higher levels of power output. There hasn't been an eight-cylinder IS model since the IS F was introduced in 2008. This new model is the most powerful IS ever, cranking up the performance over the current six-cylinder F SPORT models. With its sharpened steering response, enhanced braking capability and straight-line stability, the IS 500 builds upon the sporty sophistication of the 2021 IS. Reserved exclusively for the North American market, the IS 500 F SPORT Performance will be affixed with unique black badging on the sides to differentiate it from F models.
Staff Report  // Images courtesy of Lexus
---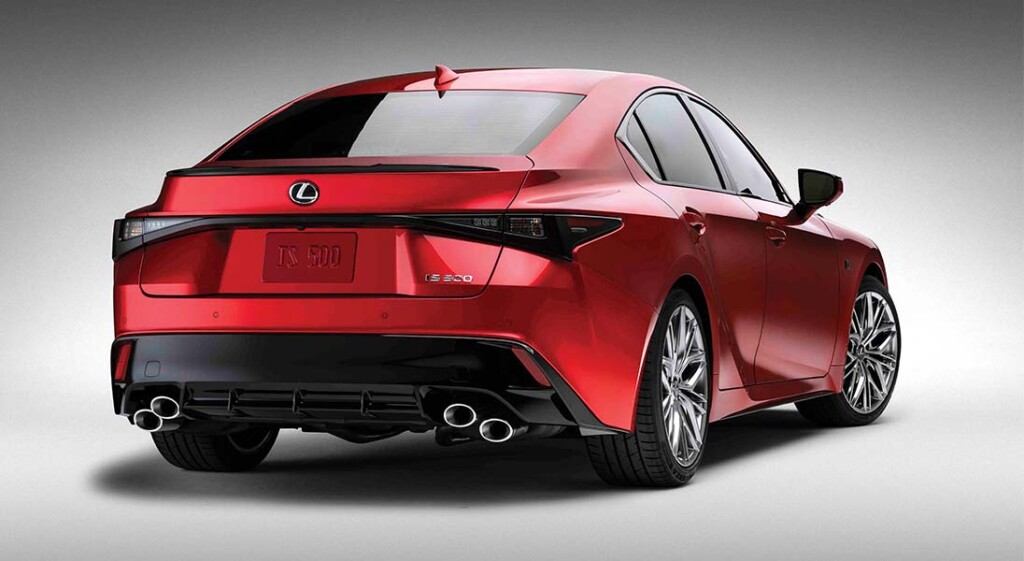 The IS 500 engine has an edge in displacement and performance over the IS 350's 3.5-liter V6. The naturally aspirated 5.0-liter 2UR-GSE V8 puts out 472 horsepower at 7,100 RPM and 395 lb.-ft. of peak torque at 4,800 RPM. That's a 52% power increase over the 2021 IS 350 F SPORT, although there is a slight weight penalty with the larger engine. It weighs 143 pounds more, coming in at a total of 3,891 pounds. Still this is good enough for a 0-60 miles per hour sprint in 4.5 seconds. The bores of the 2UR-GSE engine are 94.0mm and the stroke is 89.5mm for a total displacement of 4968.5cc. Thin-walled steel cylinder bore liners are cast directly into the aluminum-alloy block for low weight and durability. On the exterior of the liners a series of integrally cast projections or spines improve adhesion and promote heat transfer.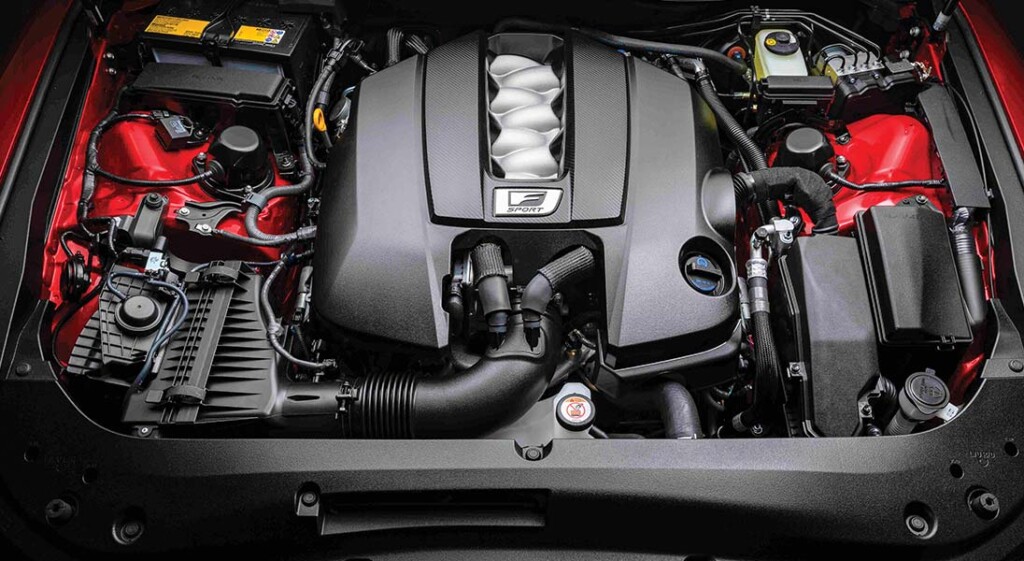 Topping-off the 90° V-angle block is a set of cylinder heads developed and built by Yamaha Motor Co., Ltd. This technical partner has collaborated on engine designs with Toyota for over five decades. Reaching deep into their considerable capabilities for this project, Yamaha enlisted their musical instrument division to fine-tune the throaty sound that the engine and quad tailpipes make. A D4-S port injection and also direct cylinder injection provides fuel. A Dual VVT-i system controls the exhaust valve timing with an additional electric VVT-iE for the inlet camshaft advance and retard. This design is more effective than a hydraulic system at low RPM and at cold operating temperatures.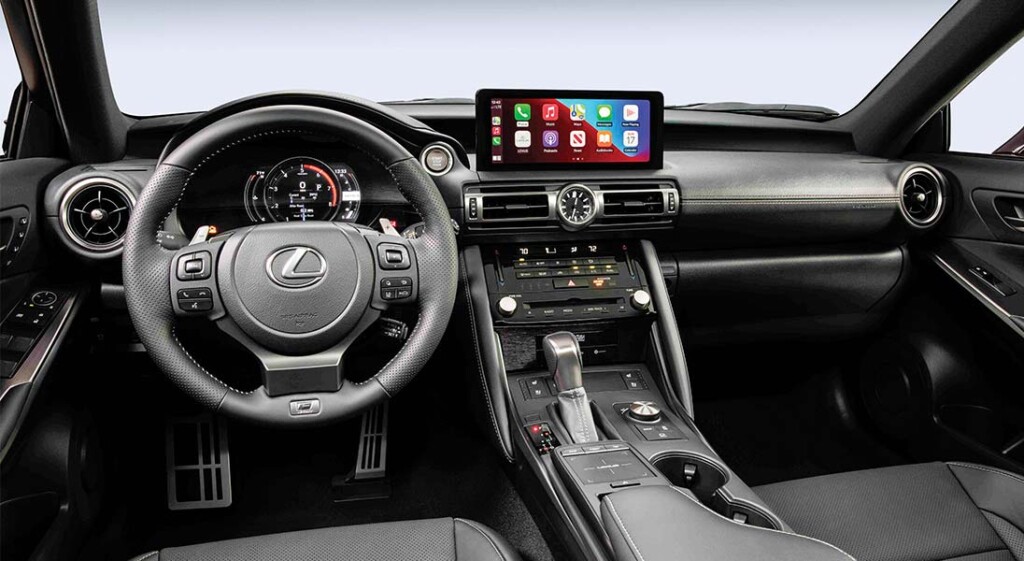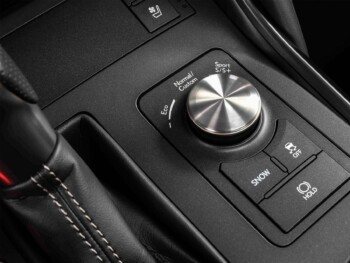 A Toyota AA81E eight-speed automatic transmission, built by Aisin Seiki Co., Ltd. carries power to the rear wheels. This is the same eight-speed Sport Direct Shift automatic transmission found in the IS 300 and IS 350 RWD models. It features several selectable drive modes including Sport S and Sport S+, which provides advanced engine and transmission mapping to enhance performance. Sport S+ also adjusts the amount of electronic power steering assist and damping force that is applied for sportier handling to match the updated powertrain settings. Custom Mode is also available, offering multiple combinations for powertrain (Normal/Eco/Power), chassis (Normal/Sport) and even the air conditioner (Normal/Eco). The IS 500 will come standard with the IS RWD F SPORT's Dynamic Handling Package, which includes Adaptive Variable Suspension and a Torsen limited slip differential that for enhanced traction when cornering or exiting turns.

Lexus engineers continue to pursue a development strategy across the entire Lexus lineup known as the Lexus Driving Signature. This standard of vehicle control and tactile feedback brings confidence and a linear connection between the driver and car. This philosophy is intended to connect the driver to the vehicle in a way that provides clear and direct feedback. The goal is to deliver a new generation of Lexus vehicles that are balanced and refined with exceptionally smooth driving characteristics.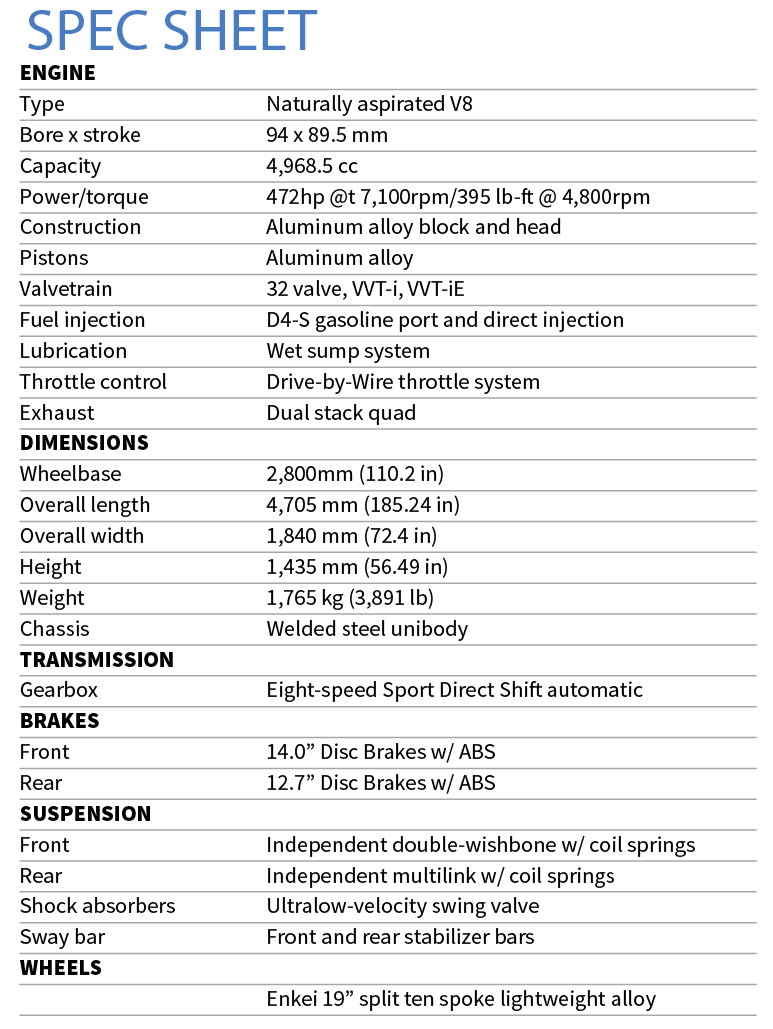 "What we had foremost in mind in developing the new IS was to make it a car that excelled in communicating with the driver and, as a car with wide latitude for providing such, would never fail in doing so, regardless of the road conditions or driving status," said Chief Engineer Naoki Kobayashi of Lexus International. "Toward achieving this, we retained the compact body that had been well received, and, with our team united, we endeavored to bring such to maturity by developing the new IS on a new test course. We aimed to make the new IS a Lexus compact sports sedan that provides high-quality riding comfort while offering a high level of vehicle control. We wanted it to be a car that enables people to make new discoveries, such as the discovery that the longer the new IS is driven the more one can experience the fun of driving. And we wanted it to be a car that enables people to feel the aspirations of those who created it."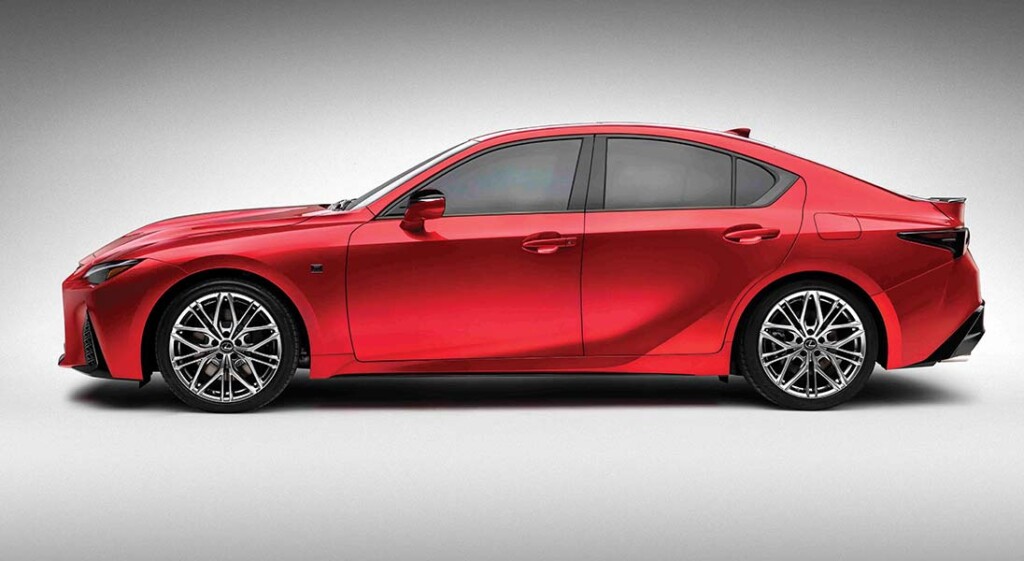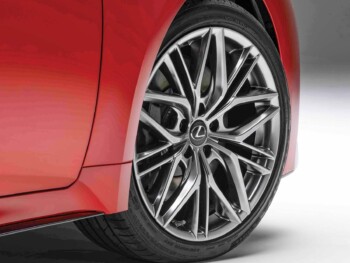 There have been some not-so-subtle exterior enhancements that set the IS 500 apart from the standard IS 350 F SPORT. Most notably is the hood, bulging nearly 2-inches higher with sculpted center character lines. The front bumper and fenders have also been lengthened and widened to accommodate the larger V8. The IS 500 will come standard with exclusive 19-inch split-10-spoke alloy wheels from Enkei. These elegant wheels shave several pounds of weight compared to the standard 19-inch F SPORT wheel. A lightweight wheel reduces unsprung weight, providing more precise steering input and improved turn-in characteristics. Other exterior updates include a revised lower rear diffuser that emphasizes the quad exhaust system and a dark chrome trim around the windows to further set it apart from the standard F SPORT models. Adding downforce at higher speeds is the aerodynamic black rear lip spoiler, tying together the visual and performance styling cues.

The 2022 Lexus IS 500 F SPORT Performance will be appearing in dealerships later this Fall. Pricing is expected to be about $60,000.00, although exact pricing and specifications will be made available at a time closer to the on-sale date.