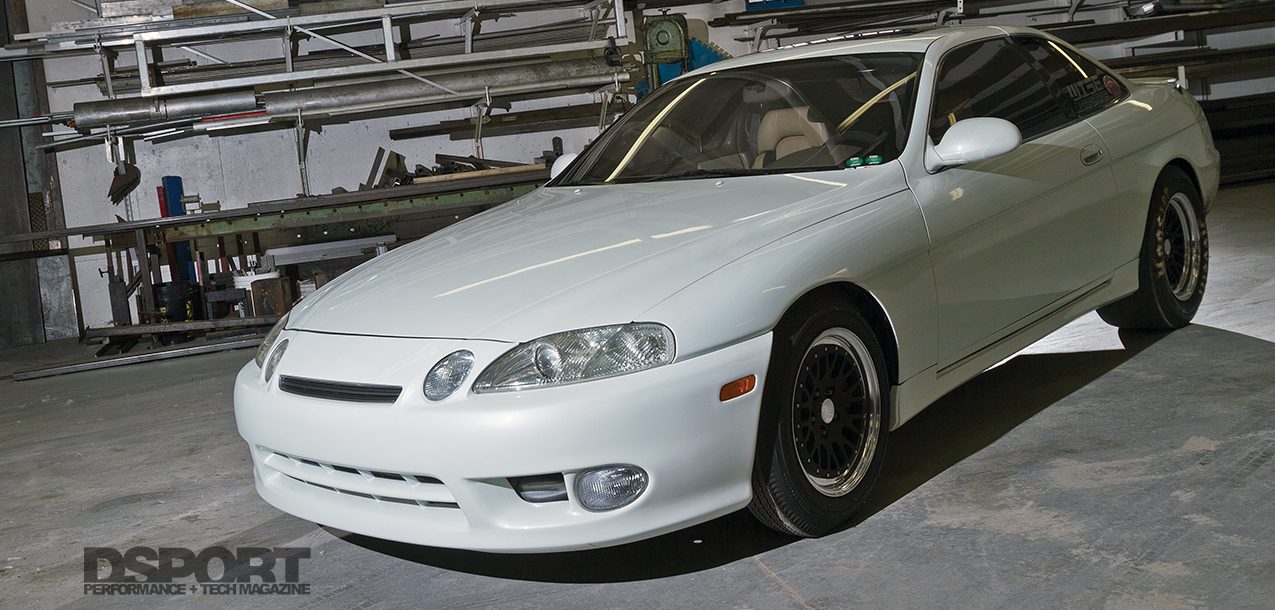 For those living at or near sea level, it's much easier to breathe and make horsepower than it would be for someone at a mile above sea level.
The thin air and reduced oxygen density really makes it tough, just ask the DSPORT staff who recently returned from the IDRC Street Tuner Mayhem event in Morrison, Colorado. The challenging environment is the reason athletes train at higher elevations, to better condition themselves for competition at lower elevations. Like competitors in training, tuners in Colorado face the additional challenge of not only producing more horsepower, but also delivering quick passes down the drag strip as well. Given the challenges faced by competitors at a mile high, it's no wonder that we especially admire the machines making passes in the single digits.
Text by Richard Fong // Photos by Richard Fong and James Seller
---

Almost a JZA80
Brett Miller has had an eye on the Supra since he started to drive. His first car was a 1990 MA70 Toyota Supra. While not quite a JZA80 Mark IV Supra, it wasn't bad for a first car. However, Miller soon grew tired of replacing blown head gaskets and considered a 2JZ-GTE swap. But his old Supra's styling felt dated, and he really wanted to upgrade to a JZA80. Unfortunately, the price of a Mark IV Supra was driven well beyond Blue Book value due in part to the popularity and notoriety gained from The Fast and The Furious. So he looked at a subtle and luxurious alternative, a Lexus SC300. Miller sold the MA70 and purchased this 1993 SC300 during his senior year of high school, kicking off a project that would span over eleven years. "I've always been a big road-racing fan. The car I originally bought had a 5- speed manual, and when I did the 2JZ-GTE swap, I upgraded to the 6-speed Getrag transmission too. I also upgraded the suspension and brakes to prepare the SC for road racing duty," Miller stated. But his plans changed soon after, as he realized that there were so few tracks in the area. He didn't want to strip all of the weight/luxuries out of the car, even though weight is certainly the enemy of performance. Miller reasoned, "Overcoming the weight challenge is easier when you are only going one direction and you only need to worry about front-to-rear weight transfer. So I decided to shift my focus to the drag strip instead."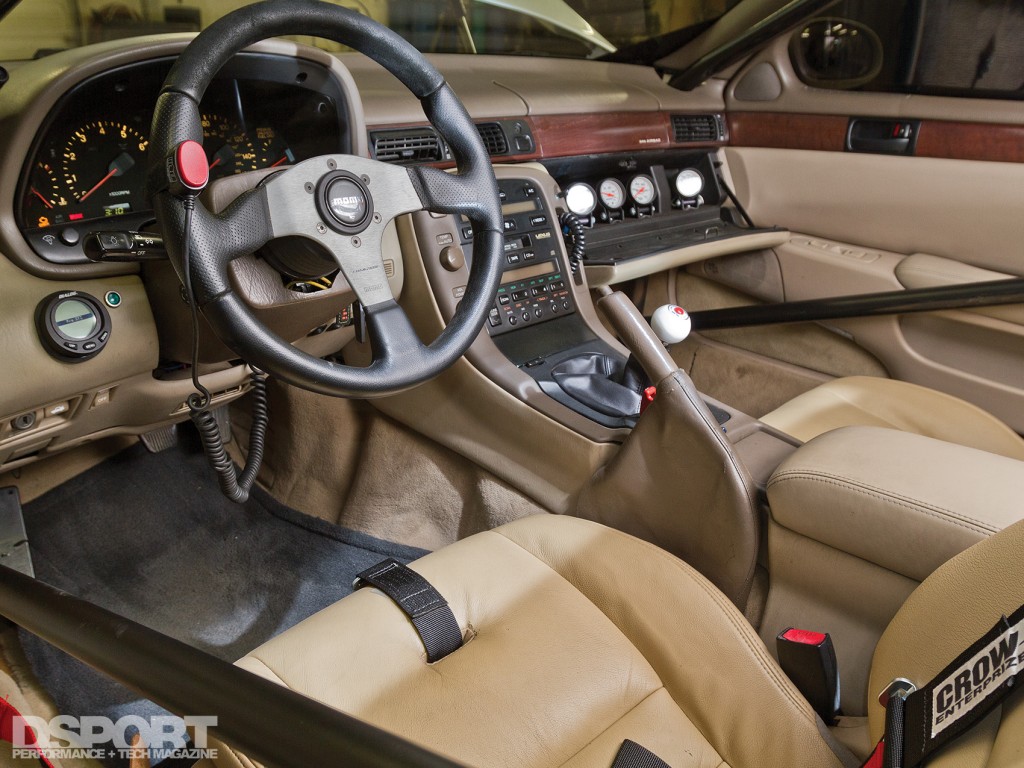 Near Destruction Experience
Before Miller pursued the quarter mile, a harrowing car cruise almost dealt him a deadly hand. He secured a spot on his friend Pete Palamara's "Supercar Cruise" in his 2JZ swapped SC. Criteria required at least 500 horsepower or a supercar to participate. During the cruise, the driveshaft let go, damaging the transmission housing, ripping the exhaust off and cracking through the transmission tunnel. This experience gave him a real scare, as the broken shaft could have vaulted the rear of the car and caused the chassis to flip over. It was at this point that he decided to commit to the quarter mile. He needed a new transmission and took the first step toward improving his consistency by reaching out to Boost Logic. He purchased its TH400 automatic transmission kit along with a new four-inch exhaust. After the transmission conversion, his improved consistency led to a series of upgrades that came with both horsepower growing pains and broken parts in the pursuit of quicker time slips. This process enabled Miller to eventually make his first nine-second pass while generating around 847 horsepower. Since then, Miller won numerous local events over the course of the last two years and even went to TX2K12 in Houston. In August 2012, he ran a personal best time of 9.68 seconds at 142 mph at Bandimere Speedway, in Morrison, Colorado.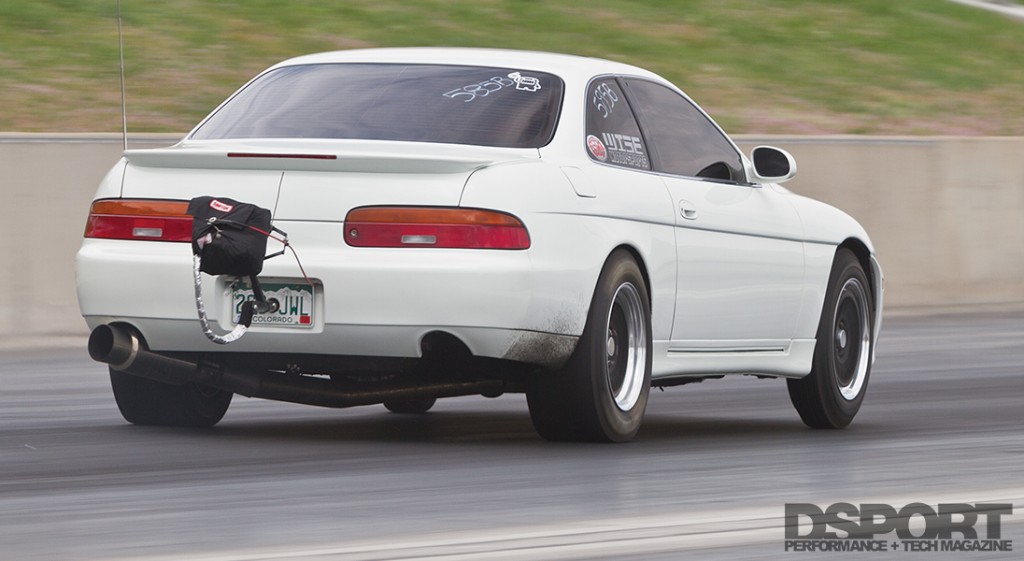 Density Altitude Matters

Simply observing altitude as a mere handicap that hampers power production and performance only tells part of the story. Another consideration is density altitude, which is the altitude in relation to standard atmospheric conditions and the corresponding air density observed at that altitude. Barometric pressure, humidity and temperature effect density altitude. Under certain conditions, an elevation of 5,800 feet could present air density equivalent to 4,000 feet. Conversely, at 1,000 feet, weather conditions could present air densities similar to being at an elevation of 3,000 feet. An increase in temperature, decrease in atmospheric pressure, and an increase in humidity will cause an increase in density altitude. Thus, greater temperatures and higher levels of humidity will result in density altitude figures that are higher than the true altitude.

With multiple mid 9-sec timeslips at high density altitude, this SC300 should run a low 9-sec pass at over 150 mph at a sea-level density altitiude.
More Power to Perform
After progressively building up his 2JZ and incrementally increasing the power output, Miller felt it was time to take the plunge and fortify the iron-block 2JZ-GTE for a leap in boost and output. After overboring the cylinders 0.5mm in preparation for a six-pack of CP pistons, the forged- aluminum slugs make the connection to the stock crankshaft by way of Carrillo connecting rods. The cylinder head ports remained largely untouched, save for a three-angle valve job and a complete Manley valvetrain. To lift the +1mm valves, a pair of HKS 272-degree bump sticks replaced the factory units atop the head.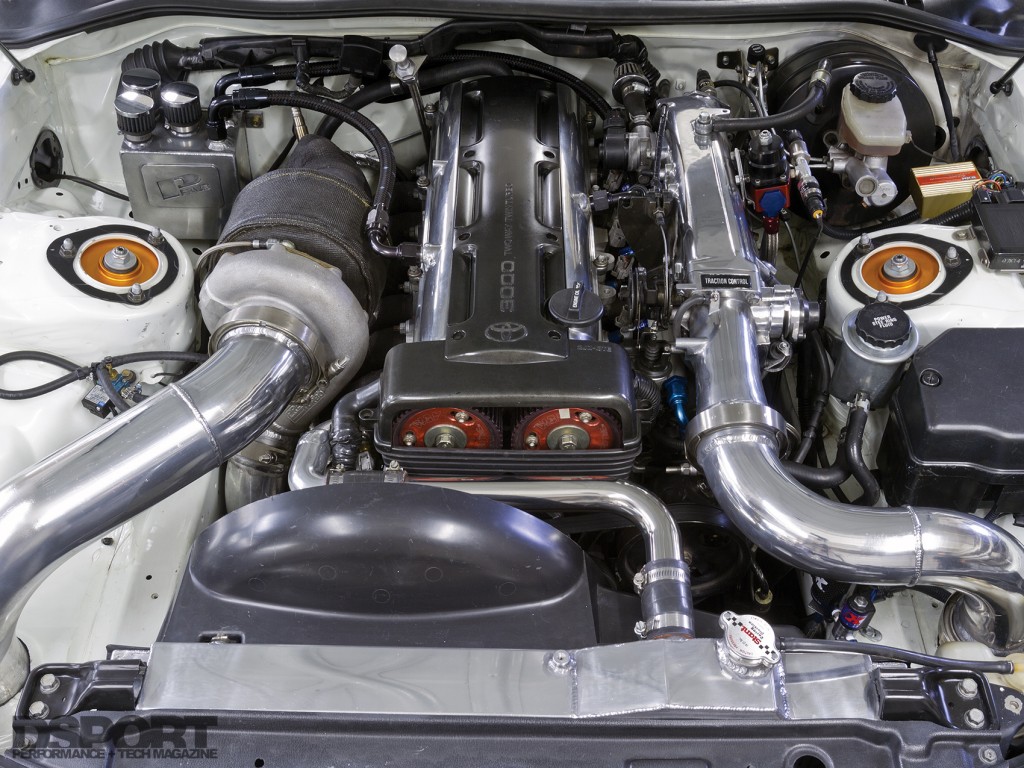 A mammoth turbocharger is a must to generate the volume and boost pressure needed to combat the altitude and lack of air density. Thus a T4 framed PT7675 turbocharger took its place atop an SS Autochrome manifold.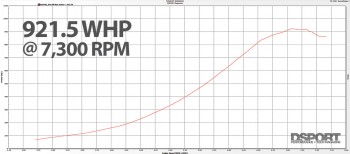 With boost dialed up to just over 40 psi, local tuner and racer, John Firth, refined the Pro EFI engine management system. On Finish Lines' Dynojet Dynamometer, Miller's SC put down a solid 921.50 horsepower and 683 lb-ft torque to the rollers. Knowing that he'd already achieved slips well into the nines, running at an even lower elevation should produce quicker slips. On June 14, 2014, Miller competed at Julesburg Drag Strip in Julesburg, Colorado, where the elevation is 3,520 feet or .667 miles above sea level. He not only beat his personal best with two quicker time slips, he also won in his class at the event. Both slips were in the 9.4-second range, the quicker being a 9.407-second pass at 150.05 mph.
Love It, Hate It
Miller concluded, "I've had a love- hate relationship with the car for years. I thought about selling it hundreds of times, and driving it off a cliff even more than that. Still, I realized that there would be no return on investment if I sold it. I also noted that no matter how frustrating the build became, I still loved the uniqueness and the joy of driving an SC with a 2JZ. It doesn't draw a lot of attention and I enjoy cruising around with over 900 horsepower and 9-second quarter-mile capabilities. Of course, this strategy works only until I get to the car meet at Sonic and pop the hood."
SC300 Aiming for Eights
The next step for Miller is to adapt a Ford 9-inch independent rear suspension setup. While he would love to get the car into the eight-second realm, he wants to do so with the current turbocharger and in the current competition class. This will likely require a larger intercooler, intake manifold and throttle body, and new lightweight wheels. Or, Miller may just have to pack up his gear, head out to Southern California and run the car at sea level. Brett would like to extend a word of thanks to the following for their support, assistance and craftsmanship: Brian Palombo, Jason & Angela at Wise Motorsports, John Firth, Weston Gibbons, Aaron Ginn, Mike Glickman at BlackTop Hobbies, Pang Chung at Pfab, Nick Jesaitis, Scot Hail and Kerwin at Aloha Detailing.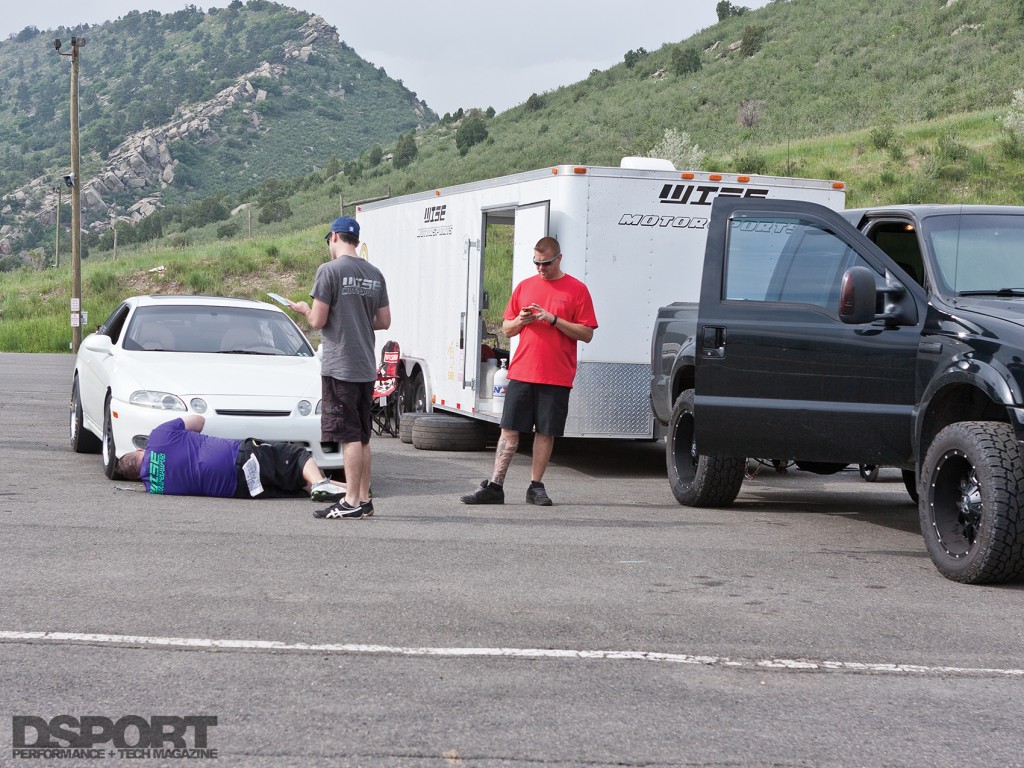 ---
SPEC SHEET
| VEHICLE | |
| --- | --- |
| Year / Make / Model: | 1993 Lexus SC300 |
| Chassis Code: | JZZ30 |
| Competition Class: | Pro Sport Compact, Heads-up, Limited Street |
| Vehicle Weight: | 3,700 lbs. |
| Launch RPM: | 4,500 RPM |
| Shift RPM: | 8,400 RPM |
| Redline RPM: | 8,400 RPM |
| Peak Boost: | 40+ psi |
| Fuel: | E85 |
| ENGINE | |
| --- | --- |
| Engine Code: | 2JZ-GTE |
| Displacement (cc): | 3,032.7cc |
| Bore & Stroke (mm): | 86.5mm x 86mm |
| Peak Horsepower (@ RPM): | 921.5 whp @ 7,300 RPM |
| Peak Torque (@ RPM): | 682.9 lb-ft @ 7,000 RPM |
| Dyno Type: | Dynojet Dynamometer |
| Block Modifications: | Overbored 0.5mm |
| Pistons/Compression Ratio: | CP 10.1:1 Compression Pistons |
| Connecting Rods / Crank: | Carrillo Connecting Rods |
| Camshafts: | HKS 272-degree Camshafts (IN&EX) |
| Valves/Springs/Retainers: | Manley +1mm Valves, Springs, Ti Retainers |
| | Supertech Valve Seals |
| | Toyota Shimless Buckets |
| Cylinder Head Modifications: | 3-angle Valve Job |
| Head/Main Studs: | ARP Main Studs and L19 Head Studs |
| Intake Manifold/Throttle Body: | Extrude Honed Factory Manifold |
| | Traction Butterfly Deleted |
| Air Induction Systems: | K&N Filter |
| Fuel Injectors: | Fuel Injector Clinic 2,150cc/min Injectors (x6) |
| Fuel Delivery System: | Aeromotive FPR |
| | Kenne Bell Boost-A-Pump |
| | Magnafuel MP4303 External Fuel Pump & Filters |
| | RMS Fuel Rail |
| Engine Management System: | ProEFI |
| Engine Management Tuner: | John Firth (Axoman) |
| Boost Controller: | ProEFI, MAC Solenoid |
| Ignition System: | HKS DLI |
| Exhaust Manifold: | SS Autochrome Manifold |
| Exhaust System / Downpipe: | Boost Logic 4-inch Stainless-steel Turboback |
| Wastegate: | TiAL Sport 44mm Wastegate |
| Blow-Off Valve: | TiAL Sport 50mm Blow off Valve |
| Intercooler: | GReddy 3-row Intercooler |
| | Nitrous Express Intercooler Spray Bar |
| Nitrous Oxide: | Nitrous Express 100-shot Nitrous Injection System |
| | Dyno-Tune Bottle Warmer |
| Cooling System: | PWR Radiator |
| Oil System: | GReddy Oil Filter Relocation Kit |
| | P-Fab Oil Catch Tank |
| Fuel Cell: | Sumped Factory Tank |
| Performance Electronics: | Pro EFI Rolling Anti-lag, Traction Control, |
| | Flex Fuel Sensor, CAN Gauge |
| | Davis Technologies Bump Box BB-200 |
| TURBOCHARGER | |
| --- | --- |
| Turbocharger: | Precision Turbo & Engine 7675 CEA, Ball Bearing |
| Frame: | T4 |
| Compressor Wheel Specs: | 76mm Inducer |
| Turbine Wheel Speds: | 75mm Exducer |
| Turbine Housing: | .96 A/R |
| CHASSIS/DRIVELINE | |
| --- | --- |
| Springs, F&R (Make & Rate): | KSPORT Drag Coilovers |
| Shocks, F&R (Make & Rate): | KSPORT Drag Coilovers |
| Additional Suspension Components: | Daizen Bushings |
| Transmission: | Boost Logic TH400 Auto w/ Trans Brake |
| | B&M Quicksilver Shifter, Shift Knob w/ Brake Button |
| Transmission Gearing: | 1st 2.48:1, 2nd 1.48:1, 3rd 1.00:1 |
| Final Drive: | 1.0:1 |
| Torque Converter: | Neal Chance Torque Converter |
| Differential(s) (Make & Type): | Factory JZA80 Auto Diff Carrier |
| | TRD LSD |
| Axles / Driveshaft: | Supra Axles, Custom Driveshaft |
| Wheels (Make, Size & Offset): | CCW Drag Wheels, 16-inch (F), 17-inch (R) |
| Tires (Make & Size): | Hoosiers 28x10x17 Slicks |
| Brake Calipers (F&R): | Factory JZA80 Turbo Calipers (F&R) |
| Brake Rotors (Diameter, F&R): | Power Slot Rotors, 323mm/324mm |
| Brake Pads (Front & Rear): | EBC Green Stuff Pads (F&R) |
| Brake Lines: | Goodridge Stainless-steel Braided Lines |
| Etc.: | SSBC Brake Proportioning Valve, ABS Deleted |
| INTERIOR | |
| --- | --- |
| Roll Bar / Cage: | Blacktop Hobbies 10-point NHRA Cert. Cage |
| Harnesses: | Crow Industries 5-point Harness |
| Steering Wheel: | Sparco Steering Wheel |
| Gauges: | Auto Meter Phantom Gauges |
| Etc: | G-Force Window Net |
| | Taylor Battery Box |
| | Rear Seat Delete |
| EXTERIOR | |
| --- | --- |
| Front Bumper and Side Skirts: | Factory 1997+ |
| Paint: | Custom 3-stage Pearl White by Weston Gibbons |
| Etc.: | Simpson Parachute |
| | S&W Parachute Mount |