THOSE OFTEN-QUOTED WORDS WEIGH HEAVILY ON ANYONE WHO HAS EVER ATTEMPTED to build a project car. We've all fallen victim to the impulse purchase that turns your vehicle-building fun into an underfunded, over-budget nightmare that ends up sitting in a garage, collecting dust, dents and death stares from our angry significant others.
Text and Photos by Arnold Eugenio
---
San Diego resident and tuner-shop employee Jason Hutchinson was well aware of what "could have been" when he purchased this 2002 Honda S2000 one November in 2007. To avoid becoming another failure statistic, Hutchinson immediately drew up plans to raise the S2000 to a higher plane of nirvana over the course of the car's payments. If executed correctly, his build would culminate in the complete ownership of a meticulously modified, dual-purpose-built street and track car right around the same time he made the last payment and received its title. "There wasn't actually an original plan for the car. I bought this S2000 to replace the CRX. My CRX sucked up so much money, only to be stolen and stripped. With the S2000, I figured I could do a few subtle things and be happy, but you know how that goes," Hutchinson explained.
FIGHTING STANCE
With an end goal of running the S2000 as his primary means of transportation and competition, Hutchinson first set out to ensure maximum traction for the power he eventually expected to produce. To that end, he installed an Endless Zeal Function X Coilover kit equipped with Endless X-Coil springs. Hutchinson wanted to run an aggressive wheel an tire combination so he supplemented the coilovers with a set of Swift Spring rotation collars that allow a wider range of ride-height adjustment. Over the course of ownership, Hutchinson went through several sets of increasingly wider wheel and tire combinations dictated by the S2000's performance at various track events. The current staggered setup consists of Enkei's lightweight RPF1 wheels measuring 17×9.5-inches at the front and 17×10.0-inches at the rear. For dual-purpose street and track duty, Hutchinson wrapped the wheels in a set of Falken Azenis RT615K tires sized at 235/40R17 and 255/40R17 for the front and rear, respectively.

BODY ROCKING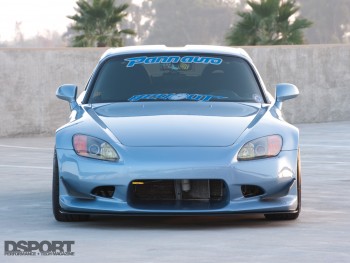 To better accommodate the wider rolling stock, Hutchinson took his S2000 to Lloyd's Collision in Santee, California, where techs massaged the metal out an additional 10 millimeters to ensure proper fitment and clearance at the fenders. With the custom fender extensions, each subsequent purchase of an
aerodynamic piece required Lloyd's Collision to modify an existing piece so as not to break the original lines and purpose of each functional aerodynamic piece. These additions were the result of dozens of on-track experiments and suspension settings data collected by Hutchinson to further improve the vehicle with tried-andtrue suspension settings. A CWEST version-2 authentic front bumper with optional carbonfiber canards provides the bulk of the frontend downforce while improving airflow to the radiator. "I first started with J's Racing everything but I ended up selling all of it and starting over after seeing so much knock-off stuff on the market. I didn't want to be associated with that," he states. Lloyd's also extended the APR carbon-fiber splitter to properly fit the extended fenders. At the rear custom-widened metal fender flares terminate in a factory bumper that wears a Top Secret carbon-fiber diffuser. "The rear diffuser made a huge difference in the amount rear downforce at the track. There was so much downforce generated, I really had no choice but to widen the fenders to maintain the proper ride height and suspension travel." Remaining aero enhancements include a Chaser Aero hardtop attached with OE hardware and factory-option trunklid spoiler. In case of off-track excursions, of which Hutchinson has had a few, functional tow hooks from J's Racing and JSP Fab bookend the front and rear of the AP1 chassis.