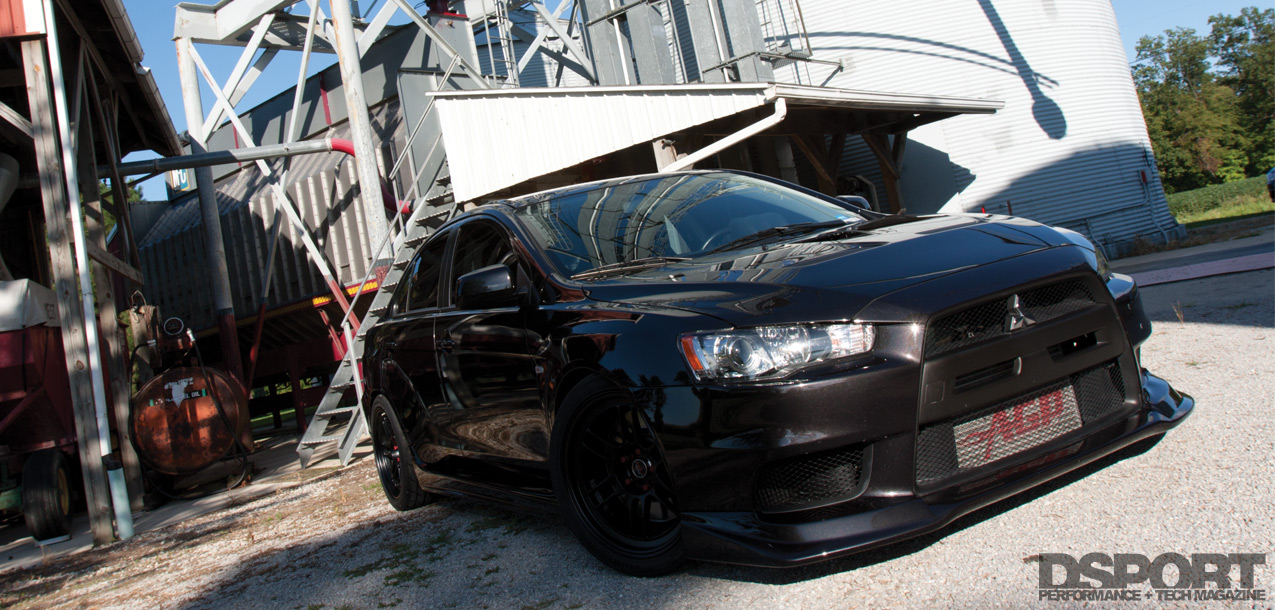 ANCIENT GREEK MYTHOLOGY OFFERS us the cautionary tale of Icarus, son of Daedalus. Presented with waxen wings that offered him the gift of flight, Icarus ignored the warnings about the capabilities of his new toy and suffered a fatal fall into the ocean because of it. Had he not been overzealous in his quest for greater heights, he may have enjoyed the view from the clouds for quite some time. After pushing his mechanical wings to their limit, however, Icarus succeeded only in cutting his flight short.
Text by Arnold Eugenio. Photos by Richard Fong
---
BE CAREFUL WHAT YOU ASK FOR
Jacksonville, Florida resident Chris Carbee had grown tired of the power and driveline limits of his MAZDASPEED6 sedan. The turbocharged, all-wheeldrive platform had seen its days on the track, but did not perform up to Carbee's expectations. In 2008, he replaced the MS6 with a Phantom Black EVO X that he expected would allow him to soar to greater heights. Getting immediately to work, Carbee set a plan in motion with a combination of parts that would propel his EVO down the 1,320 with 700 charging horses under the hood. It was then that Carbee's troubles started.

IF IT AIN'T FIXED, IT'S BROKEN
With a clear road map laid out in front of him, Carbee hit his magical 700- wheel horsepower mark early on. For a period of just over a year, he drove the car to ever-increasing heights, only to be sidelined by a series of supporting component failures. First, a pin failure in the center differential ended up causing severe transmission damage. After repairing that, a wrist pin in the EVO's built engine let go, causing more irreparable damage. Once again, after getting the car back on the road, the transmission suffered another setback as the gearbox gave up its fourth gear and finally the installed twin-disc clutch exploded. Carbee grew weary of spending more time on the sidelines instead of flying down the track, but he persisted in his quest to race and daily-drive his 700-horsepower beast. The final straw came when the engine's stock sleeves called it quits

HOUSTON, WE HAVE A PROBLEM
Carbee decided that the time spent in 700-horsepower land wasn't enough to excuse the constantly failing components and poor street-drivability that the EVO exhibited. He decided to redirect his efforts at making the car more streetable and was willing to accept a lower horsepower figure, thinking the existing fixes and repairs he had made would be more than happy to oblige. After fourteen months, Carbee redirected his flight down to a more reasonable altitude.
BIGGER WASN'T BETTER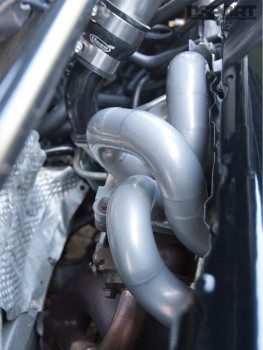 At the heart of the matter, Carbee decided the large turbocharger that had afforded him access to so much power was the culprit to his over-reaching tendencies. With that, he swapped out the unit for an FP Red EVO turbocharger. The FP Red's ball-bearing center housing and billet compressor wheel offered quick spooling characteristics to make the car more enjoyable at street-level engine speeds. Subsequently, the large compressorhousing inlet combined with surgereducing ports allowed higher-boost levels and a wider range of sustainable power levels than similarly sized turbochargers in the "stock-appearing" family. Carbee hung the smaller FP Red turbocharger from a Full-Race Motorsports tubular manifold to better aid low-speed spooling characteristics. Spent exhaust gasses exit from an ETS downpipe, through a CP-E test pipe and out to the atmosphere via a Lite-spec titanium exhaust system.
[pullquote]Full Race's Prostock manifold received a ceramic coating to help contain high enthalpy heat within the runners.[/pullquote]
AIR IN THERE
On the cold side, an ETS air induction system feeds the FP Red compressor housing. An AGP 3.5-inch intercooler core mated with ETS intercooler piping feeds air from the turbocharger to the Boomba 64mm throttle body and hand-ported intake manifold. The large intercooler core chills the air charge more efficiently, increasing density and subsequently offering the engine more pounds of air for a given boost pressure level.
MOONSHINE MOTIVATION
To complement the increased air supply at the EVO's 33psi maximum boost level, Carbee incorporated a fuel system consisting of Fuel Injector Clinic 1,100 cc/min injectors, a Buschur Racing Double Pumper twin-pump system and a Boomba Racing high-flow fuel rail. While 1,100 cc/min injectors may seem like overkill compared to the EVO's 555 cc/min factory injectors, Carbee's use of E85 fuel in lieu of pump gasoline justifies the injector flow doubling as the ethanol-based fuel is consumed in quantities much greater than its gasoline equivalent.

ENGINE INSURANCE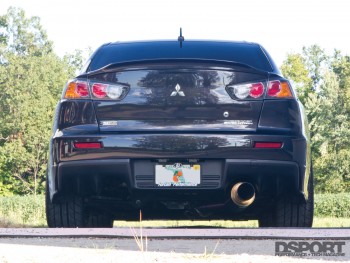 The EVO's current longblock setup is the direct result of Carbee's prior excursions into 700-horsepower territory. As multiple components failed, he replaced them with increasingly better aftermarket parts. Carbee's current iteration has the 4B11T bored out 0.5mm for clean, damage-free cylinder walls. The current 2,021 cc displacement is the sum of a set of Buschur Racing-specified 9.0-to-1 compression JE Pistons sitting atop a quartet of Manley I-beam connecting rods mated to a factory 4B11 crankshaft. On the deck side sits a Buschur Racing Stage-3 cylinder head stuffed with Supertech oversized valves and dual valve springs. A pair of Kelford 214B camshafts orchestrate valve opening and closing events, while a set of NGK iridium plugs provide the spark to get the combustion party started. Under Carbee's own fuel and ignition maps flashed into the factory ECU, the current engine setup is good for 547.14 peak wheel horsepower at 6,850 RPM and 483 lbft of peak usable torque at a very streetable 5,000 RPM engine speed.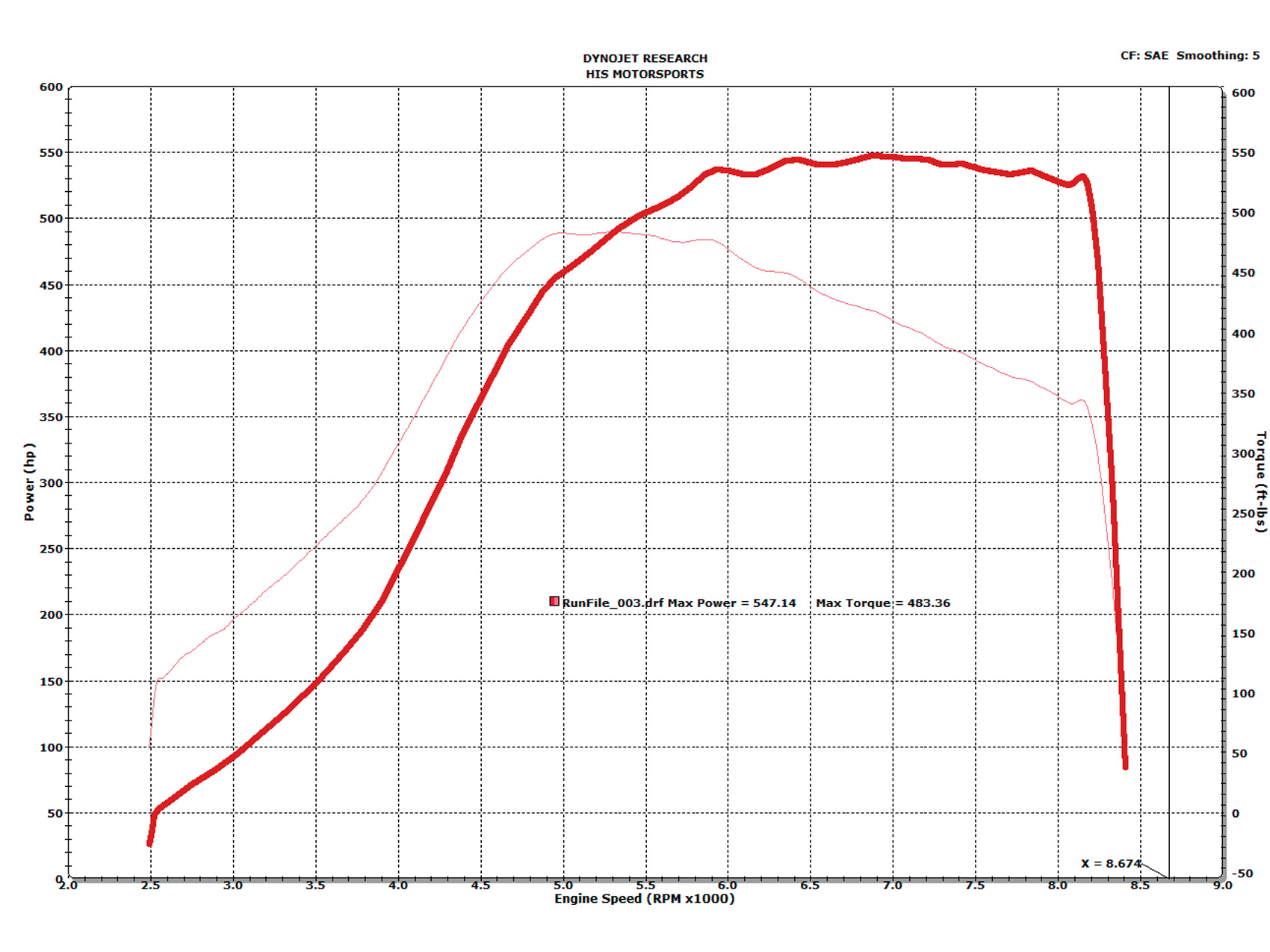 BUILDING A BETTER WAX
As many of Carbee's component failures were driveline related, he paid special attention to reinforcing the components that transferred the shock of his lead-footed track excursion safely to the ground. At the center of the driveline reinforcements is a ShepTrans-modified transmission. Shepherd's reinforcements to the factory gearbox include upgraded synchros, gear shift sleeves, roll and cross pins, bearings and thrust washers. Carbee treated his transmission gears to the REM-ISF process (see Sidebar) as added insurance. A Carbonetic single disc clutch is now responsible for transferring all of the 424 lb-ft of torque when necessary. An AWD Motorsports aluminum driveshaft reduces weight and strain on the overall driveline while offering increased structural integrity.

RUNNING SHOES
The EVO X's suspension and running gear strikes a balance between street comfort and track durability. A set of BC Racing adjustable coilovers make the transition from smooth to stiff easy and effortless. A single Whiteline swaybar in the rear is responsible for controlling rearward body roll while a Whiteline rollcenter adjustment kit keeps suspension geometries in line at any of the EVO's multiple ride heights. Rolling stock for daily-driving and track blasts consists of a set of lightweight 18×9.5-inch Enkei RPF-1 wheels wrapped in Hankook R-S3 tires of the 265/35R18 variety. The EVO's factory Brembo calipers clamp Ferodo DS2500 track-compound brake pads to slow the CZ4A chassis to a stop.
BACK ON THE STREETS
Now that Carbee is up and running with enough power to satisfy his aspirations, he can speak freely about what exactly went wrong. "I probably would have never left the (original) FP Red setup, if I had to do it all again," he confesses. "The car is an absolute blast to drive now and I probably would have had more accomplishments under my belt if I didn't waste time with the giant turbo." Still, Carbee is not content to leave well enough alone, with plans to lower overall vehicle weight and reinforce a few more driveline components. With the numerous expensive lessons he has learned, you can be sure Carbee won't get too close to the sun this time out.