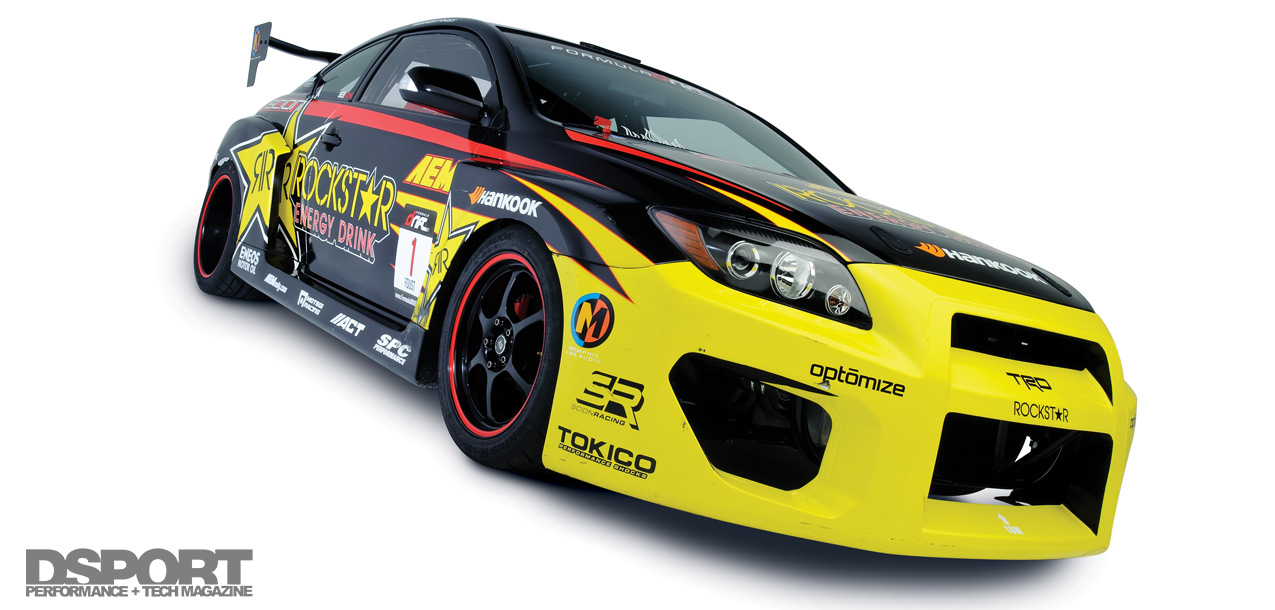 VETERAN RACE TEAMS OFTEN SEEK GREATER CHALLENGES TO PROVE A POINT– the seemingly unfeasible can be made a reality. Building a winning Formula D racecar that requires a RWD conversion in a timeframe of a few months would seem unfeasible. However, Papadakis Racing, with the support of Scion, TRD, AEM and driver Tanner Foust made it a reality.
Text By Richard Fong // Photos by Michael Ferrara
---
Stephan Papadakis is a name synonymous with import performance. Steph has built and raced some of the fastest import-powered vehicles in the world. Going from a dead stop to over 200 MPH in a span of just six seconds and 1,320 feet is something that Steph mastered. As the feasibility of "professional" racing diminished when NHRA infected the sport of import drag racing, Steph looked to become a part of the drift revolution. Steph became involved with Tanner Foust and continued his long-standing relationship with AEM. To date, this trio of talent has already managed to capture back-to-back Formula Drift championships.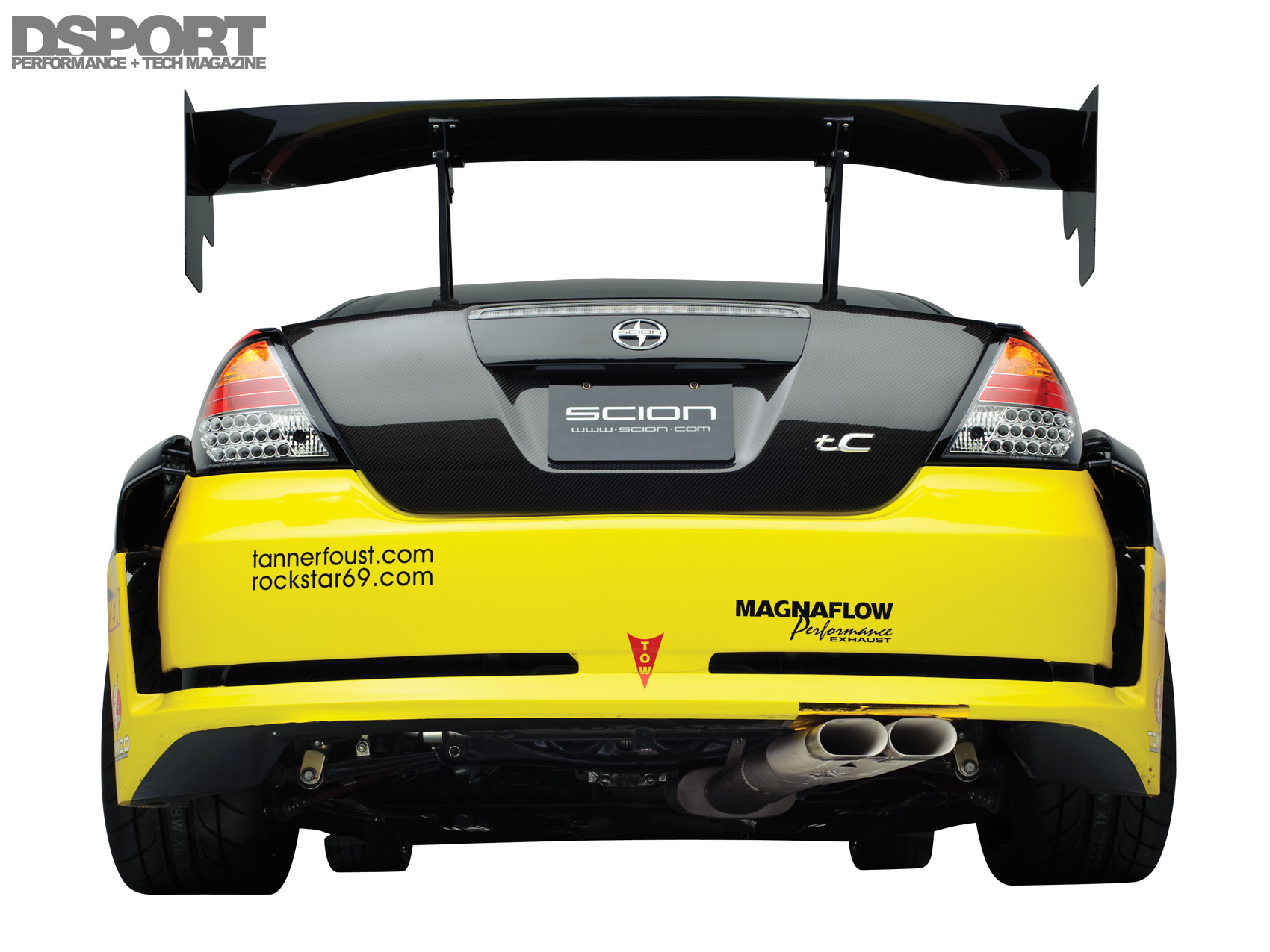 From casual conversations with Scion during the 2008 season, a full factory-supported program came to fruition for 2009. Acquiring the tC chassis in November 2008, a deadline to have the racecar ready for the 2009 Formula D season opener left only months for the build. The team at AEM and Papadakis Racing scrambled to design, fabricate, fit, develop and tune the Scion tC in time to makes it debut at the Formula D Long Beach season opener.
Chassis Reinforcement
Wasting no time, the tC chassis was completely stripped and gutted before being sent to Rob Miller Race Cars for the cage and RWD conversion. Formula D requires a chromoly cage built from 1.5-inch diameter tubing. Steph calculated that an incease to 1.75-inch tubing would add only 20 pounds while delivering improved strength and rigidity. To facilitate the rear-wheel drive conversion, a rear subframe from a Toyota Supra was mated to the tC chassis with relative ease.
The Rob Miller Race Cars custom cage was fabricated from 1.75-inch chromoly steel tubing for improved strength and rigidity.
TRD's NASCAR Technology Goes Drifting
With the chassis ready for a powerplant, attention shifted to engine selection. The initial vision for this project was to use a Chevy smallblock V8 with a Z06 transaxle. After further research, the amount of fabrication required to make that vision a reality didn't fit the team's time table. Fortunately, support from TRD opened the door to a vast catalog of available components, and a number of solutions that proved to be superior to the original plan.
TRD Phase-9 V8 Competition Engine

From 2004-06, Toyota and TRD built approximately 500 of the TRD Phase-9 engines in the NASCAR Truck series in an effort to earn the privilege of competing in the NASCAR Cup Series. After two years of competition, Toyota successfully earned a spot in the NEXTEL Cup Series. Admission to the series necessitated an evolution of the Phase-9 engines to the 'Cup-specific' Phase-11 configuration. The Phase-14 engines came to like in 2008. The 'retired' Phase-9 engines have been purchased for use in ARCA, sprint cars and off-road truck racing. This Scion tC is the first to use a Phase-9 engine in drifting competition.
TRD provided power in the form of a TRD Phase-9 NASCAR engine. The compact 90-degree V8 engine went to Ed Pink Racing Engines (EPRE) in Van Nuys, CA to be refreshed for competition. For several decades, Ed Pink has built race engines for dominant teams in blown fuel drag racing, Indy 500 and sprint car. Since NASCAR teams tune these engines for specific track conditions (WOT power on big ovals versus mid-range power on short courses), Steph wanted to adjust the powerband of the engine. The engine received a set of custom 13.0:1-compression Mahle pistons linked to the TRD crankshaft by way of TRD connecting rods. EPRE installed TRD NASCAR "short track" two-valve cylinder heads with ports optimized for low- to mid-range power. The valvetrain features aluminum rockers and custom-ground EPRE camshafts (268-degree Intake, 277-degree Exhaust, 17.8mm lift). The exhaust leaving the combustion chambers enters custom tuned length headers before flowing through the one-off Magnaflow exhaust system. This selection of parts improved engine response and shifted the power curve to cater to Tanner's driving style.
(L) With the dash removed, the Tilton pedal set, AEM EMS, wiring and switchgear can be accessed for maintenance. (R) The headers were custom built with tuned-lengths to optimize the powerband.
From Venturis To Electronics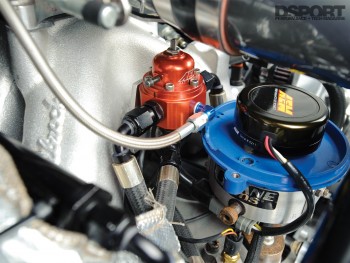 Since the TRD Phase-9 V8 engine was originally carbureted, a conversion to electronic fuel injection was in order. The intake manifold was modified to accommodate an 80mm throttle body and eight injector bosses fitted with Bosch 650cc/min fuel injectors. Dual Walbro 255-lph fuel pumps with an AEM fuel-pressure regulator were fitted to supply 112-octane race fuel to the injectors, while an AEM Engine Position Module replaced the distributor. To eliminate potentially problematic plug wires, a Corvette LS-1 coil-on-plug setup was fitted. To control fuel delivery and ignition timing, Steph chose an AEM EMS (30-1050) engine management system. After Steph calibrated the AEM EMS, the engine generated 516 horsepower and 376 lb-ft of torque at the wheels on the AEM Mustang dynamometer.