There's no doubt that first impressions matter.
The first time we met David Bruzewski at the 2010 IDRC Sport Compact Nationals, his 2004 Labrador Black EVO VIII caught our attention immediately and made a lasting impact. With an AMS 2.3-liter 4G63 engine under the hood producing over 700 horsepower and 531 lb- torque, Bruzewski managed to claim the runner-up spot in his class. Add to this performance an Öhlins suspension, bronze Volk Racing TE37 wheels and a full Voltex aero kit and this EVO simply stood out from the rest. He earned a feature in
DSPORT Issue #96
as well as a video feature on
DSPORT DVD #14
.
Text and Photos by Richard Fong
---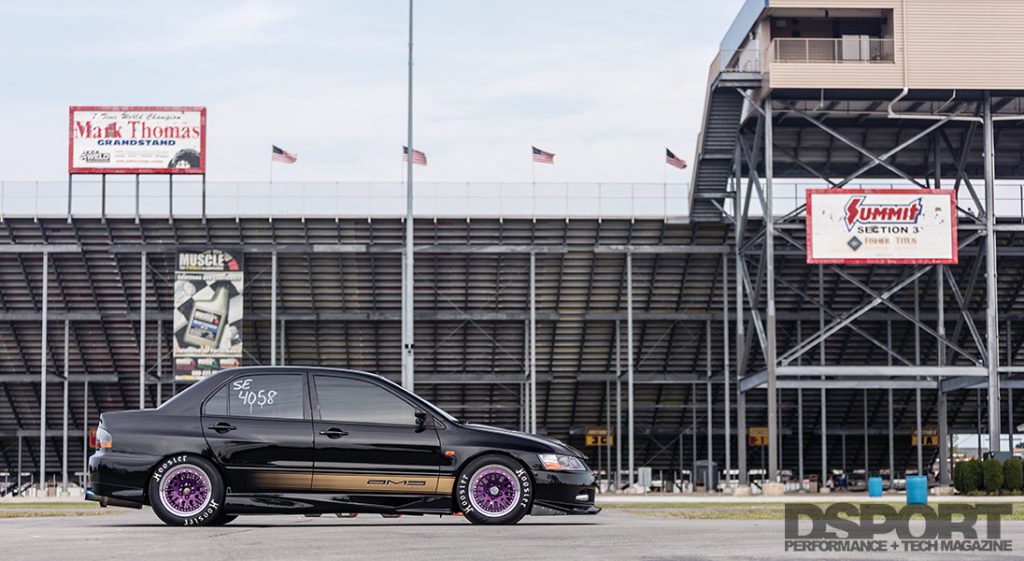 Over the course of eight years, Bruzewski made small changes, improving his EVO to a best output of 777 horsepower and shaving its quarter-mile elapsed time to 9.72 seconds at 144 mph. In that time, he accumulated a total of nine podiums at various drag races, including five first place finishes, three as runner up and one in third place.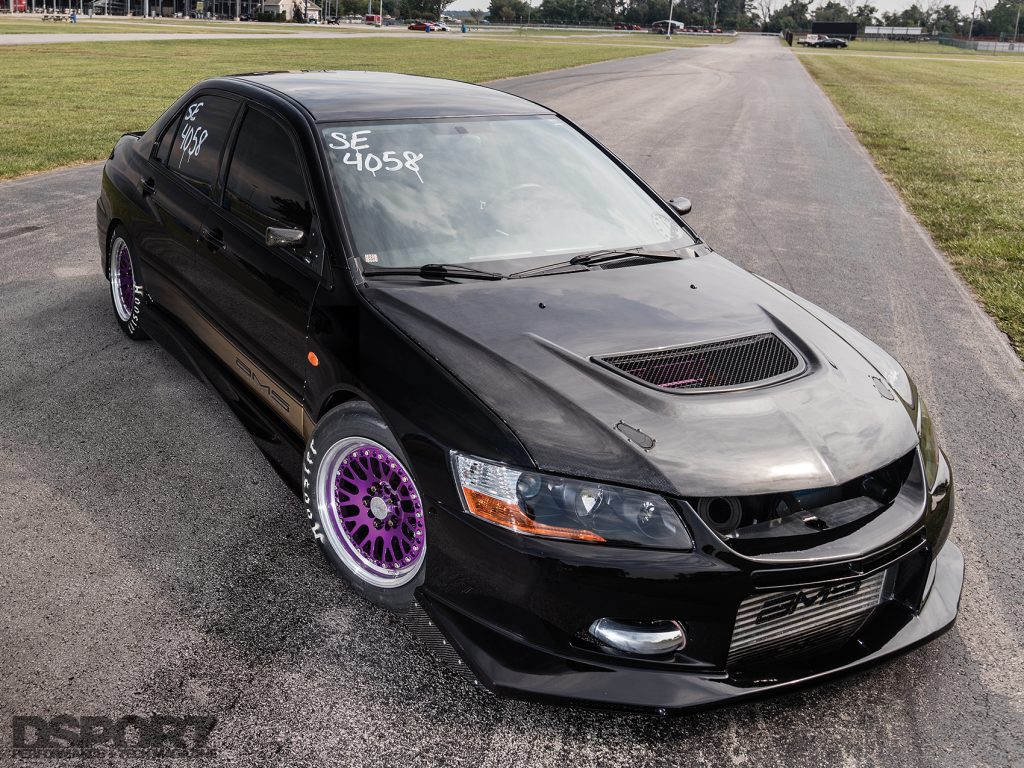 No More Status Quo
Bruzewski not only raced his EVO down the drag strip, he also took it to HPDE track days, autocrosses and drove it around town. While the EVO performed with remarkable consistency with Bruzewski at the wheel, he had hit a wall and was unable to improve on his personal best. Not willing to compromise the street comfort of his EVO by stripping it down to shave weight, it was time for a power upgrade to elevate its performance.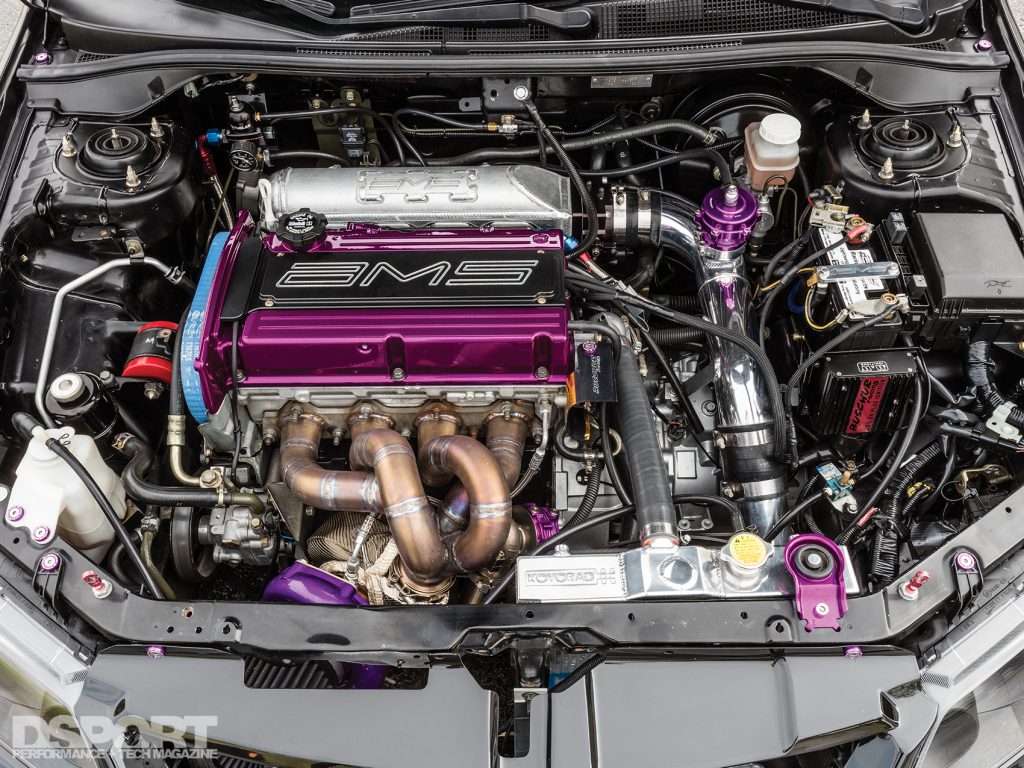 Balancing Power and Response
Bruzewski returned to AMS to ask how he might achieve more power while maintaining or even improving response. The answer they agreed upon was the AMS 4G64 2.3RR engine program. The 4G64 engine would offer the quicker spool of a stroker engine with the benefits of high engine speeds like a 2.0-liter. To start, AMS overbored a 4G64 block from 86.5mm to 87mm before filling the bores with higher compression Manley Turbo Tuff 10.5-to-1 pistons. Manley Turbo Tuff I-beam connecting rods join the pistons to the destroked, 94mm Manley billet steel crankshaft. By comparison to Bruzewski's previous stroked 4G63, the 2.3RR has a 1.5mm larger bore but a 6mm shorter stroke, resulting in a displacement reduction of 115cc. But the reduction in stroke permits greater engine speed that allows the EVO to stay in boost longer.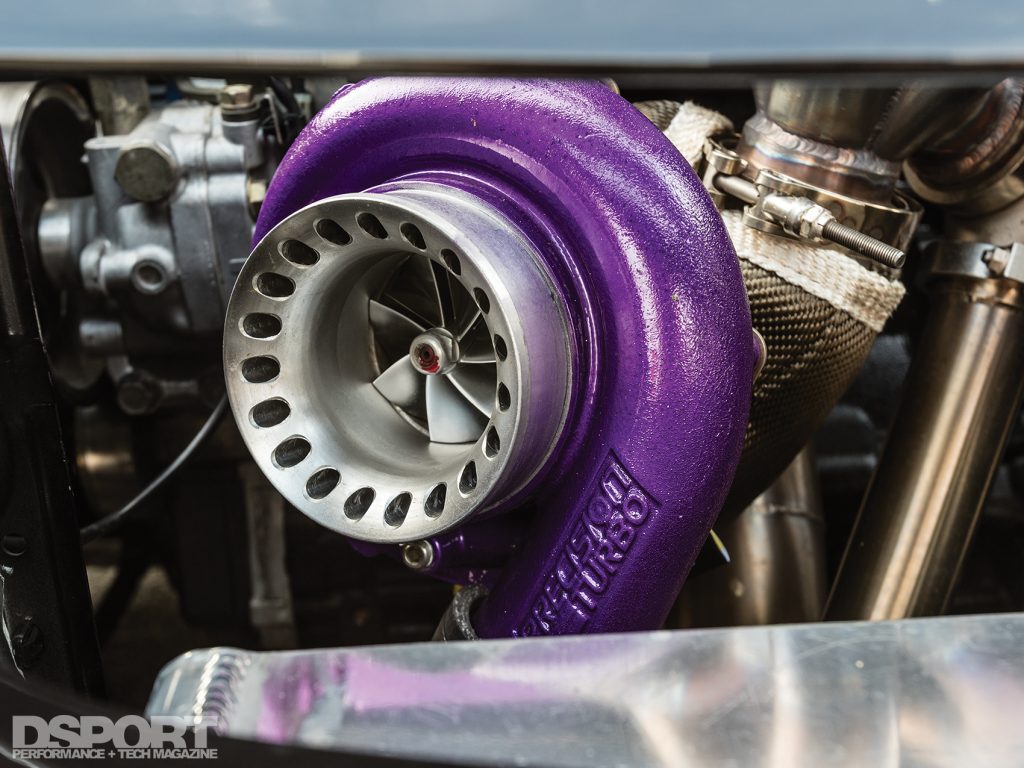 Giving the Turbo a Boost
To take advantage of the 2.3RR engine, Bruzewski sought a turbocharger upgrade in the form of a larger Precision Turbo & Engine 6466 turbocharger. This turbo exhibited similar response compared to his old 6262 turbocharger, due in part to the higher compression ratio of the engine. A Buschur Racing forward facing manifold positions the turbocharger with the compressor inlet facing the bumper opening for unobstructed induction. Yet, to maintain true streetability, this manifold positions the turbocharger in such a way that it can still accommodate an air filter, making it ideal for Bruzewski's multi-faceted objectives. With the rev limiter now able to reach 9,500 RPM, AMS retuned the AEM Engine Management System to produce 907 peak horsepower and 681 lb-ft torque to the rollers of a Dynojet Dynamometer. That's an additional 130 horsepower compared to the best the performance of the previous setup.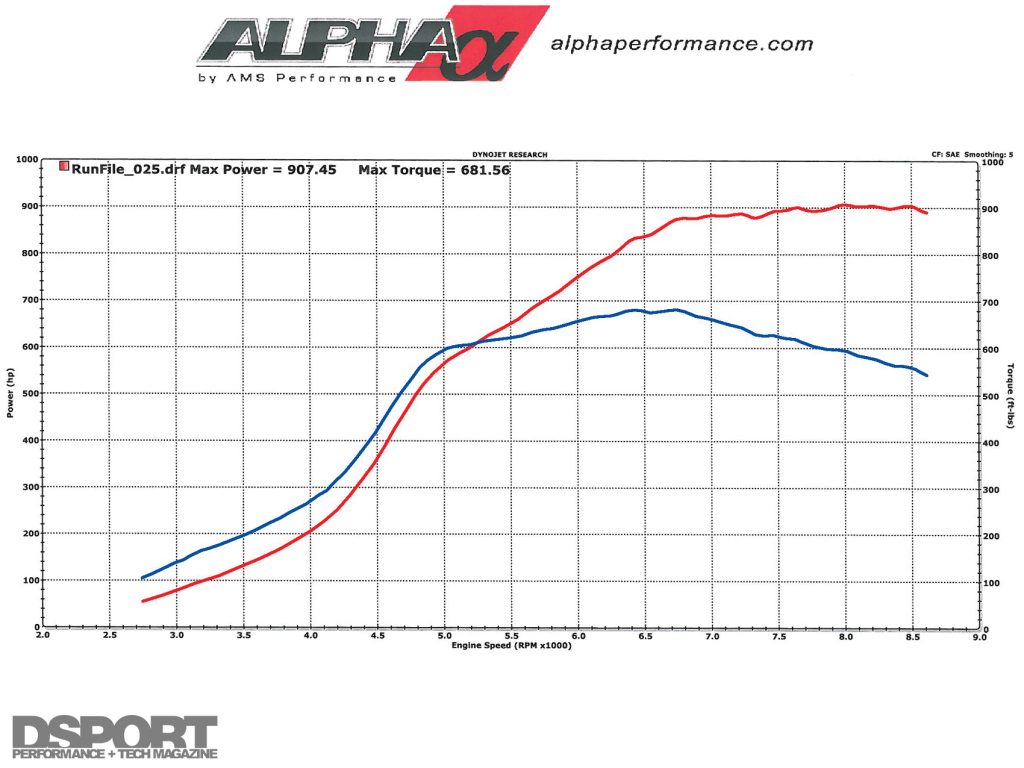 Smearing Gears
The improved powertrain helped to uncover a new issue, gearing. Now capable of greater engine speeds, the 2.3RR actually maxed out the final drive of the previous setup. Even with a redline of 9,500 RPM, Bruzewski would actually run out of gear before tapping redline in fifth gear. To remedy this situation, Bruzewski turned to Dan Buschur for a Bushwacker Stage 3 transmission equipped with a more favorable 4.31-to-1 final drive. This helped to stretch out the gears, taking advantage of the higher redline and permitting Bruzewski to stay on the gas the whole way down the 1,320 without bouncing off the limiter.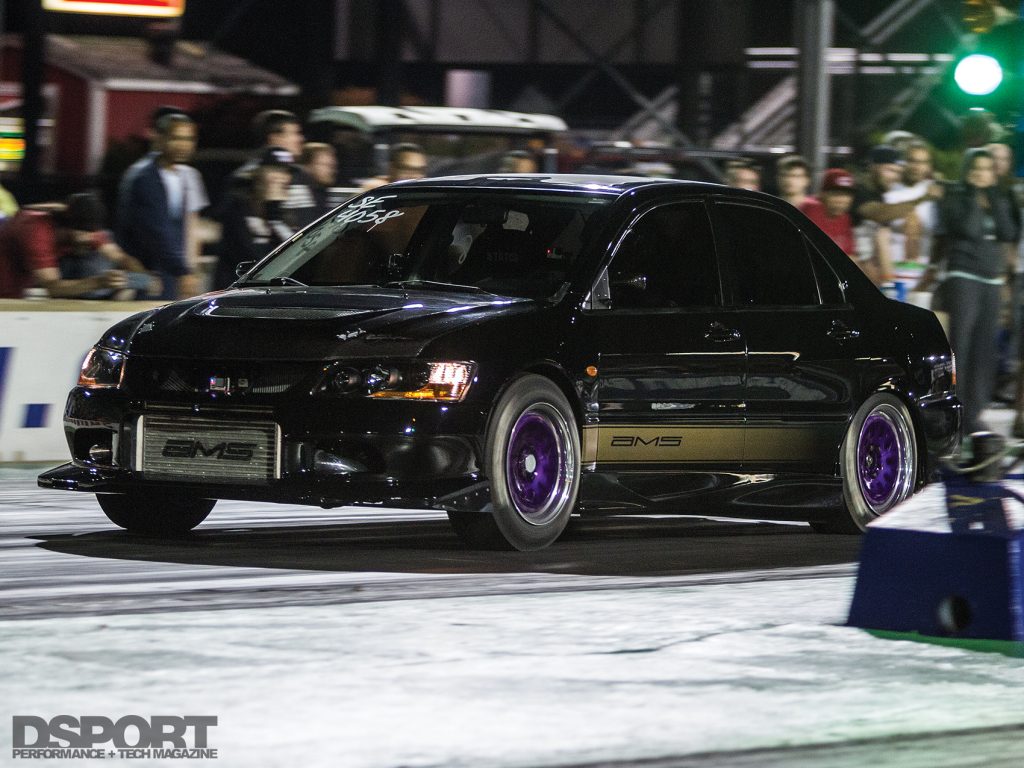 Shorter Quarters
Bruzewski debuted his improved setup at the 2015 Shootout in Ohio. On only the second practice session of the weekend, he improved his personal best pass with a 9.48-second run at 159.44 MPH. Bruzewski commented, "For 2016, I plan to continue dialing in the car. What made the old build perform so well at the races was not that it was the fastest but rather that it was very consistent. I'm not worried if I have a bad trip to the track, I know that with some seat time and refinement, I'll be able to make good used of the horsepower and torque. I want to perfect the new setup that I now have as I reach for the low nines and the high eights." Although he is still dialing in the new engine, driveline and chassis setup, quicker and faster time slips await his return to the Shootout in August 2016.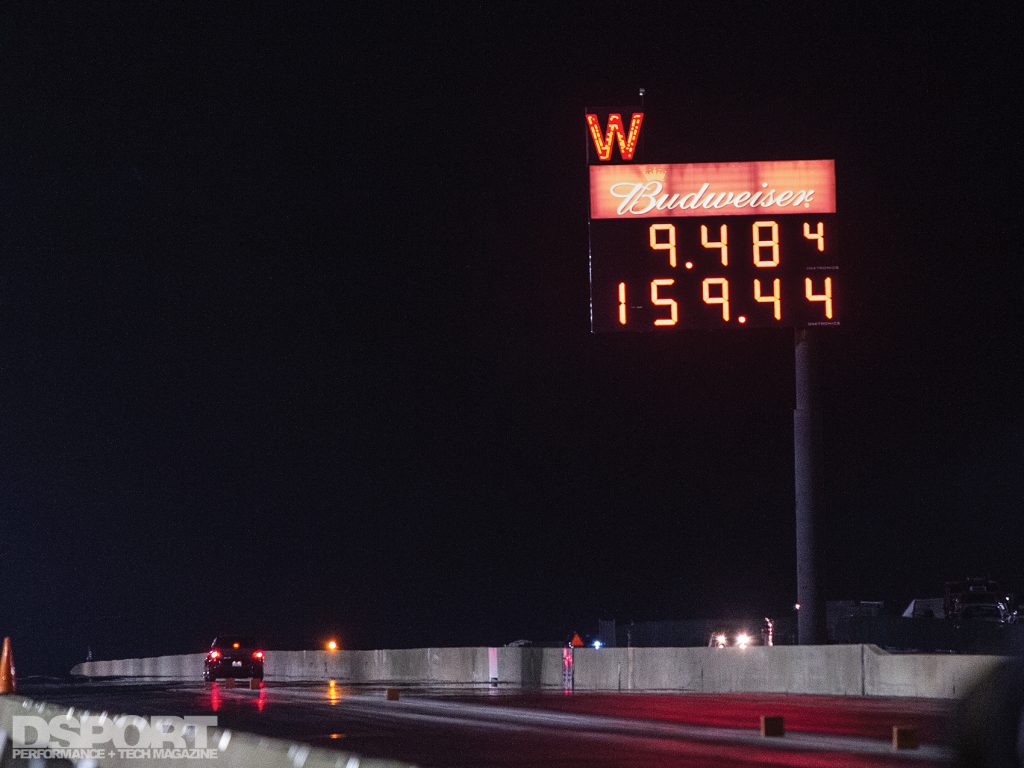 SPEC SHEET
| VEHICLE | |
| --- | --- |
| Year / Make / Model: | 2004 Mitsubishi Lancer Evolution VIII |
| Chassis Code: | CT9A |
| Vehicle Weight: | 3,150 lbs |
| Launch RPM: | 6,100 RPM |
| Shift RPM: | 8,800 RPM |
| Redline RPM: | 9,200 RPM |
| Peak Boost: | 37 psi |
| Fuel: | E85 |
| ENGINE | |
| --- | --- |
| Engine Code: | 4G64 |
| Displacement (cc): | 2,236cc |
| Bore & Stroke (mm): | 87mm x 94mm |
| Peak Horsepower (@ RPM): | 907whp @ 8,000 RPM |
| Peak Torque (@ RPM): | 681 lb-ft @ 6,500 RPM |
| Dyno Type: | Dynojet Dynamometer |
| Engine Builder: | AMS |
| Block Modifications: | Custom Oil Squirters |
| Pistons/Compression Ratio: | Manley 10.5:1 Compression Pistons, AMS-spec |
| Connecting Rods / Crank: | Manley Turbo Tuff I-beam Rods |
| | Manley Turbo Tuff 4340 Billet Steel Crankshaft |
| Exhaust Manifold: | Buschur Racing Forward Facing Manifold |
| Exhaust System / Downpipe: | Buschur Racing Downpipe |
| | GReddy Titanium Exhaust |
| Wastegate: | TiAL Sport 44mm |
| Cooling System: | STM Small Radiator |
| Oil System: | STM Oil Cooler Kit |
| TURBOCHARGER | |
| --- | --- |
| Turbocharger: | Precision Turbo & Engine PT6466 |
| Frame: | T3 |
| Compressor Wheel Specs: | 64.39mm |
| Turbine Wheel Speds: | 74.17mm |
| Turbine Housing: | V-Band inlet .82 A/R |
| CHASSIS/DRIVELINE | |
| --- | --- |
| Transmission: | Bushwacker Stage 3 |
| Final Drive: | 4.31:1 |
| Wheels (Make, Size & Offset): | CCW 16×9.5-inch |
| Tires (Make & Size): | Hoosier QTP 26×9.5×16 |
| INTERIOR | |
| --- | --- |
| Steering Wheel / Quick Release: | Keys Wheel |
| Gauges: | AIM MXL Dash |