There's no worse strategy than no strategy at all. Going into a project without direction is exactly how cars become money pits. Fortunately, the scrupulous professionals of our industry realize this and help to put wandering enthusiasts on a path toward an objective.
George Werner of Hastings, Nebraska, has been a fan of Mitsubishi's Lancer Evolution series since the late 1990s when he first learned about the Evolution V. When he finally bought his first EVO, it was a few generations later with this 2008 CZ4A EVO X. He liked the CZ4A's refinement, newer bodylines and 4B11T engine, which were a departure from the previous generations of 4G63-powered Evolution.
Text and Photos by Richard Fong
---

Growing Pains
Werner's first experience behind the wheel of his EVO X delivered an E-Ticket ride that many first-time EVO owners remember and cherish. However, after acclimating to his EVO X, Werner started to seek ways to extract more performance. He chose the most typical bolt-on parts, knowing well that he would eventually outgrow these upgrades. This soon left him with little idea what else might be right for his application or what to do next. Werner commented, "I didn't really have a game plan, I just wanted to go faster. I began researching my options and decided to work with Marco Passante at Magnus Motorsports in Toronto, Canada." Discussions with Passante led to a full engine build with a Forced Performance FP3794R turbocharger. Werner sent his machine up to Hogtown where the staff at Magnus Motorsports began the teardown.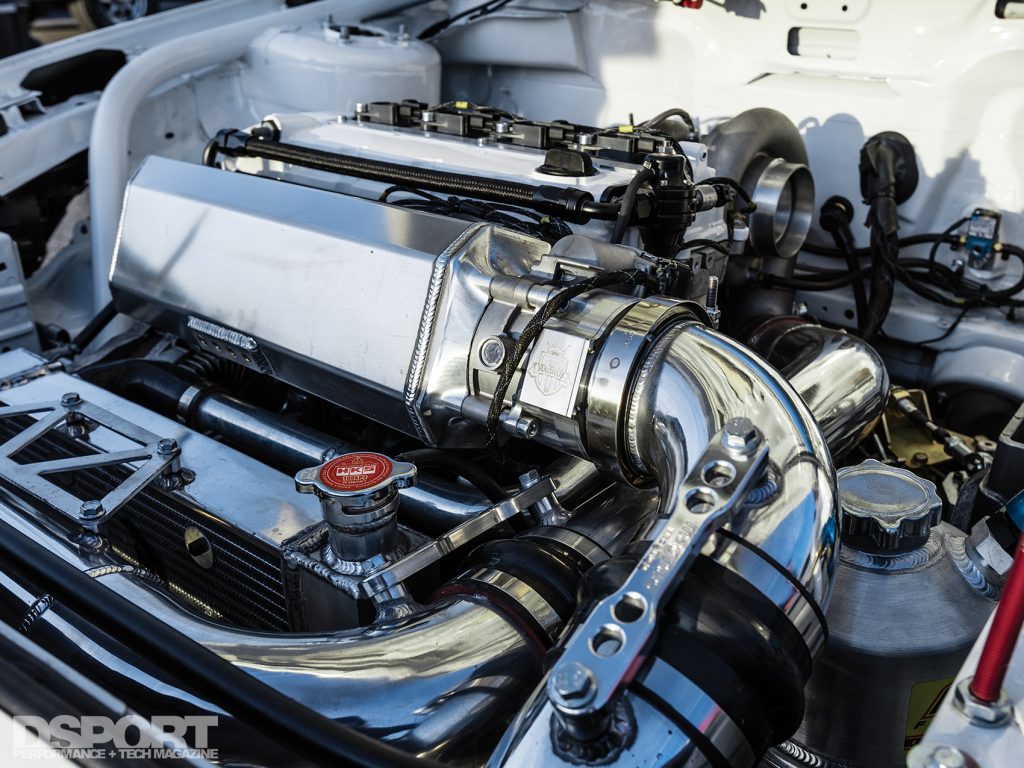 Finding a Path
Werner hadn't anticipated the amount of time it would take to machine and build up the 4B11T, fit it with a larger turbocharger and then have it tuned. As he waited anxiously, he discovered the meaning of "Idle hands are the devil's workshop", as he surfed the web to see what others had done with their CZ4As. His search led him to cylinder head, applying its CNC cylinder head program. Once the head was finished, a MIVEC delete, Ferrea valvetrain and custom ground Kelford camshafts replaced the factory hardware before the head assembly rejoined the shortblock. ARP head studs provide the clamping force to secure the longblock assembly together.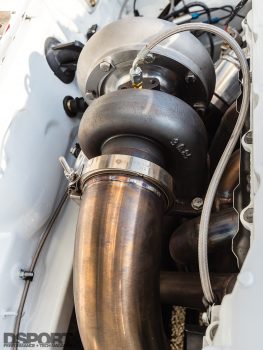 With improved volumetric efficiency, the engine takes best advantage of an Extreme Turbo Systems exhaust manifold channeling high-enthalpy gasses into the turbine of a Forced Performance Super 99 turbocharger. Custom piping joins the Super 99's compressor discharge to the end tank of a six-inch thick front-mount intercooler. Once the compressed air exchanges heat with the intercooler core, it flows through a Porsche GT3 throttle body and a custom Magnus Motorsports intake manifold for distribution to the intake ports.
As the intake charge accelerates towards the combustion chambers, Injector Dynamics ID2000 fuel injectors spray atomized VP Racing C16 race fuel into the air stream. With a MoTeC M800 engine management system regulating fuel delivery and ignition timing, Passante refined the tables and raised the boost pressure. At a peak boost level of 55psi, the 4B11T generated 970 horsepower and 629 lb-ft torque to the rollers of a Dynojet 424xLC2 AWD dynamometer.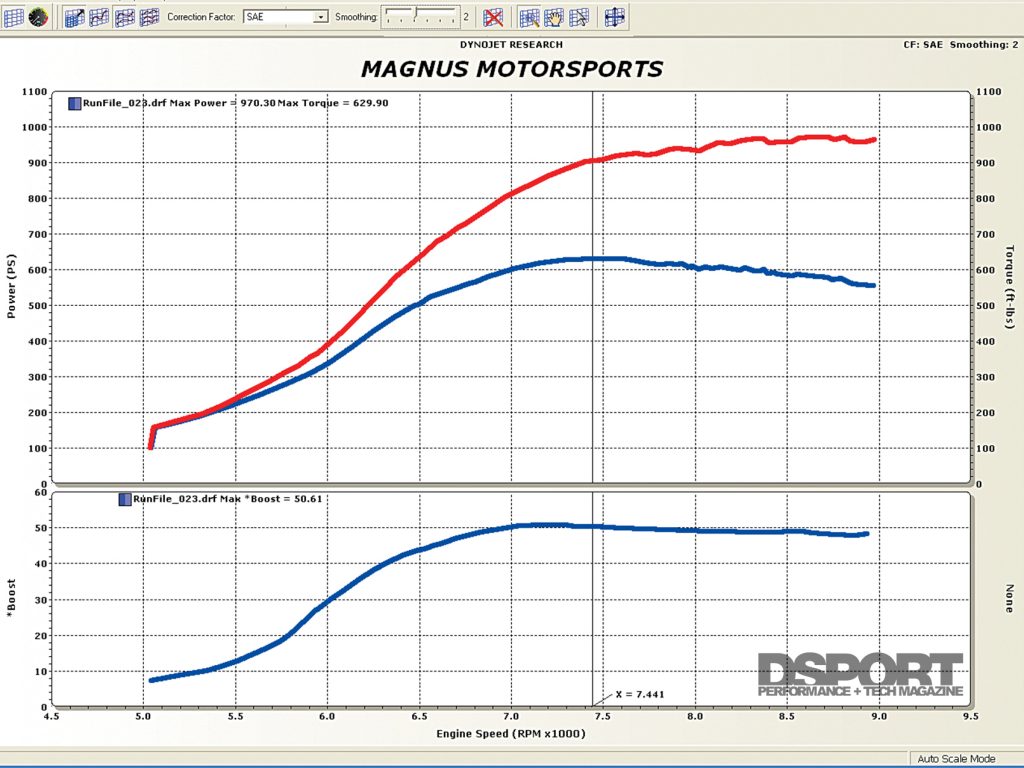 Driveline for the Big Dogs
Putting down more than three times the horsepower and twice the torque to the wheels would overtax any factory driveline. To ensure reliable power delivery, an Exedy triple-plate clutch bolted to the crankshaft transfers torque to the input shaft of a six-speed PPG gear set. The new sequentially-shifted gears feature a strong dog-engagement system that permits quick, clutchless shifting through all six of the tighter gear ratios. Since this gear set reuses the stock transmission housing, it eliminates the need for adapter plates, the expense of a custom housing or an even more expensive racing transmission.
Downstream of the sequential transmission, the Active Yaw Control rear end, which offers a significant advantage to handling when the EVO X needs to turn and rotate, was not designed for such dramatic increases in torque output. Thus, an EVO VIII RS rear end with a mechanical LSD replaced the AYC, splitting torque to the rear wheels. The Driveshaft Shop's driveshaft and axles replaced their factory counterparts to ensure that the Belak Industries drag wheels mounted with Mickey Thompson slicks dig into the track surface without fail.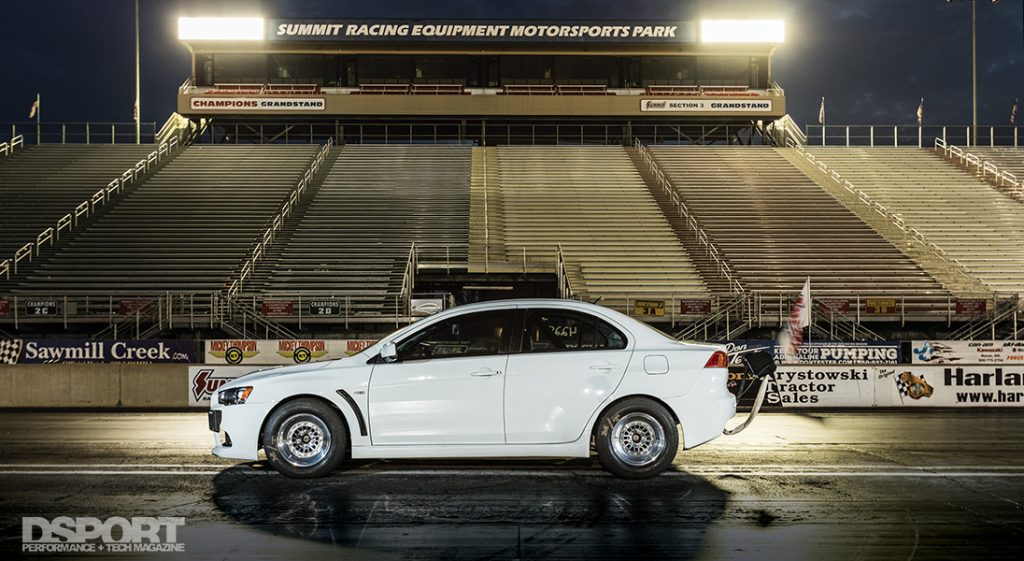 Combating G Forces
When equipped with more horsepower, more torque and more traction, the resulting improvements during hard acceleration cause a dramatic increase in fluid shift. This can lead to catastrophic failures due to lean fuel conditions or oil starvation in the engine, both due to fluids shifting away from pickup or suction points. To defend against fuel slosh, a Fathouse Fabrications fuel cell was mounted in the trunk. The fuel cell's bladder ensures that even under hard acceleration, the fuel pump pickup should always be submersed in fuel even during hard acceleration and cornering.
To protect the engine from oil starvation, Magnus Motorsports installed its dry sump-oiling system. Unlike a wet sump oiling system, which draws oil into the engine by way of a submersed pickup, a dry sump system pumps the oil from a shallow pan into a storage reservoir while also feeding a steady supply of oil from the reservoir back into the engine. A billet aluminum sump pan replaced the factory oil pan at the bottom of the 4B11 block, while a three stage scavenge pump mounts at the front of the engine. A drive belt joins it to the crankshaft, pumping oil from the pan into a baffled reservoir where it is collected and pumped back into the engine. Although dry sump systems add weight and complexity to an engine, its merits more than justified its shortcomings in this case.
EVO X Race Readied
Magnus Motorsports finished building the CZ4A just in time to deliver it to Werner in Wakeman at the 2015 Shootout. Werner was excited to see his car for the first time in many months. It was nothing like what he sent to Toronto, having gone through an epic transformation that caught everyone's attention at the Buschur Racing Dyno Day. Since Werner had not practiced driving the car prior to the Shootout, Passante advised him to take this opportunity to shakedown the car and learn how to drive it. Going from an H-pattern transmission with around 400 horsepower to a sequential box and almost 1,000 horsepower requires practice and many passes down the track to get proficient. Werner concluded, "It was a great weekend in Wakeman. It was my first time attending the Shootout, and taking delivery of my car at the same time made it all the more special. With the power on tap, weight reduction and reinforcement of the chassis, I'm hoping for some quick and fast time slips in 2016. I want to compete with the best, like the ETS/ English Racing EVO X." Now with a clear direction, Werner plans to dial in his car and get some seat time in preparation for the 2016 Shootout.
SPEC SHEET
| VEHICLE | |
| --- | --- |
| Year / Make / Model: | 2008 Mitsubishi Lancer Evolution X |
| Chassis Code: | CZ4A |
| Vehicle Weight: | 2,500 lbs. |
| Launch RPM: | 8,200 RPM |
| Redline RPM: | 10,500 RPM |
| Peak Boost: | 55psi |
| Fuel: | VP Racing C16 Race Fuel |
| ENGINE | |
| --- | --- |
| Engine Code: | 4B11T |
| Displacement (cc): | 1,998cc |
| Bore & Stroke (mm): | 86mm x 86mm |
| Peak Horsepower (@ RPM): | 970 whp @ 8,500 RPM |
| Peak Torque (@ RPM): | 629 lb-ft @ 7,400 RPM |
| Dyno Type: | DynoJet 424x LC2 Linx Dynamometer |
| Engine Builder: | Marco Passante @ Magnus Motorsports |
| Block Modifications: | Darton MID Sleeves |
| Machine Work: | Magnus Motorsports |
| Pistons/Compression Ratio: | Ross Pistons 10.0:1 Compression, Magnus Spec. |
| Connecting Rods / Crank: | Pauter Connecting Rods |
| Camshafts: | Kelford Camshafts, Custom Grind |
| Valves/Springs/Retainers: | Magnus MIVEC Delete |
| | Ferrea Complete Valvetrain |
| Cylinder Head Modifications: | Magnus Motorsports Cylinder Head Porting |
| Head/Main Studs: | ARP Head Studs |
| Intake Manifold/Throttle Body: | Magnus Motorsports Custom Intake Manifold |
| | Porsche GT3 Throttle Body |
| Fuel Injectors: | Injector Dynamics ID2000 (x4) |
| Fuel Delivery System: | Magnus Motorsports Mechanical System |
| Engine Management System: | MoTeC M800 |
| Engine Management Tuner: | Marco Passante |
| Ignition System: | M&W CDI Coil-on-plug System |
| Spark Plugs: | NGK Iridium |
| Exhaust Manifold: | Extreme Turbo Systems Manifold |
| Exhaust System / Downpipe: | Magnus Motorsports 4-inch |
| | Custom Downpipe/Exhaust |
| Wastegate: | TiAL Sport |
| Blow-Off Valve: | TiAL Sport |
| Intercooler: | Magnus Motorsports 6-inch Thick Intercooler |
| Cooling System: | Magnus Motorsports Custom Radiator |
| Oil System: | Magnus Motorsports Dry Sump System |
| Fuel Cell: | Fathouse Fabrications Fuel Cell |
| TURBOCHARGER | |
| --- | --- |
| Turbocharger: | Forced Performance Super 99 |
| Frame: | T4 |
| Compressor Wheel Specs: | 99mm Major, 72mm Inducer |
| Turbine Wheel Specs: | 76mm Major, 67mm Exducer |
| Turbine Housing: | .85 A/R |
| CHASSIS/DRIVELINE | |
| --- | --- |
| Springs, F&R (Make & Rate): | HSD MonoPro Springs, 10kgf/mm, 9kgf/mm |
| Shocks, F&R (Make & Rate): | HSD MonoPro Adjustable Dampers |
| Additional Suspension Components: | Magnus Motorsports Custom Subframes (F&R) |
| Transmission: | PPG 6-speed Gearset |
| Clutch / Flywheel: | Exedy Triple Plate Clutch |
| Differential(s) (Make & Type): | Factory EVO VIII RS Mechanical LSD (R) |
| Axles / Driveshaft: | Driveshaft Shop Axles and Driveshaft |
| Wheels (Make, Size & Offset): | Belak Industries 15-inch Drag Wheels |
| | |
| Tires (Make & Size): | Mickey Thompson 26×8.5-inch Drag Slicks |
| Brake System (F&R): | Magnus Motorsports Drag Brake Kit |
| INTERIOR | |
| --- | --- |
| Roll Bar / Cage: | Magnus Motorsports 10-point Cage |
| Seats: | Kirkey Aluminum Seats |
| Harnesses: | Simpson 5-point Harnesses |
| Steering Wheel / Quick Release: | Sparco Steering Wheel |
| Gauges: | MoTeC C125 Dash Display |