This story is one of grit, determination and the lost art of old-school tuning, all of which lie at the crux of the JDM tuner ethos. Japan's Endless Racing built this BNR32 GT-R for a customer more than a decade ago, prefacing many of the post- modern, technological advances in today's tuning world. Yet in this day, it can still get the job done.
Text by John Naderi // Images by Dino Dalle Carbonare
---
Today, this GT-R does work with a claimed 1,153hp and breaks off low nines in the quarter thanks to extensive tuning by Endless Racing. During a recent R's Meeting drag race on Fuji Speedway's long front straight, this rather unassuming R32 annihilated the competition, which included the almighty, tech-heavy R35 demo cars from Top Secret, Phoenix's Power and Garage Yawata.
You'd think this story would begin in 1990, when a Japanese businessman named Masaya Goto purchased this BNR32 GT-R fresh from a Nissan showroom. But the tale of how Masaya-san's Endless-built, nine-second, street GT-R came to be starts a few years earlier, nestled in the mountain roads of Japan's Hyogo-ken countryside.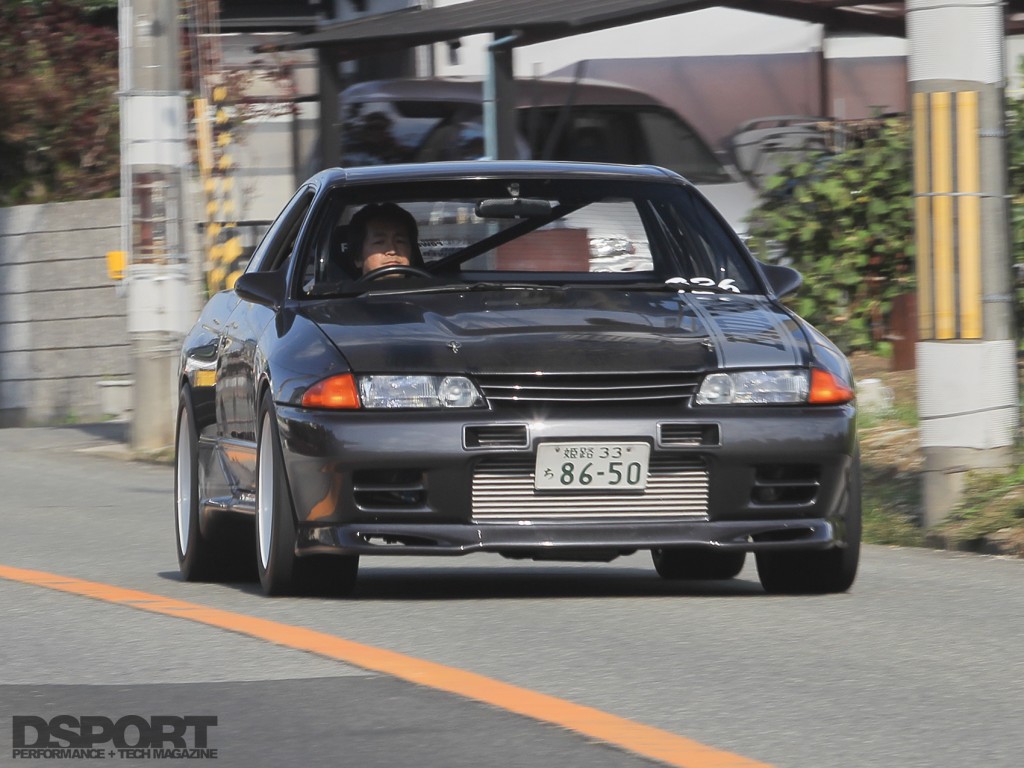 Endless Beginnings
Sugino Yasuhito founded Endless Racing in 1987 and forged a reputation as an unrivaled street racer in a Fairlady Z. During this time, tragedy literally struck Sugino-san as he rode in a friend's car on a mountain road when a drifter hit the passenger side door, shattering his shoulder. Doctors said he would never drive a manual car again. Undeterred, Sugino-san bought a brand new R32 GT-R, parked it in the garage and underwent months of self- prescribed, and no doubt painful, rehabilitation by rowing through the five speed gearbox (cue Rocky montage soundtrack).
By '93, both Sugino-san's shoulder and tuning prowess were never better. His latest R33 shop car was known for its speed and Sugino-san proved it at an RRC drag race, beating every other tuning shop before finally losing to Tetsuya Kawasaki in the formidable HKS R32 demo car. Sugino-san eventually rocketed this R33 to an 8.9-second best e.t. that kept his challengers in check and prompted Masaya-san to bring his personal R32 to Endless. This partnership brings us to what you see here, the Endless Street Drag-R.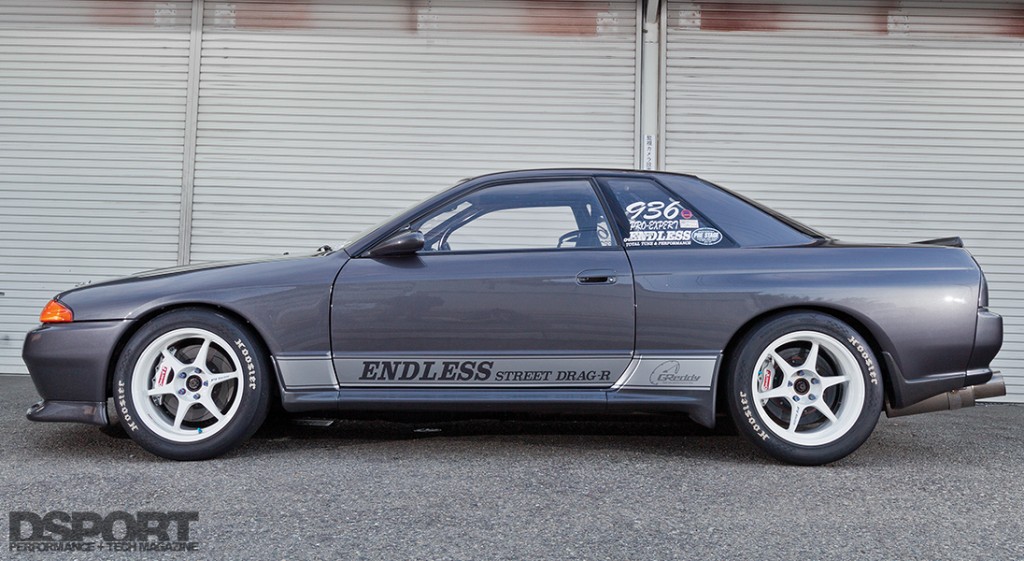 Club-RH9

There's a lot of mystique and allure surrounding the RH9 moniker. It was originally established as a benchmark for GT- Rs running nine-second times in the 0-400m on street tires. But in 2003, Club-RH9 became a federation of tuning shops. Endless Racing is a recognized Club-RH9 shop, along with 38 other tuners, each referred to as "Tuning Pro Shop Members." The RH9 garages collaborate frequently with each other, sharing media buys and hosting events. The group even offers original parts, such as the RH9 SPL camshafts for the RB26. We need something like this stateside. RH9 USA, perhaps?
R32 Street Sleeper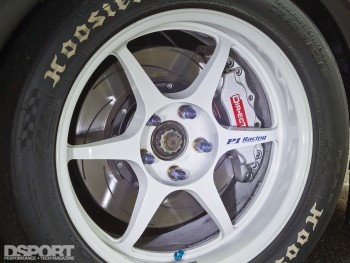 At first glance, this R32 doesn't look like much. Endless painted the feathery FRP doors to match the gunmetal paint and the carbon hood and trunk seemingly blend in with the dark exterior color. The front lip spoiler and mirrors are the only visible add-ons aside from the refreshingly non-GT style Nismo trunk lip.
The white Buddy Club P1 wheels won't get many props from the Hella Flush set, although the Hoosier drag radials may prompt an eyebrow raise worthy of Dwayne Johnson. But the most telling hint to its performance potential is the way this GT-R sits. The R32 doesn't have the "stance that makes her dance" because the ride height is purposefully set high in order to create just the right amount of squat. The R33 subframe, with greater squat control than the R32 unit, contributes to this end, but it's the VeilSide Pro Drag SPL dampers that really help the Street Drag-R launch properly. Sugino-san set up the dampers to not only offer optimum traction off the line, but also handle the imperfections of the street since Masaya-san actually drives the Street Drag-R to and from the drag events (believe it or not, this monster is street registered).
The interior contains a mix of street and race, keeping with the mission of the car. While there is only one Recaro bucket with an eight-point, bolt-in cage, the door panels, dash, gauges and center console all remain intact. Let's call it street car-ish.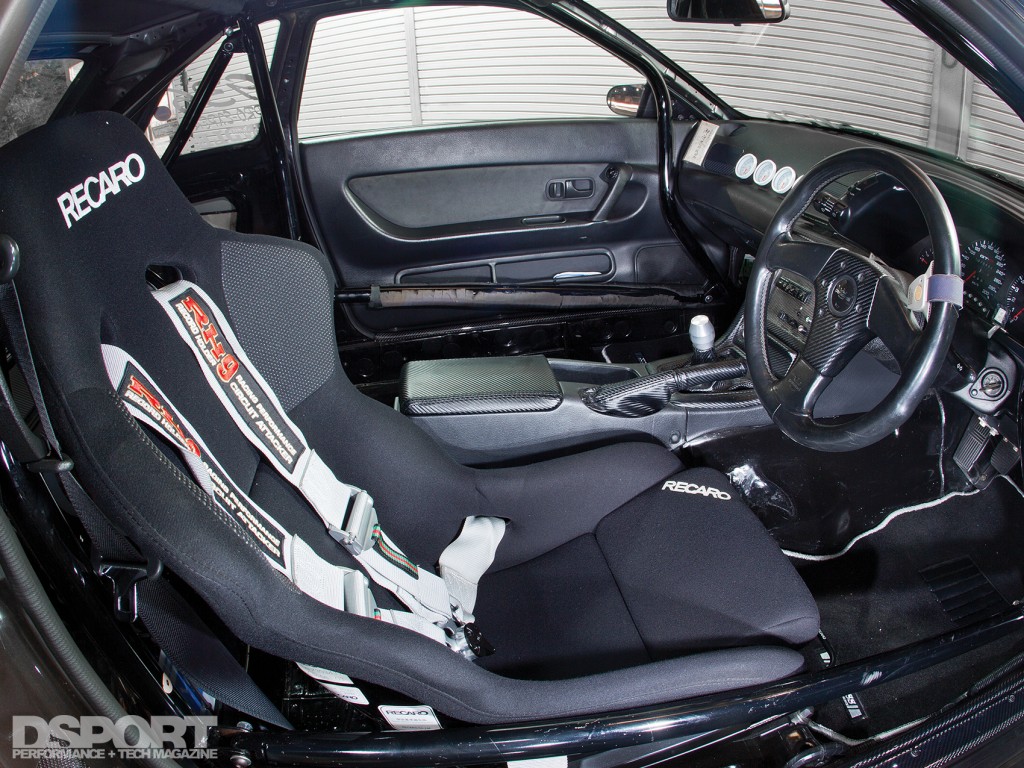 Old School Power with a Squeeze
Sugino-san has more than a quarter century in the JDM quarter-mile game and during this time he's learned how to make serious RB power. He started with a thicker-walled N1 block, because the best builds require a solid foundation. In retrospect, Masaya-san would have preferred a tall-deck block to match the specs of the Endless R33 demo car, but it was beyond his means at the time.
Endless honed the Nismo block to accept the 87mm HKS pistons mated with H- section connecting rods. Sugino-san utilized the factory crank, but he finely balanced it first. Like any true drag-spec RB26, the stroke is unaltered, as this motor has to rev well past 9,000 rpm to deliver all its might. With such high engine speeds, oil starvation is not an option. To ensure maximum reliability, Endless fitted an HKS high-flow oil pump along with an extended oil pan and pick up. Now more oil is circulated and always present in the eight-liter baffled sump.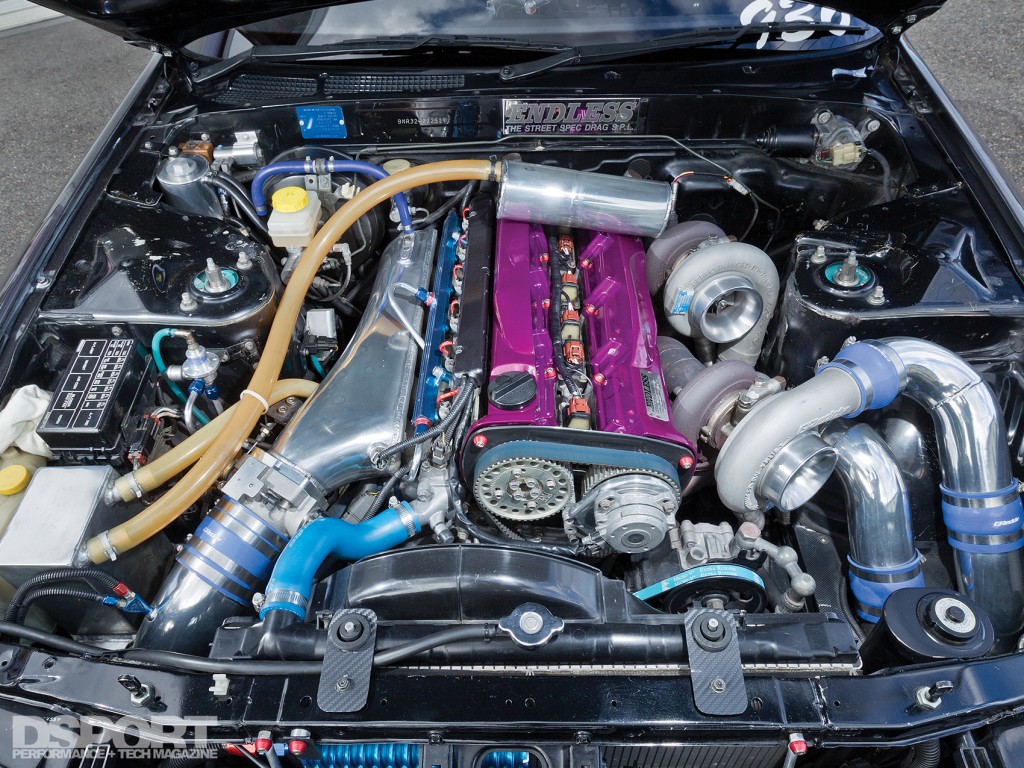 Sugino-san and the Endless crew paid careful attention to the head by cleaning up and modifying the water galleys as well as porting and polishing the intake and exhaust ports. Endless also fitted a complete A'PEXi drag-spec valvetrain actuated by HKS 11.5mm high-lift cams. The RB builds boost with a matched set of GReddy TD06SH 25G-10cm turbos, mounted on Endless drag-spec exhaust manifolds. In competition spec, Endless sets the boost at 33 psi managed by GReddy Type-R wastegates in conjunction with a GReddy Profec B boost controller. With its 100mm diameter, the HKS titanium exhaust flows as freely as possible.
The intake side rocks a massive five-core GReddy twin-entry intercooler feeding to an Endless drag-spec intake manifold via a 100mm throttle body. The Street Drag-R makes 1,085 hp in this configuration, but with enormous amounts of lag up to about 6,500 – 7,000 rpm where the turbos kick in. To help the turbos spool faster, Endless incorporated a Nitrous Express N2O system with a single fogger spraying cold gas before the throttle and giving a noticeable boost in pick up and overall power, bringing the package to the 1,153 hp rating. SARD 1,000cc/min injectors fed by a pair of Bosch external pumps fuel this thirsty RB and an HKS F- CON VPRO manages the engine's variety of parameters.
Applying the Power
Drag racing subjects a vehicle's drivetrain to serious abuse, especially with 723 lb-ft of twist on tap. With this in mind, Endless channeled power through to the four wheels via an OS Giken OS88 sequential box, mated to a special-order HKS quad-plate clutch, carbon-fiber propeller shaft and ATS limited-slip differentials at both the front and the rear. Finally, Endless added reinforced drive shafts to endure the obvious shock from a 9,000 rpm clutch-dumping launch.
Japan is not a quarter-mile mecca and as a result there are few properly prepared drag strips. The Endless Street Drag-R has ticked off a 9.013 @ 170mph best pass on an unprepared track (read: no VHT). This means eight second passes are not out of reach for this GT-R. The R32's potential is even more astounding when you realize that it's had the same set up for more than a decade. Sugino-san and Endless have moved forward, working with R35s, much like the Japanese tuning scene has moved past drag racing as a whole. But the Street Drag-R is still an important part of the Endless Racing story and that of Japanese tuning altogether.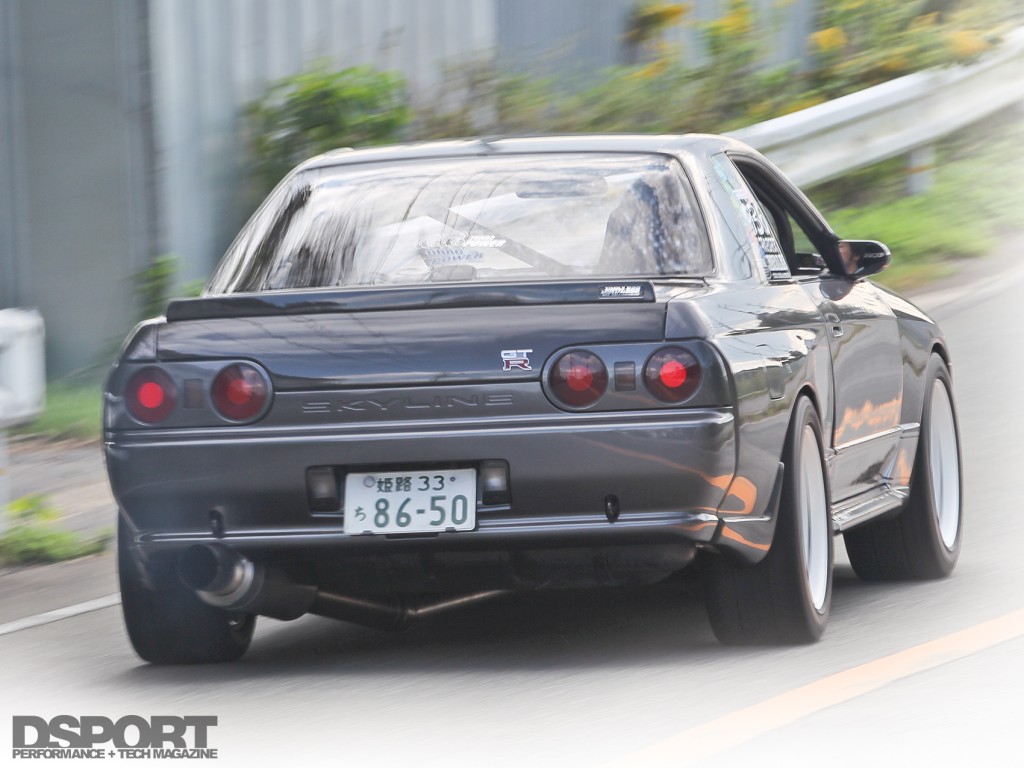 SPEC SHEET
| VEHICLE | |
| --- | --- |
| Year / Make / Model: | 1990 Nissan Skyline GT-R |
| Chassis Code: | BNR32 |
| Launch RPM: | 9,000 rpm |
| Peak Boost: | 33.3 psi |
| Fuel: | 100 Octane |
| ENGINE | |
| --- | --- |
| Engine Code: | RB26DETT (N1 Block) |
| Displacement (cc): | 2,629cc |
| Bore & Stroke (mm): | 87mm x 73.7mm |
| Peak Horsepower (@ RPM): | 1,085 hp (est.), 1,153 hp w/ Nitrous (est.) |
| Peak Torque (@ RPM): | 759 lb-ft w/ Nitrous (est.) |
| Dyno Type: | Dynapack |
| Engine Builder: | Endless Racing |
| Block Modifications: | 87mm Overbore |
| Pistons/Compression Ratio: | HKS Nickel-coated Pistons |
| Connecting Rods / Crank: | HKS H-Beam Connecting Rods |
| | Balanced Factory Crankshaft |
| Camshafts: | HKS 280-degree (IN), 290-degree (EX), 11.5mm Lift |
| Valves / Springs / Retainers: | A'PEXi Drag SPL Valves, Springs & Retainers |
| Cylinder Head Mods: | Ported and Polished, Combustion Chamber |
| | Quench Pads Removed |
| Cylinder Head Gasket: | HKS Drag-Spec MLS Head Gasket |
| Intake Manifold: | Endless Racing Manifold |
| Throttle Body: | 100mm Throttle BodyFuel |
| Fuel Injectors: | SARD 1,000 cc/min Injectors (x6) |
| Fuel Delivery System: | Bosch Motorsports External Fuel Pumps (x2) |
| | Endless Racing Fuel Surge Tank |
| | GReddy Billet Aluminum Fuel Rail |
| | Stainless-steel Braided Fuel and Return Lines |
| | SARD Fuel Pressure Regulator |
| Engine Management System: | HKS F-CON VPRO ECU |
| Engine Management Tuner: | Endless Racing |
| Boost Controller: | GReddy ProfecB Electronic Boost Control |
| | Blitz Turbo Timer |
| Ignition: | Endless Racing Direct Ignition System |
| Exhaust Manifold: | Endless Racing Drag-Spec Manifolds |
| Exhaust System: | HKS Racing Spec 100mm Titanium Exhaust |
| Wastegate: | GReddy Type R (x2) |
| Intercooler: | GReddy Dual Inlet 5-core Intercooler |
| Nitrous Oxide: | Nitrous Express Nitrous Oxide Injection System |
| Cooling System: | Nissan N1 Water Pump |
| Oil System: | Endless Racing Twin-tank Oil Catch Tank |
| | and 8-liter Oil Pan |
| | GReddy Oil Cooler |
| | HKS Oil Pump |
| Performance Electronics: | Techtom MDM-100 Multi-display Monitor |
| TURBOCHARGER | |
| Turbocharger: | GReddy TD06SH 25G (x2) |
| Frame: | TD06 |
| Compressor Wheel Specs: | 78mm Major, 60.5mm Inducer |
| Turbine Wheel Specs: | 67mm Major, 54.1mm Inducer |
| Turbine Housing: | 10cm2 |
| CHASSIS/DRIVELINE | |
| Springs, F&R (Make & Rate): | Veilside Pro Drag SPL Springs |
| Shocks, F&R (Make & Rate): | Veilside Pro Drag SPL Adjustable Dampers |
| Additional Suspension Components: | R33 Subframe |
| Transmission: | Holinger 6-speed Sequential Transmission |
| Clutch / Flywheel: | HKS Custom Quad-plate Clutch |
| Differential(s) (Make & Type): | ATS Limited Slip Differentials (F&R) |
| | Custom Transfer Case |
| Axles / Driveshaft: | Carbon-fiber Propeller Shaft |
| | Strengthened Axles |
| Wheels (Make, Size & Offset): | Buddy Club P1 Racing 17×9.5-inch (F&R) |
| Tires (Make & Size): | Hoosiers Drag Radials 275/40R17 (F&R) |
| Brake Calipers: | Endless Racing 6-piston Dir-Ect6 Calipers (F) |
| | Endless Racing 4-piston Dir-Ect4 Calipers (R) |
| Brake Rotors: | Endless Racing 2-piece Rotors, Slotted |
| | 355mm (F), 330mm (R) |
| Brake Pads: | Endless Racing |
| Brake Lines: | Endless Racing Stainless-steel Braided Lines |
| Etc.: | Line lock |
| | R34 Brake Master Cylinder |
| Roll Bar / Cage: | 8-point Roll Cage |
| Seats: | Recaro Race Bucket Seat |
| Harnesses: | RH9 Drag Harnesses |
| Steering Wheel / Quick Release: | Personal Steering Wheel |
| Gauges: | GReddy Gauges |
| | (boost, oil temp & press., EGT, Fuel Press.) |
| EXTERIOR | |
| Front Lip Spoiler: | Endless Racing |
| Hood: | Endless Racing Carbon-fiber |
| Trunk Lid: | Endless Racing Carbon-fiber |
| Doors: | Endless Racing FRP |
| Etc.: | Lexan ® Windows |
---