The plague of neglected cars is everywhere, and too many car owners are deciding to pull the plug on their beloved machines too early. Thankfully, there are enthusiasts out there who are willing to step in to the rescue, breathing new life into timeless classics. Although it's sad to see what was once someone's prized possession fall by the wayside, this situation can be an opportunity to see a car transform into something better than it ever was. Mark Cowans of Santee, California saw this opportunity in a 1991 R32 Nissan Skyline GT-R that was on the decline, and took it into his own hands to refine it into a show-worthy machine.
Text by DSPORT Staff // Photos by Mark Cowans and Damian Forthun
DSPORT Issue #245
---

Change of Plans
Before Mark acquired his R32, he was already an established contributor to the show car scene. He owned and built up a 2014 Scion FR-S dressed in a Pandem V3.5 body kit, custom interior, built motor, and a list of other goodies that earned him a significant following among fellow enthusiasts. Despite his achievements with the FR-S, Mark wanted to move on to an even more iconic vehicle to show off. He was set on the R32 Skyline GT-R, given its rich history as Nissan's flagship performance streetcar, a motorsports legend, and the first model of the GT-R revival to be eligible for import into the United States. Mark expressed his interest in this model, stating "Nissan over-built this car. A lot of the technology was ahead of its time back in 1991. The RB26 engine and the power potential as well as the iconic sound it makes really solidified my choice in the platform."
Mark tracked down his car in October 2017, specifically a clean appearing gunmetal grey 1991 R32 Nissan Skyline GT-R. He began mapping out ideas for how he would update this car, but noticed early on that everything was not how it appeared or what he wanted. As with many 30-year-old cars, the downsides of age hit this GT-R worse than he expected. He discovered significant amounts of rust on the body, mostly built up around the quarter panel and fenders. Making matters worse, the engine also suffered numerous problems. Unfortunately, this all came as a surprise to Mark, as these issues weren't disclosed by the previous owner. So what was planned to be a straightforward show car build suddenly turned into a full restoration project.

Body Builder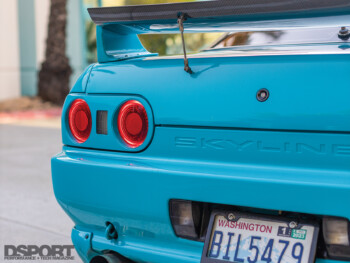 Mark set out to resolve the rust problems embedded in this restoration, sending the car to a body shop to patch and replace the affected areas. But despite having treated the rust, the repairs never cleaned up to the original quality, so Mark set out to find another solution. Since he already intended this GT-R as a show car, he looked to body kits that could at least mask the repairs. Eventually he landed on a Pandem widebody kit that did the job of elevating the car's appearance while also covering up the repair spots.
The Pandem kit makes up the front lip, fenders, side skirts, and rear fenders, rounded out with a custom carbon fiber rear wing. An OEM front bumper with N1 vents leads into the Seibon Carbon Fiber DVII hood, leaving it to ZLED custom LED taillights to clean up the rear end. Beyond these items, the exterior of the car still reflects the factory shape and components. Aside from the unique final touch that is a Porsche M5C "Miami Blue" that covers the car.

The Spectrum Motorsports SR/58 turbocharger with 58mm compressor inducer is well suited for the 2.6-liter displacement of the Club DSPORT built RB engine. 
Joined the Club
While the body and exterior received a complete overhaul, the engine showed enough need to receive the same treatment. Mark brought the engine to Club DSPORT to map out and pursue a build that would deliver extra reliability with a satisfying boost in performance. The engine left DSPORT's machine shop and went back into the car with nearly all-new components, precisely machined and balanced, and ready to greatly enhance the driving experience.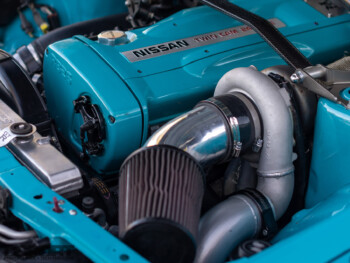 A 4-inch aluminum intake with K&N air filter pull air into an OEM throttle body and intake manifold, some of the few components that remained factory since they could already deliver enough air for the anticipated power levels. The intake system is supplemented by a Spectrum SR/58 turbocharger, running a 0.82 A/R. The ceramic dual ball bearing turbine wheel spins in a 62mm housing, while the compressor wheel spans 58mm within a 4-inch inlet and 2.5-inch outlet. A TiAL 44mm MV-R wastegate and HKS SSQV blow-off valve were fitted to the setup to keep pressures under control.
On the fuel side, a Deatschwerks DW400 pump feeds into an Aerotech fuel pressure regulator that manages the flow into the Radium fuel rails. The fuel is then distributed among the six Injector Dynamics ID1050cc injectors on its way into the cylinders. In order to supply an extra jolt to the raised air and fuel mix, a Platinum Racing Products ignition converted from an R35 GT-R application was added for improved combustion. With so many drastic changes being made under the hood, a capable engine management system paired with a custom tune became necessary. Haltech was selected for its Platinum Pro engine management system and boost controller, carrying a tune put together by Unrivaled Motorsports.
Inside the motor, the valvetrain comprises Tomei camshafts that conduct the upgraded valve springs and titanium retainers. The APEX'I MLS head gasket is squeezed down with the help of ARP2000 studs for extra assurance. Inside the block, combustions punch down Mahle PowerPak Pro pistons on Eagle H-Beam connecting rods. In order to keep up reliability and durability, ACL bearings keep everything spinning precisely and with extra low drag.
Uprated power, especially with forced induction, calls for greater heat management. A Koyorad radiator sits at the front end to keep engine coolant temperatures down, alongside a GReddy oil cooler that adds extra temperature assistance. To help combat the heat from forced induction, a Plazmaman 76mm intercooler rated for up to 850 horsepower replaced the original equipment. Although the car was not intended to hit the track or find outrageous power figures, durability and performance was the theme for the powertrain, so more than sufficient cooling was a must.

Good Bones
Although Mark's R32 was intended as a show car, he wanted to make sure it was mechanically sound and that it could perform better than how it came from the factory. Thankfully, the original driveline proved satisfactory, so he retained the stock transmission and replaced the clutch with a multiplate Competition Clutch and flywheel. However, he also aimed to pair the improved engine with an improved chassis setup to match. To this end, the original suspension went out for SCALE Performance Suspension coilovers to take its place. Driftworks front camber arms HICAS (Nissan's rear wheel steering system) eliminator kit, rear camber arms, rear traction arms, and tension rods all replaced the factory equipment. These components simplified the car's suspension and steering system, while adding available adjustability for better handling.
With chassis and handling components taken care of, Mark looked to improve the final aspects that would add points for both performance and appearance. For more stopping power and better brake cooling, R1 Concepts lines, calipers, and pads sit at the four corners. In the interest of utilizing both aftermarket and Nissan performance parts, NISMO LMGT2 wheels sit in the wheel wells, coming in at 18×9.5 inches at the front and 18×11 inches at the rear for a mild stagger. Continental Extreme Contact tires in size 255/35R18 and 295/30R18 wrap around the front and rear wheel wheels for enhanced handling without sacrificing streetability.
Mark's goal for this R32 evolved into a restoration project, which meant adding some flavor while preserving original equipment in a tasteful way. Despite the Club DSPORT-built engine and Pandem widebody, the experience from inside is meant to feel like driving a refreshed original R32. The interior is nearly completely original, with the exception of the Haltech ART CAN OLED digital dash that sits on the steering column.

Lessons Learned
Despite the time and effort that has already gone into body restoration, improved handling, and a built motor, Mark still considers his R32 Skyline GT-R to be a work in progress. He considers this model a borderline classic, given its 30-year tenure, and his primary goal has been to build it and preserve it as a classic. The greatest joys for him come from the built engine, making the car much more fun to drive. This, combined with the numerous other upgrades has helped Mark inch closer to his goals of bringing this 1991 model into the driving and handling ranks of modern performance cars. If he could do it all over again, he says that he would have started with a cleaner example to start with. But it's too late for that now, so he plans to continue making it better.
Although Mark has some regret over acquiring a car in worse condition than he was told, he's decided to make the best of it at every opportunity. "The best moments are always the inspiration that the build brings to others, whether it's a fellow Skyline owner, a kid coming up, or just a fan who appreciates the build," Mark continues, "I've always enjoyed the smiles and enthusiasm that this build brings."