Nissan's various 240SX platforms are beloved in the drifting community and the import performance crowd at large. The front-engine, rear-wheel-driven coupes enjoyed a renaissance when drifting found its way to American shores and into the minds of the masses. Sadly, however, American drifters would have to find inventive ways to increase power output. While this often included forced induction on the factory powerplant, it was increasingly viable to source the offshore-available, turbocharged 2.0-liter Nissan powerplants to have a steadier base upon which to build.
Text by Arnold Eugenio // Photos by Harry Chriest
DSPORT Issue #245
---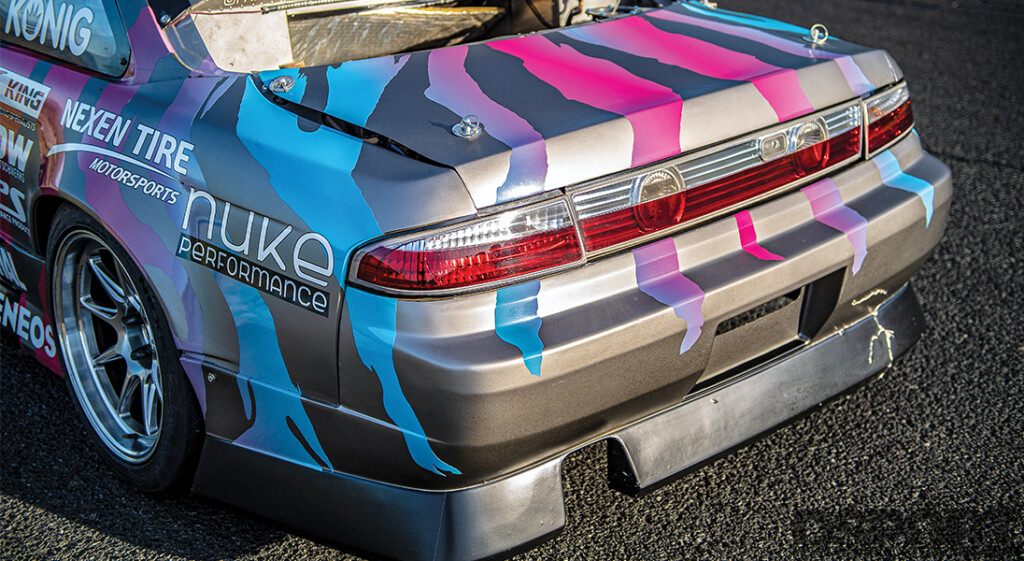 Shop-owner and professional drift driver Faruk Kugay caught the performance bug at a very young age. He started drifting in 2002 but, unable to compete professionally here in the States, moved to Europe to continue his drifting immersion. After several years abroad, Kugay returned and continued work toward obtaining his professional drifting license. He bought a slick-top 240SX shell to prep for duty, but instead of traveling down the usual SR20DET highway, Kugay went straight to the 3.0-liter big boy from another mother – Toyota's venerable 2JZ-GTE engine. "When I moved back to the States after living in Europe," Kugay explains, "I saw how effective JZ-powered S-chassis were in competition." Kugay took this experience and a little bit of small-team ingenuity and created what he thinks is the drift weapon of choice for his Formula Drift Pro 1 competition.

Formula Drift rules and regulations: "All vehicles must have at least two seats, one for the driver, homologated to FIA standard 8855-1999 and one for a passenger."
Raze Until
Raze Until, or Razetil, isn't the name of the car as you see it before you. Rather, Faruk likes to think this iteration of Razetil is the "spirit" of the car inside a literal shell that serves its purpose and is replaced past its expiration. "The current shell was purchased in 2016 from fellow FD driver Jeff Wolfson," Kugay noted. "I wanted to make the fastest S-chassis that I could, and I believe that we achieved our goal. The grip is really tunable for any power level."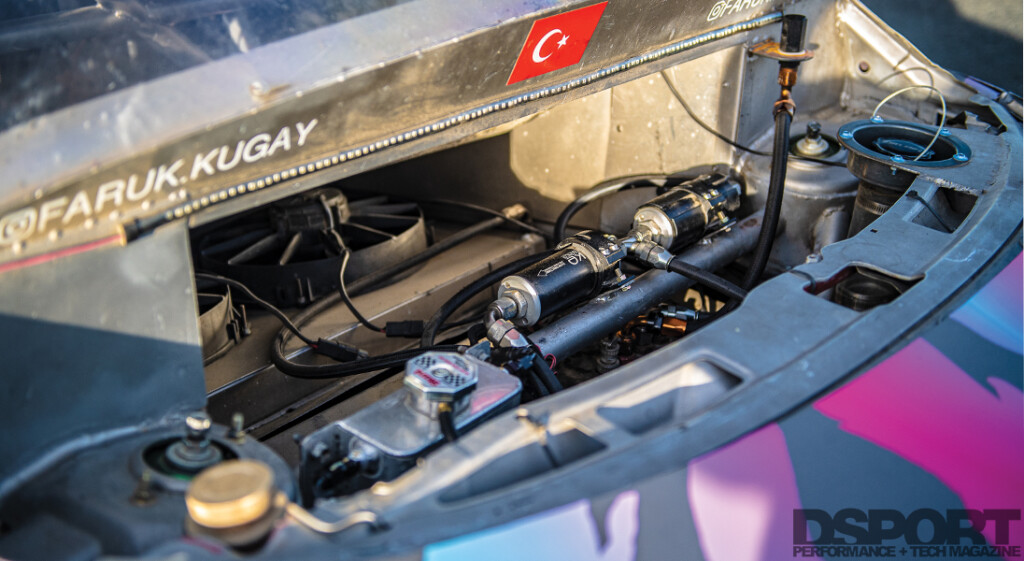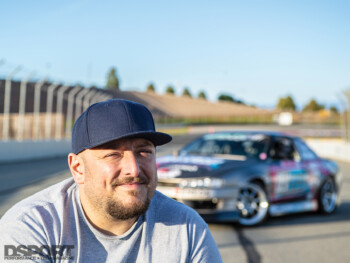 While the Silvia exterior profile remains mostly intact, there is one noticeable difference seen – the center-mounted C&R radiator. Halving the rear window profile, Faruk is proud of the idea and thinks it has a tremendous benefit. "For being a small team, I've always tried to do something that pushes the car's competitiveness. I don't think you'll find too many other S14's with a center-mounted radiator. It drastically changed the polar moment." The cooling system bypasses the OE water pump setup and instead runs a Davies Craig water pump to help keep the block cool.
On the engine oil cooling and circulating system, the directional forces generated by the accelerating, drifting cars wreak havoc on a "normal" car's cooling system, and Kugay's was no different. "We were able to see that our oil pressure was fluctuating a lot. The issue stemmed from running a front-sump oil pan on our JZ due to the S-chassis fitment." After field-testing, trial and error, the solution came in the form of a deeper oil pan and oil pickup. ENEOS Racing Series oils are Faruk's go-to choice for engine lubricants.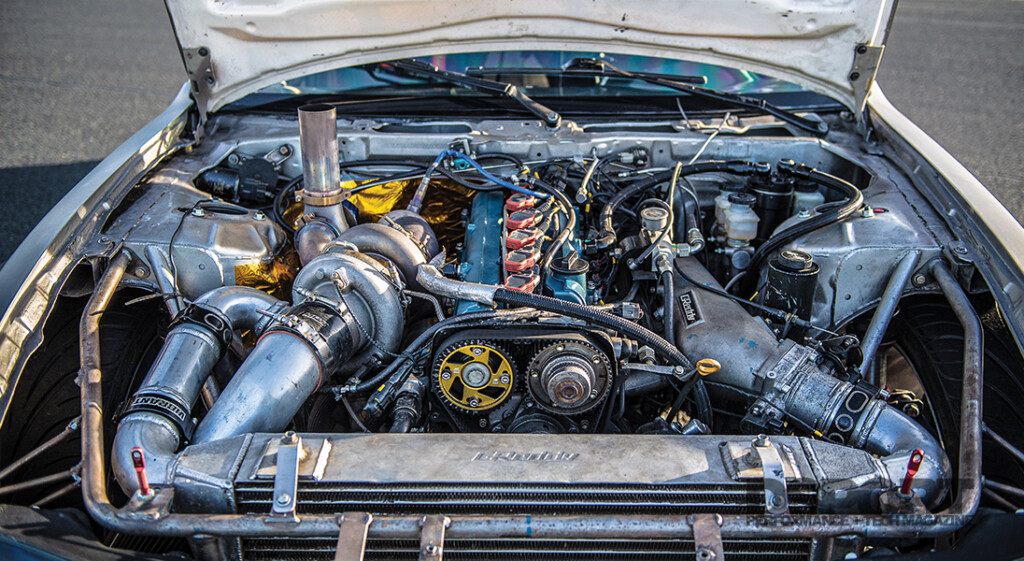 Cross Pollination
The longitudinally-mounted Toyota 2JZ-GTE engine was installed for the capability to provide tremendous amounts of reliable horsepower, a necessity in the competition brackets of Formula Drift. A set of 0.50 mm oversized CP Pistons are connected to a factory 2JZ crank via Carillo connecting rods and give a slight increase in engine displacement. While the factory crankshaft is held down with a set of Rad Industries Billet Main Caps, the valvetrain gets its marching orders primarily from the BC Brian Crower 272 camshafts supported by a host of BC valvetrain components. Necessary components stay in place via ARP 625 studs.
Fundamental Chemistry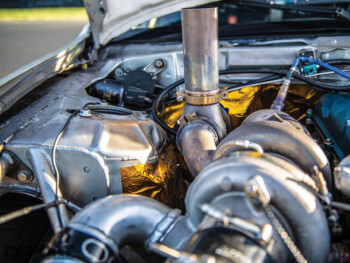 One needs an adequate amount of air, fuel and spark to generate the power needed to light up treaded tires. For Razetil, that combination starts at the AEM air filter and custom intake piping that feeds the Borg Warner EFR 9280 turbocharger. Compressed air flows through more aluminum tubing before the cooling effects of the front-mounted GReddy intercooler reduce temperatures, helping to increase oxygen density. From there, the large GReddy intake plenum collects the air and distributes it to the 2JZ-GTE's six combustion chambers.
On the exhaust side of the Borg Warner turbine, spent gasses exit via more trick pipework manifesting in a 3-to-5-inch oval downpipe and exhaust combination. Evacuating excess boost pressures is the hood-exit exhaust dump tube, regulated by the Tial V60 wastegate. The entire setup is built in a modular fashion. "With the packaging of our turbo setup, I wanted something that was easily serviceable in competition, reliable and powerful," Kugay relates. "The blowoff valve, wastegate and turbo unit can be replaced by removing two v-bands and a quick disconnect coupler." Kugay states this setup has seen 30.5 psi boost, tripping the dynamometer at roughly 935 horsepower. "We've run it up to 35 psi on track but have no idea how much it makes at that boost level since we were live tuning."
The Juice is Loose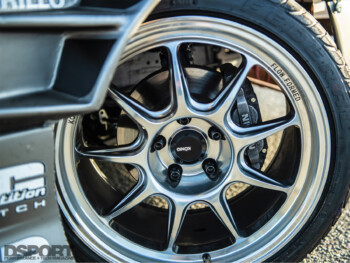 All that air has to be fed a comparable diet of fuel. To that end, a pair of Deatschwerks DW400 fuel pumps are used to start the E90's journey from the Fuel Safe fuel cell. Next, a Nuke Performance Fuel Rail and Pressure Regulator distribute the liquid side of the equation to a set of Deatschwerks 2200 cc/min injectors. Air-fuel mixture ignition duties are handled by a set of Audi R8 coilpacks connected to NGK spark plugs, all ultimately controlled by a Link ECU Fury engine management system.
Laying the Groundwork
Much of the secret sauce that allows drifters to drift well lies in the vehicle's suspension work. Fortune Auto Dreadnought coilovers occupy the four corners, with custom-spec Swift springs in place. A Wisefab rack relocation kit allows the car to safely sit at the "drift-low" levels, while a Marcus Fry Racing roll cage stiffens up the fifth spring. Upgraded Nissan 300ZX brakes help modulate speed while the 18-inch Konig Countergrams keep the rubber planted to the ground

Next Version
As this iteration of the car was built essentially under duress in the middle of the pandemic, Kugay would like the opportunity to refresh everything and address the optics. "I would like to clean up a lot of things with the engine bay as many things were left in their most functional form," Kugay admits. "Needless to say, Razetil could probably use a second reshell. For me I'll always own this car. Even with its reshells this car will always have the same spirit to me." No matter what sleeve it wears, Kugay will always Raze Until.