During the times when the GT-R, RX-7, Supra, EVO, and STi all had turbochargers, Acura took a chance and produced a naturally-aspirated supercar-like in the NSX. The Acura NSX became a phenomenon, competing with hyper cars like the Ferrari, both in terms of looks and performance. Lightweight, wide-bodied, and on-point weight distribution, the NSX became an iconic naturally-aspirated car in the midst of a turbocharged world. Years have gone by since its debut, and the NSX became more and more rare. Today, getting your hands on one requires a ton of research and a large bag of money. Michael Mao was resilient to get himself an NSX, but he wasn't planning to go the traditional route.
Text by Bassem Girgis // Photos by Joe Singleton
DSPORT Issue #222
---

Switching Teams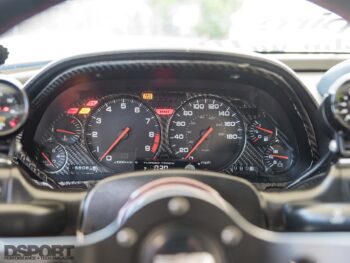 No stranger to the tuning scene, Michael Mao has been buying and building Honda Civics for a long time. When you are a Honda person and you just want a step up, what do you do? Mao decided to jump to the top and find an Acura NSX. In 2011, the Long Beach native took a drive South to San Diego and picked up his 1992 Acura NSX. This was a childhood dream of his, and his years building Honda vehicles would prove to be critical to diving into the elite level it takes to build an NSX. "I loved everything about it," said Mao. "There wasn't anything to dislike." While Michael loved everything about his NSX, there has always been complaints about its naturally-aspirated engine. While in stock form it delivers plenty of power, it simply puts a cap on how much performance you can squeeze out of it. Some NSX owners go the supercharger route, some go the turbocharger route, but Michael Mao just wanted to be different and go a step further, or two to be specific.

Equipped with a Cusco 4-pt cage, the interior also features Recaro SPG seats and Takata 5-pt harness, with engine date monitored through AEM gauges throughout.
The Plan
"One thing about me, I wasn't afraid to butch the NSX and push its limits," said Michael Mao. Mao wanted to be different from the rest of the NSX owners. "Conservative is most NSX owners' idea of a build, but I think that's boring. I wanted a street car with power. Execution and how it's presented were key." The original plan for the NSX was to keep it as a weekend cruiser, but as Mao started upgrading it, one part lead to another and he decided to dedicate a lot more thought, effort, and money to it. "I've always wanted a show-winning car and a magazine feature," said Mao. In order to step outside of the box, Michael Mao reached out to Efren Garcia of Efren Built to see how extreme they can go with his Acura NSX. The conversation went exactly as he wanted and the build was set to start.
Going Custom
After having a conversation with Efren Garcia, the plan was clear: going the boost route. In order to get more creative than most Acura NSX owners, Mao wanted to go with a custom twin-turbocharger setup. This meant that they had to do a custom intake manifold, exhaust manifold, custom twin-intercoolers, twin-wastegates, and a custom straight pipe out from the turbochargers. Of course when you go full custom and try to be innovative, you have to experience your own set of problems before you are happy with the final product. Mao and Efren had a lot of fitment issues trying to get two turbochargers in the NSX's engine bay. Once the turbochargers found their home in there, they had to play around with the design of the intercoolers and exhaust manifolds until they were able to make them fit. "As we were going through the motor, we decided to add supporting valvetrain and port match to improve flow," Mao reminisced. For over three months, the build provided them with long, sleepless nights, but the result would later prove to be worth it.

Making Power
With the twin 2871R turbocharger setup, Efren port matched the heads and the intake manifold. To support the increase in air flow, a Walbro 255 fuel pump was installed to provide the C30 engine with added fuel, feeding Injector Dynamics 1000 injectors with 91-octane fuel. With this combination along with the supporting modifications, Mao's Acura NSX put down 507.5whp at 8,250 RPM and 363 lb-ft of torque at 6,200 RPM when running at 8 psi of boost. The best part of the project for Mao was getting on the dyno for the third tuning session with Bisimoto to get these numbers, spit some fire out of the exhaust, and notice a huge improvement in drivability on the way home with the new twin-turbo setup.
Journey Reflection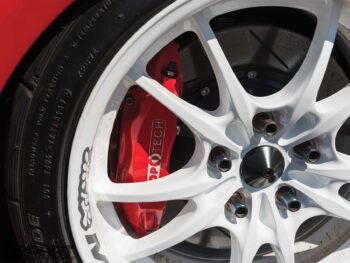 The car's issues didn't stop at the workshop. Mao had to enter a car show by pushing his NSX in there because it wasn't starting. After the show, he was able to get it started, but on the drive home, he busted an oil line and it was back to the shop from there. However, the good outweighs the bad. At a Hot Import Nights show, Mao replaced his friend who couldn't make it that day. Not prepared and without expectations, Mao ended up going on a short notice and went home as one of the winners in the Acura Class. He went on to win numerous other shows with out-of-the-box upgrades, like the 24K plated re-barreled Mugen MF10s. With all of the winnings and the accomplishments, one thing is for certain, Mao believes his twin-turbo setup is the most effective and special upgrade on this NSX. "I really like the drivability, sound, and looks of the twin-intercoolers from the rear," he said. However, this doesn't mean if he had the chance that he would do it again. The complications of all custom parts weren't all worth it. Mao feels like if he had to do it all over again, he would go with individual throttle bodies on an all-motor since he enjoys cruising with the car and doesn't necessary need the twin-turbo setup.

The Future
For now, Mao sees no major upgrades in this NSX's future. "I'm going to just enjoy the car and cruise down Long Beach and PCH. No more modifications. I will start restoring some of the OEM suspension parts and keep it golden," said Mao. As fans of forced-induction, we always appreciate someone's commitment to turbochargers, especially when it includes having to engineer all custom parts to make it work. A naturally-aspirated NSX is cool, a supercharged or turbocharged one is great, but they've been done over and over. A twin-turbocharged NSX, however, deserves more attention. Enthusiasts have argued in the past about the C30 being naturally-aspirated, but seeing builds like this, we all agree that Acura should've done what Mao did from the start.