TURN 14 DISTRIBUTION ADDS ATI PERFORMANCE PRODUCTS TO LINE CARD
Text by Turn 14 Distribution
Horsham, PA (November 17, 2020) — Turn 14 Distribution, the industry leader in performance parts distribution, has increased its product assortment with the addition of ATI Performance Products' catalog of high-performance engine dampers to its line card.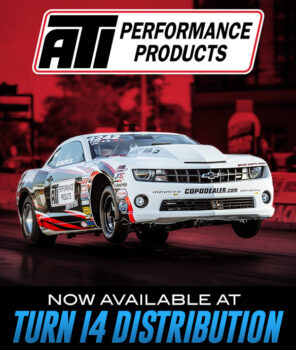 "Partnering with ATI Performance Products allows Turn 14 Distribution to further our product offerings with American-made engine damper solutions. As a second-generation family-owned company with deep roots in drag racing ATI's product has earned substantial credibility and is considered by many to be the industry standard. Though the brand offers a broad range of products, our sole focus will be to provide our customers with high-performance engine dampers and damper service parts," said Mike Malloy, Divisional Purchasing Manager, Turn 14 Distribution.
When Jim Beattie, President of ATI Performance Products, Inc. first attacked the field of automatic transmissions, Funny Cars were blistering down the track at six seconds, and dragsters were still trying to break 200 m.p.h. Today, one can't help but notice the dominance of ATI decals at the track. For more than 55 years, ATI has been producing quality, state-of-the-art racing products!
Over the years, ATI Performance Products has earned a reputation for its cutting edge technology, attention to detail, and rigorous testing under race conditions. ATI Performance Products manufactures a multitude of high-performance parts, including their famous Super Damper harmonic balancers. Innovative designs, partnered with a commitment to racing, allows the company to maintain a prominent position on the cutting edge of high-performance component design and manufacturing. ATI Performance Products proudly holds over a dozen U.S. Government patents, with others pending.
Located just outside of Baltimore, Maryland, ATI Performance Products' manufacturing facility houses one of the most advanced machine shops in the industry; all machinery operations take place in-house to maintain total quality control. More than 30 CNC machines operate in the plant to ensure that ATI customers receive the highest quality performance components available anywhere.

About Turn 14 Distribution, Inc.
Turn 14 Distribution is an award-winning national warehouse distributor, which sells vehicle parts and accessories into the automotive aftermarket exclusively through the business-to-business channel. With distribution centers in Pennsylvania, Texas, and Nevada, the company boasts ground shipping coverage to 43% of the U.S. population in one day and 100% within two days. Turn 14 Distribution leverages proprietary technology and innovative logistics solutions to drive growth, while simultaneously developing robust, symbiotic relationships up and down the supply chain to accelerate that growth. Turn 14 Distribution is privately owned and operated.