Just like we see new YouTube stars popping up every year, there used to be a time in the late '80s and early '90s where legendary Japanese cars made a similar impact. This was the era Japan produced the iconic Skyline, the Toyota Supra JZA80, and the Mazda RX-7 FD. While Mitsubishi had its EVO as one of the most capable Japanese vehicles, they needed a flagship car that can take on such legends and compete with more than just the Subaru WRX. At the time, Mitsubishi had attempted to invade the market with their Starion, but the attempt was a complete failure, even making our list on DSPORT's Top 5 Worst Engines. That's when they decided to go all out and build a twin-turbocharged, all-wheel drive, supercar-looking platform in the Mitsubishi 3000GT VR4. Jared Holt has been a huge fan of the platform for years, and after owning a large number of them, he decided to make this one a truly collectible item.
Text by Bassem Girgis // Photos by Richard Burns
DSPORT Issue #231
---

The History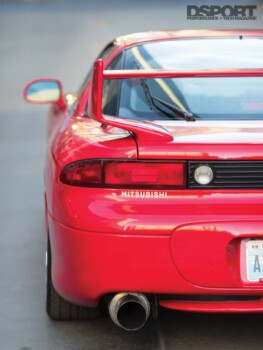 In 1990, Mitsubishi launched the 3000GT as their flagship vehicle in place of the Starion. In an attempt to produce a true competitor that's priced well under competition, Mitsubishi chose to use the Eclipse's chassis as the foundation for the 3000GT. Despite using the same chassis, the 3000GT was vastly different from the Eclipse, and even more different from the Starion. Outfitted with air vents and smooth edges, the 3000GT VR4 backed it up with heavy technology. The 3.0-liter 24-valve DOHC V6 engine came equipped with twin-turbochargers, an all-wheel drive system, four-wheel steering, a tuneable exhaust, and electronically-controlled suspension. The Mitsubishi 3000GT went on nearly unchanged for 10-years after. While on paper, this car should've gained the notoriety of the Supra, RX-7, and GT-R, it remained just one step behind.
The Problems
With twin-turbochargers, all-wheel drive configuration, and tons of technology, the 3000GT should've been just as iconic as Japan's best performance offerings. However, the 3000GT had a small list of quarks that just made it a car only desired by enthusiasts willing to invest a ton of work in them. One of the first notable disadvantages was the weight of the 3000GT. It weighed 3,737-pounds, nearly 250-pounds more than a JZA80 Supra. In addition to the weight, the 3000GT VR4 had a transmission that couldn't handle much power, making it less than ideal for drag racing. Parts aren't cheap and aftermarket support lacks for this platform when compared to other vehicles in its category. These issues, along with others, made this car a great collector car, but when performance is desired, owners must be knowledgeable and ready to dive deep into their build.

First Love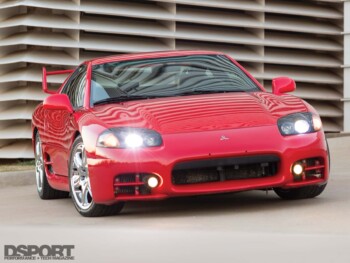 Jared Holt has been into the 3000GT platform since 2003. "It was my first love," said Jared. "I have owned over fifty of the Dodge Stealth platform and I currently own three." While he knew it wasn't the best platform to go fast, he had a soft spot for them. In 2012, Jared made a deal with a collector from North Carolina and bought a bone stock, unmolested 1999 Mitsubishi 3000GT VR4. Jared has always wanted a 1999 3000GT VR4 specifically, so this purchase was pre-planned for years. He was well aware of the limitations of the platform, as well as the challenges it presents, but he was all-in from the beginning and he had no intentions of stopping. "Being one of two hundred and eighty-seven in the world, you don't see them, ever." This special 3000GT came with a combat spoiler and a one-year-only front end. With how rare and different this 3000GT is, Jared knew he had something special at hand.

The Plan
The plan has always been to keep the VR4 100-percent stock appearing. This will keep its '90s spirit and maintain the clean, original body on one of the cleanest 3000GTs around. With the help of some modern upgrades, Jared wanted to give it a significant bump in horsepower. "I have been down the road of taking a VR4 to 1,000whp, and it ended in heartache," said Jared. "They just don't live long at that level and the transmission likes to break under hard launches." With this knowledge and experience, Jared knew he couldn't modify the car heavily. Instead, he had to walk a fine line where he maximizes its performance without sacrificing its reliability and start dumping his life's savings into the build.

On the Dyno
The build was very simple, yet nearly doubled its factory power. With a pair of upgraded turbochargers, Jared addressed the exhaust exit route from the downpipe all the way to the end. He equipped the 3000GT with a DW 400 in-tank fuel pump that feeds 1,000cc injectors with E85 ethanol/gasoline mixture. When running on 24 psi of boost, Jared's 3000GT VR4 put down 575whp and 500 lb-ft of torque from a completely stock block. "The goal was simple: stock looks, clean with 100-percent amenities, and over 500 wheel-horsepower without deleting anything," he said.
Onto the Next Project
Not every project is about enormous horsepower. Jared owns a Toyota Supra JZA80 that is one of the quickest in the world with over 1,500whp on tap, but for this one, he really wanted to keep it a collector's item. "Open the hood, it looks stock other than a K&N filter. All of the fuel system and HKS DLI are hidden. You can never tell this car is pushing that much more power than stock," said Jared. "These cars were the first all-wheel drive, twin-turbo monsters brought to the USA. The R35 came years later." Jared is a true enthusiast. He has many layers to his passion. With an insane Supra on the dragstrip, he felt this car needs a classy plan that will keep it rare and special. Project cars don't need to be difficult if you have the right plan. Some cars require a lifetime of work, while others could be truly special in a month or two. The most important thing is to plan and visualize what you want out of your car, then simply have fun.