With all that hype surrounding the new Toyota Supra, people can't help but criticize it simply because it's not the JZA80 Supra. No matter what Toyota does now, unless it's a replica of the original fourth-generation Supra, it won't be good enough. If you're a fan of DSPORT Magazine, the MKIV has a special place in your heart and you want one. The story was no different for Peter Vong, although a good friendship was his ticket to a 1993 Toyota Supra. Here's the story of a backyard Supra that lived to see the road again.
Text by Bassem Girgis // Photos by Joe Singleton
DSPORT Issue #219
---

Wake Up, Supra!
Like all of us car enthusiasts, Peter Vong dreamed of owning a Toyota Supra since he was 12 years old. Initially, the goal wasn't important; it was all about getting his hands on one. After seeing this 1993 Supra JZA80 sitting in his friend's backyard for seven years, Peter had to pop the question. "Can I buy it?" he asked. Of course this question repeated itself year after year. His friend was planning on building it and restoring it, but since having kids, the dream became further and further away. The answer was finally, "yes, it's all yours." Just like that, Peter Vong owned his childhood's dream car, every car enthusiast's dream car, and it was time he prepared an actual plan and bring a vision 21 years in the making to life.
Oh, the Neglect
As you can imagine, a car that sat in a backyard for seven years straight wouldn't be ready to hit the road or the track right away. In fact, Peter likely spent some serious time cleaning it before he can even see exactly what he's working with and assess the situation. While neglected, in rough shape, and far from running; the Supra had a lot of sentimental value to his friend. So, cutting corners was not on the list. Peter's friend had built it in the very same backyard it sat in years ago and owned it since 2002 after buying it from the original owner. "I wanted to build the car and do it justice," Vong said. While easier said than done, Peter Vong was not going to settle after all of the years waiting and dreaming about this build. He had every intention of doing it properly.

The Plan
While the Supra's condition was rough, Peter loved that it had a 2JZ-GTE and a six-speed transmission. The 2JZ-GTE has proved itself over the years as one of the most capable import engines of all time, with the RB26 being the competitor. Racers around the world have pushed this platform to mind-blowing heights, proving that Toyota did indeed create a legend. The plan was to build a clean, good-running car that is streetable, with air-conditioner and all of the amenities. This would both bring Vong's vision to life and allow him to enjoy the car he had always wanted, while giving it the proper life and fulfil what his friend intended on doing with it. "The initial plan after purchasing the car was to get it running and just enjoy it," Peter said. It was time Vong sent the car out for a rebuild and started the project.
Learning a Lesson
For the sake of getting the car back to life, Peter sent it to a shop recommended by a friend. The process was painful. Peter couldn't get a clear date on when the car would be done, and the waiting was simply tiring. Finally, after an entire year of waiting and listening to fake promises, Vong took delivery of his Toyota Supra. Straight from the shop, Peter drove to a place to get the car's alignment done. It only took five miles on the new engine before it blew up. After a full year of waiting to get behind the wheel of his Supra, Peter experienced the absolute worst with a failed engine within five miles of the shop. When Peter inspected the oil later on, he found glass beads in it. "Needless to say, that was really bad luck," Peter said. "I decided to tear down the entire car for a full rebuild and send the engine to a reliable shop called Rad Industries."

Back on Track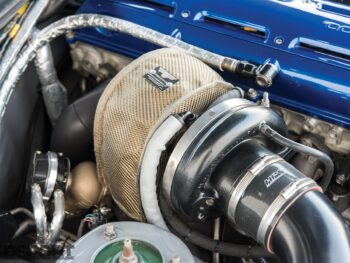 Rad Industries took delivery of the engine and did it right on the first try. Owned by Rad Dan, he is a professional drifter, racing in ProAm, Pro2, and Formula Drift. Dan is known for his Rad Industries-built MKIV Toyota Supra, so he is no stranger to this platform and how to properly build it for grueling conditions. The switch to Rad Industries proved that seeking a reputable shop is by far the most important thing you should do when building a car, and a great way to avoid engine failure within five miles of receiving the car. Peter Vong's engine block was complemented with a Borg Warner EFR 8374 turbocharger. The additional air from the turbo is matched with fuel from dual Walbro 450lph pumps, feeding ID1750X injectors with E85 fuel. Peter's 2JZ-GTE delivered 740whp and 570 lb-ft of torque running on E85 fuel and 30 psi of boost.

Fine Tuning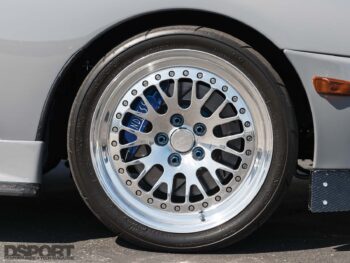 Peter went on to outfit the car with Tein coilovers, Recaro seats, CCW wheels, and maximize traction with Toyo R888 tires. On the outside, the Supra sports a very rare Trial Racing hood. "My favorite modification is the hood," says Vong. "It's made by Trial Racing, which is an OG company that is no longer around. The hood not only significantly reduces the weight, but it's also very rare." As far as the near future hold, minor suspension upgrades will allow Peter to fully enjoy the car with confidence around corners. Throughout his journey, Peter would only do one thing differently in this build: "find a reputable builder from day one." Today, Peter Vong gets to drive his Supra and share the love with his friend that sold it to him. The journey was neither easy nor cheap, but the result is simply a dream come true. Thanks to Peter, there is one more fourth-generation JZA80 on the road and one less left in a backyard.