Performance without pizzazz.
It's the mentality of the street stalker-strip rocker that preys on unsuspecting fools that front with their "all show, no go" rides at stoplight encounters. But to do so while retaining the comforts for daily drivability have proven the greatest challenge for some of these street predators. In the search for ultimate performance, many mistakenly sacrifice the very features that make a streetcar. Imagine having to sweat it out in the summer, freeze in the winter, only drive the car when it's dry or suffer the noise and vibration of a gutted chassis. It's not very fun most of the time. The few moments of satisfaction shaming a ricer hardly make it worthwhile.
Text and Photos by Richard Fong
---
ESSENTIAL STREETABILITY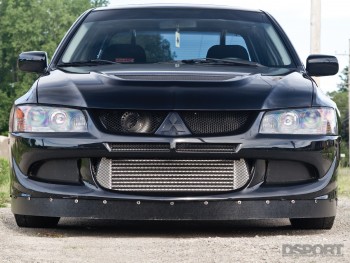 Indiana resident Matt Wheatley couldn't agree more. Having owned a variety of platforms, including a turbocharged Honda, a Nissan 240SX and a 1G DSM, making the sacrifices for performance didn't seem like a good trade off in the end. Wheatley, commented, "These machines were fun to drive on occasion, but weren't that fun while commuting to work on rainy or snowy days. They weren't all that fun to drive on the street either. Well, except at wide open throttle. Gutted, excessive loud cars with no creature comforts simply beat you up and drain you during the ride."
OWNING OTHERS, OWNED BY AN INJECTOR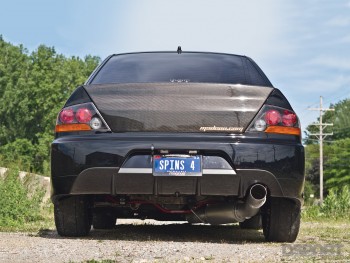 In 2006, Wheatley was in the market for a new ride. Dealing with his local weather while commuting played a significant part in his selection. He became the second owner of a 2003 EVO VIII, which he bought from a friend. "This was a daily driver that could take me to work year round while also transporting four people to the drag strip on the weekends," he said. Already equipped with mild cams, a fuel pump, clutch and exhaust, the EVO served its purpose well. Over the course of several years, the EVO progressively changed as Wheatley shot for loftier goals; first the eleven-second mark and then the tens. Running a 2.0-liter AMS engine producing 630 horsepower, the EVO's best effort was a 10.6 second pass. As he prepared for the 2011 Buschur DSM/EVO Shootout, an injector failure compromised his engine, forcing him to be a spectator for the weekend.