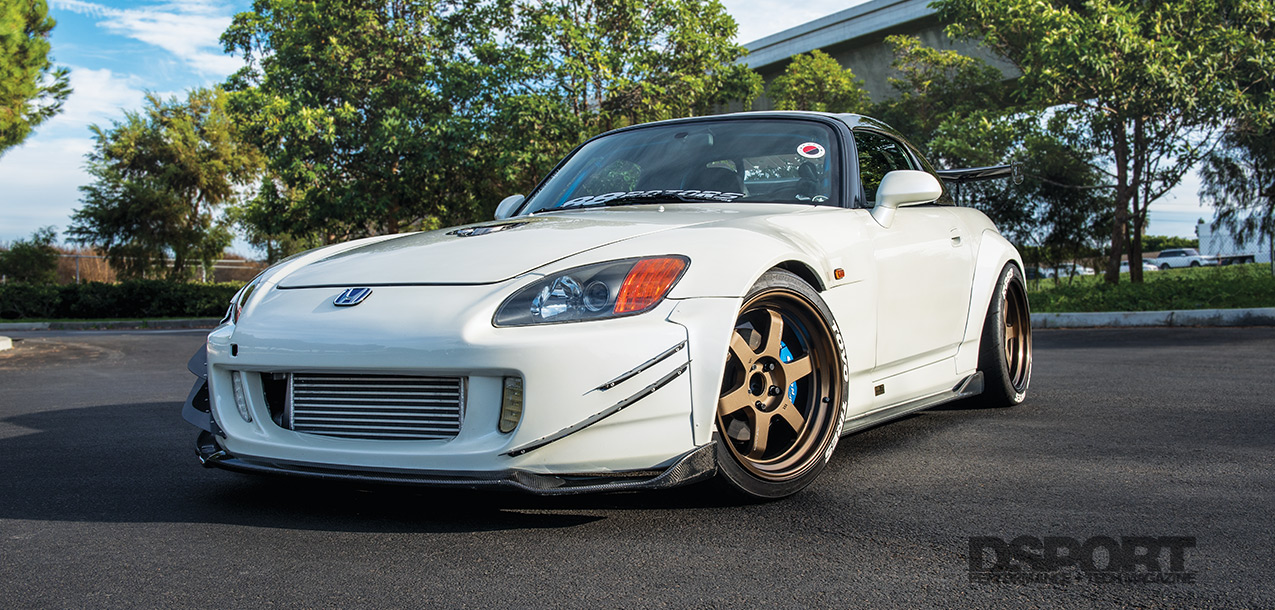 Every car enthusiast has a story of how they fell in love with cars; for Dennis Delcid, Hot Wheels were responsible for his bagged S2000 build that he drives today. For some, owning and building a performance car is a dream they can close their eyes and imagine, but Dennis saw his build many years before he could ever afford it, and there wasn't anything that was going to stop him from putting his dream on wheels.
Text by Bassem Girgis // Photos by Joe Singleton
DSPORT Issue #189
---

How It All Started
Aside from playing with Hot Wheels at the age of seven, Dennis spent most of his childhood at his father's body shop where he learned to work on cars, but more importantly, he fell in love with the concept of building cars. With such a strong bond between Dennis and automotive, he couldn't wait to save up $500 to buy his very first car: a 1993 Honda Civic Hatch with no motor or interior – the rest is history.
Hungry for S2K
Dennis' Honda S2000 purchase was planned for years prior to him acquiring it. After owning three Hondas, which included tons of modifications and engine swaps, Dennis knew his next car was going to be an S2000, simply because he had fallen in love with its sleek lines, its unique interior, and the fact that it can rev to 9,000 RPM. Although he wasn't thrilled with the Honda S2K's torque, he knew that this was the car he wants to put all of his time and money into. In 2005, Delcid had to do some serious begging for his mother to co-sign his 2003 Silver stock Honda S2000, and after hours of attempting every trick a son can play on his mother, he went home with his $30,000 S2000.
Time for Some Fun
Dennis immediately had high hopes for his Honda, and there was not an inch of him that debated keeping the car stock. The plan was simple: build a powerful S2K with a catchy exterior. With so many S2000s on the road, Dennis knew he had to get extremely creative with his build, especially since he paid a hefty price tag for it, so cutting corners was not an option.  "I wanted to have a clean look on the outside with the heart of a monster," Dennis said. With this concept in mind, there was only one thing left to do: start the build.

Power On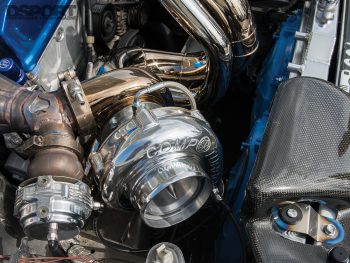 Fortunately for Dennis, Honda S2Ks love power, and the 2,800-pound car doesn't need much to GO. Under the hood is the stock F20C engine with its original 1,998cc displacement and 11.0:1 compression ratio. The power is boosted with the help of the Comp turbocharger with an All In Fabrication intercooler. To complement the power boost of the turbocharger, Dennis installed a Walbro 220 fuel pump and Dynamic Injectors for increased fuel delivery. Delcid installed an AEM Series 2 engine management system and an AEM boost controller. The exhaust manifold and exhaust system are custom made by Enticed Motorsports. The custom exhaust manifold is fabricated to bend upwards and stick out of the modified hood, making it one of the more unique S2Ks on the road. To finish off the car's engine modifications, Dennis installed a Tial Sport wastegate and blow-off valve. The project hasn't been all smooth sailing, and obstacles were constantly presenting themselves. The custom turbo manifold was no walk in the park, as the team had to trim 2mm off of the VTEC solenoid to allow it to fit, which forced them to relocate the fuse box and heat wrap it so it doesn't melt. Dennis' plans of a powerful engine are shaping up nicely, and the 440 horsepower and 262 lb-ft of torque with 15 psi of peak boost is a good place to start. However, there is a long way to go before he reaches his desired power that he initially had in mind when he started the build.
Dennis started off with a Vortech supercharger, but he felt it was limited, so he decided to go with a turbo set up to get more horsepower out of his S2k.
Let the Fun Continue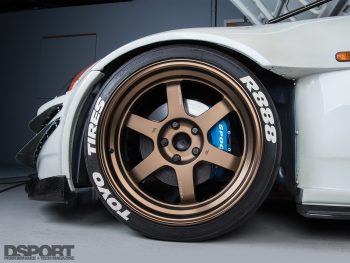 Although Dennis kept the stock transmission, he replaced the clutch and flywheel with ACT (Advanced Clutch Technology) ones. He gave his AP1 a taste from the future when he installed a differential from an AP2 generation. After trying various wheels, Dennis finally decided on the Rays Volk Racing Mark ll, measuring 18"x9.5" +15 in the front and 18"x10.5" +15 in the rear. Wrapped around the wheels is a set of R888 Toyo Tires, with 235/40/18 tires in the front, and 265/35/18 tires in the rear. To bring the entire build to a stop, he installed a set of Spoon mono block brake calipers, with 88Rotors and Hawk Performance HPS street brake pads.

In n Out
On the inside, the cabin is surrounded by a Cusco 6-point roll cage, and the dash had to be drilled so the cage can go through it. The driver and passenger get Bride Low Max Vios seats with Takata 4-point harnesses. Dennis pilots his S2000 using the J'S Racing steering wheel with the Work Bell hub and quick release. Finally, he equipped the interior with an AEM digital wide band gauge and an AEM boost gauge.
On the outside, the AP1 is dressed in an AP2 front bumper with a Spoon ViS carbon front lip. The stance is complemented with two Charge Speed carbon fiber side skirts. On the back, the rear diffuser, rear fender, and rear spoiler are courtesy of J'S Racing; contrasting nicely with the pearl white paint with blue ghost pearls and the Mugen hardtop. To finish off the exterior, Dennis installed a J'S Racing Honda emblem that lights up in blue, which matches the blue brake calipers and the roll cage.
Bagged and Ready to Go
Although the AP1 has a unique stance straight out of the showroom, Dennis wanted to bring the car lower to the ground to support the power he intends on getting out of his F20C. Dennis was always into coilovers, but he ended up with a different set up for his current S2K. "I was never a fan of airbag systems. I've always been a coilover guy, but the only thing I dislike about coilovers is that you can't adjust them on speed bumps, which had me do crazy angles to go over them without scraping," Dennis explained. After hearing about Air Lift's airbag systems performing well on tracks, Dennis knew he had to bag his Honda, so he put a full Air Lift airbag system. "No more scraping. Amazing that I can just adjust the height with a simple press of a button," Dennis said.

A Glimpse into the Future
Even though Dennis spent hours upon hours and thousands of dollars on this build, he is nowhere near done. His power goal is 800 horsepower. Dennis currently has an 80mm K Tuned throttle body and an All In Fabrication intake manifold sitting in his garage waiting to get installed. He is also waiting on two J'S bumpers and a Varis hood coming from Japan, as he loves authentic JDM parts. Looking back at the journey, Dennis has no regrets. After winning multiple awards for his Honda, and after meeting hundreds of people and creating friendships, Dennis is ready for the next phase of his build: the road towards the 800 horsepower S2K.