You'd be hard pressed to find any motorsport that pushes its drivers and cars harder than rally. Drivers, co-drivers (navigators) and their cars must drive for hours on end over the course of a weekend, navigating their way through off-road beaten trails, thick gravel paths, and stretches of tarmac. The mix of road surfaces, jumps, and unpredictable obstacles makes rally the ultimate proving ground for a driver's skill and a car's strength. In the interest of proving the performance and reliability of its parts, paired with a love for rally racing, Cusco assembled a 2014 VAB Subaru WRX STI to compete in the Japanese Rally Championship.
Text by Cameron Parsons // Photos by Rob Shaw
DSPORT Issue #186
---

Durability Test
There isn't anything about rally that is considered easy, so building a car that can reliably last the duration of an event is of utmost importance. In issues #169 and #170 of DSPORT, we covered a rally car build and the experience of co-driving said car in the Rally America Oregon Trail Rally in 2016. We found that rally cars have unique demands in their setup in order to handle the trials of rally stages. In most rally race events, competitors race for three days back to back, from the early morning into the dark of the evening. Each day is filled with timed stages, usually 10 to 20 miles in length. Some stages are run on dirt, some on gravel, some on tarmac, others on some combination or each of the three.
The unique environment of rally tests a car's entire powertrain, and puts a beating specifically on the suspension system and chassis. For many participants, simply finishing a rally race feels every bit as sweet as winning one. Given the challenge of such a testing competition, the capable hands and minds at Cusco decided that this would be an excellent place to demonstrate the company's ability.

The Blueprints
The team at Cusco would first have to select a platform. In the midst of Subaru's WRX and STI update in the form of the latest VAB chassis, the team decided to go the modern route and picked up one of the earliest new model STIs in August 2014. Unlike the 2.5-liter STI in the United States, the Japanese release houses the classic 2.0-liter version of the EJ engine. Before beginning the build, however, Cusco had to decide what class this STI would race in. Since Cusco's specialties lie in chassis, driveline, and suspension performance, the company was tasked to select a class where a stock to mildly modified engine could remain competitive.
Due to the allowed level modification and reasonable project build budget, Cusco set sights on a production-based class. To this end, they chose the JN6 class in the JAF Japanese Rally Championship. This class resonates to the likes of Rally America's Super Production class or the FIA's famous Group N. These classes emphasize a focus on a car that looks and operates as close to its factory form as possible. This culminates in heavy restrictions on engine and transmission work, and some more flexible limitations to suspension and driveline components. This rule set makes the class significantly more affordable for competitors, and calls for extra creativity from builders to put together and set up the best possible car. Cusco was up for the challenge with a fast-coming deadline, the fifth round of the FIA Asia Pacific Rally Championship in Hokkaido.

Mild Mods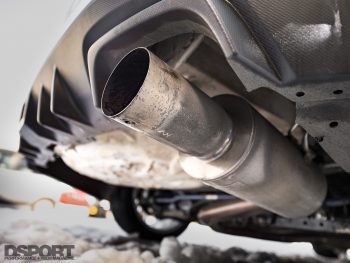 The rally class rules don't allow teams to run anything but stock components inside the engine, which leaves them the task of extracting power elsewhere. To this end, the car employs a MoTeC engine management system and MoTeC boost controller to discover a little extra power out of the factory internals. Add this together with a free-breathing Fujitsubo exhaust system, and the car produces 296 horsepower at 6,000 RPM and 376 lb-ft of torque at 4,000 RPM. The power then travels through a five-speed transmission built with Cusco's Dog Engagement Gear Kit for quicker shifts and greater durability.
After the transmission, the differentials are a high priority, as dirt, gravel, and wet roads make gaining traction very difficult. Without some sort of locking differential, cars would simply spin their tires and struggle to accelerate out of any corner. Cusco already produces a limited-slip differential for many street and race cars, so the team employed a Cusco Type-RS LSD to handle the power distribution to all four wheels. Its internal coil spring design is built to enable smoother engagements, making for a more drivable car at speed.
To some auto enthusiasts, 376 lb-ft of torque and sub-300 horsepower probably doesn't sound like much for a race car. However, when it comes to racing on twisty off-road courses and threading the needle between cliffsides and trees, few rally racers complain about not having enough power. In many cases, drivers aren't able to fully utilize all the power at their disposal, as it can lead to wheelspin and reduced grip. The major difference in quick stage times comes down to driver ability and the car's handling setup.
Do-It-All Suspension
The always-changing road surfaces and hard racing conditions mean that the suspension components are getting the hardest workout of all. At most stage rally races, it's actually common for race cars to blow out shock absorbers, fold control arms, and bend rims. Cusco had developed a new set of prototype rally dampers that would be up to the task. In its current state, 13 kgf/mm springs on the front and 14 kgf/mm springs on the rear complement the dampers to better hold the car to the ground. Front and rear Cusco anti-roll bars stiffen the setup further, enhancing the car's weight transfer characteristics and handling ability.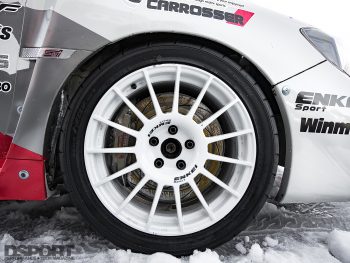 The STI sits on four 18×9.5-inch Enkei Sport RC-T4 rims, made from a flow form cast aluminum designed to ensure low weight and high strength. Its thin-spoke design encourages air flow to help cool the brake components, while kicking out any rocks and other debris that may get lodged inside the wheel. Its current setup is optimized for more tarmac-heavy terrain, so a set of 255/40R18 Yokohama Advan A050 rubber sits mounted on the wheels. The larger rim diameter allows for larger brake clearance, making room for the front Brembo and rear factory STI calipers with Winmax brake pads. In regular rally fashion, the STI is fitted with a hydraulic handbrake system to help swing the rear end around sharp turns.

Safe Zone
Rally racing is not only one of the most difficult motorsports, but also one of the most dangerous. The risk of rolling down a mountain or sideswiping a tree call for safety as a top build priority. The Cusco team implemented a Safety 21 ASN rollcage, designed to meet FIA-level regulations for the car to be able to compete in nearly any rally race event. Bride Gardis III seats with Cusco Racing six-point harnesses hold the driver and co-driver safely in case of any incident. The driver and co-driver may go hours before reaching a service station at any rally race, so a MoTeC C185 dash sits behind the Momo steering wheel to keep the driver aware of the engine vitals. On the passenger side, a Coralba C-Giant Rally Computer tracks times, distances, speed, and fuel level. Its built-in functions ensure that the driver and co-driver time their transits correctly, while keeping them aware of other essential timing data specific to rally racing.

Rallying for the Future
In less than a year, the Cusco team built the rally STI and sent it to the Rally Hokkaido event as part of the 2015 FIA Asia Pacific Rally Championship. In the hands of driver Yuya Sumiyama and co-driver Takahiro Yasui, the team achieved a first place finish in the class and a second place finish overall. The car served as a showcase and simultaneous testbed of Cusco's design and manufacturing ability, and the team is still far from finished. There is ongoing development and prototyping in nearly every aspect of the car, from bodywork, to suspension components, to the drivetrain. We've seen how much the team can accomplish under a tight deadline on a brand new platform, so we're very much looking forward to seeing what more they can do with more development time in the shop and test time on the track.