The vintage import car revolution continues its rise in popularity with each passing year as new classics gain traction among nostalgic automotive fanatics. This phenomenon is nothing new to automotive fans, but it is still a relatively new craze among Japanese car collectors and enthusiasts in the USA. If you've ever attended the Japanese Classic Car Show in California, evidence of this emerging trend can be seen as more people are restoring and tuning older Datsuns, Hondas, Mazdas, Nissans and Toyotas.
Text and Photos by Richard Fong
---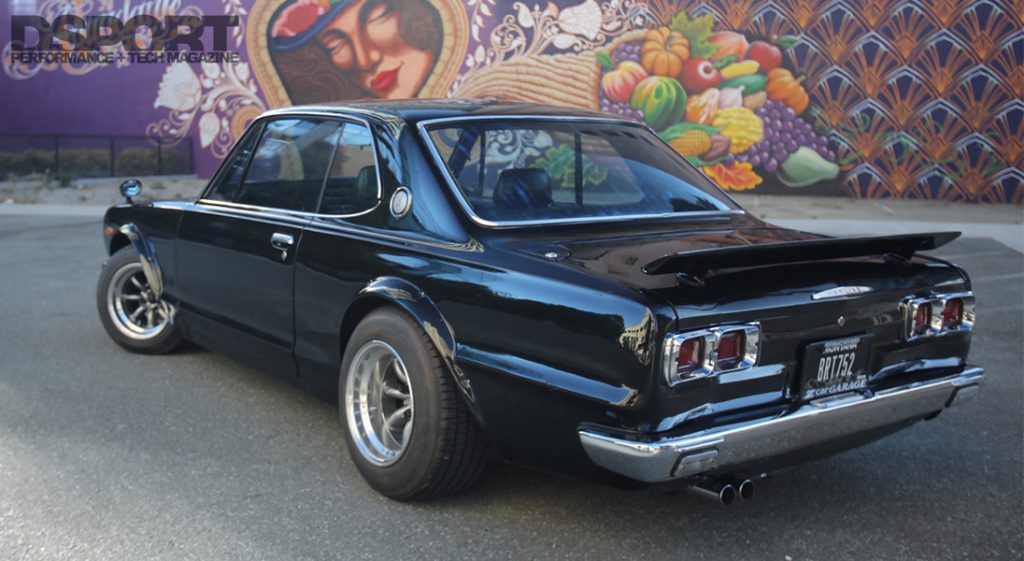 One such fanatic, Gary Stephenson, began his love affair with the Nissan marque when he built up an Infiniti G35 to make 500 horsepower. This build led him to seek out one of the G35's ancestors, an S30 240Z, to be his next project. Working with Z Car Garage, this restoration project propelled him to climb further up the Nissan family tree in search of its first sportscar, the first generation Nissan Skyline GC10.
Hunting for a Hakosuka
Development of this platform, affectionately referred to as a Hakosuka in Japanese (hako meaning box and suka being the short term for skyline) by enthusiasts, began under the Prince Motor Company. Shortly after merging with Nissan in 1966, the GC10 was released in 1968 and sold as a Nissan Skyline 2000GT. This predecessor of the Skyline GT-Rs (that would later earn global notoriety) enjoyed a short production life of only four years. This short production cycle made 2000GT coupes rare, but the GT-R coupe variant's shorter lifespan of two years (1971-72) and use in racing made it even harder to find. In 2010, Stephenson started searching tirelessly for a Hakosuka he could restore but more importantly, drive. In 2011, his efforts led him to Yokohama, Japan and this clean 1971 Skyline 2000GT.

Yokohama Hot Rod
Once his Skyline arrived and cleared customs, he immediately brought it over to Z Car Garage in San Jose, California. Z Car Garage, headed up by Robert Fuller, specializes in Datsun and Nissan platforms, especially the vintage models. This passion for the older platforms made the shop an especially suited partner for getting the 2000GT restored and running optimally. Interestingly, Stephenson's GC10 happened to already come with a little extra might from Japan, as the previous owner had swapped in a later generation L28 engine. Originally, the GT-R variant came equipped with a dual overhead cam S20 inline six-cylinder engine making approximately 160 horsepower at the flywheel. By comparison, the 2000GT hit the streets with a single cam L20 inline six making only 105 horsepower. Unsure of the engine's specs and hampered by erratic ignition timing issues, all parties were curious what this GC10 would make on the dyno. Surprisingly, it put down an impressive 160 horsepower and 190 lb-ft torque to the rollers of a Dynojet dynamometer.

Restoring 
Without Perfection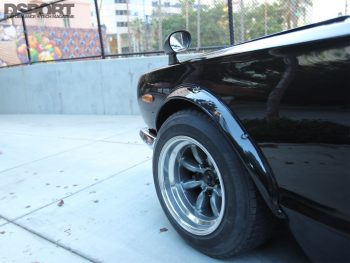 Stephenson didn't want to perform a complete show car restoration, however, leaning in favor of maintaining the street drivability of his GC10. He didn't want a money pit restoration that would be too perfect and expensive to be driven. Like any purist, he wanted to retain some of the vintage flavor that reminded him of the vehicle's true age. Following the parameters set forth, Z Car Garage went through the GC10 and touched up on elements in need of improvement. Numerous parts were re-chromed, aesthetic improvements like a 2000GT console badge and rare JDM steering wheel were installed and the seats were restored to be much more comfortable to sit in. In addition, the period-correct 14-inch RS Watanabe wheels were disassembled and refinished. The deep-dish rims were polished to a mirror finish while the wheel faces were powder coated in a durable, silver hue.
Super Single Cam
Driving the sub 2,500-pound Skyline around turned plenty of heads, earned accolades at the local shows and delivered a fun time behind the wheel. But, as with any platform, acclimation led to the desire for more performance. At Fuller's suggestion, they turned to Rebello Racing for a solution. Working with Dave Rebello, they hatched a plan for a 3.1-liter, bored and stroked L28 engine.

The Rebello Treatment
When the L28 arrived, Rebello Racing's Chris Heihn stripped down the engine and thoroughly cleaned the oil galleys and water passages before increasing the bore to 89mm. He then clearanced the block in preparation for the longer stroke crankshaft. After honing the block with a deck plate, he filled the cylinders with a set of 10.5-to-1 compression JE pistons. Eagle rods make the connection between the pistons and the 4mm longer-stroke crankshaft sourced from an LD28 diesel engine. Together, this new rotating assembly increased displacement to 3,098.5cc.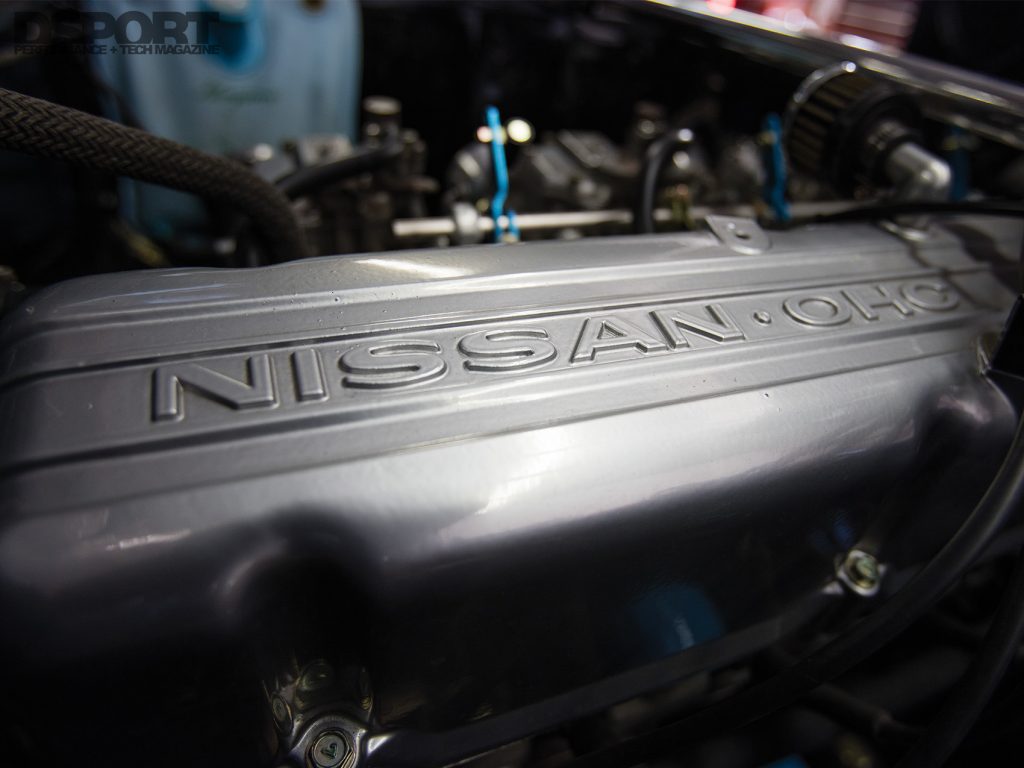 As work progressed on the block, Rebello Racing's Mike Yoes disassembled the reverse-flow L28 cylinder head. This head is a known bottleneck for airflow on the L28 engine. Once Yoes finished porting the head, he installed a complete Rebello Racing valvetrain actuated by a Rebello Racing 63DI camshaft. Once reunited with the enlarged L28 block, a dramatic improvement in volumetric efficiency could be measured on the dyno once the three 44mm Mikuni PH44 side-draft carburetors were synced and calibrated by Fuller. Tested once again on a Dynojet dynamometer, the Hakosuka now put down 272 horsepower and 249 lb-ft torque to the rollers.
Maintaining Control
Producing 112 more horsepower and 59 lb-ft of additional torque to the Skyline's 14-inch wheels unleashed a less predictable beast in the GC10's behavior. To balance the chassis and improve handling, Koni shocks paired with Eibach springs lower the center of gravity while improving feedback to the driver. This effort helped to improve the traction of the Bridgestone (front) and BFGoodrich (rear) rubber mounted to the RS Watanabe wheels. To ensure that the Bridgestone's on the front end bite into the tarmac to cut speed on cue, the stock Skyline front brake setup was scrapped in favor of the optional NISMO MK63 4-piston calipers and 280mm rotors.

Passing the Baton
Z Car Garage and Stephenson documented and reported the progress of the build and the performance it realized on social media. It subsequently garnered a noteworthy following, which included a young enthusiast named Alex McDowell. McDowell, who also sees the classics through purist eyes, was no stranger to the world of GC10s as his most recent Hakosuka build was the centerpiece in the OS Giken booth at the 2016 SEMA Show in Las Vegas. Even so, he could not resist the allure of a street-prepped Skyline. He commented, "What caught my eye was the depth of the paint and the attitude that this Skyline projects. The Rebello Racing engine added a JDM hot rod feel to this veritable time capsule. While I plan to enjoy it as it is equipped, it's hard to leave a machine like this alone. I've been doing some research and as I dig deeper, I uncover more vintage parts that could enhance the style and add to its already desirable setup. I'm also looking at changing out the first generation 4-speed with overdrive in favor of a 240SX transmission. I'm also looking to increase the displacement from 3.1-liters to 3.2- or 3.5-liters in an effort to eclipse the 300 hp mark while maintaining the single cam cylinder head. I might also incorporate fuel injection to help make it happen." With an evolutionary mindset in place, McDowell is prepped to cue off of Stephenson's efforts in order to take the next step in the development of this Japanese classic car.