Supply and demand. Whether you paid attention in Economics or not, everyone is experiencing the repercussions of the pandemic and world-wide recession. The price of many items has doubled or tripled and yet we are being told that inflation is just at 8.5 percent. When it comes to market for R32, R33 and R34 Skyline GT-Rs, prices have no limit in sight. Rare models that would normally gather an extra $10K or $20K are now selling at insane premiums. Rare trim levels, rare colors and even the history of specific vehicles has added significant value. When Brook Willard purchased one of only 56 R34 GT-R N1s ever built for public ales six years ago, it was already a six-figure investment selling at about 3 to 4 times the cost of a standard R34 GT-R. Paying "stupid" amounts of money for a R34 GT-R N1 six years ago had one major benefit. Since the N1 vehicles were purpose-built race cars that underwent homologation, they should be able to qualify for a show and display exemption allowing limited use (under 2,500 miles per year) on public roads. This was one way to get around the 25-year rule.
Text and Photos by Chiaki Kumon
DSPORT Issue #246
---

The N1 Story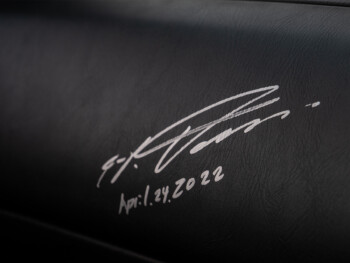 N1 edition Skyline GT-Rs were essentially the lightest, most powerful and highest-performance GT-Rs available. Normally sold to race teams and tuning shops, the N1 edition GT-Rs were homologated for racing in the All Japan Touring Car Championship (JTCC) and later Super Taikyu N1. All N1 GT-Rs came in QM1 white and had A/C delete, radio delete and no rear wiper. ABS was not available on R32 GT-R N1s, but it was later kept on R33 and R34 GT-Rs. With R34 GT-Rs N1s, an N1 engine was fitted. This engine featured improved turbochargers air-to-air oil coolers and a few other upgrades. A total of 56 N1 edition R34 GT-Rs are believed to exist. 
The Initial Plan
Brook's original plan for this N1 GT-R was to build a Mine's inspired vehicle with a few Mine's components along with other period-correct upgrades to draw the connection. As fate would have it, things would get significantly more serious. The opportunity surfaced for Brook to purchase a Mine's Complete Engine along with a number of demo-car-specific parts. Once this major piece of the puzzle for a complete Mine's N1 Demo Car build was sourced, the new plan was to build a 100-percent correct Mine's Demo Car.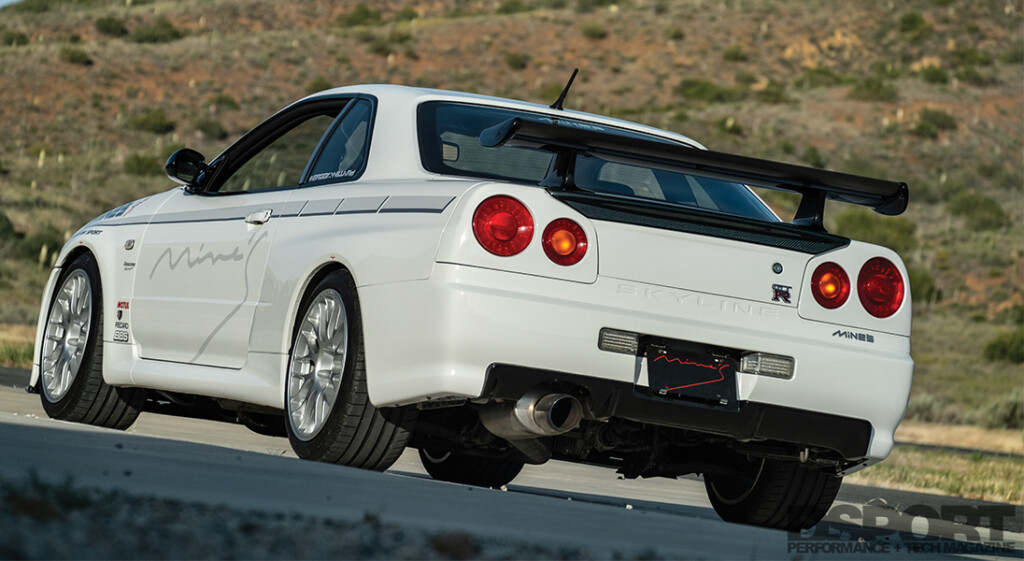 Going to Japan
With a lofty goal in place, Brook would quickly find out the challenge in trying to put together a car 20 years after the original was put together. A massive amount of research had to be done which included trips to Mine's workshop in Japan. Years of parts acquisition would follow until the project would finally be six years later.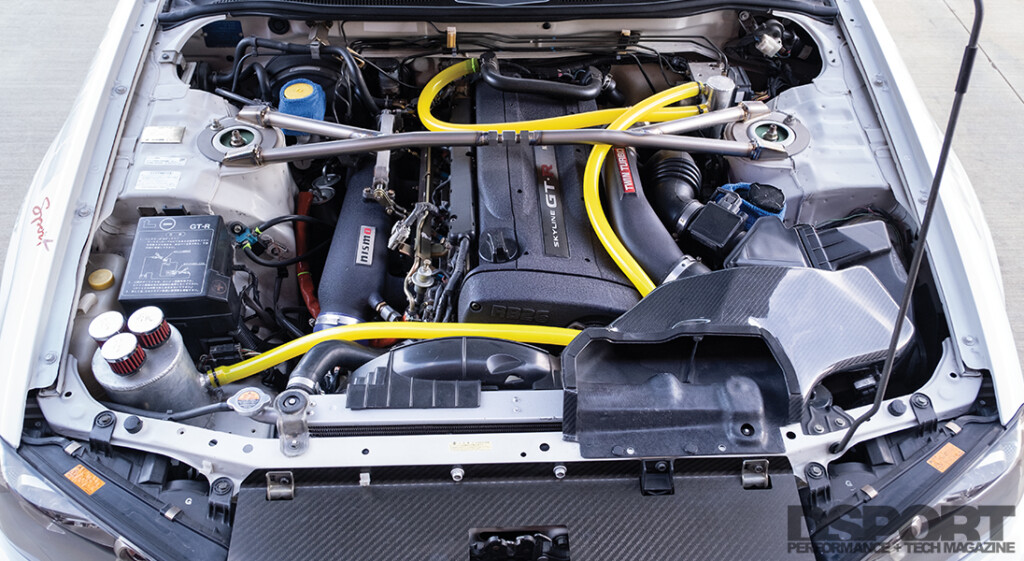 The Final Product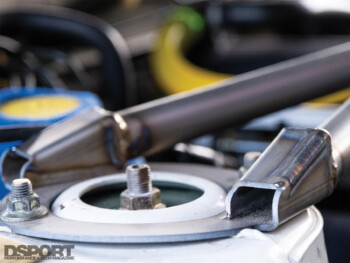 Mine's demo car showcased all the engine, cooling, suspension, brake, aero, interior and wheel-and-tire upgrades that Mine's offered for the R34 GT-R in N1 competition. This engine features a Nismo N1 (24U) engine block with the cylinders bored then honed with a honing/torque plate in place. A lightened crankshaft with WPC micro shot peening processing is the center piece of the rotating assembly. Mine's spec lightweight forged pistons and lightweight forged rods team with the lightweight crankshaft and a twin-plate carbon clutch to keep rotating inertia to a minimum for maximum response. To further improve response and increase engine efficiency, a full rework of the cylinder head is performed. Both the intake and exhaust ports were ported and polished to improve flow. The OEM seats are replaced with beryllium-copper seats for improved heat transfer while racing valve guides are installed to prevent seizing under sever use. A competition valve job is also completed before upgraded 260-degree, mid-lift cams and high-rate valve springs are installed. The Mine's reworked cylinder head is secured to the built short block with a MLS head gasket and upgraded head studs. Oil system upgrades include a REIMAX oil pump, Mine's modified oil pan and Mine's oil pan baffle. A pair of HKS GT2530 turbochargers provide the forced induction while a combination of Nismo, Mine's and HKS components make up the charge pipe, inlet pipe and intake manifold combination. The result is a very responsive and reliable combination for a 580 horsepower RB engine. According to Brook, "I've been fortunate to own and drive many different Skyline GT-Rs. I've even had an R34 with the same turbos as the N1 that was on a non-Mine's motor. I was genuinely blown away by how different the motor was. The car feels like a different vehicle than other RB26-equipped Skylines I've driven. It's startlingly different. The optimization of the built engine to deliver peak efficiency with components engineered for the exact power level. The Mine's Complete Engine genuinely shocked me. It is something entirely special, and it completely transformed the car."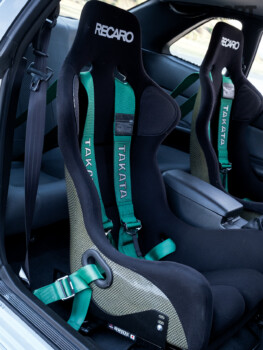 As for the rest of the vehicle, Mine's components improved every other facet. Cooling has been improved with a Mine's radiator, Mine's carbon radiator shroud and dual oil coolers. Suspension upgrades include Mine's coil over suspension, Mine's suspension links and Mine's stabilizer bars. The upgraded suspension helps the magnesium Mine's BBS RE649A wheels wrapped with RE-71R tires. A full AP Racing caliper and rotor upgrade at front and rear increase braking capacity while Mine's carbon aero sheds a few pounds while helping the R34 GT-R cut through the wind. Inside the GT-R, Recaro Profi SPA Carbon/Kevlar seats, Takata harnesses and a Mine's 320kn/h speedo match the Mine's demo car spec.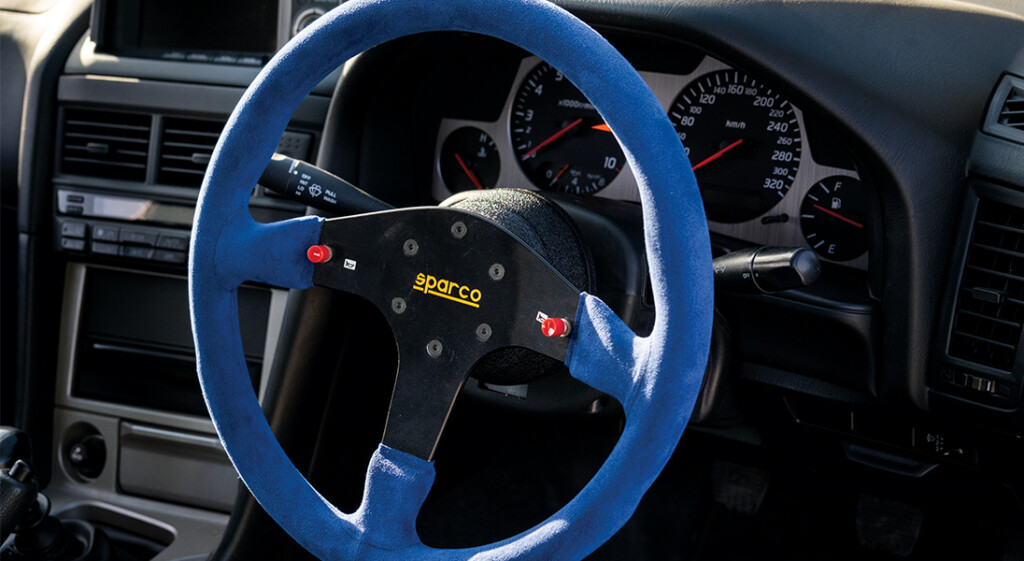 The One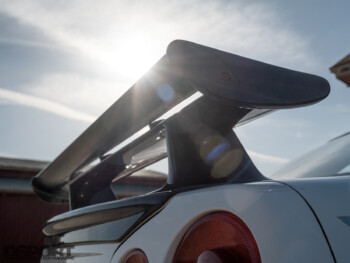 With the R34 GT-R market being hotter than ever, the value of this one-of-a-kind, period-correct, Mine's N1 demo car is yet to be determined. This has prompted Brook to consider selling the vehicle now that the project is completed. "I'm not the right person to own a car of this value. It has unique parts that cost way too much to replace. It needs to find the right collector to preserve it for future generations. It's for the person that wants to own the best version of a N1 R34 GT-R demo car available." While this R34 GT-R N1 car may have a different owner in the future, you can bet that Brook will continue to have a few RB-powered GT-Rs at the ready. "I'll never stop finding, tuning, restoring and enjoying R32, R33 and R34 Skyline GT-Rs. I'm hooked. My only regret is not purchasing more of these cars and the parts earlier on."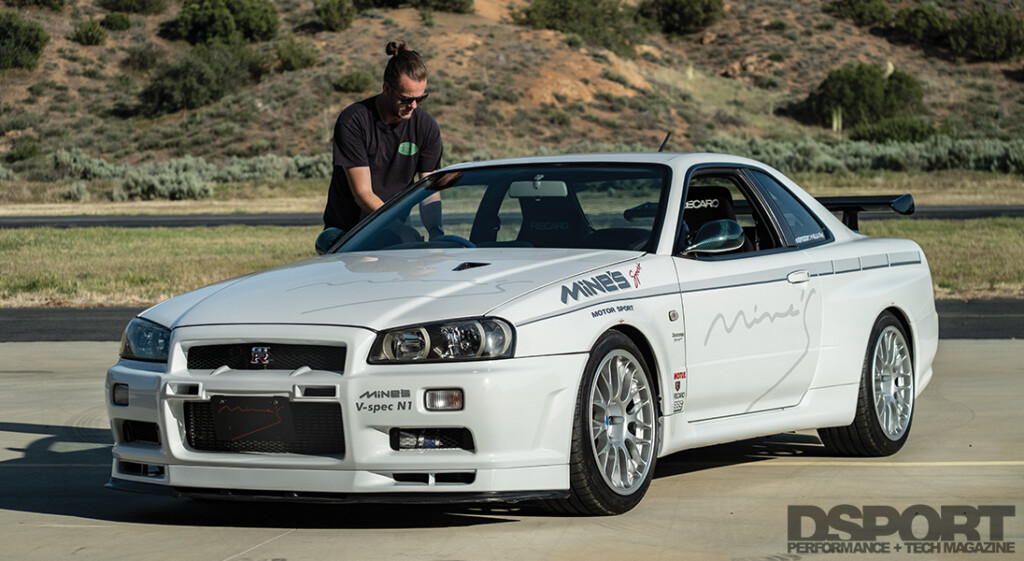 The Bottom Line
Imagine the fun in finding receipts from Tsukuba, Ebisu and Fuji Speedway hidden under the seats of a Skyline GT-R you are restoring. While the six-year journey to research and acquire the parts needed for this build was arduous, it was also quite rewarding. Since Brook is a regular customer of Club DSPORT for his RB26 engine builds, we've got to enjoy some of the anecdotal stories about finding some of the seemingly impossible to locate items. Due to the rarity of the vehicle and the uniqueness of the Mine's N1 demo car configuration, this could very well be the first R34 GT-R to break the seven-digit mark at auction. Stay tuned.