If you've been to a professional motorsport event, you have definitely noticed that there are many people involved aside from just the drivers. Large groups of people are behind the scenes making sure everything gets done on race day. From race officials to team transport drivers, everyone has a job to ensure that the race weekend goes smoothly. Many of these people participate for their love of the sport, while others end up finding their love for the sport as they work the race events.
Text by Austin Cabot  //  Photos by Chris Sullivan and Austin Cabot
DSPORT Issue #188
---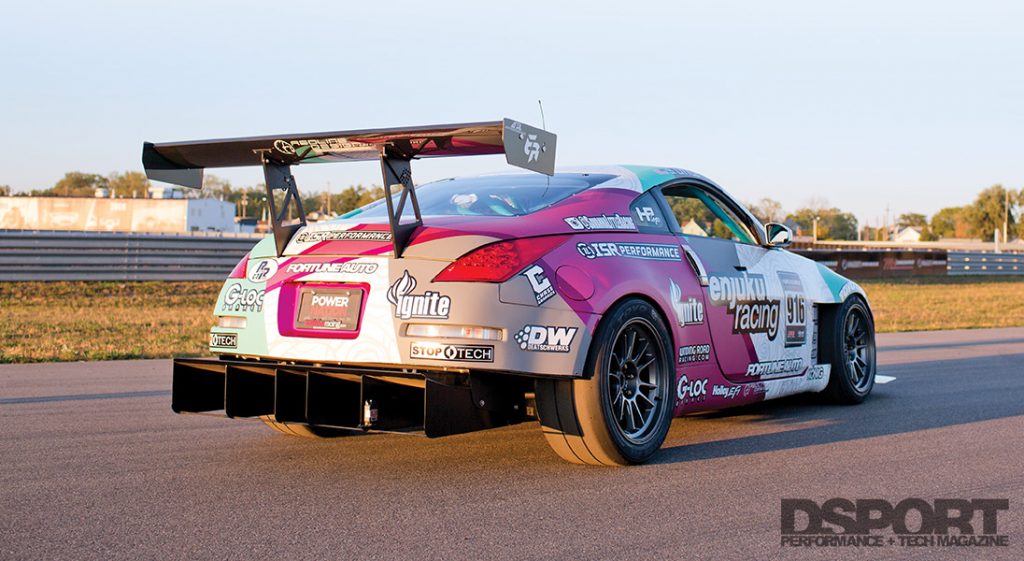 For Savanna Little, her first exposure to motorsport was as an umbrella girl for one of the Nissan pro teams. She was hooked from the start. "They were my favorite events to work. Whenever I got an email to work a racing event, I didn't care what I had going on, I'd be there," Savanna said. After attending a few races, Savanna asked one of the drivers how she too might be able to get started driving on track. To her surprise, she found out that she could track her own car at various track day events that happen all over the country. There was only one problem – Savanna was driving a truck at the time. Right there and then, the search for a car officially began. Savanna researched cars on the market and narrowed it down to the Nissan 370z and 350z. She considered a Subaru WRX STi and Hyundai Genesis, but her time around the Nissan team showed her just how capable the 350z and 370z platforms were. Her budget led her to this particular car in July of 2014. "I was living in Austin, TX when this 2008 350z went up for sale in Houston. I had been looking for a while when this one popped up at a great price with only 21k miles on it. It was a silver base model and super boring, but it was in great shape and I could afford it, so I sent my dad to test drive it for me and I ended up buying it sight unseen."

So It Begins
Savanna joined the local Z car club which used to rent out Motorsport Ranch Houston for their own private track days. It was at one of these track days in December of 2014 that Savanna got her start driving on track. After participating in that first event, she began attending more events and started to realize the shortcomings of her mostly stock 350z. Performing all of the work herself, she installed some coilvers, wheels and tires, track pads, and intake and exhaust. Her initial goal was to modify the car for track duty, while keeping it street legal. During the spring of 2015, Savanna drove the Z to Florida for a six-week stint with her career in the equestrian industry. "I figured if I was going to be gone for six weeks, I might as well take the car, meet car enthusiasts, and do a few track days." During her time in Florida, she got to know the team at a performance shop who offered her a job dealing with a different kind of horsepower.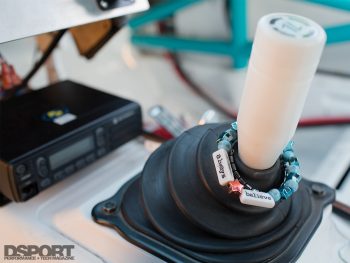 Once she moved to Florida, Savanna started to track more often, sometimes two to three times a month. In the back of her mind, she began to fantasize about her Nissan becoming a full racecar with an LS swap and big aero modifications. However, the more time she spent driving on track, the larger her focus on safety became. When it came time to make the car a dedicated track-car, she decided that it should have a full roll cage installed to protect her from any unfortunate incidents. She didn't know it at the time, but this step would prove to be one of the most beneficial in the development of the car as she kicked off her partnership with Enjuku Racing. "It just so happened that at the same time I was shopping for quotes on a roll cage, Enjuku Racing was looking for a 350z to do some development with," Savanna explained. They used her car as a development mule for their roll cage kit, finishing up the process and returning it a caged car in January of 2016.

The V8 350z is powered by a Chevy Performance LS376/525 Crate engine and an OEM Nissan CD08 transmission.
A Dream in the Making
With the interior of the car stripped-out and her 12-point roll cage freshly completed, Savanna started doing some research to see where the car might be the most competitive. "The more I tracked the car, the more I realized I had what it takes to be more competitive. I started to look for series that these chassis' were competitive in, and Global Time Attack caught my eye pretty early on." Savanna entered into one of their largest events, Road Atlanta, in May of 2016. At this event, she ended up running a lap time of 1:38.690; a very respectable lap time with the stock VQ, but she wanted to be at the top of the field. After talking with the guys at Enjuku racing, a plan was formed. Savanna said, "because of the super loose rule book for time attack, my dreams of an LS powered Z with awesome aero could become a reality." She ordered her motor for the swap and waited for it to come in. It was during this time that disaster struck.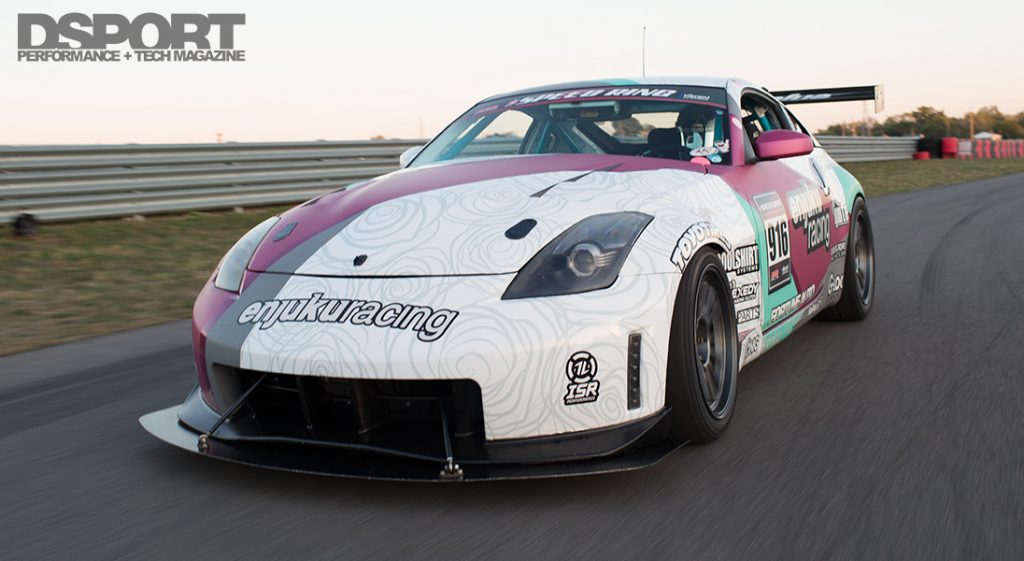 Savanna landed a seat as a development driver for the Winding Road Racing team in NASA's most competitive Spec Racing Series, Spec Miata Texas Regional.
While at an event at Palm Beach International Raceway in the summer of 2016, the car suffered a mechanical failure and Savanna and the Z went headlight first into a tire barrier. "I had such a sentimental attachment to the car that I actually apologized to it in the in-car video from the wreck," she said. Luckily, aside from a decent amount of body damage, the chassis was in good shape and the team at Enjuku quickly started on the motor swap.
Over the course of six weeks, the Enjuku team worked to transform the Z into a V8 monster. Utilizing an ISR Performance LSX swap kit, an LS3 was finally installed. Engine internals were left mostly stock with the exception of cams. Horsepower Logic tuned the whole package to approximately 500hp.
Off She Goes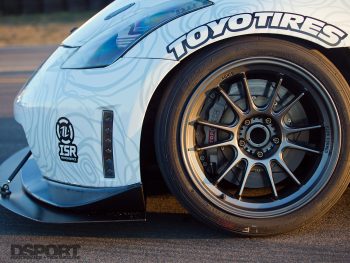 Savanna turned to Fortune Auto to help transfer all that power to the ground. The car now sports their Dreadnought Pro 2 way coilovers. A car like this needs some serious rubber, which lead Savanna to choose Toyo Proxes RRs mounted on Konig Hypergrams at all four corners. Inside the cabin, a gear selector adorned with her good luck charm – a bracelet that her biggest fan, her mom, made; which reminds her to "always believe."
The car made its debut at the Gridlife festival at Road Atlanta in August 2016. "Getting the car onto the back straight and stretching its legs for the first time was a feeling I'll never forget," she said. Savanna's dream of an LS powered 350z with aero was now finally complete. The team at Konig Wheels saw the build and decided to feature it in their booth at the 2016 SEMA Show. Savanna then combined the trip to SEMA with Super Lap Battle at Buttonwillow Raceway Park a few weeks later, making a full three-week trip out of the experience.
Development is Never Done
Savanna has spent much of this year dialing-in the chassis and learning to drive a car with more power than she's used to. It hasn't been easy, but she has been focusing on driving as much as she can in the 2017 season. With extra seat-time and a commitment to better driving, Savanna was able to claim a 2017 NASA TTU regional championship. She also ran a personal best lap at Virginia International Raceway of a 2:05.67.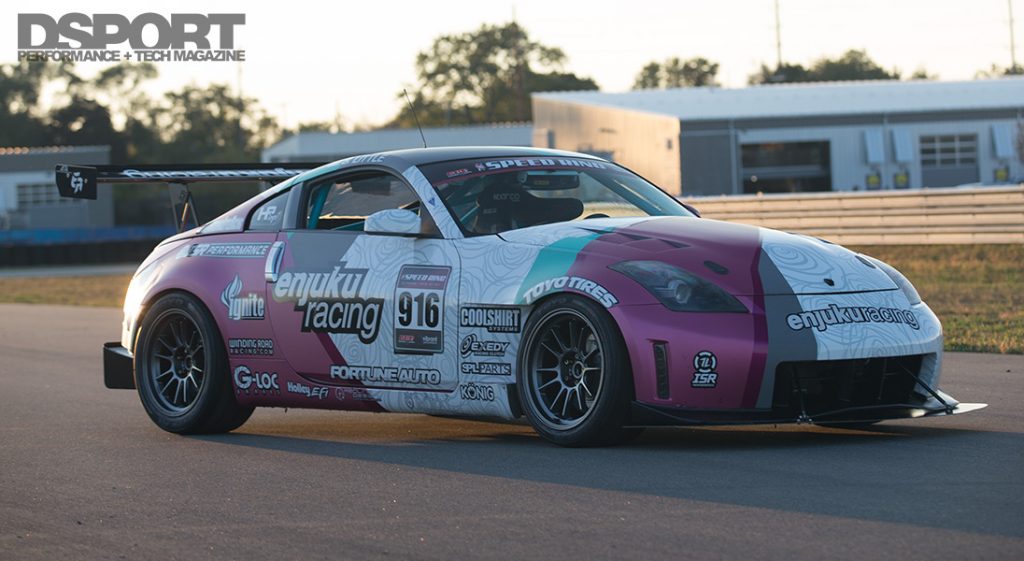 As for the Z, development is never done and constant changes are being made to provide more confidence. The next step is to add better data logging to help her learn to drive the car even faster. As for the long term goals, she's planning on more aero mods and maybe even a JGTC style wide body kit. Less weight and a sequential transmission may also round-off the whole package. When asked about her career goal of earning a seat in a pro racing series, Savanna said she welcomes the day that she has an umbrella girl of her own. With her devotion to making herself a better driver, combined with one of the most wildly built 350zs in the country, this may not be that far off in the future.