To reach a goal, you've got to have a proper game plan. To achieve Record Holder 9 (RH9) status, that plan involves producing enough power to run a nine-second quarter-mile time on street-legal tires. As simple as it sounds, joining the RH9 club is no easy feat; however, with the right knowledge, achieving this goal is not only possible, but also very rewarding.
Text by Richard Fong // Photos by Scott Nelson of TPR Media
---

FROM ROTARY TO RB
Tessa Whyte has been a performance fanatic since she first learned to drive. Her first ride was a Mazda RX2 sedan that started with a mild port 13B and evolved to a bridge-ported 13B. She moved on to a 400- horsepower RX3 coupe and an FD RX7 S1 before finding her way behind the wheel of a 550-horsepower, RB25DET-swapped R32 Skyline GTS-t. This was the car that shifted her focus, leading to the purchase of her first R32 GT-R and a new passion for all-wheel-drive, inline-six drivelines. Her complete immersion in the automotive lifestyle (tuning her cars, going to races and attending shows) led to her meeting and eventually marrying Trent Whyte, the owner of Mercury Motorsport.
THE CAR COUPLE'S NEW BABY
Trent started Mercury Motorsport as an online parts distributor in 2003. The next year, he set up the Mercury Motorsport workshop in Brisbane, Australia, where his knowledge and experience building and tuning cars grew rapidly. Mercury Motorsport soon became recognized as one of the premier tuning shops in Australia, with reputable builds based on a wide variety of Japanese performance platforms to its credit. Trent and Tessa's combined enthusiasm for cars led to the purchase and construction of this 2001 R34 Skyline GT-R. Tessa explained, "The R34 was purchased in late 2009. The exterior was actually in fairly bad shape and required a fair bit of work, but the interior was immaculate. Since 1999, it's been my dream to own an R34 GT-R. Since we knew the history of this particular R34 (because it belonged to a customer), making the purchase was an easy decision."

OPERATION: RH9
With a new shop car at their disposal, the Whytes made the decision to take the R34 to RH9 status. The benefit of experience and having earned the knowledge to create tremendous horsepower meant that a formula was already in place to take them into the single digit realm.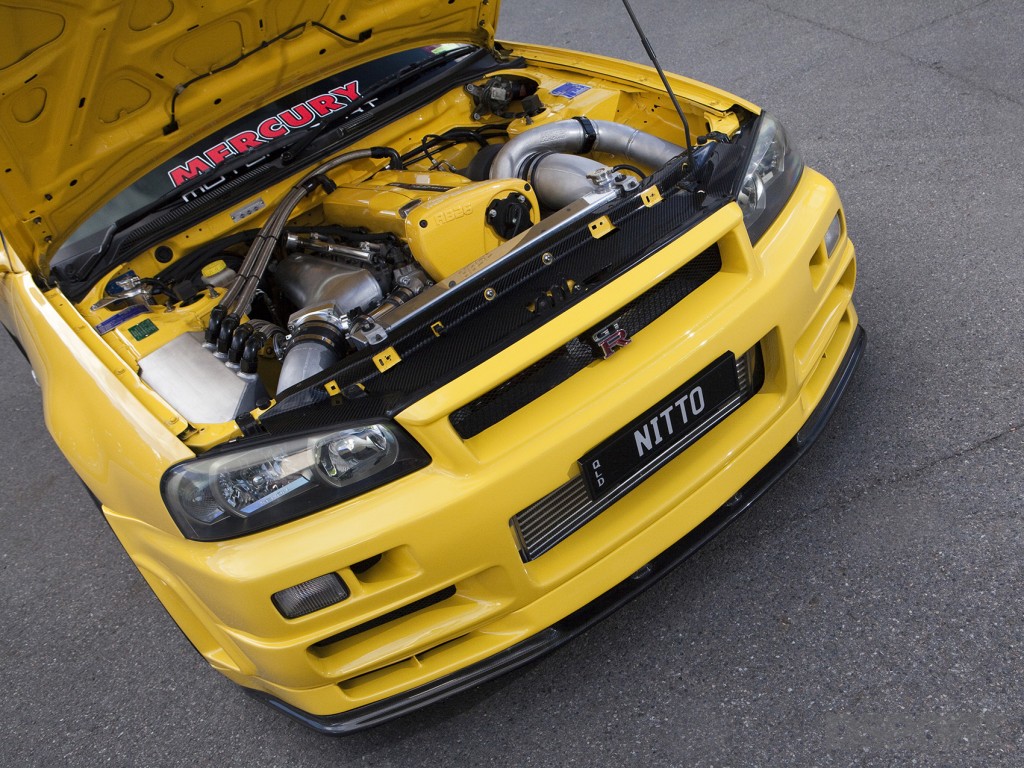 NOT-SO-STOCK BLOCK
The project started with the RB26DETT engine. Learning the limits and thresholds of the RB26 saved the Whytes a lot of trial, error and time. With plans to exceed 1,000 horsepower on the board, more displacement would be needed to reliably produce four-digit power levels. Therefore, the block was pulled from the engine bay and sent to JHH Engineering to be upgraded. JHH Engineering prepped the block to receive Nitto Performance Engineering's RB30 3.2-liter stroker kit. W ith a 90 mm stroke, 86.5 mm bores and a deck plate, the engine's displacement grew from 2,569 cc to 3,174 cc, an increase of 24 percent. This increase is essential, not only for power production, but to also get a Precision Turbo and Engine 8285 turbocharger spooled up quickly.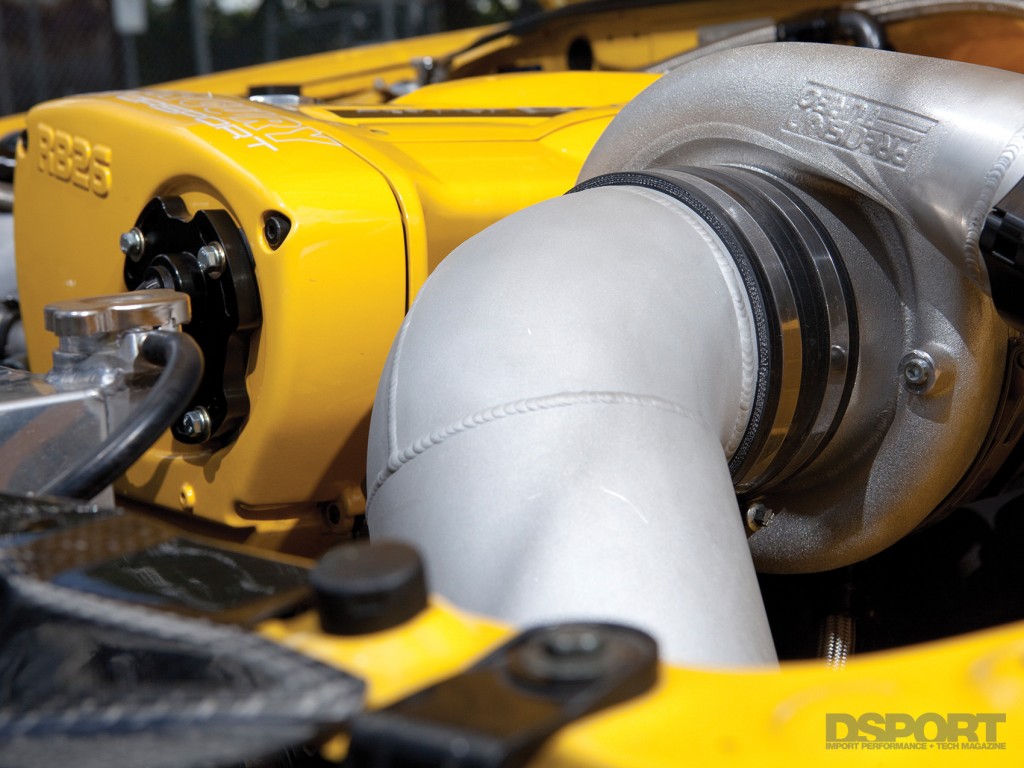 SECRETS TO FLOW
Up top, the head received Mercury Motorsport's CNC cylinder head program for improved volumetric efficiency. While the specifics of the head modifications are a closely guarded secret, Tessa admits that the valvetrain has been upgraded with Supertech valves, springs and retainers, while Kelford makes the cams to Mercury Motorsport's specs. To keep the head from lifting when subjected to greater boost pressures, Mercury Motorsport utilizes ARP head studs of an unspecified alloy in conjunction with a multi-layer steel head gasket to keep the combustion events contained within the cylinders.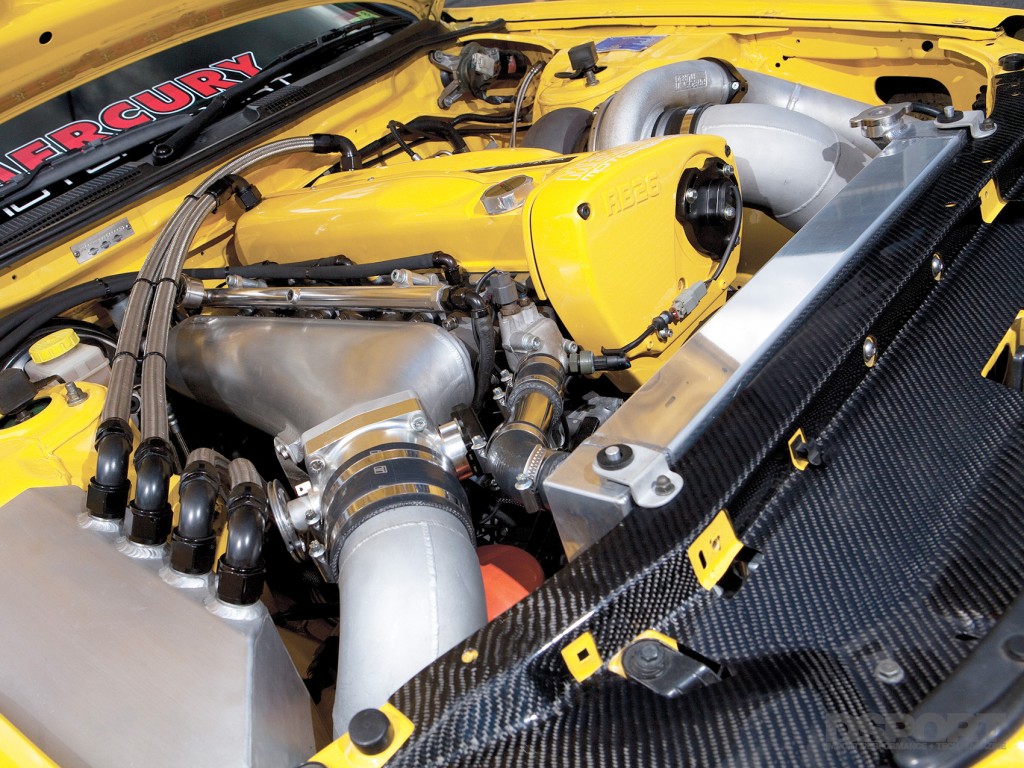 BLOOD BOILING BOOST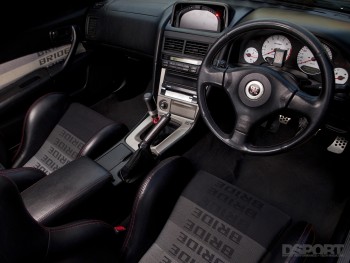 Increased displacement, improved volumetric efficiency and the strength to stay together under boost equate to an RB engine begging for serious forced induction. Thus, a custom manifold by 6Boost was chosen to channel highenthalpy gasses into the 8285's divided inlet for boost duty. To effectively cool the volume of air being compressed by the turbocharger, a GReddy five-core drag intercooler chills the air charge on its way to the 102 mm throttle body and Hypertune intake plenum prior to being distributed to the cylinders. A six pack of 2,200 cc/min Bosch injectors positioned on each intake runner sprays E85 fuel into the cylinders for combustion. With Trent making adjustments to the tables of a Haltech Platinum Pro engine management system, the fuel and ignition timing were refined for the 45-psi boost pressure being forced into the cylinders. As measured on a Dyno Dynamics dynamometer, the Skyline put down 1,134 horsepower and 1,033 lb-ft of torque to the rollers.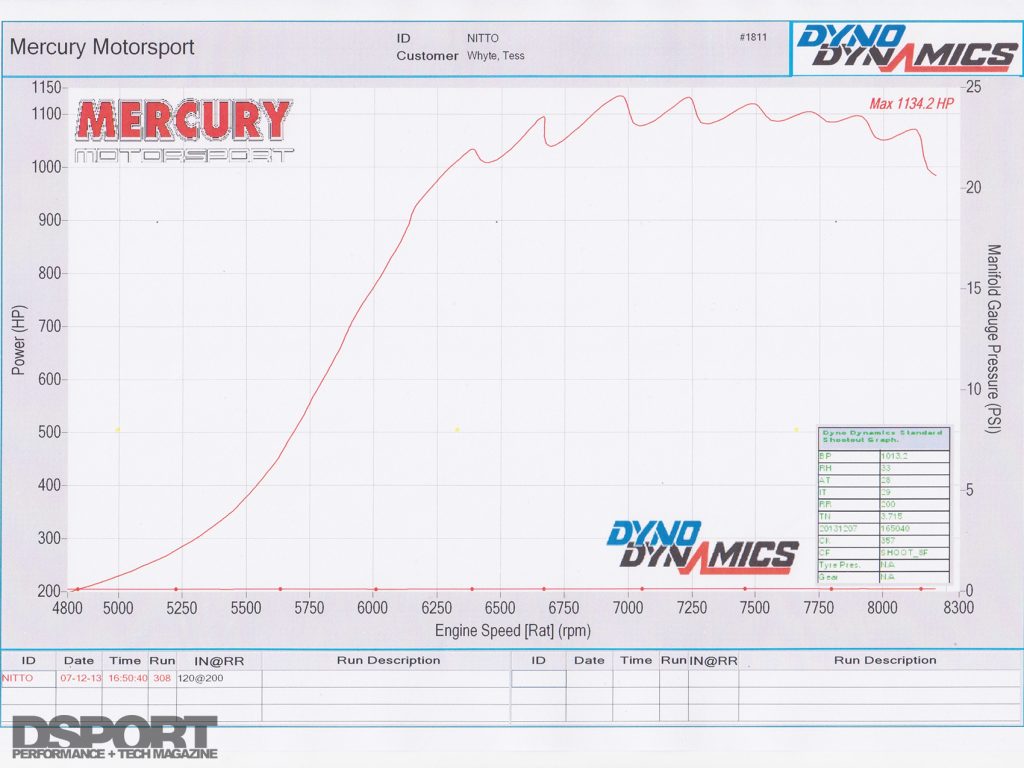 OVER A THOUSAND DOWN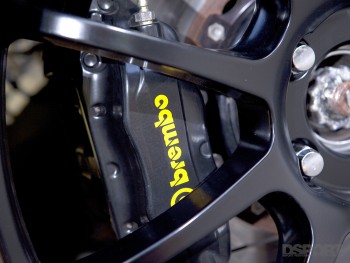 Generating more than four times the factory horsepower and torque led to the essential reinforcement of the driveline. While the factory six-speed Getrag transmission offers decent power transferring capacity, upgrading to a quick-shifting OS Giken OS88 sequential transmission would easily handle the increased power output and help to reduce the lag between gears. With a strain gauge mounted to the shifter, the Haltech Platinum Pro ECU momentarily cuts the ignition timing to permit clutchless upshifts for even quicker transitions between gears. From the transmission, torque gets distributed to the wheels by way of Quaife center, front and rear differentials. With the Quaife units splitting torque to the front, rear, left and right, this ensures that all 1,134 ponies pound the pavement efficiently.
RISE TO THE CHALLENGE
While the R34 came together without a hitch and on schedule, Mercury Motorsport proved its abilities as a knowledgeable vehicle builder. But earning RH9 status remained on the to-do list until the ideal opportunity to shine presented itself. The GT-R Challenge and Drag Battle, held in Australia, draw the highest horsepower, street registered cars together to compete in a shootout-style elimination event. While the Drag Battle includes vehicles of all driveline and chassistypes, the GT-R Challenge is an even more exclusive field of competition. The Mercury Motorsport R34, in street weight and trim, earned its RH9 status when it took out the competition with a 9.2-second pass at 163 mph, winning both the GT-R Challenge as well as the Drag Battle. To further validate its RH9 qualification, the Whytes raced the R34 on the drag strip at Willowbank Raceway in Queensland. On Mickey Thompson ET Street drag radials, they collected a 9.6-second time slip at 161 mph before being kicked out for lacking the required Australia and New Zealand Drag Racing Association's (ANDRA) minimum safety systems for a vehicle performing at this level.

RH9 LIFE
As if making more than 1,100 horsepower were not validation enough, the drive to reach RH9 status really made the effort rewarding for Tessa and Trent. Tessa concluded, "Making over 1,100 horsepower, while keeping an RB engine running reliable at that amount of power, is no easy feat, especially when it is run on the dyno at events and not hidden away and parked. Thanks to our whole team at Mercury Motorsport and to our sponsors, we were able to achieve our goals quickly. Since we had already done the necessary research and development, we knew exactly what to do to get this build right the first time. For that reason, there is nothing that we would do differently, as everything is working incredibly well as a whole package. The only thing that we haven't done yet is hook up the ZEX nitrous injection and head back to the track. But we're going to have to install some safety equipment first, since our Skyline is well known now and the track officials won't let us run without a cage and a parachute."
With a goal in place, a build has direction. With the right knowledge, that goal can be achieved quickly and without issue. That's a proper game plan for RH9 status.
Tessa, Trent and Mercury Motorsport would like to thank Nitto Performance Engineering, JHH Racing, Haltech, Hypertune, Turbosmart and PWR for their support with the build up of the R34.

---
SPEC SHEET
| VEHICLE | |
| --- | --- |
| Year / Make / Model: | 2001 Nissan Skyline GT-R V-Spec |
| Chassis Code: | R34 |
| Vehicle Weight: | 3,784 lbs. |
| Launch RPM: | 8,000 RPM |
| Shift RPM: | 9,500 RPM |
| Redline RPM: | 9,500 RPM |
| Peak Boost: | 45 psi |
| Fuel: | Sucrogen E85 |
ENGINE
Engine Code:
RB26DETT
Displacement (cc):
3,173.7cc
Bore & Stroke (mm):
86.5mm x 90.0mm
Peak Horsepower (@ RPM):
1,134 whp @ 7,250 RPM
Peak Torque (@ RPM):
1,033 lb-ft @ 7,250 RPM
Dyno Type:
Dyno Dynamics 4WD
Engine Builder:
JHH Engineering/Mercury Motorsport
Block Modifications:
Nitto Performance Engineering RB30 Deck Plate
Machine Work:
JHH Engineering
Pistons / Compression Ratio:
JE Pistons, Nitto Performance Engineering Spec
Connecting Rods / Crank:
Nitto Performance Engineering
Connecting Rods and Stroker Crankshaft
Camshafts:
Kelford Camshafts, Mercury Motorsports Spec
Valves / Springs / Retainers:
Supertech Valvetrain
Cylinder Head Modifications:
Mercury Motorsport CNC Cylinder Head Program
Cylinder Head Gasket:
Nitto Performance Engineering
Head / Main Studs:
ARP Head and Main Studs
Intake Manifold / Throttle Body:
Hypertune 102mm Throttle Body
Air Induction System:
Custom Mercury Motorsport-fabricated
Fuel Injectors:
Bosch 2,200 cc/min Injectors (x6)
Fuel Delivery System:
Bosch 044 Fuel Pumps (x4)
Mercury Motorsport 2.7-liter Custom Surge Tanks
Engine Management System:
Haltech Platinum Pro ECU
Engine Management Tuner:
Trent at Mercury Motorsport
Boost Controller:
Haltech
Ignition System:
Custom CDI system
Spark Plugs:
HKS
Exhaust Manifold:
6Boost Single Turbo Manifold
Exhaust System / Downpipe:
Mercury Motorsport Custom 5-inch
Down Pipe and 4-inch exhaust
Wastegate:
Turbosmart 60mm Wastegate
Blow-Off Valve:
Turbosmart Race Port Blow-off Valve
Intercooler:
Trust "Drag" Intercooler
Mercury Motorsport Custom Piping
Nitrous Oxide:
ZEX Nitrous Injection System,
100-Shot Direct Port
Cooling System:
PWR Custom Aluminum Radiator
Oil System:
Nitto Performance Engineering Oil Pump
Mercury Motorsport Block Modifications,
Sheet-metal Extended Sump and Catch Tank
Performance Electronics:
HKS Active Torque Split Converter; HKS A/F Knock Amp; HKS Time Attack Counter
| TURBOCHARGER | |
| --- | --- |
| Turbochargers: | HKS GT1000+ Spec Turbochargers (Confidential) |
| Frame: | T4 |
| Compressor Wheel Specs: | 82mm Inducer |
| Turbine Wheel Specs: | 85mm Exducer |
| Turbine Housing | 1.12 A/R or 1.28 A/R |
CHASSIS/DRIVELINE
Springs, F&R (Make & Rate):
Tein Mono Flex coilovers
Shocks, F&R (Make & Rate):
Tein Mono Flex coilovers
Additional Suspension Components:
SuperPro front & rear swaybars,
Tein EDFC Control Unit
Transmission:
OS Giken OS88 6-speed sequential
Clutch / Flywheel:
NPC Twin-plate Clutch/flywheel
Differential(s) (Make & Type):
Quaife Differentials, Front, Center and Rear
Wheels (Make, Size & Offset):
Advan RXDF 20×10.5-inch +22 (F&R)
Tires (Make & Size):
255/35R20 (F&R)
Brake Calipers (F&R):
Factory Brembo
Brake Rotors (Diameter, F&R):
DBA slotted Rotors (F&R)
Brake Pads (Front & Rear):
Ferodo pads
Brake Lines:
Stainless-steel Braided Lines
| INTERIOR | |
| --- | --- |
| Seats: | BRIDE Brix II Seats |
| Gauges: | Racepak IQ3 Dashlogger |
| EXTERIOR | |
| --- | --- |
| Front Bumper | NISMO |
| Front Lip Spoiler: | NISMO Z-Tune carbon fiber |
| Spoiler / Wing: | NISMO Z-Tune carbon fiber uprights |