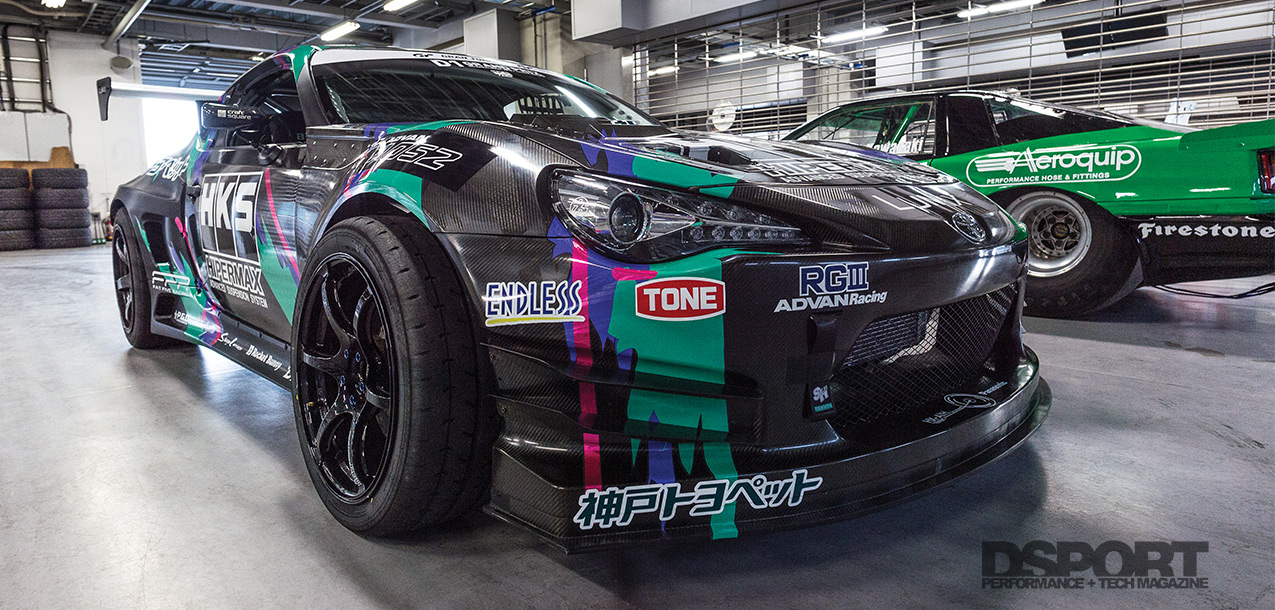 If you haven't heard of HKS, Daigo Saito and Nobuteru "NOB" Taniguchi, then you must be very new to the import performance scene. HKS has been Japan's premiere full-line performance parts manufacturer since the 1970s. Today, HKS has reestablished a US presence and we expect big things in the coming years. Daigo Saito is the D1GP and Formula D championship driver that we followed in our DSPORT Full Lock video series the season that he took the championship. He's well known for his aggressive driving style and big-power drift machines. He is also the proprietor of Fat Five Racing, a racecar builder. As for Taniguchi-san, NOB has competed in D1GP and regularly races the top cars in time attack. When it was time for NOB to build a new play toy, he enlisted the help of some capable friends.
Text by Michael Ferrara // Photos by Gavin Oliva
---

2JZ Transplant
While HKS has already developed a host of upgrades for the FA20 engine, they are quite aware that 2JZ engine swaps are more popular than ever. Hence, the decision was made to build a bulletproof 2JZ that could serve as a test platform for new introductions into the HKS turbocharger line.

Although the car is not legal for competition in most drift series, it serves as NOB's practice machine and HKS's test bed for new concepts.
Go Big!
The engine received an HKS 3.4-liter Capacity Upgrade Kit for the 2JZ. The kit features an HKS forged billet full-counterweighted steel crankshaft with a 94mm stoke (+8mm). The crankshaft uses standard-length HKS H-beam connecting rods. As for the pistons, HKS uses nickel plating on the crown and top ring lands to increase surface hardness and reduce the likelihood of microwelding. Skirts also receive a friction-reducing coating. In-house testing of the system has verified that 1,000 horsepower at 7,000 RPM is possible with a 76mm inducer-sized turbo. Due to the increase in piston speeds due to the longer stroke, HKS recommends keeping the maximum engine speed at 7,500 RPM (although they've tested to 8,000 RPM and beyond). For this application, the HKS 280 camshafts for the VVTi cylinder head were chosen to maximize efficiency in the powerband. A carbon composite HKS Racing Surge Tank also adds plenum volume to help optimize the performance of the larger displacement engine.
HKS Turbo GT III
Recently, HKS moved from its previous turbocharger supplier to Mitsubishi Heavy Industries (MHI). Sharing decades of boosted experience with MHI has allowed cooperative design of the best turbochargers that MHI has ever offered. These GT III series turbochargers utilize HKS compressor and turbine housings mated to MHI CHRAs. While the first GT III offerings have been for the T28 footprint, the current prototype fitted on this 2JZ is based on a T4-sized inlet. It is speculated that this prototype and its bigger brothers will become the replacement for the T51R series which featured a 70mm (T51R Kai) and 76mm (T51R SPL) sized inducer to support 800 or 1,000-plus horsepower.

Current Performance
So with the T51R Kai replacement prototype turbocharger in place, the 2JZ is already producing over 700 horsepower and 600 lb-ft of torque at a conservative 26psi of boost pressure. Considering that exceeding 800 horsepower on a 2JZ often requires aftermarket main caps and 12mm or ½-inch head studs for longevity, the current turbo seems well matched as it should be able to deliver 800 horsepower at 32psi of boost pressure.
The Car
While an 800 horsepower 2JZ may not be delivering dyno queen output, it is a very usable and broad torque curve which is exactly what's needed on a circuit. Speaking of circuits, there is no better way to improve performance and reliability than to minimize the weight of the vehicle. Brake pads, rotors and tires simply last a lot longer when weight is minimized.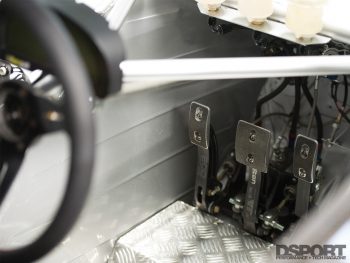 Daigo Saito and the Fat Five Racing team did a full front tube frame on the GT86. This removed the front part of the unibody structure while also eliminating the fender wells. Now there is just a simple skeleton that's tied into the main roll bar and unibody at the front of the vehicle. This new structure cradles the engine and offers the mounting points for the front suspension. While the choice to build the vehicle in this fashion bans it from competition in D1GP and FD, it does provide the lightest weight solution. HKS dry carbon front bumper, fenders, hood and roof also help to shave unnecessary weight. While we were not told the final weight of the vehicle, we wouldn't be surprised if the car weighs in at less than 2,500 pounds with a full tank and driver on board.

No One Better
While most of us are just lucky enough to have a friend or two that will help us wrench on our ride in exchange for beer and pizza, NOB is truly blessed with some great friends and marketing partners. While it would be quite easy for NOB to "go Hollywood" based on how well he is treated by his friends and fans, we've always been impressed by how he's always made time for anyone wanting an autograph or needing a question answered. Last January, NOB joined us at our inaugural DSPORT Tuner Challenge event at Mobara Circuit during our 2017 DSPORT Tokyo Auto Salon tour. While it's too early for NOB to commit to joining us again next year, he's got an open invitation to bring out this GT86 and make some laps.