Some champions never rest. While capturing a D1 Grand Prix and a Formula Drift Asia championship would be enough to satisfy nearly anyone's competitive nature, Daigo Saito isn't nearly anyone. After winning the 2008 D1 Grand Prix championship in Japan and the Formula Drift Asia series in 2011, Daigo set his sights on the Formula Drift series in the States. While no one questioned that Daigo was a capable driver, no one predicted that he would take home a Formula D championship in his rookie year.
Text by Richard Fong // Photos by Michael Ferrara
---

Bridging The Gap
To compete stateside, Saito needed to work out the logistics of a nation-wide campaign. His friend Robbie Nishida introduced him to a Formula D team owner Bryan Bridges at the 2011 Formula D event in Las Vegas. After observing the team, Saito was convinced that the support of Bridges Racing would complement his competition endeavors. Bridges commented, "The easier part of putting together our 2012 campaign was deciding to work with Robbie and Daigo. We were confident that we could do big things. The bigger challenge was sponsorship, which turned out to be much more difficult than anticipated. Some companies like S.P.E.C. Clutch and CX Racing stepped up to help, while others like BC Brian Crower, Garrett, Sparco, JE Pistons and HPS assisted with product. But we were still without a tire sponsor."
The Unknown
Achilles Radial, an unknown tire brand at the time in the USA, supported both Nishida and Saito in the Formula Drift Asia Series. Saito finished at the top of the Formula D Asia series in 2011. Although Bridges had reservations initially, a meeting with the Achilles representatives at the 2011 SEMA Show put him at ease. Bridges recalled, "The Achilles representatives demonstrated their dedication to win, and both Robbie and Daigo loved the tires. At that point I was more comfortable working with them and thought it would be a good idea to also align my team with them to help build awareness and promote their brand." With barely enough financial support to campaign, Bridges gave the green light for the 2012 season. Achilles sent Wayne Hung and Dono Soeharto to oversee the operation, while Bridges recruited DesignCraft Fabrication's Gary Castillo to head up the crew.
Tsunami Rebirth
Saito searched for a viable platform for competition, winning this 2005 Toyota Soarer on Yahoo! Auctions Japan. He explained, "I love Toyota products. I bid on the Soarer because its USDM sibling is the Lexus SC430 so acquiring replacement parts would not be difficult. This car was a salvage from the tsunami disaster and I thought that it would be cool to bring this car back to glory after such a terrible event." With the help of Kouhei Miyake, Madoka Kikuchi and Toshimitsu Masuda, rebuilding the Soarer commenced.
Carbon Armor And Cold Steel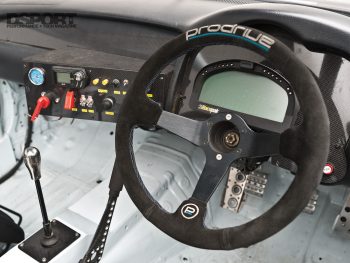 With weight reduction as the first priority, Saito and his crew in Japan stripped the Soarer to its shell, including the power retractable hard top. After removing every ounce of unnecessary steel, they welded in a Formula D-compliant cage and frame reinforcement in the engine bay. Within the confines of the cage, a pair of BRIDE Zeta III racing buckets positions the occupants while a custom switch panel mounts within easy reach of the driver's seat. A Racepak IQ3 datalogging display sits atop the column behind the Prodrive steering wheel. On the exterior, a complete Seibon wide-body kit adds aggressive lines and increased wheel well capacity. Dry carbon fiber doors, hood and trunk lid lend to the weight reduction efforts, taking the UZZ40 chassis down from a portly 3,800 pounds to a nimble 2,830 pounds.
Warrior's Heart
Instead of attempting to rebuild and make power with the waterlogged 3UZFE V8 engine that originally powered this Soarer, Saito turned to the high output 2JZ-GTE with VVTi that powered the JDM Toyota Aristo. Nagoya Precision (NAPREC) overbored the block in preparation for 87.5mm JE Pistons. BC Brian Crower Pro Series connecting rods make the connection to the BC stroker crankshaft, increasing the displacement to 3,391cc. NAPREC also prepared the cylinder head with its CNC head porting service and BC valvetrain. The longblock went together with ARP hardware and a BC head gasket.

Bad Ass Blades
Knowing that the majority of the Formula D competitive field relied on V8 power, Saito made no compromise on horsepower production. He and Miyake fabricated a custom exhaust manifold, downpipe and exhaust to go with a mammoth Garrett GTX4294R turbocharger. Feeding 28-psi boost pressure through custom piping to a GReddy intercooler core, the GTX4294R offered plenty of airflow to the big 2JZ.
Divide And Conquer
At the crankshaft, a SPEC Super Twin Clutch transfers power to the input shaft of a Holinger sequential transmission. Featuring dog engagement, the gearbox permits clutchless upshifts and improved durability compared to a synchromesh-style transmission. From the output shaft, a propeller shaft joins the transmission to the differential housing. Inside, an OS Giken 2.0-way Super Lock LSD splits the power between the drive wheels equally to produce plenty of tire smoke while sliding.
Prepping For Battle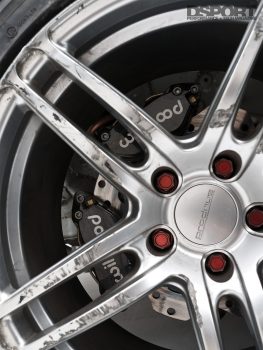 With only enough time to complete some of the build and put the Soarer into a US-bound shipping container, final preparations had to be completed stateside. Having made landfall at the port of Long Beach only days before the first round of Formula D, suspension and final engine tuning remained on Castillo's "to-do"-list. He noted, "There are some things we do differently in the USA compared to Japan. It was cool to show Daigo some things he'd never seen before." These included custom-fabricated suspension arms to mount the DG5 adjustable coilovers and simultaneously offer increased steering angle. Wilwood calipers at all four corners completed the changes inside the wheel wells.
An HKS F-CON V Pro engine management wired into the chassis orchestrated the fuel and ignition duties to give the 2JZ some bite. With three Bosch fuel pumps supplying a six-pack of SARD injectors, the supply chain to deliver VP Racing Fuel C16 was in place. Once tuned by Miyake on HPS's Dynapack dynamometer, Saito had 1,359 horsepower and 1,100 lb-ft torque available with a press of his right foot.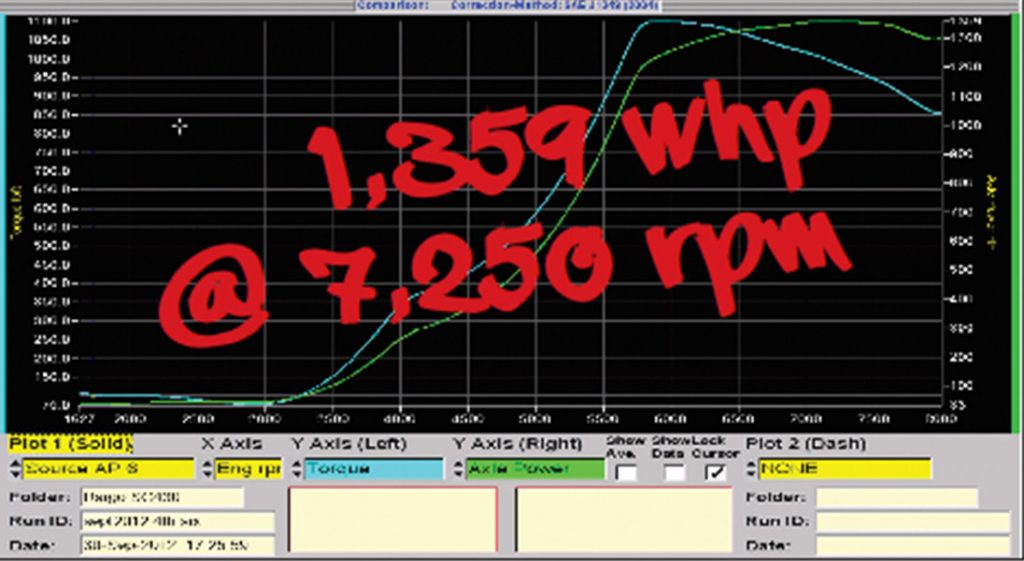 Gladiator On Wheels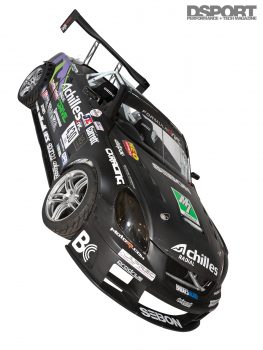 Saito and his Soarer barely made their debut at Long Beach. Having never competed on US soil, the former D1GP champion had a lot to prove on seven tracks he'd never tried. Saito attacked the series with a style that had some drivers thrown off. After capturing several podiums, including a first place finish at West Palm Beach and at the Finals, Formula D crowned him the champion for 2012. This was the first time that a Formula D Rookie of the Year was also the series winner. Bridges concluded, "The season proved more than rewarding as we accomplished more with less. We were actually like a privateer team, barely able to afford our rig and often repairing parts because we didn't have the budget to replace them. Our spare engine was stock, the spare differential was a welded one, and we had no spare transmission at all. All my guys worked for free, we stayed with friends in the different cities and brought the rig to Portland Speed industries after New Jersey because it was beyond our budget to bring the rig back to Los Angeles just before Seattle. We all had much to prove and the outcome of this season was a testament of our resolve." Having conquered Japan, Asia and the USA, Saito is now focused on drifting through the European Union to continue his quest for global domination.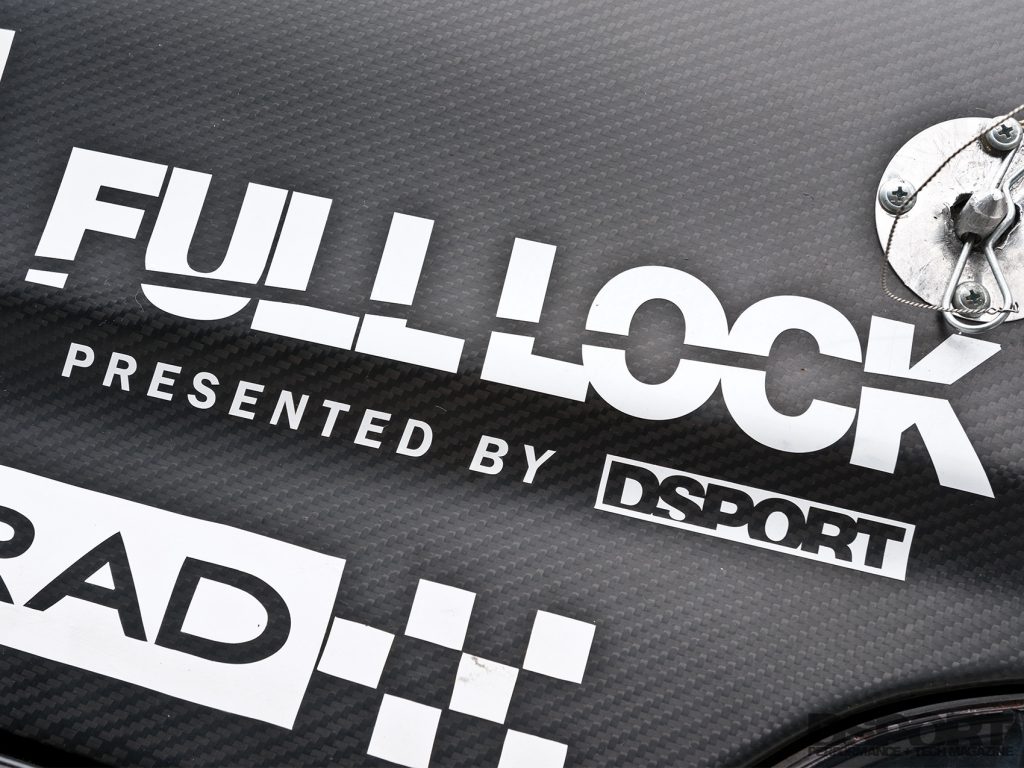 Bryan Bridges would like to thank his volunteer crew, David Lim, Steve Chan, Hung Huynh, Andy Rojas, Fabian Espinoza, Tony Ruiz, Henry Schelley, Kahlee Ramos, Ken Chiu, Sean Adriano, Daniel Nguyen, Peter Yeung and Linda So for their hard effort and personal sacrifices throughout the series. He'd also like to recognize Gary Castillo and Toshimitsu Masuda, who led the crew throughout the season, and Wayne Hung, whose motorsports experience and mentoring helped the team function smoothly. Finally, he would like to thank Portland Speed Industries and E-Shift Performance for lending their shop space.