A number of years ago, I had no desire to ever visit Hawaii. Everybody that had been there raved about how much they loved it and how they wish they could live or retire there. Stories about luaus, visits to the Polynesian cultural center or episodes of Brady Bunch adventures in Hawaii watched on TV Land didn't convince me. Then, I was sent there for work to cover a race and I couldn't get out of it. As it would turn out, I also fell in love with Hawaii and for a number of years after I would make any excuse to get out there. The lesson here was "Sometimes Everyone can be Right!"
Text by Michael Ferrara // Photos courtesy of Kia
DSPORT Issue #201
---

Stellar Reviews
For a little over a year, the Kia Stinger GT has been the subject of numerous rave reviews. Of course, I give little to no credence to the "big" general interest publications like Car and Driver, Road & Track and Motor Trend. These titles either seem to care about aspects that I have no interest in knowing. On top of that, I'm always skeptical since it seems that the largest automotive advertiser in the title tends to also be the "Car of the Year" or "Top 10 this or that." Then you have the some of the online-only media that also has questionable credibility. Put that all together and you can see why you need to be careful who you trust.
The Hawaii Effect
With so much positive buzz surrounding the Kia Stinger GT, I had less and less interest in finding out more. However, a college friend that worked for Harman Kardon (the supplier of the premium sound systems in many Kia platforms) nearly put me in an arm bar until I agreed to test one. He was damn proud of the sound system in the Stinger GT and perhaps his Korean pride really wanted me to at least give it a chance. I reluctantly agreed and we arranged to get a Stinger GT delivered from the press fleet for an evaluation. Little did I know, this Kia Stinger GT would show me once again that sometimes everyone can be right.

Viva Las Vegas
A free hotel room, some free slot play and a food credit couldn't be passed up. One of the player's club type offers for signing up for a membership while at the previous year's SEMA show had paid off. The timing couldn't have been better as now I had a perfect opportunity for a solid road-trip to Vegas with a free weekend stay. What better test for a Gran Turismo platform?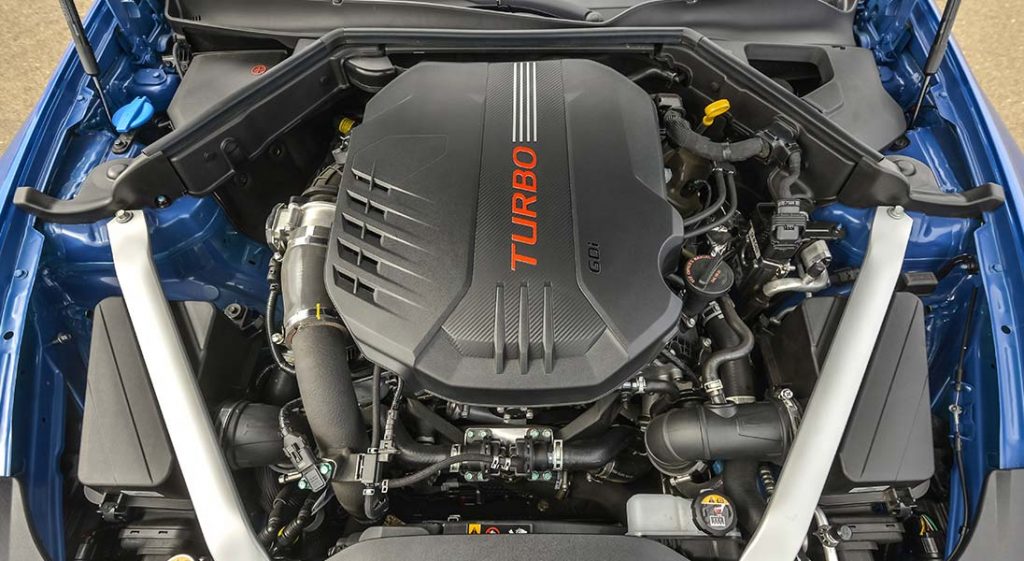 GT, GT1 and GT2
Kia offers the Singer GT in three trim levels, the GT, GT1 and GT2. All GT trims feature the same 3.3-liter, direct-injection, continuously variable valve timing (CVVT) twin-turbo engine. This engine is rated to produce 365 horsepower at 6,000 RPM and 376 lb-ft of torque from 1,300 to 4,500 RPM. Thanks to direct-injection, CCVT, turbocharging, Idle Stop and Go (ISG) and 8-speed automatic transmission technologies, the engine is quite fuel efficient delivering an EPA MPG of 19/25/21 (City, Highway, Combined) for RWD models. All Stinger GT trims feature a Limited Slip Differential (LSD) with a dynamic torque-vectoring differential standard on AWD models. The base Stinger GT RWD stickers for $39,100 and adding AWD to any trim is a $2,200 premium. GT1 trim comes in at $45,100 and GT2 tips the scales at $49,990 base price. Check out the chart to see what each stage gets you.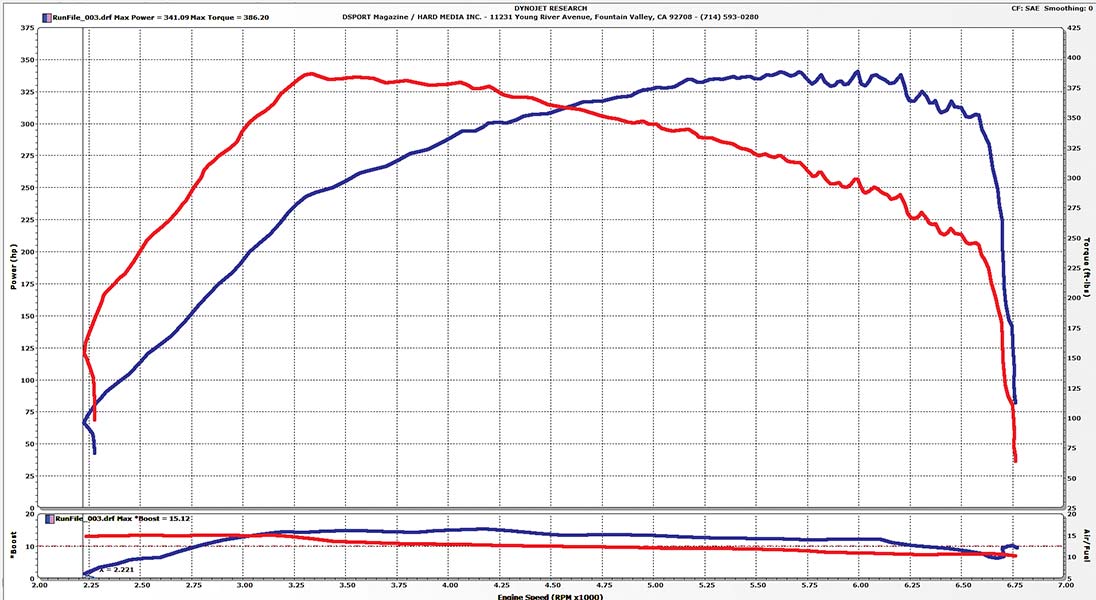 (L) Both driver and passenger are able to get comfortable for any long and spirited driving excursions thanks to either 12/8-way or 16/12-way adjustable seats. (R) Controls are well placed throughout the vehicle. Center console controls include drive mode, seat heaters/ventilators, parking assist warning and idle-stop engine settings.
Gran Turismo Experience
The Gran Turismo experience means that you have a vehicle that can deliver some long-distance spirited driving. It should be able to be comfortable, enjoyable and still exciting. We had the Stinger GT-2 which comes with essentially every feature and option available. It delivered on the GT experience for a driver and passenger (we all know the rear seat is only there on the Stinger GT and comparable vehicles for lower insurance premiums). So let's first explore the features unique to the GT2 versus the GT1 and base GT editions.
The 16-way driver and 12-way passenger seat definitely had enough adjustments to make it comfortable on the four hour highway blast to Vegas from Orange County, CA. Unfortunately, we can't tell you exactly how much better than the 12-/8-way offering in the GT1 and base GT editions. The Nappa Leather seats were quite soft and comfortable. Again, we can't compare it to the non-Nappa leather in the GT1 and base GT. We can tell you, however, how much we do like the heads-up display exclusive on the GT2 trim level. It works extremely well with all of the driver safety warning features and the smart cruise control allowing the driver to know just about everything without ever having to take their eyes off the road. While there is a substantial price jump between the GT1 and GT2 trim levels, it would be hard for us to give up that extremely well-integrated HUD.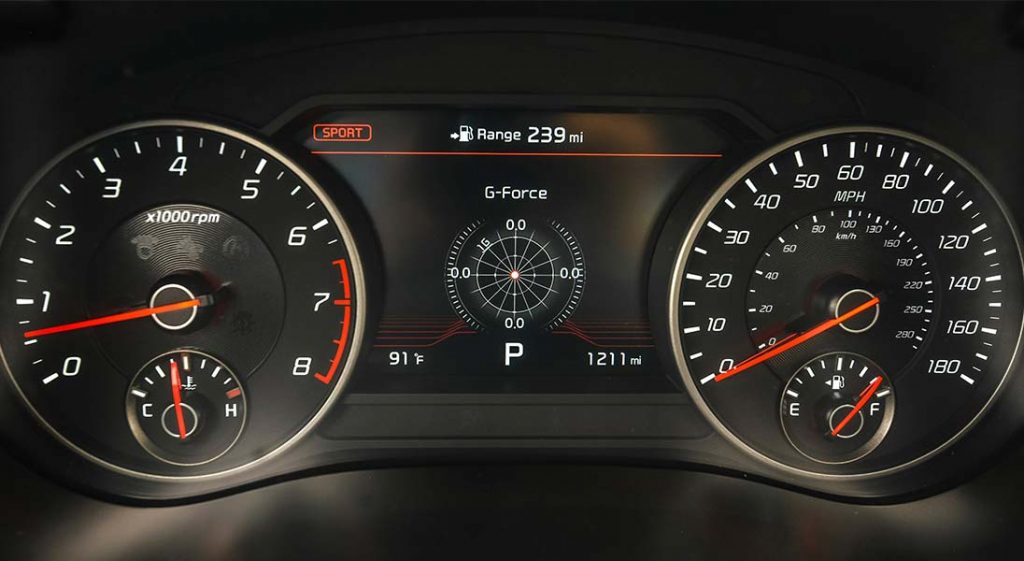 As for the features delivered when you move from the base GT to a GT1 or GT2 trim level, the most significant has to be the Harman/Kardon Quantun Logic premium audio system. And to answer your question, No, I'm not saying this because my friend at Harman/Kardon made me test this vehicle. It's simply a bad-ass system that sounds exceptional. While 720 watts and 15 speakers may sound excessive, it's the secret behind the a 7.1-channel experience that is like no other. While one of the most important menus to access the best experience is hidden in the interface, the ability to stage the sound so that you are on-stage or in-front of the stage is quite impressive. The bass isn't overpowering but instead accurate and punchy with staging that is second to none. The systems Clari-Fi technology is also to blame for the great performance as it improves the quality of low-quality, compressed sources like satellite and MP3s. If I was to purchase a Kia Stinger GT and use it for a street car, I would consider this system a must have.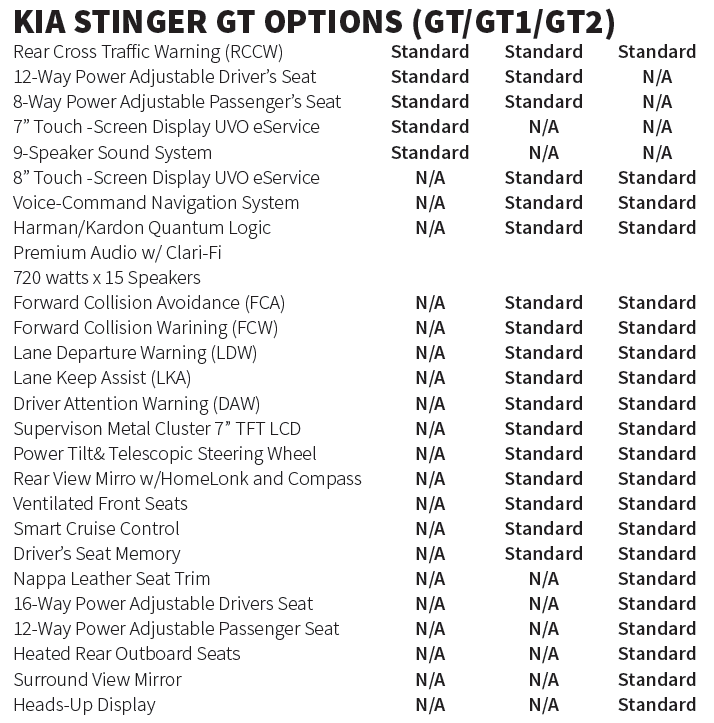 The base GT is simply the Stinger GT you purchase if you plan on turning it into a race or track car. Void of a sunroof (wish you could order a GT1 or GT2 without one) and a bunch of the cool technologies that improve the daily driving experience.
For me, the decision for which GT package is simple. Track car – get base GT. For a street car, you need a GT1 or GT2. Check out the seats and the heads-up display on both and choose accordingly.

Let's Get Critical
As with any platform, there is always room for improvement. As we already mentioned, the layout of the menus is far from optimal as some key features get hidden. Some input from actual users of the system will hopefully spur on a software revision that fixes this in the future. The Stinger GT is also touted to have a launch mode. This mode improves the off-the-line performance but it is no-where-near aggressive enough to be touted as a launch. It's more like a lurch. It would appear that the engineers were overly conservative on the programming. With more RPM and boost programmed into a true launch control, there is no doubt in our minds that this car would run 3.9-second or better 0-60 times. As it stands, it ran a 4.9-second 0-60 time on the Dragy (4.7-second when given the 1-foot rollout factor). I guess when you consider that Hyundai provides a 10-year/100,000-mile warranty on the drivetrain, it is understandable why they were so conservative. Hopefully, someone in the performance aftermarket will unlock this vehicle's true performance potential.