Many forget that although the Apollo missions that set foot on the moon nearly 239,000 miles away were a tremendous achievement, these daunting voyages took place with less computing power than a modern smartphone. Adding to this undertaking, NASA implemented extremely low power consumption and massive weight savings for maximum efficiency and functionality in every individual piece of the spacecraft. This meant running the command module on only 2,000 watts of electricity and building the lunar lander with a wall thickness no greater than that of a soda can. These missions displayed what's possible when you strip away all the unnecessary bits and pieces to focus on a single goal.
Unlike the specially-purposed Apollo spacecrafts, manufacturers develop their streetcars with multiple objectives in mind, attempting to combine comfort, safety and performance for the everyday driver. When DSPORT acquired a 2015 Ford Fiesta ST, we chose to build the car toward the single goal of making it fast for the track. Starting with a showroom-condition Fiesta ST, we decided to put together a roadmap of staged tunings from mild daily driver to full-blown racecar, equipping the car with only the parts to make it faster and nothing else. Getting started required gaining an understanding of what the Ford Fiesta ST delivers out of the box, and using the racetrack to unveil what areas we'd want to improve.
Text by Cameron Parsons // Photos by Aaron Eusebi, Cameron Parsons and Jeren Walker // Illustrations by Paul Laguette
---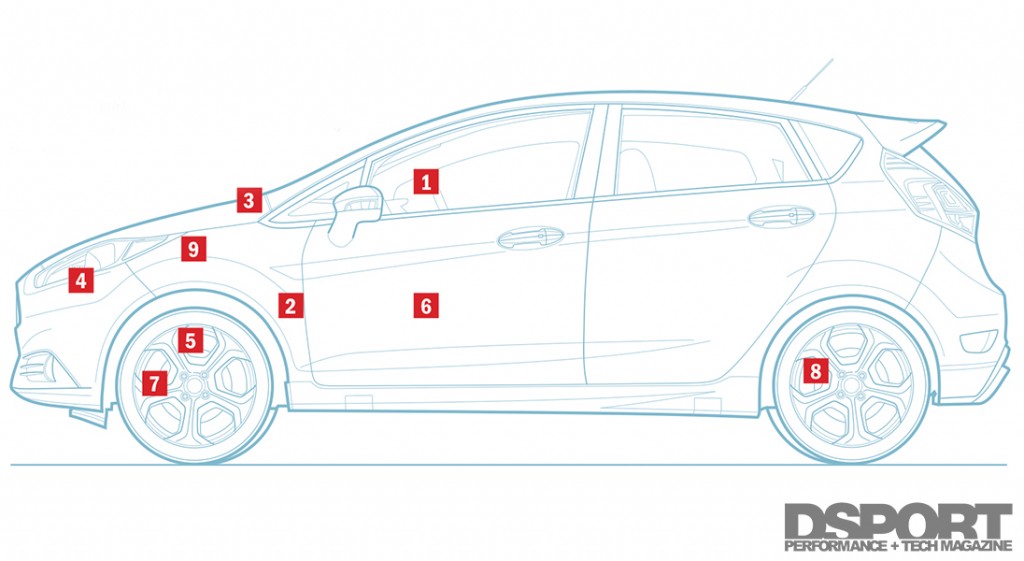 STAGE 1 UPGRADES INCLUDED 1) COBB Tuning Accessport, 2) COBB Tuning Rear Motor Mount, 3) Motul RBF600 Brake Fluid, 4) mountune Induction Upgrade Kit, 5) mountune SS Brake Hose Set, 6) mountune Quick Shift, 7) mountune RS-T Front Brake Pad Set, 8) mountune RS-T Rear Brake Pad Set, 9) Royal Purple XPR 5W-20 Engine Oil
The Platform
The ST trim, introduced in 2004, added a performance variant to the Fiesta family. The affordable subcompact comes from the factory in a fun, lightweight package, so it only made sense to develop a version that catered to an audience that desired this vehicle with a little extra grunt. On the dyno, our 2015 Fiesta ST delivered 183 whp and 211 lb-ft torque through a six-speed gearbox to the front wheels. That's not bad for a 1.6-liter, 16-valve, direct injected EcoBoost four-cylinder. With the help of its twin-independent variable-cam timing, 11.0:1 compression ratio and turbocharger, this car can move.
Weighing in at little more than 2,700 lbs, the Fiesta ST pulls out extra performance due to its low mass. While every trim Fiesta comes equipped with MacPherson strut front suspension and twist beam rear, the ST steps things up with a sport tuned version of these items plus disc brakes on all four corners. Three modes of Ford's AdvanceTrac Electronic Stability Control and Torque Vectoring Control benefit the ST, allowing users varying levels of assistance when they want to push the limit. On paper, the Ford Fiesta ST delivers a lot of performance for just under $22,000. For the real-world test, we journeyed to Buttonwillow Raceway in central California.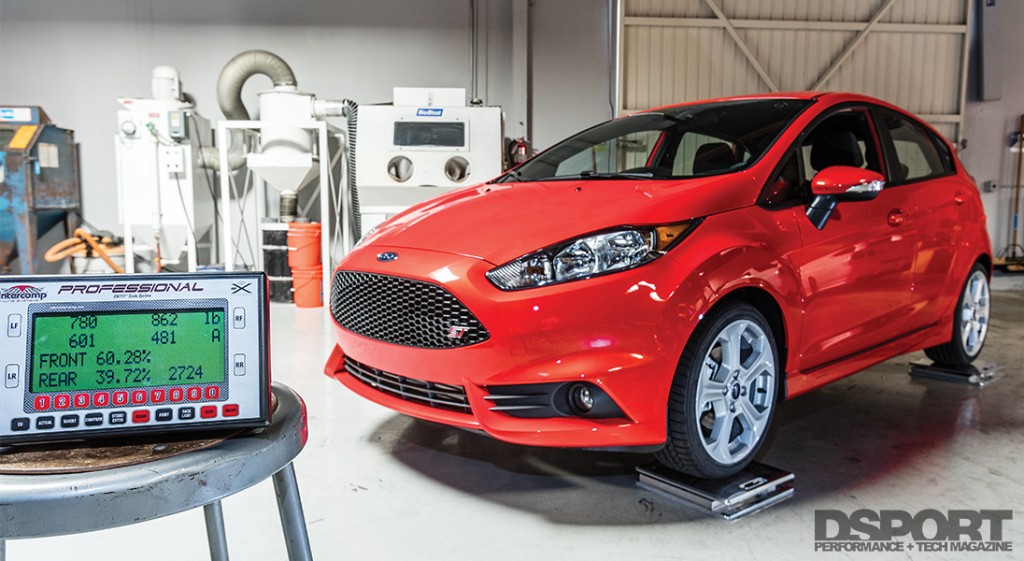 Although the Fiesta ST is already built on a lightweight platform, we aimed to reduce the weight even further in upcoming stages.
All Original
Our initial tests with the car served as an absolute baseline to start from. This meant running the original Bridgestone Potenza RE050A tires, no performance brake fluid or pads, and no special tuning. Ask anybody that owns or has driven a Fiesta ST their opinion of the car, and chances are you'll hear the word "fun" in their response. This general consensus is not without good reason, as the car excels at delivering grins around a track.
Keep in mind, this car will not break any records at the dragstrip, but that's not what it's built for. Fortunately, the 200hp EcoBoost engine felt like it had significantly more power from the driver's seat, thanks to the Fiesta ST's low curb weight. The power curve was very smooth, especially with the help of a healthy amount of low-end power from its small turbo. This contributed to acceleration out of the corners and down the straightaways. Although the power was usually present when needed, the Fiesta ST still struggled to get out of some of the tighter corners at Buttonwillow. The front differential was certainly smart in controlling the amount of wheelspin in medium to high speed turns, but there was room for improvement in the low speed corners.
As for performance in handling, it's safe to say that the Fiesta ST would feel right at home at an autocross event. This car loves turns, as it responds well to steering input. The handling feels very nimble with an impressively quick turn-in, where the car provides a nice balance of front and rear grip as it rotates. This allows the back end to drift just enough while still planting the outside rear tire into the ground to keep it under full control. When slowing for corners, the brakes bring the car to a quick halt and respond well to trail-braking without any element of unpredictable lockup or sliding on corner entry. However, it came as no surprise that heat generated from frequent deceleration would get the best of the brakes in no time. The brake pedal started feeling mushy after just a single lap and only worsened during subsequent laps. At most, we were able to squeeze two to three hard-driven laps at a time before the brakes went away completely.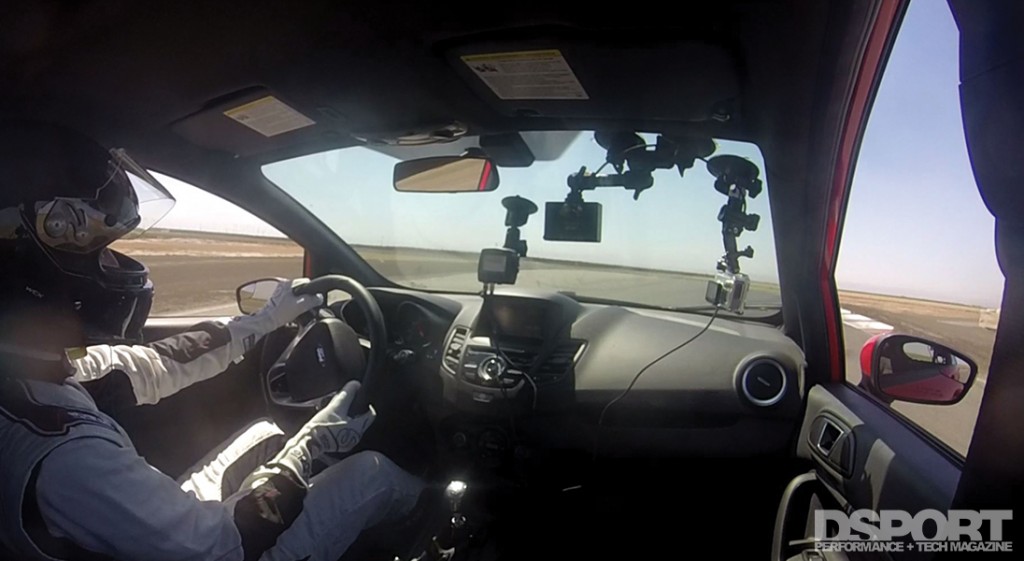 With the help of the AiM data acquisition systems and a load of GoPro cameras installed in the Fiesta ST, we collected all the data necessary to find the car's strengths and areas for improvement.
Setting the Stage
Our baseline test in the Fiesta ST revealed a quickest lap time of 2'14.5" on Buttonwillow's commonly used 13CW layout. Pushing the car to its limits around the track exposed a few areas for improvement, allowing us to start on the path for our lightly-tuned stage one setup. Brakes topped the list, due to the severe brake fade we experienced on track. We installed mountune steel- braided lines to aid in applied force delivery and improve pedal feel. A set of mountune RS-T pads clamped down on the front and rear rotors with improved friction and heat tolerance. Finally, Motul RBF600 fluid raised the heat tolerance for track conditions.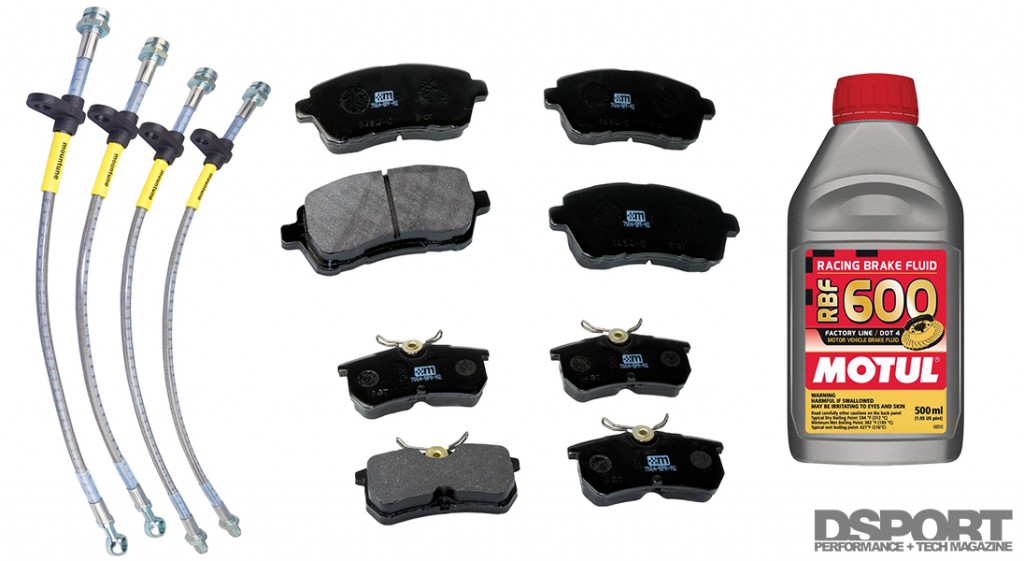 The first round of brake upgrades included mountune performance brake pads, mountune stainless-steel brake lines and Motul RBF600 brake fluid.
Our first stage for the Fiesta ST incorporated a handful of mild power upgrades. We started with an oil change, filling the engine with Royal Purple XPR 5W-20, formulated to withstand demanding applications like modified engines and racing. As expected, the oil change showed an incremental improvement on the dyno with an additional 1hp and 6lb-ft of torque to the wheels, bringing the total power to 184whp and 217lb-ft of torque. Beyond freeing up additional power, the Royal Purple oil's benefits come with time against the harsh environments of racing. The mountune Induction Upgrade Kit paired with the COBB Accessport delivered a notable power gain. The better flowing intake path, paired with a an optimized tune rolled the dyno with 193whp and 254lb-ft of torque, an improvement of 9whp and 37lb-ft of torque after the oil change.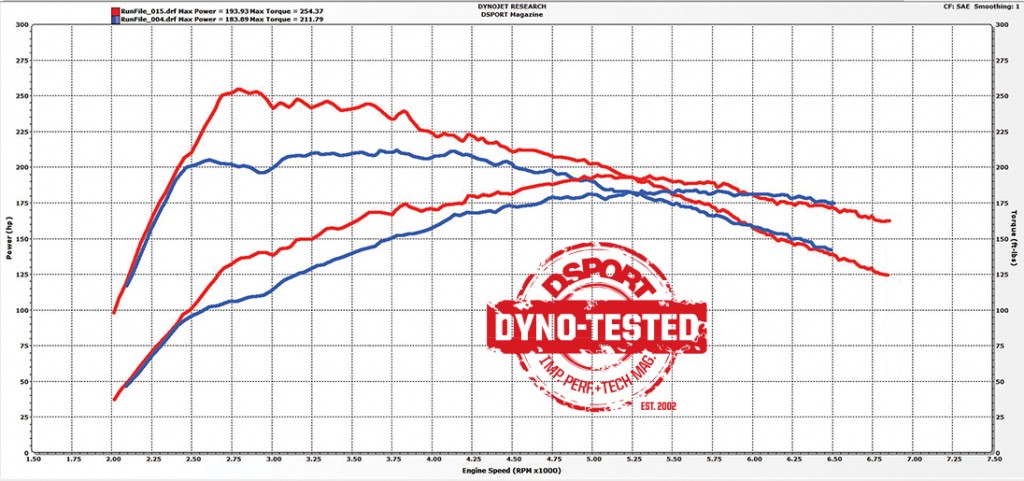 BASELINE (Blue)
183.89 WHP @ 5,650 RPM
211.79 lb-ft @ 3,800 RPM
11.60 psi boost @ 3,300 RPM
STAGE ONE (Red)
193.54 WHP @ 5,350 RPM
254.37 lb-ft @ 2,800 RPM
13.05 psi boost @ 3,700 RPM
We rounded out the first stage of upgrades with a basic weight reduction, mountune Quick Shift kit and COBB rear engine mount. Pulling out the dead weight, such as floor mats, passenger and rear seats, and spare tire realized a final weight of 2,568lb, a 156lb reduction from the original 2,724lb footprint.
(1) A high-quality oil allows the engine to run with less resistance while enduring the greater stresses of hard driving and high RPM revs.(2) The mountune Induction Kit brings extra power under a factory-like aesthetic. (3) A COBB Accessport allows for precise tuning to safely squeeze out additional power. (4) The COBB Rear Motor Mount rids the car of torque-steer and corner exit wheelspin. (5) Mountune's Quick Shift improves the shifter feel dramatically.
Fast where it Counts
Right out of pit lane and onto the Buttonwillow Raceway track surface, the changes made themselves apparent. The greater torque output matched with minimized movement from the engine mount greatly assisted in corner exit acceleration, and the new shifter setup made for satisfying, solid gear changes with little effort. On the straightaways in excess of 90 MPH, our stage one tune saw three to six mile-per-hour increases on every lap.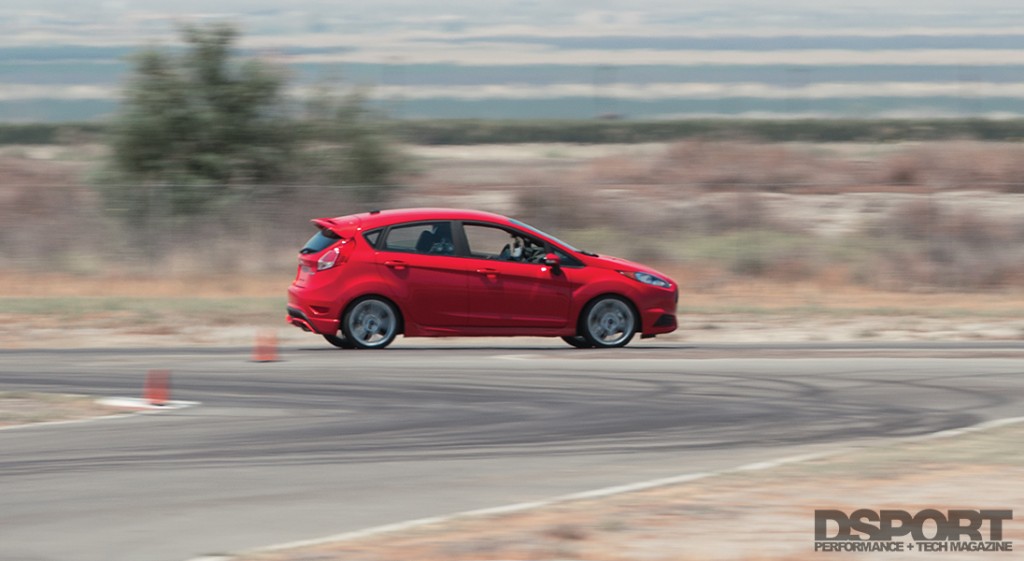 Buttonwillow Raceway hosts an excellent environment for testing with its 13CW layout providing twisty corners, high-speed bends, long straightaways and threshold braking zones.
Thanks to the new pads, lines and fluid, braking performance improved in both stopping power and longevity. The pedal response felt great for lapping the track, providing excellent feedback to modulate the brakes as needed. Deceleration forces increased by 0.20 to 0.30 g in nearly every braking zone. Although the new equipment overheated again during the track sessions, it took more time to get to this point than before. Keep in mind that this testing took place on factory rotors that deliver limited heat capacity.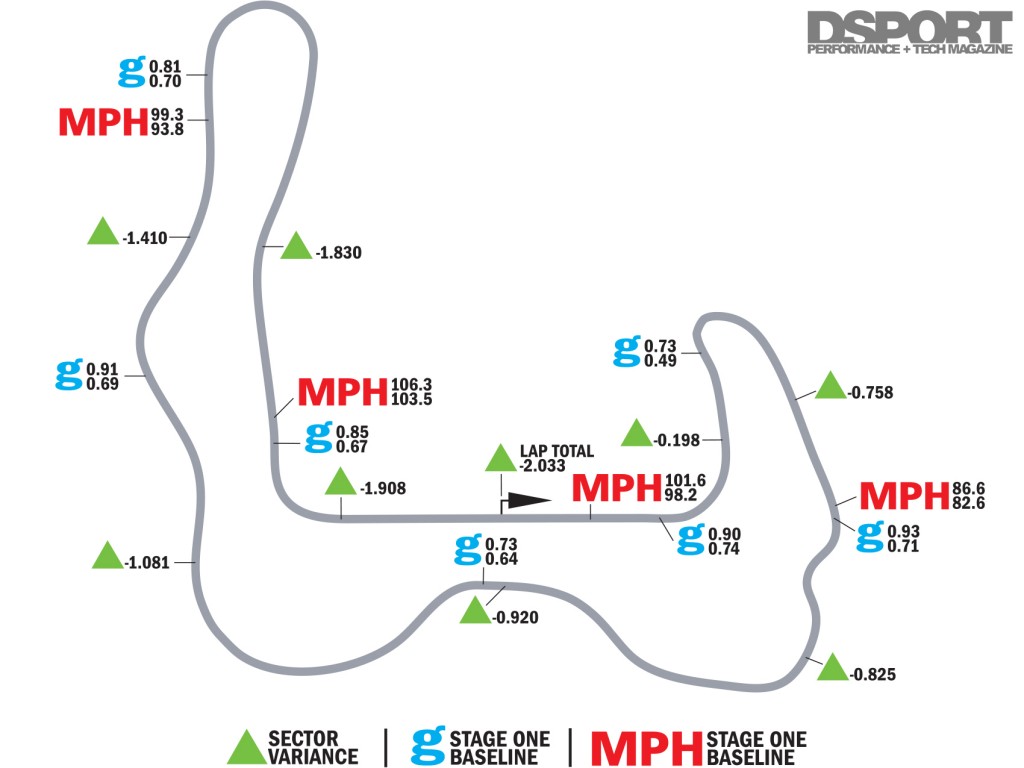 Picking up Pace
The pieces added up to improve lap times by approximately 2.1 seconds with the quickest lap time clocking in at 2'12.497. Utilizing relatively affordable upgrades that required only simple mechanical skills, many car owners would kill for such simplicity that results in a two second gain in lap time. However, the first few seconds are often the easiest to gain when it comes to learning tracks, setups and tunes. As performance goes up, it's the last few tenths of a second that call for the extra attention to detail and finely- tuned items. For our Fiesta ST, this gain was only the beginning. Stay tuned, as we attempt to go faster with a second stage build.
Factory vs Stage One
Factory
Stage One
Curb Weight
2,724 lbs
2,568 lbs
Horsepower
183whp
193whp
Torque
211lb-ft
254lb-ft
Top Track Speed
103.5 MPH
106.3 MPH
Best Deceleration
0.74 g
0.93 g
Best Lap Time
2'14.531"
2'12.497"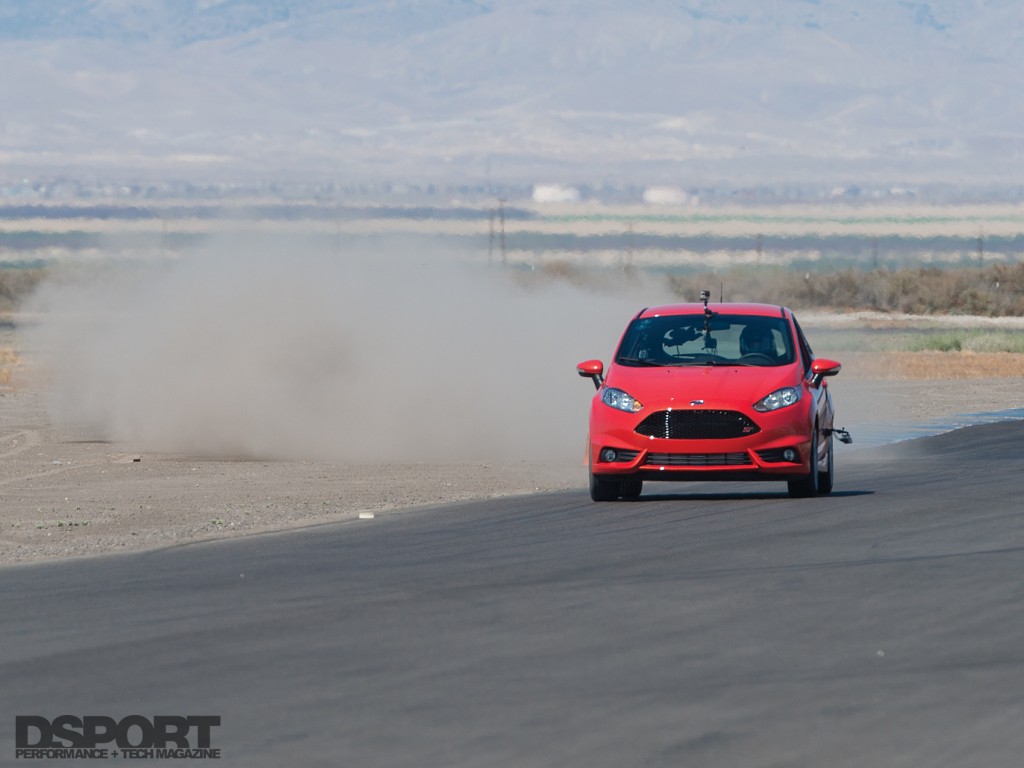 Stage One Parts List
Manufacturer
Product
MRSP
COBB Tuning
Ford Accessport (AP3-FOR-001)
$500.00
COBB Tuning
Ford Fiesta ST Rear Motor Mount (892001)
$155.00
Motul
RBF600 Factory Line (2 x 500 ml)
$35.98
mountune
Induction Upgrade Kit (2364-CAIS-AA)
$329.00
mountune
Brake Hose Set (7064-BH-B299)
$129.00
mountune
Quick Shift (2238-BQS-AA)
$159.00
mountune
RS-T Front Brake Pad Set (7064-BPF-B2)
$199.00
mountune
RS-T Rear Brake Pad Set (7064-BPR-A2)
$169.00
Royal Purple
XPR 5W20 (5 quarts)
$99.95

MSRP Total: $1,775.93

DSPORT Street Price: $1,509.54 – $1,598.34
---