GT-R fans across the world appreciate the three letter marque for a number of different reasons. Whether it's a love for the early RB26-powered cars or a fascination with the latest R35 and its massive power output capabilities, there's a multitude of different tuning styles cultivated around Nissan's sports car-turned-supercar. One of the latest tuning trends surrounding the GT-R includes wide body kits and air suspension. Some may argue that many of these "fast-fashion" styles are simply a product of the latest fads and won't stand the test of time. Others may uphold the current trends as what they prefer and swear to love it forever. Regardless of the style chosen, Nissan's GT-R continues to serve as a platform for enthusiasts to build their dream vehicle.
Text by Jun Chen // Photos by Rob Shaw/BackFromLeave
---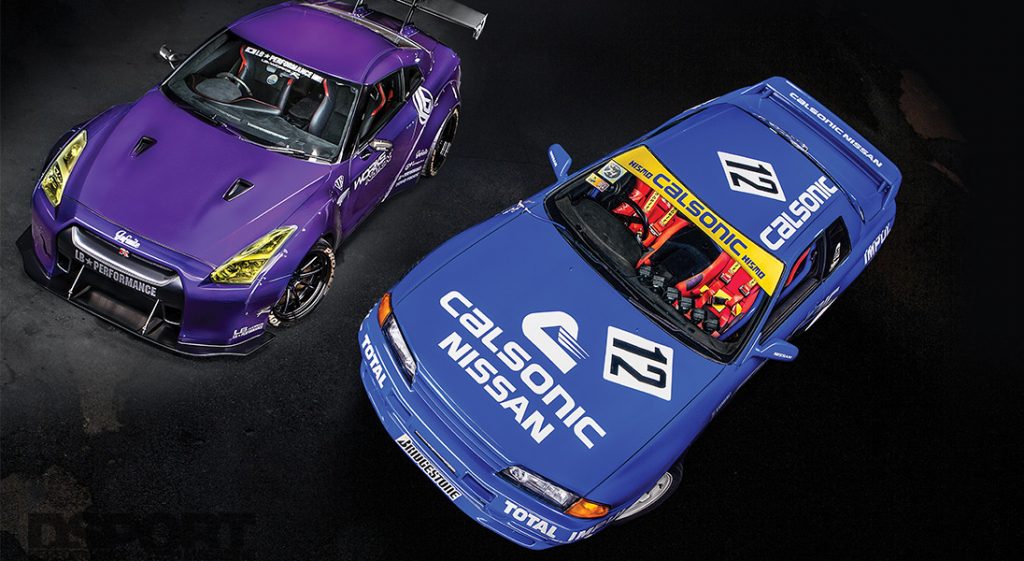 Spanning almost two decades, the gap between the R32 and the R35 ultimately makes the cars very different. Although the twin-turbocharged, six-cylinder, all-wheel-drive formula lives on through the R35, the GT-R's appeal to the masses has branched off from its Group A roots to an era of "show" builds featuring loud paintwork and extreme body kits. The juxtaposition of these two GT-Rs built by Infinite Motorsports in Bangkok, Thailand pays tribute to both the BNR32's dominance in Group-A racing in the early 90s and one of the latest trends in building R35s.

Group A Affair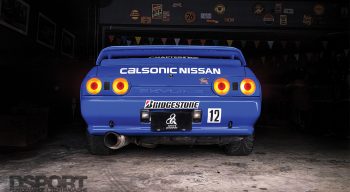 When co-founder of Infinite Motorsports, Nithiwat Thippayathat, better known as "Nut," began chasing his dreams of a Calsonic R32 GT-R in 2010, he actually started with an A31 Cefiro. Like many enthusiasts who grew up in the era of Gran Turismo, his infatuation with the R32 began at an early age. He stripped the A31 and grafted on the R32 GT-R front and rear, repainting the car in none other than Calsonic blue. More importantly, he dropped in the RB26DETT engine and began building a one-off, four-door R32 GT-R Calsonic Group A replica. This car actually became the temporary home for many of the parts that would ultimately end up on his real Skyline GT-R.
In 2013, Nut came across an opportunity to purchase a genuine R32 GT-R. Although he had already invested an immense amount of time, money and effort into the A31, he recognized that his end goals centered around building an actual BNR32. Thus, he picked up the R32 and began transforming it into a Group A replica. Repeating a similar process by stripping the vehicle and repainting it, his R32 GT-R build began.

Track Duty Only
In addition to the bright blue paint and Calsonic livery, Nut ditched the original RB26 for one out of an R33 GT-R. On the boost end of things, a set of GReddy TD06-20G turbochargers replace the factory units. The upgraded twins feed air through a massive four-inch GReddy intercooler that delivers the cooled air charge back into the RB26 by way of a GReddy intake manifold. An HKS ignition system paired with SARD 1,000cc/min injectors help the RB26 reach 650-wheel horsepower on the "heartbreaker" Mustang dynamometer.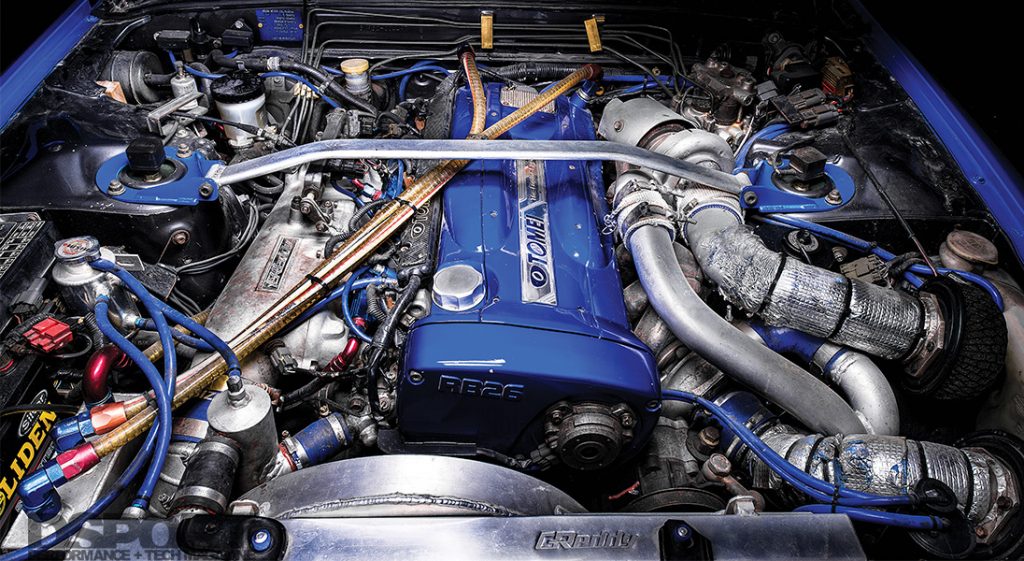 While this package equates to plenty of power for the street, Nut unfortunately hasn't been able to secure registration papers, or a "blue book", for the vehicle. In Thailand, this can lead to the police confiscating the vehicle indefinitely if driven on public roads. For now, Nut's forced to enjoy the vehicle on the track, where he's pulled off an 11.5-second run on street tires.
Fortunately, a number of supporting modifications in the suspension and stopping departments also make the R32 a solid contender on the circuit as well. These include a set of Tein Flex coilovers with EDFC, Cusco sway bars and a set of big HKS 6-piston/4-piston brakes sitting behind NISMO LMGT4 wheels wrapped in Federal 595 RSR rubber. With a set of THRASH Racing full bucket seats, Sabelt harnesses and a Cusco roll cage, Nut's surely going to put the R32 through its paces until he can get papers for the street.

Liberties Taken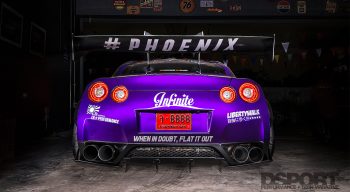 In contrast to Nut's passion for the Calsonic R32, his customer Peera Sukprasertchai or "Tee," found himself fascinated with the R35 GT-R. Purchasing his first GT-R in 2008 and going through a long journey of exploration with his first vehicle, he ended up purchasing this CBA-R35 in 2016. Without a clear plan for the vehicle, Tee fell in love with the Liberty Walk kit and knew it'd be the natural progression for his own R35. This led to Infinite Motorsports working together directly with Wataru Kato of Liberty Walk and becoming the exclusive distributor for the brand in Thailand.

Stuffed Under
Under the new arches of the Liberty Walk kit, the team chose a set of Work Gnosis CV201 wheels in 20×11-inch up front and 20×12-inch in the rear, wrapped in sticky Toyo R888 tires. Favoring a smooth ride over absolute performance, Tee decided on an Airrex air suspension system that can lower and raise the vehicle at the push of a button. As if the factory brakes weren't large enough, the Brembos were exchanged for a set of Endless monoblock GT 6-piston calipers clamping down on Endless two-piece rotors measuring 400mm up front and 387mm out back. With Tee content with the aesthetics of the vehicle, he began formulating a plan for increased power output from the VR38DETT.

No-nonsense VR38
In order to back up its new looks, Infinite Motorsports pulled the engine and dropped in a set of HKS H-Beam connecting rods and forged pistons of factory bore and stroke specifications. With a desired power output of around 800 horsepower, Tee selected a set of SSP GT820RR dual ball bearing turbochargers to fit into the factory "turbo-folds". These turbochargers, paired with an ETS intercooler kit, GReddy intake manifold and TOMEI Powered Expreme Ti exhaust deliver a stout 759.39whp and 662.33 lb-ft of torque. While not a record-setting number by any means in a world of 1000+whp R35s, this vehicle's sole purpose remains to keep Tee happy. And that it certainly does.
Have it Your Way
While the visual impact of both cars may be striking in different ways, both cars represent an enthusiast's vision of the GT-R. Not everyone wants to build a car unusable for the street, or a "sleeper" that has no visual appearance beyond what the factory gave it. For some, the aesthetics and performance together make the vehicle enjoyable and exciting. Although that combination may differ from person to person, we're simply excited that the tuning car culture is thriving around the world. Look for more international features and content as we begin to explore more channels for content that you won't find anywhere else.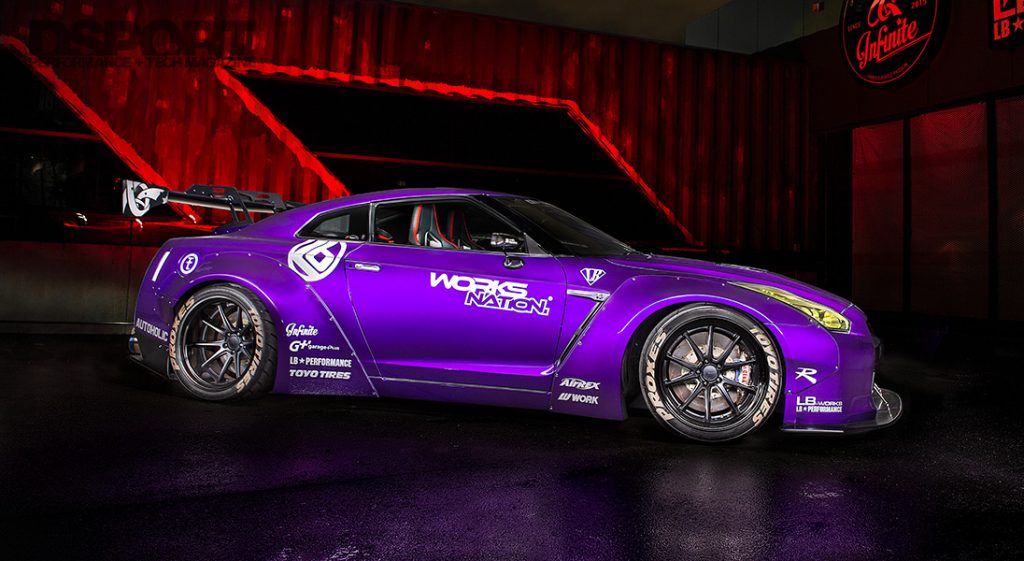 Let us know how you would build your dream GT-R. E-mail us @ inbox@hardmediainc.com or hit us up on Facebook or Instagram.