NOTHING STARTS OFF PERFECT. BUT JUST AS THE DIAMOND CUTTER refines a rough stone into a brilliant gem, Patrick Kelley transformed this 1990 Nissan 240SX  S13 from a neglected shell into a ride with purpose. Kelley purchased the S13 hatchback in 2006 from a buddy who lost interest and no longer wanted to finish the car. It had an SR20DET engine swap, stock wheels and a flat tire. At the time, drifting rose in popularity stateside and Nissan's S13  had in turn become the affordable and desirable sport compact, prompting an influx of parts available for the car. Kelley had plenty of time to think about his project as he built the car over the course of two deployments to Iraq. He explained, "While deployed, my family sent issues of DSPORT and some other magazines with features showing how others built their cars. After seeing plenty of good and bad ideas in print, I had an idea how I wanted my car to be built. Put simply, I wanted a solid powerplant in a do it-all chassis built with JDM influence."
Text and Photos by Richard Fong
---

Rough Road To Refinement
Unfortunately, not all projects go without mishap or misdirection. One significant speed bump that Kelley encountered was at the beginning, when he dropped off his car at a shop to have the engine rebuilt and tuned. The shop overpromised and under delivered, even though he paid his invoice in full up front. After waiting three years to get the car back, the supposedly "Cosworth-built" engine that he paid for only lasted for 250 miles before failing. But this misfortune ended on a positive note when a friend introduced Kelley to Aki Fuchigami (of Garage Bomber fame). With Fuchigami helping with the project, Kelley could get back to making his vision for the build into a reality.

Brilliance In A Box
After junking the first engine, Kelley approached his contacts at TOMEI POWERED USA. After discussing his plans with president Akira Sasaki, he ordered a TOMEI POWERED Genesis SR223SB block and Genesis Phase 2 cylinder head. When the crate arrived, Kelley was excited, as everything inside was brand new. The hand-built TOMEI POWERED shortblock features a brand new SR20DET block prepared to accept TOMEI POWERED pistons, rods, stroker crank and bearings. The 86.5mm pistons and 91mm stroker crankshaft increase engine displacement to 2,138cc. The new cylinder head core was put through the Genesis head program, which includes equalizing the combustion chamber volume across all four cylinders before being fitted with +1mm valves, springs and titanium retainers. The Phase 2 program adds 270-degree PROCAMS lifting the valves by way of factory rocker arms and TOMEI POWERED solid lifter conversion. While the solid lifters must be shimmed manually for proper valve clearance, they deliver a more reliable valvetrain especially with higher lift cams at higher engine speeds. The completed head and block sandwich a TOMEI POWERED head gasket to ensure a positive seal in the combustion chambers.

All Purpose Boost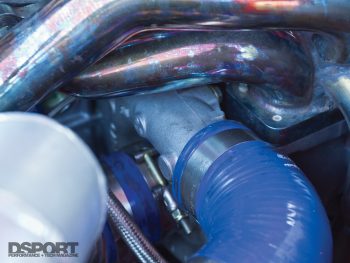 Satisfied with the block assembly, Kelley shifted his focus from the engine to boost production. While smaller turbochargers offer quick spool up, peak power production would be limited. But too large a turbo would offer terrible response, taking away from the streetability of the car. Since the SR20 now features additional displacement, Kelley chose the middle ground option, a Garrett GT3071R turbocharger. Capable of supporting up to 480 horsepower, this turbocharger fit the power production objectives. A TOMEI POWERED Expreme manifold supplies high-enthalpy exhaust to the low-mount turbocharger positioned snugly between the shock tower and the block.
Calibrate and Control
With the powerplant prepared, Kelley looked to Fuchigami's expertise to make sure that the new engine would run strong. To reach his horsepower targets, the fuel delivery system required fortification. Starting at the fuel tank, dual Walbro 255-lph fuel pumps supply 91-octane pump gas to a quartet of SARD 800 cc/min top feed injectors. Once atomized, the fuel mixes with the incoming air charge distributed by the GReddy intake manifold to the intake ports. To regulate injector duty cycle and ignition timing, an HKS F-CON V Pro engine management solution takes its place in the passenger footwell. Poised to attack the rollers, the time had come to tune the new engine. An HKS EVC IV electronic boost controller set to 26 psi maintained steady pressure as Fuchigami optimized the V Pro system. Once dialed in, Kelley's 240SX generated 411 horsepower and 409 lb-ft torque to the rollers of a Mustang Dynamometer.

Polished and Refined
Producing 411 horsepower satisfied Kelley's appetite for power. It was time to move on to the exterior. While some place emphasis exclusively on power while failing to invest in aesthetics, Kelley is not part of that crowd. Kelley took his S13 to Platinum VIP for a fresh look. After grafting the front end of a JDM S13 Silvia to the 240SX hatchback, a Chargespeed wide-body kit was fitted to the project. Platinum VIP then sprayed the wide body work in a Mazda Velocity Red hue accented with gold pearl flake.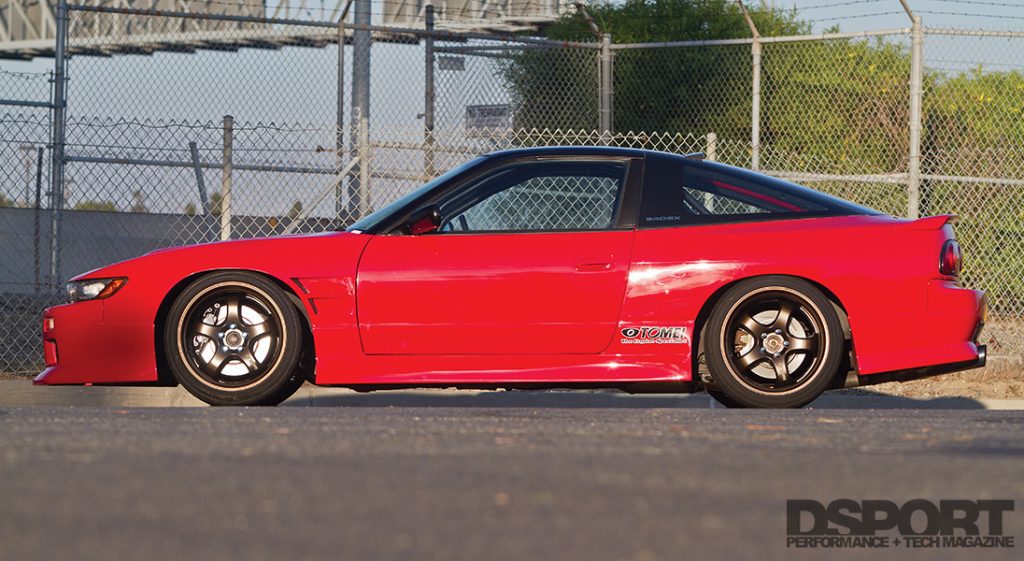 Inside the cockpit, a pair of BRIDE Ergo 2 seats position the occupants while the rest of the interior was reupholstered in matching BRIDE gradient fabric. In front of the driver, a custom carbon-fiber panel with a STACK display replaced the factory clocks, vigilantly conveying engine vitals. Adding a final touch to the interior, a Panasonic touch-screen head unit, amplifiers and ARC Audio speakers fill the cabin with Kelley's choice tracks.

A Glimmer In His Eye
Kelley's vision for the car had finally manifest in the finished build. He stated , "I believe my car is a rare gem since everything that I chose for it had a purpose. The decisions and direction of the build were conducted with intense attention to detail. I only chose quality components that were right for my objectives. This car is an all around beast, not a purpose built machine. It can be drifted, tracked or daily driven. It's tuned to run on 91- octane pump gas. What I initially went through would certainly make building a car frustrating. But my advice is to stay organized, budget wisely and map out your plans. Expect hiccups along the way and only rely on trusted sources. This will allow you greater enjoyment of the build process and seeing the project to completion." The JDM influenced, all-around chassis with a solid powerplant is certainly a testament of Kelley's mettle and resolve. Despite a rough start, he managed to chip through the challenges to refine his diamond.