Not every Nissan Gt-r owner aspires to run against the likes of AMS Performance, ETS/English Racing or the team with the current world record, EKanoo Racing. And in reality, few ever will. Instead, the majority will find satisfaction with their R35 when it's built to the hilt for the street. After all, how can you enjoy a car that you can only enjoy at full tilt on a racetrack?
Text by Richard Fong // Photos by Rob Shaw
---

Coming Down off the Fence
Dr. Jumar Apolinario, like DSPORT's publisher Michael Ferrara, was reserved about the R35 GT-R at first. At the time, it had only been in production for around three years and aftermarket development was still in its relative infancy. When Nissan presented its minor change 2012 DBA-R35 GT-R, the stiffer chassis, increased output, refined transmission programming and overall improved out-of-the-box handling and performance made believers of both of them. Apolinario explained, "I was looking for a vehicle that could meet my expectations of a basic and practical sportscar. My criterion included a relatively reasonable price, comfortable for daily driving, good reliability and upgradability. It's been proven that a GT-R tuned for high output is a crazy beast on par with the world's supercars, yet it doesn't sacrifice comfort or drivability. Watching videos online and seeing the advances that GT-R tuners have made over the years at big power events like TX2K, Texas Mile and the Shift S3ctor airstrip events opened my eyes to the possibilities. With the improvements that the 2012 minor change contributed to the DBA-R35 chassis, I finally decided to make my purchase, picking up this 2012 Black Edition R35 GT-R in November 2011."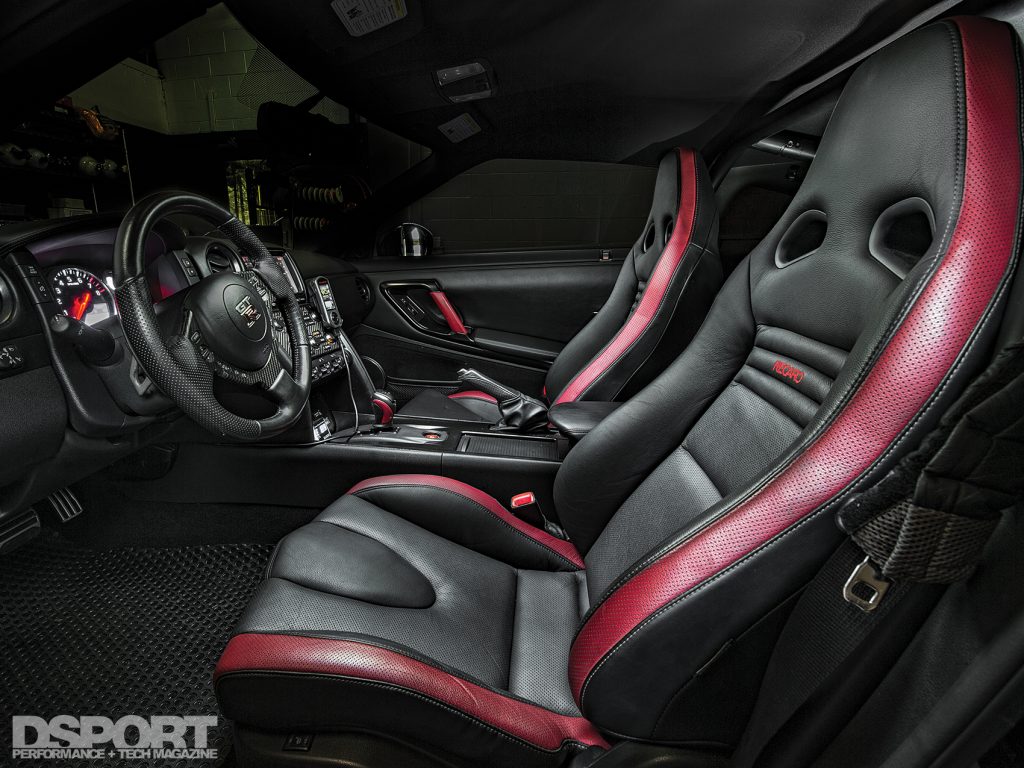 Modest R35 Monster
While today's record setting GT-Rs make upwards of 2,000 whp, Apolinario's ideal GT-R only needed to make about half that amount. After a few years of enjoying the GT-R with simple bolt-on solutions, he was ready to start working toward his ideal horsepower goal. Understanding that the sky is the limit when it comes to vehicle builds, he set a goal of reaching 1,000 horsepower. Apolinario knew that the VR38DETT engine has proven a solid mill, however it's not without its limitations. Reaching this objective would require bigger turbochargers. Unfortunately, the factory rotating assembly wasn't engineered to handle much more than 650 horsepower at the wheels. To safely employ larger turbos, working with a reputable shop was one of the first steps toward reaching his goal. Apolinario chose JMS Racing in San Antonio, for its expertise and assistance.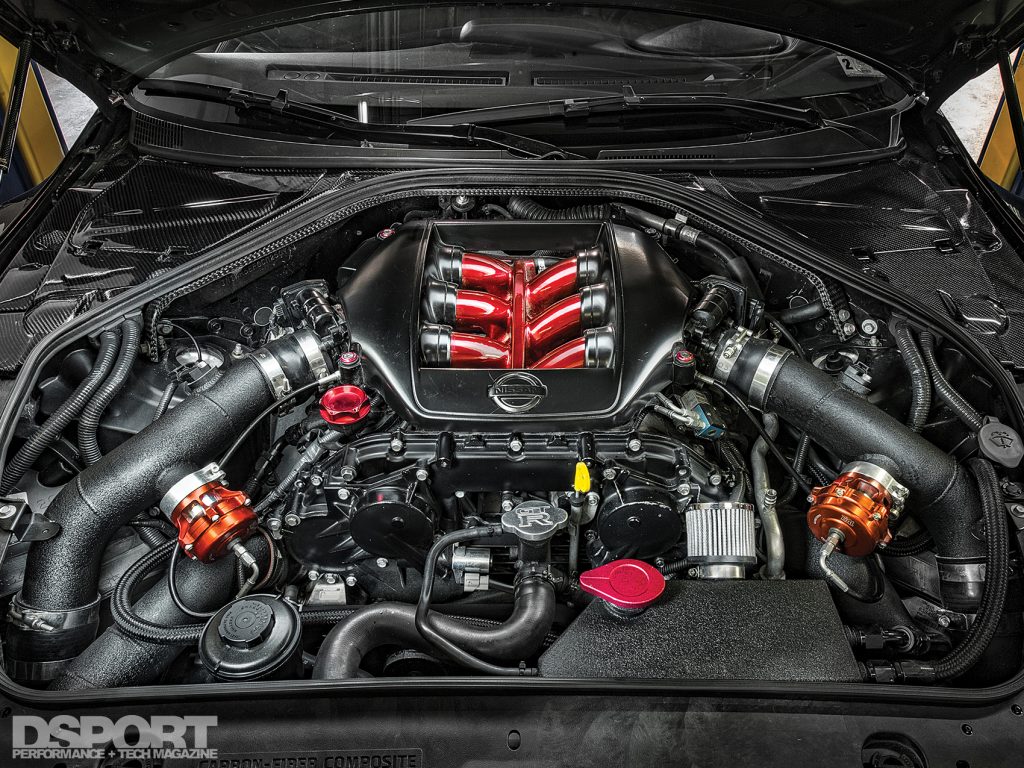 Built Mill
In preparation for an increase in boost pressure and horsepower, the GT-R's  R35 V6 engine was plucked from the engine bay and brought to the machine shop. There, the factory rotating assembly was removed in preparation for a set of forged aluminum CP Pistons and Carrillo connecting rods. The stock bore and stroke dimensions remained unchanged, as the factory plasma-sprayed cylinder walls have proven to handle power production well above the factory torque and power output. To more efficiently fill the cylinders of the V6, JMS Racing applied its Stage 3 cylinder head port work to the heads prior to fitting them with a complete Ferrea valvetrain lifted by Kelford 272-degree camshafts. The heads rely on ARP head studs to stay secured to the fortified shortblock.
Pressurized Pathways
Now that the VR38 engine was ready to pump out more horsepower, attention shifted to filling the cylinders with air and fuel. Extreme Turbo Systems (ETS) manifolds bolted to the exhaust ports channel high enthalpy gasses into the turbines of a pair of Forced Performance HTA 3585R turbochargers. The turbos compress ambient air and force it through aluminum hard pipe to a front-mounted Boost Logic Race intercooler. Once heat exchanges with the intercooler, the cooler, denser air charge flows through the factory throttle bodies and intake plenums before being distributed to the combustion chambers.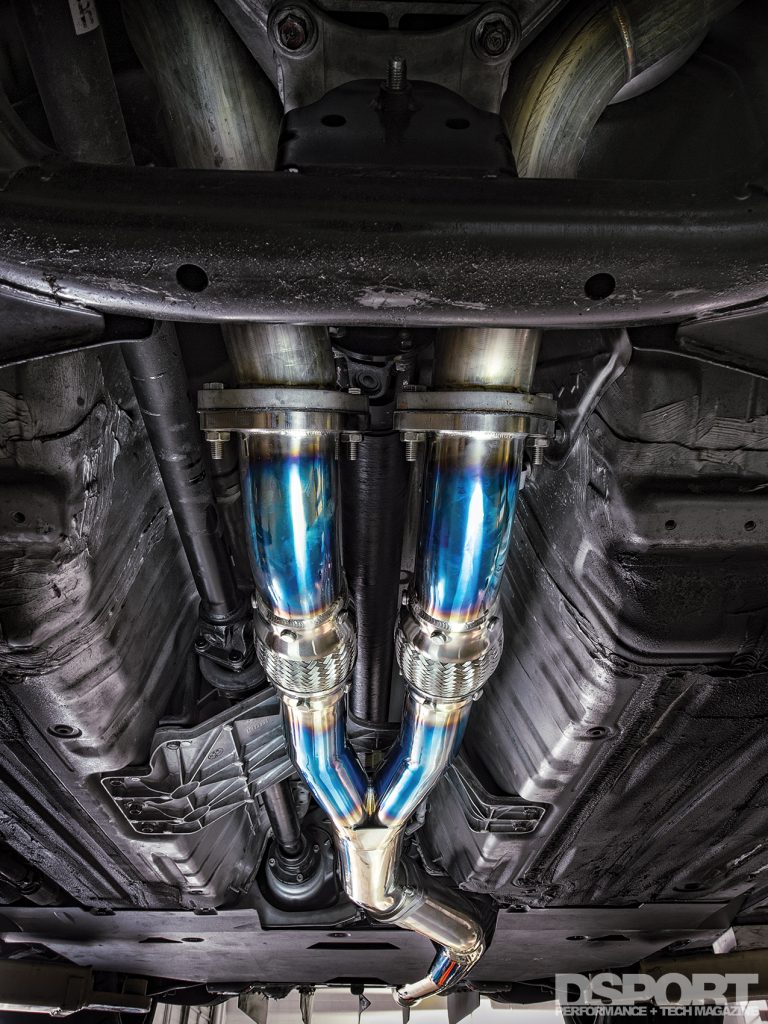 Amped on Ethanol
Although it's not available to everyone, the lucky few with local access to E85 at the pump report that it's an amazing and affordable alternative to racing fuel. Apolinario took advantage of the E85 supply in his area by having JMS Racing set his GT-R up for ethanol. A six-pack of Injector Dynamics ID2000 fuel injectors ensure adequate fuel delivery to reach his horsepower objective, while a Fore Innovations Stage 3 Triple Pump System keep the lines, rails and injectors well supplied. JMS Racing's Jorge Ramos used a Cobb Accessport to calibrate the factory ECU for the larger injectors, the increased fuel delivery, more advanced ignition timing and 40psi boost levels. On a Dynojet AWD dynamometer, the GT-R recorded a best pull of 1,277 whp and 989 lb-ft torque, safely exceeding Apolinario's expectations.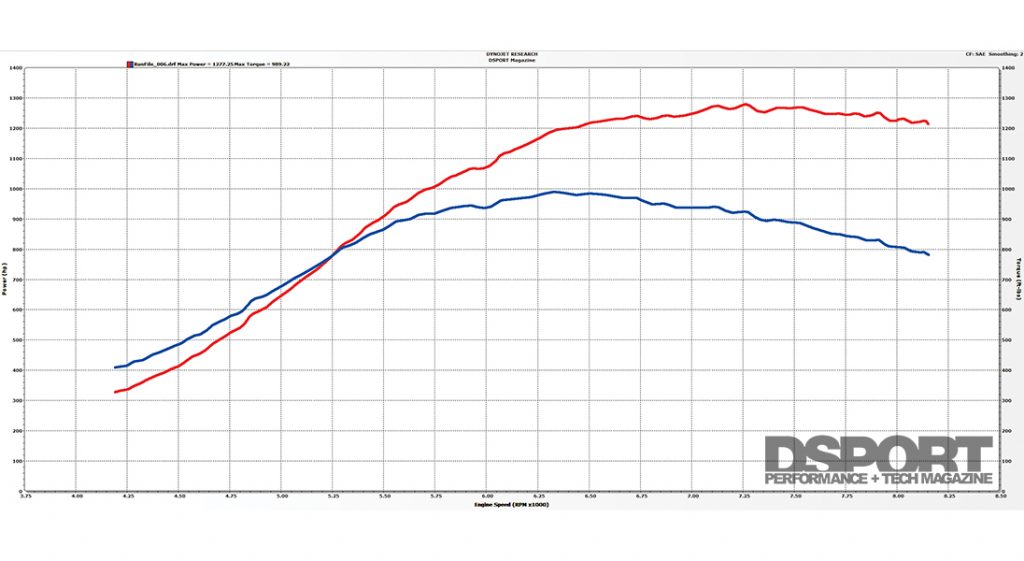 Keeping the Wheels Turning
Doubling the factory output under the GT-R's hood seems routine these days. Thanks to advances not only in engine performance and calibration, but also driveline components, the GT-Rs do not find themselves with hundreds of additional horsepower and no way to harness them. Early on, tuners uncovered the Getrag GR6 transaxle's limits. This put the aftermarket on a path to develop solutions to ensure that the driveline would not be the weak link for long. The first to innovate an aftermarket clutch-pack solution, Dodson Motorsports, offers several upgrades that accommodate a variety of engine output levels. For this build, the Dodson Sportsman clutch pack fit the driveline criteria. To install the clutch and strengthen the GR6, JSM Racing shipped the transmission to Sheptrans in Ohio, where John Shepherd worked his magic on the gearbox. A er upgrading the transaxle with his Stage 3 package, Shepherd installed the new clutch pack and returned the assembly to Texas.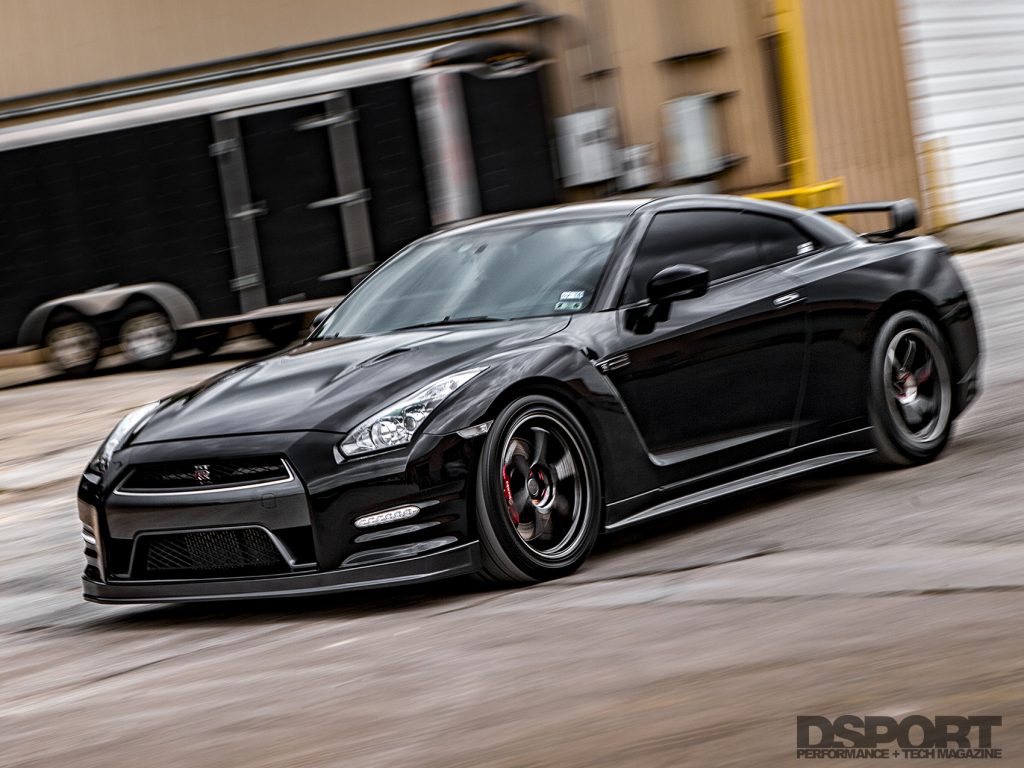 On the Streets and at the Track
Apolinario's vision for his R35 GT-R came to fruition, as JMS Racing delivered on his horsepower goals while maintaining the street drivability and manners that were key factors in the build. He stated, "My original plan was to have a 1,000hp car, and I achieved that. I typically drive the car on the street and I'll go to the track perhaps three or four times a year. My best time on the drag strip in the car so far is a 9.2-second elapsed time with a trap speed of 157mph, and that was a test pass on low boost. I'm curious to see what max boost with a good set of tires will deliver at my next trip to the strip. But that is not my primary purpose, I just enjoy the moment each time I drive the car. My future plans for the GT-R include upgrading the intake manifold with a 12-injector fuel delivery system and maybe a wide body kit from the likes of Liberty Walk or maybe TRA Kyoto." Although his objective was not to run with the big dogs, Apolinario achieved his personal ambitions with his GT-R project and benefits from one of the greatest aspects of the build, daily drivability.
Apolinario would like to express his appreciation to Jorge Andres Ramos and Joaquin Alpizar for their hard work and advice along the way, during both the better and bitter times. He would also like to send a special thanks to Carlos Tirado with Tirado Custom Coatings for the great powder coated parts.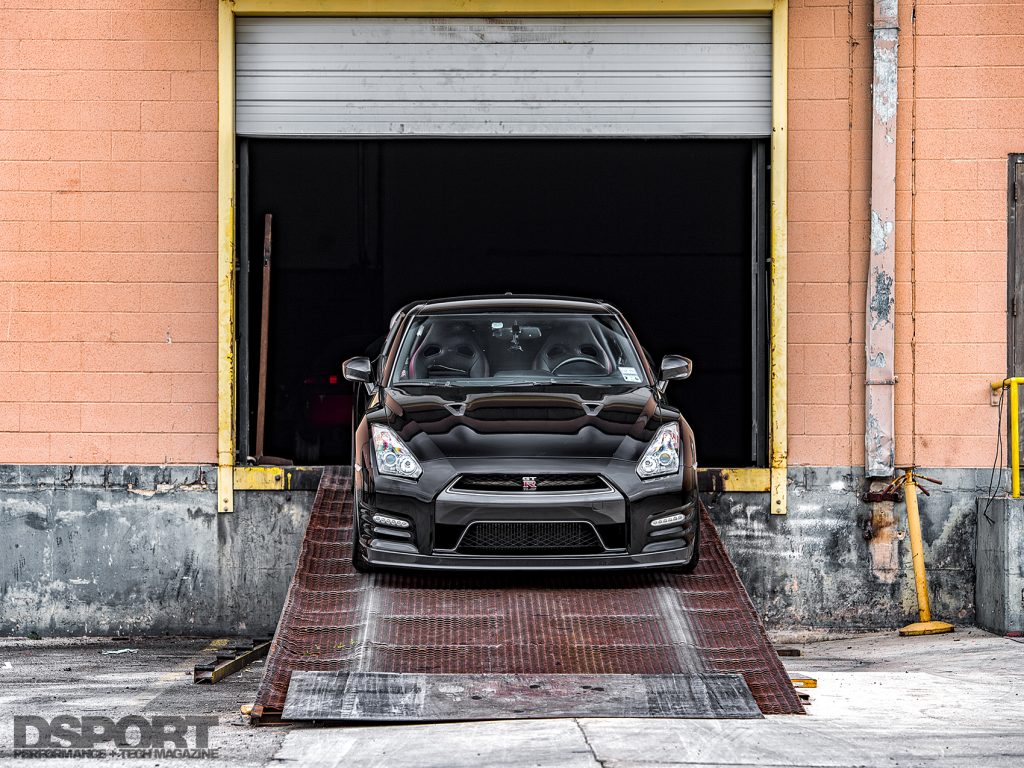 SPEC SHEET
| VEHICLE | |
| --- | --- |
| Year / Make / Model: | 2012 Nissan GT-R Black Edition |
| Chassis Code: | DBA-R35 |
| Vehicle Weight: | 3,900 lbs. |
| Weight Bias (F/R): | 55/45 |
| Launch RPM: | 5,500 RPM |
| Shift RPM: | 7,800 RPM |
| Redline RPM: | 8,200 RPM |
| Peak Boost: | 40psi |
| Fuel: | E85 |
| ENGINE | |
| --- | --- |
| Engine Code: | VR38DETT |
| Displacement (cc): | 3,799cc |
| Bore & Stroke (mm): | 95.5mm x 88.4mm |
| Peak Horsepower (@ RPM): | 1,277 whp @ 7,200 RPM |
| Peak Torque (@ RPM): | 989 lb-ft @ 6,300 RPM |
| Dyno Type: | Dynojet AWD Dynamometer |
| Engine Builder: | JMS Racing |
| Pistons/Compression Ratio: | CP Pistons, 10.0:1 Compression |
| Connecting Rods / Crank: | Carrillo Connecting Rods |
| Camshafts: | Kelford Cams, 272-degree duration |
| Valves/Springs/Retainers: | Ferrea Valves, Springs & Retainers |
| Cylinder Head Modifications: | JMS Racing Stage 3 Cylinder Head Porting |
| Air Induction System: | ARP |
| Intake Manifold/Throttle Body: | 4-inch |
| Fuel Injectors: | Injector Dynamics ID2000 Injectors (x6) |
| Fuel Delivery System: | Fore Innovations Stage 3 Triple Pump System |
| Engine Management System: | COBB Tuning Accessport w/ Speed Density |
| Engine Management Tuner: | Jorge Ramos |
| Boost Controller: | Turbosmart 4-port EBCS |
| Spark Plugs: | NGK |
| Exhaust Manifold: | Extreme Turbo Systems |
| Exhaust System / Downpipe: | Extreme Turbo Systems |
| Wastegate: | TiAL Sport 44mm (x2) |
| Blow-Off Valve: | TiAL Sport 50mm |
| Intercooler: | Boost Logic Race FMIC |
| TURBOCHARGER | |
| --- | --- |
| Turbocharger: | Forced Performance HTA3586R (x2) |
| Frame: | T3 |
| Compressor Wheel Specs: | 86mm Major, 62mm Inducer |
| Turbine Wheel Speds: | 62mm |
| Turbine Housing: | .82 A/R, V band |
| CHASSIS/DRIVELINE | |
| --- | --- |
| Transmission: | Sheptrans Stage 3 Upgrade |
| Clutch / Flywheel: | Dodson Motorsports Sportsman |
| Wheels (Make, Size & Offset): | Volk Racing TE37 Ultra 20×10-inch +31 (F) |
| | Volk Racing TE37 SL 18×11-inch +18 (R) |
| Tires (Make & Size): | Nitto NT05 275/40R20(F), NT05R 315/40R18 (R) |
| Brake Calipers (F&R): | Powder coated by Tirado Custom Coatings |
| INTERIOR | |
| --- | --- |
| Roll Bar / Cage: | Titan Motorsports Roll Bar |
| Harnesses: | Takata Racing |
| EXTERIOR | |
| --- | --- |
| Side Skirts: | Rexpeed |
| Rear Diffuser: | Difflow |
| Spoiler/Wing:: | Speedforsale High Wing |