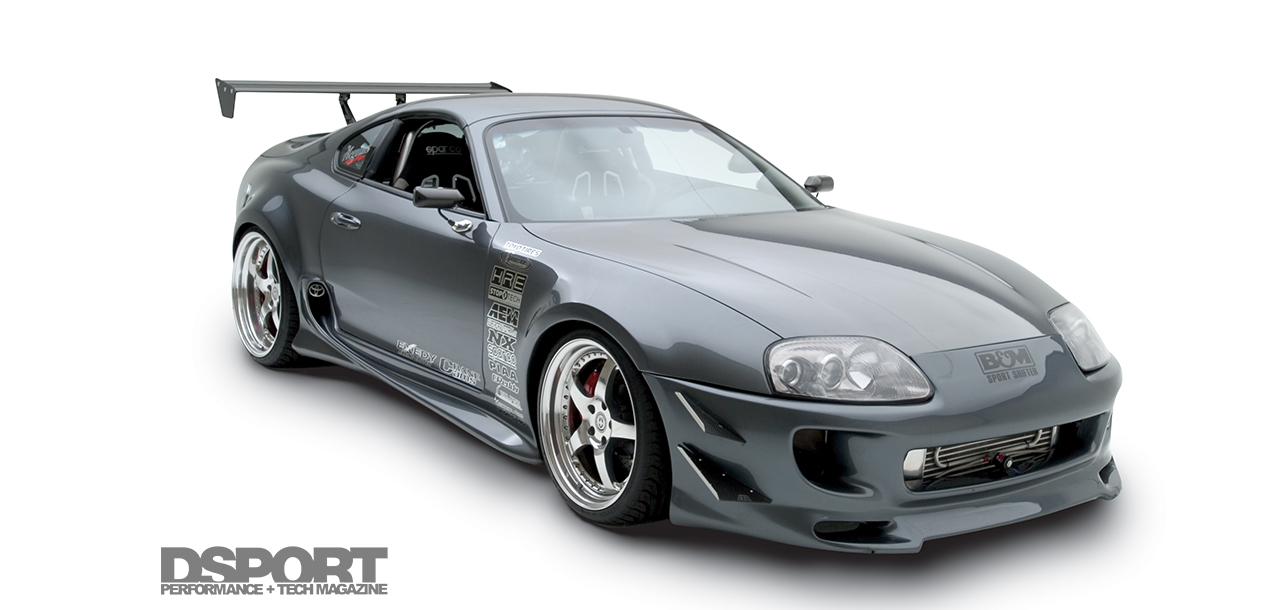 How many times have you been at a car show and spotted an over-the-top outrageous car that really grabbed your attention?
So you walk over, snap a couple pics and check out the awesome set of wheels, big brake upgrade, racing seats, etc. then when you go to look under the hood and all you find is the stock engine chromed out! It's like copping a feel just to realize this fine honey stuffed her bra! It's a major disappointment to say the least. The sad truth is that a lot of show cars may leave you disappointed with their performance. Joe Galante didn't want his Toyota Supra to be that car. While Joe is a former High-School Teacher and College Professor with a Master's Degree in Education, we would like to teach you a few things about a turbo Supra that has both "show" and "go". When building this show-winning Supra, Joe touched bases on every single aspect of his car. Body styling, engine performance, interior upgrades and suspension components were all addressed. Joe's finished product was a Best of Show, head-turning, tire- smoking machine.
Text by Sami Sharaf // Photos by Michael Ferrara
---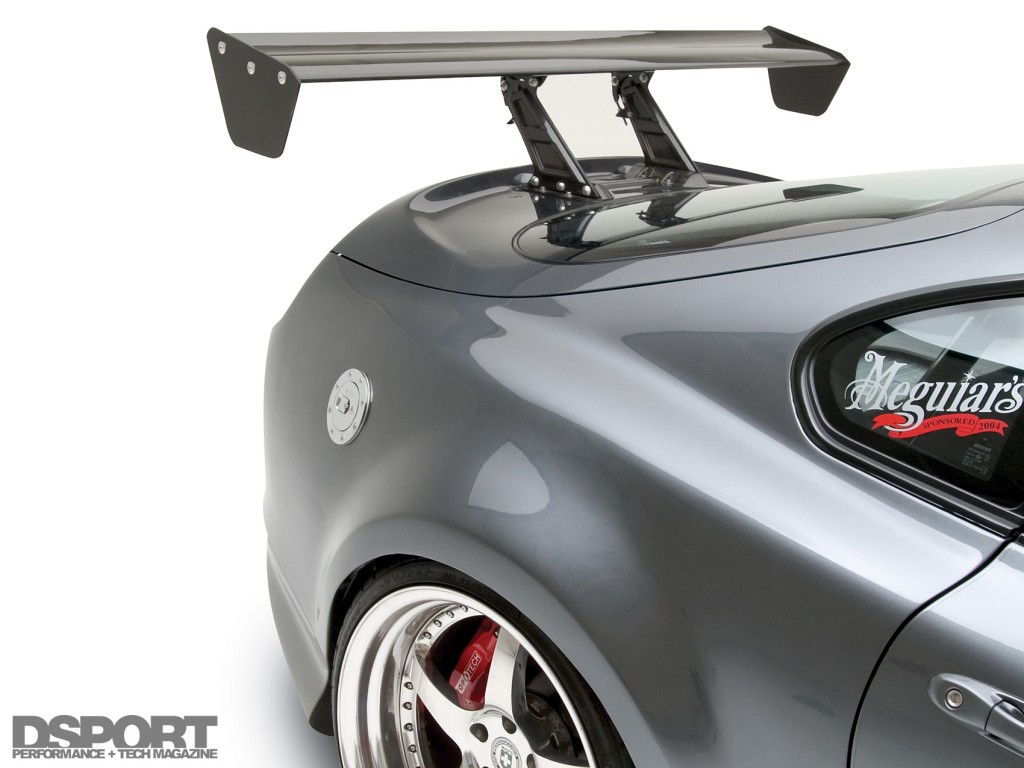 This last year has definitely been a busy year. Talk circled about different things like the War in Iraq, the Epidemic known as SARS and of course Jennifer Lopez was the gossip amongst everyone. Maybe it's her various relationships (too bad you are not part of them) or maybe it's that a$$ that everyone knows so well. Jennifer could be found everywhere you looked; she even made her way to this 1994 Toyota Supra. You're probably asking yourself how the heck this Supra incorporates Jennifer Lopez. Well, you've seen the rear end on Jennifer; now take a look at the rear end on this Supra. That's right, WIDEBODY. The Supra was taken to Larry and Toby Sanders, a fab and paint shop ran by a father-son team. This Twin Turbo Supra received a custom hand crafted sheet metal widebody that was widened 3.5" in the rear and 2.5" in the front. The widebody conversion was properly named "J-Lo". With an aggressive but subtle look in mind, a Bomex front lip was molded onto the factory front bumper, as for the rear bumper a Veilside rear lip was molded on as well. Sideskirts were tricky but Larry and Toby managed to mold on a set of Veilside sideskirts to match the newly widened Supra. After the extensive work on the Supra, Joe summoned a Sikkens Gunmetal Metallic Grey paintjob with Blue and Green Pearl. With the majority of the exterior being complete, the car just needed a C- West carbon fiber rear wing and some JDM JGTC carbon fiber mirrors.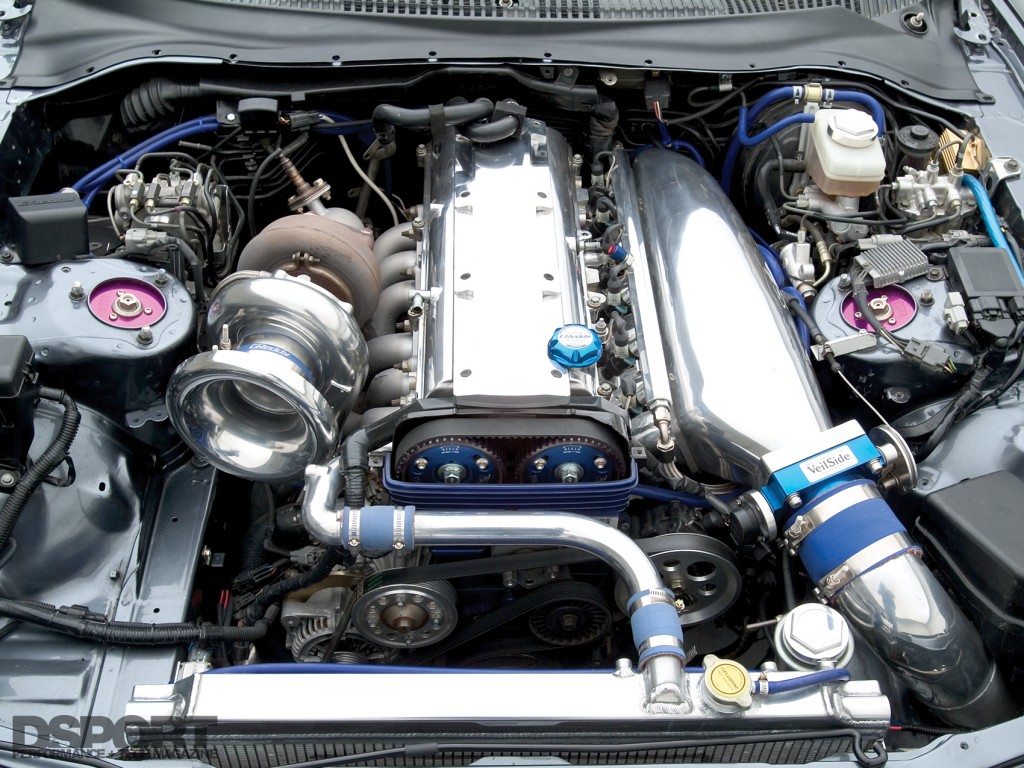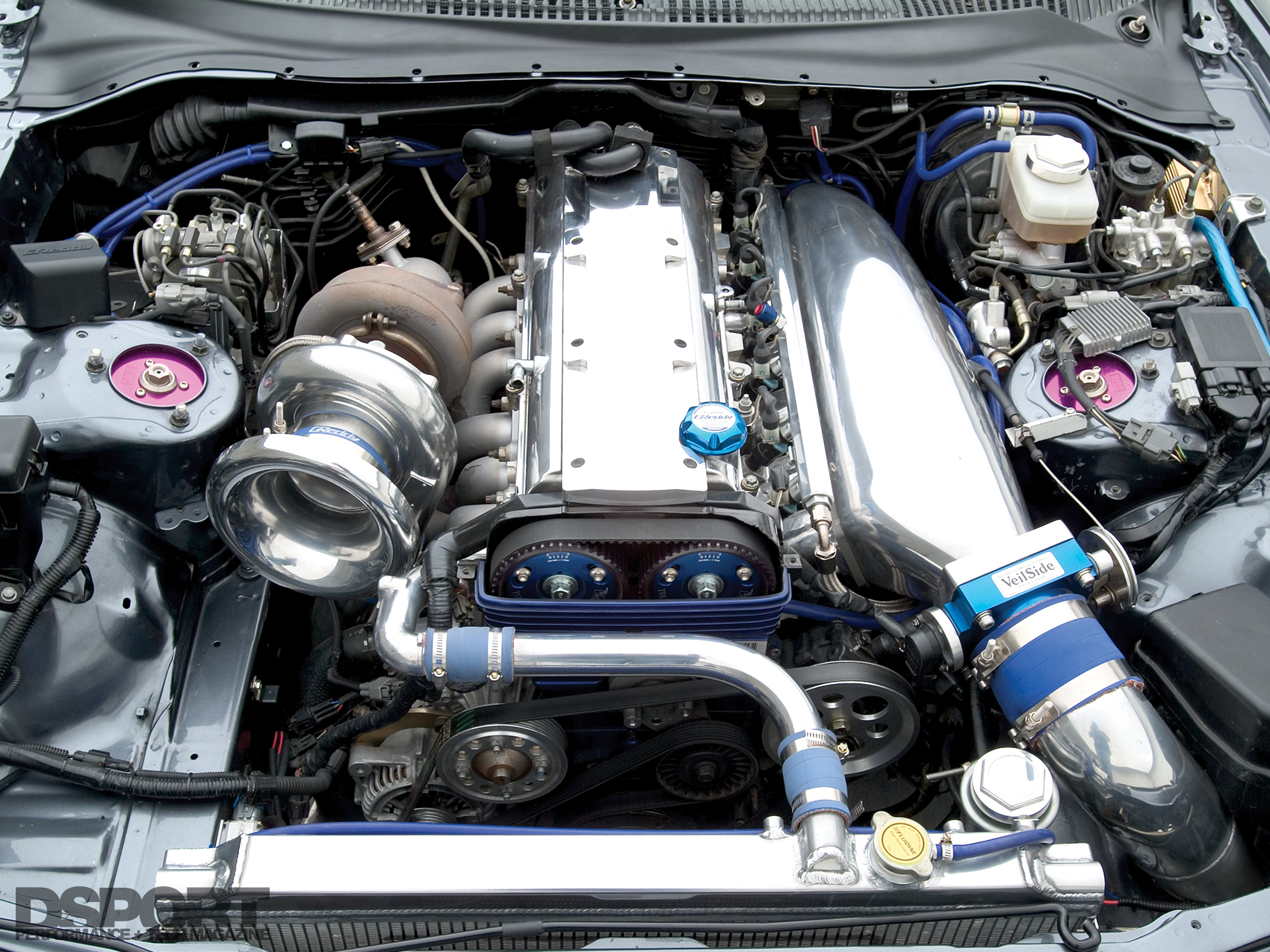 Even with the factory 2JZ bottom end, these turbo Supras can pump out dyno numbers that would startle you. The extent of the engine work consists of a 3- angle valve job and a ported & polished cylinder head. The stock camshafts were then swapped out for a set of Crane Cams. Joe then opted for a Greddy T-78 Single Turbo Upgrade, external wastegate, front mount intercooler, 2.0mm head gasket, catch can and a Profec-B boost controller. Veilside was used for their surge tank, 100mm throttle body and fuel rail. For the horsepower that Joe was looking for, 1000cc Blitz fuel injectors were then installed. As for engine management, the Supra was then handed over to the professionals at AEM for the EMS install. The engine tune was performed by Jason Siebels of R/D Dyno. Jason tweaked the Supra to a safe 683 hp @ 25 psi. This dyno session was completed before the addition of the VeilSide intake and throttle body and Crane Cams. Now the target is 800- plus at close to 30 psi.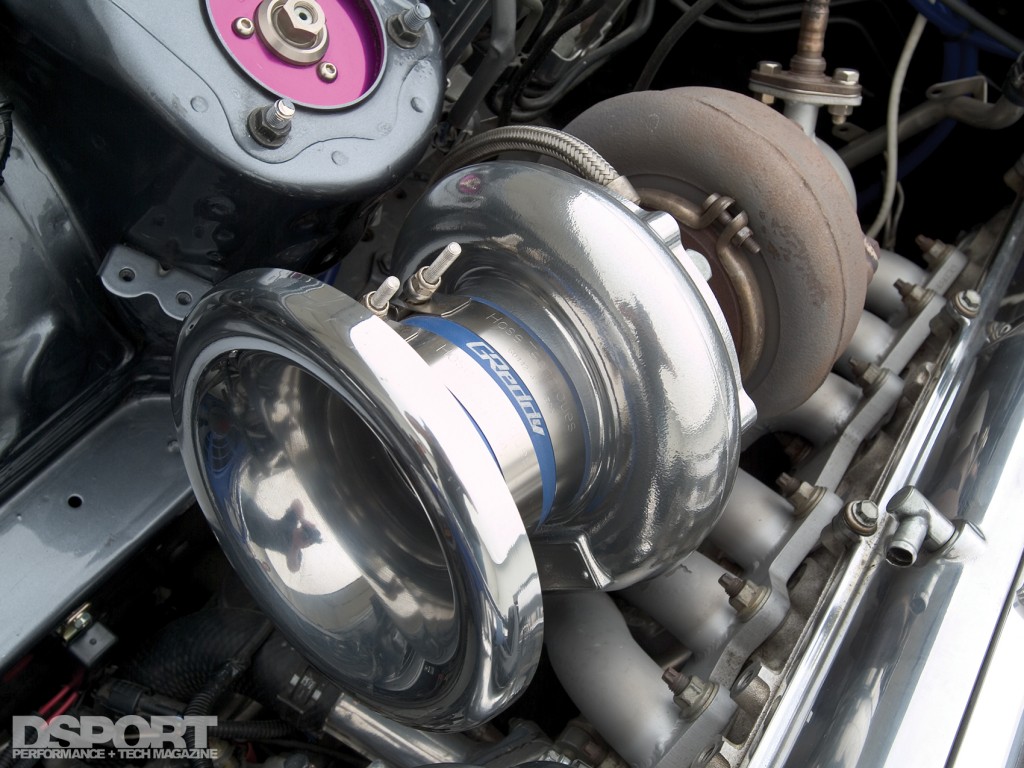 The interior being one of the most important features of a vehicle, Joe had the inside of his Supra completely renovated. Mainly sticking with Sparco, the Supra was adorned with Sparco Roadster seats along with Sparco 5- point harness for comfort and safety. A Sparco Flash-5 steering wheel to control this high-powered Toyota. While most people would have felt as if the cockpit was complete at this point, Superior Auto Trim went through and built custom interior and stitching to go along with the Sparco theme.
At this point of the build up there was little left to do but this next decision could make or break a car's appearance. The wheels of choice would be the beautifully-designed HRE 545s. These 3-piece fully-polished wheels would have to be big and wide to fill up the Supra's wide flares, 20" x 11" in the rear and 19" x 9.5" in the front. Toyo Tires offers the Proxes in the sizes needed for the staggered wheel sizes. If you take a look through the HRE wheels, you'll notice StopTech rotors the size of some civic wheels, along with StopTech 4-piston calipers using Axxis brake pads and stainless steel braided brake lines.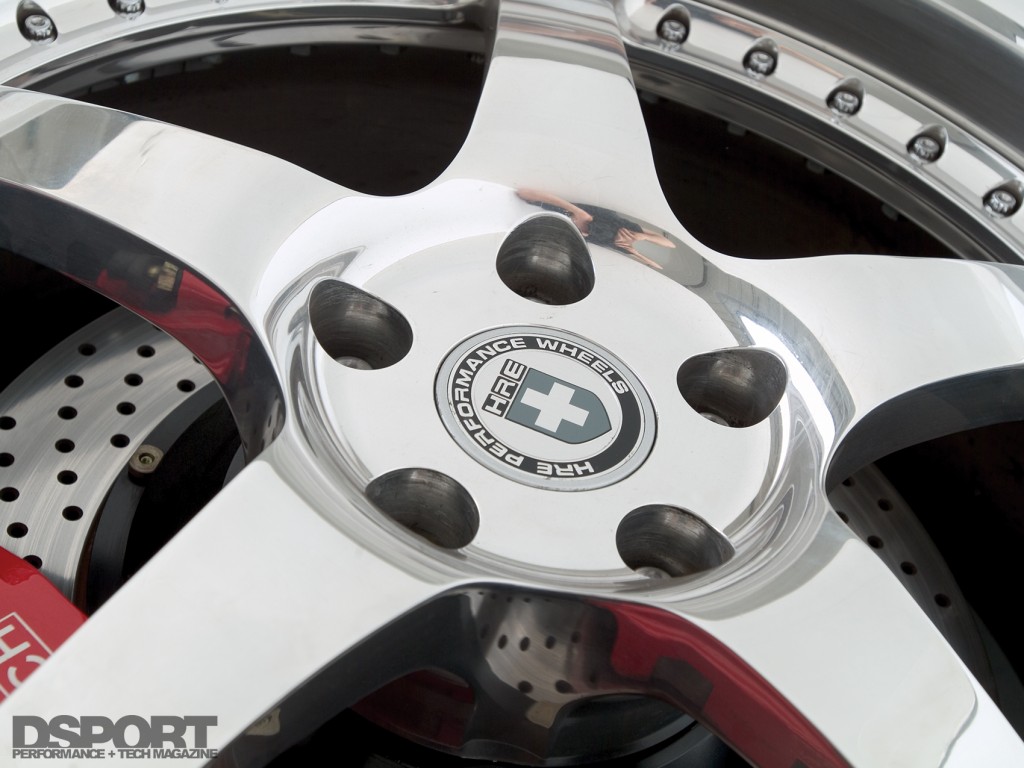 With the total tuning package being the goal for Joe, the parts and the endless quest for perfection, this Supra might seem "finished" to you. Since our photo shoot, Joe has continued to add parts to this never ending list…
---
SPEC SHEET
| VEHICLE | |
| --- | --- |
| Year / Make / Model: | 1994 Toyota Supra Turbo |
| Chassis Code: | JZA80 |
| Peak Boost: | 37 PSI |
| ENGINE | |
| --- | --- |
| Engine Code: | 2JZ |
| Displacement (cc): | 2998 cc |
| Peak Horsepower (@ RPM): | 683whp @ 25 PSI |
| Peak Torque (@ RPM): | 615 FT/LB |
| Dyno Type: | Dynojet |
| Block Modifications: | OEM |
| Machine Work: | 3-Angle Valve Job |
| Pistons/Compression Ratio: | OEM |
| Connecting Rods / Crank: | OEM |
| Camshafts: | Crane Cams |
| Valves/Springs/Retainers: | Titanium |
| Cylinder Head Modifications: | Port & Polish |
| Intake Manifold: | Veilside |
| Fuel Injectors: | Blitz 1000cc x 6 |
| Fuel Delivery System: | Veilside Fuel Rail , HKS Fuel Pump, |
| | Aeromotive Regulator |
| Engine Management System: | AEM EMS |
| Ignition: | HKS Twin Power DLI |
| Boost Controller: | Greddy Profec-B |
| Spark Plugs: | Denso Iridium |
| Exhaust Manifold: | Greddy |
| Exhaust System: | Tanabe |
| Turbocharger: | Greddy T-78 Single Turbo Kit |
| Wastegate: | Greddy Type-R |
| Intercooler: | Greddy 4-Row |
| Nitrous Oxide: | NX Intercooler Spray, Twin Purge, |
| | 125-WetShot, Remote Openers, |
| | Bottle Gauges, Carbon Bottles |
| Cooling System: | Fluidyne Radiator, F.A.L. Fans |
| Oil System: | Greddy Oil Cooler |
| Performance Electronics: | AEM EMS |
| CHASSIS/DRIVELINE | |
| --- | --- |
| Springs, F&R (Make & Rate): | HKS Hyper Damper Coilovers |
| Transmission: | Getrag 6- Speed |
| Clutch / Flywheel: | Exedy Twin Plate |
| Differential(s) (Make & Type): | OEM |
| Wheels (Make, Size & Offset): | HRE (540) 19×9.5 & 20x 11.0 |
| Tires (Make & Size): | Toyo Proxes T1-S 265-30ZR-19 |
| | 275-30ZR-20 |
| Brakes: | StopTech |
| INTERIOR | |
| --- | --- |
| Seats: | Sparco |
| Gauges: | Greddy 60mm |
| | Boost, Air Fuel, EGT, Fuel Pressure |
| EXTERIOR | |
| --- | --- |
| Lip Spoiler: | Greddy |
| Spoiler: | APR Performance |
| Mirrors: | APR Performance |