Die-hard HONDA fans lamented the loss of the "Integra" nameplate in 2002 when the U.S.-based Acura division settled upon an alphanumeric naming structure for all of its vehicles. Done at the height of America's Honda B-series craze, there was also some initial backlash that coincided with the new platform's (known as the RSX) K-series powerplant. It was at once new, foreign and for a while, considered somewhat undesirable. Honda fans wanted their Integras, and they wanted them badly.
Text by Arnold Eugenio // Photos by Eric Tong
---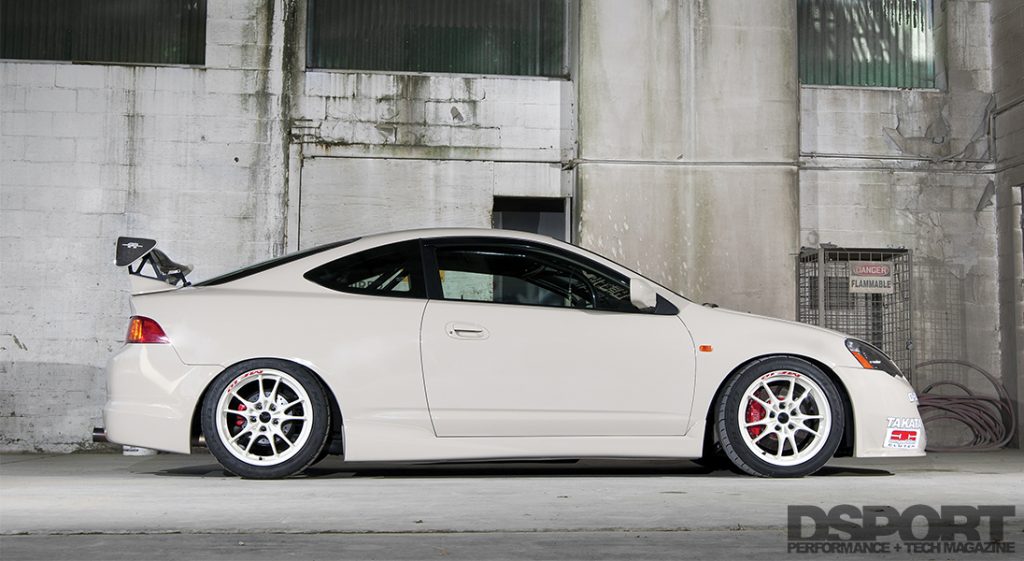 The BK Dilemma
Massachusetts resident Kiet Hong was initially on the fence. While he longed for a DC2-chassis Integra Type R to call his own, he purchased this 2002 RSX in its first year of availability with a plan to take it above and beyond the Integra and RSX examples of the time. While many B18-based Integras were running turbochargers and nitrous oxide to deliver exorbitant power figures, there was also a rising contingent of enthusiasts taking both the older B-series and newer K-series engines to higher "all-motor" output levels. Hong shunned all of these trends and added forced induction to a K20A2 powerplant right away, with plans to convert his RSX into a DC5 Integra Type R killer that could win trophies on the track or on the car show floor.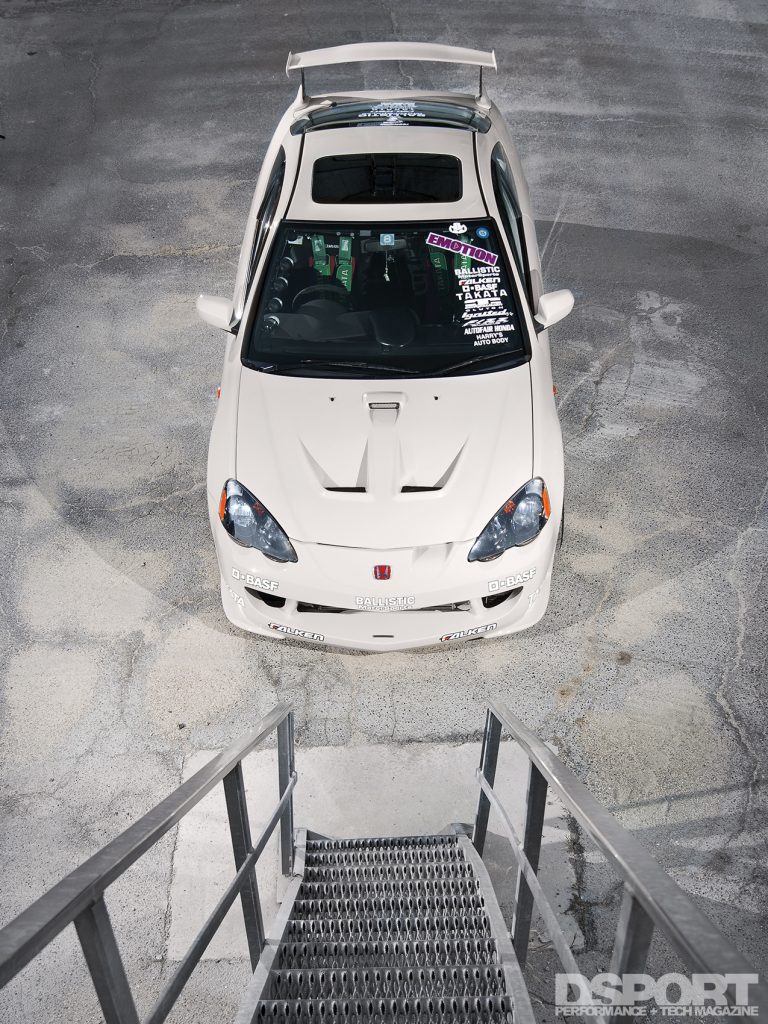 Doing it Right
While it wasn't the first order of business, the RSX's centerpiece is its right- hand-drive conversion. "Originally, I just planned to boost the car and maybe convert it to right hand drive. After almost giving up looking for the parts while I was working on the performance aspect, I got a lead on a RHD front clip and jumped on it right away." The full conversion would not only help separate Hong's car from the heavy influx of performance RSX builds, it would lend credence to Hong's desire to fully convert his RSX Type S into a "true" Integra Type R, as it was still known in Japan. The front-clip changeover prompted Hong to replace the vehicle's interior as well. This meant importing a complete Integra Type R interior from Japan with JDM- branded interior amenities including BRIDE-fabric headliner, Mugen S1R bucket seats, Takata 4-point harnesses and a Mugen steering wheel. A competition-level sound system featuring a Pioneer AVIC-Z2 double-DIN head unit, Rockford Fosgate amplifiers and MB Quart speakers would also fill the interior during the build.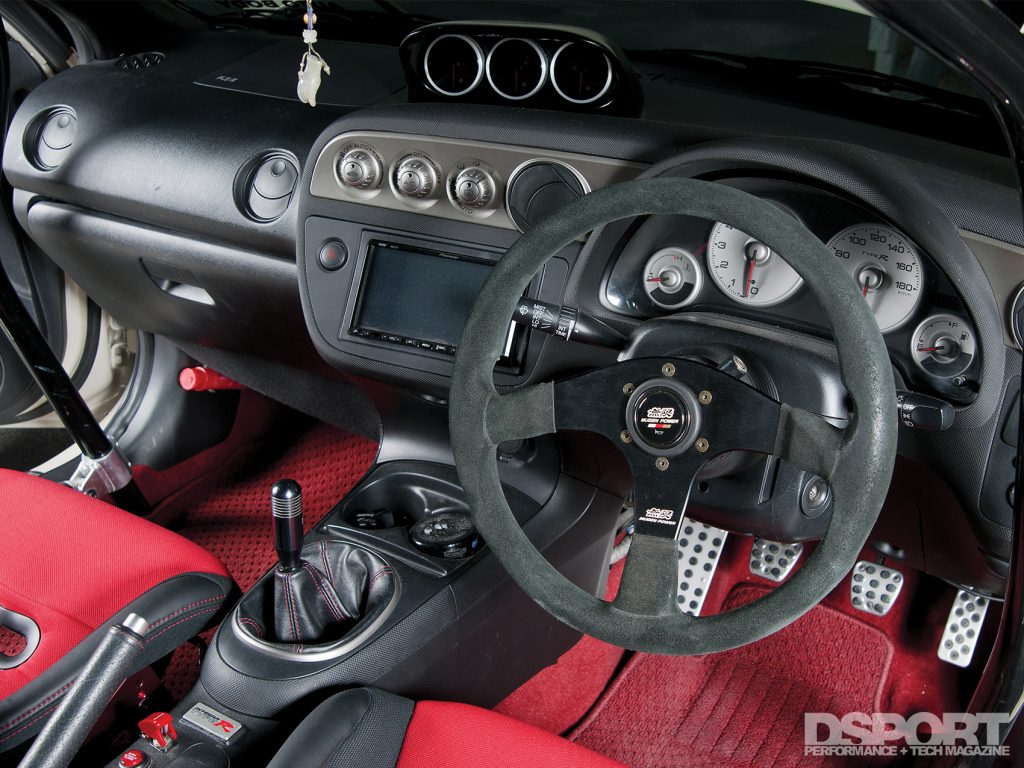 Boostable Block
The engine build started with preparation of the block for boost duties. Hong installed a set of 0.5mm overbore Darton sleeves to replace the factory alloy liners in the block. He stuffed the enlarged cylinders with a set of Wiseco pistons that dropped the compression ratio from the factory 11.0-to-1 down to 9.0-to-1 in preparation for high boost levels. The pistons mate with a set of Crower connecting rods to complete the rotating assembly.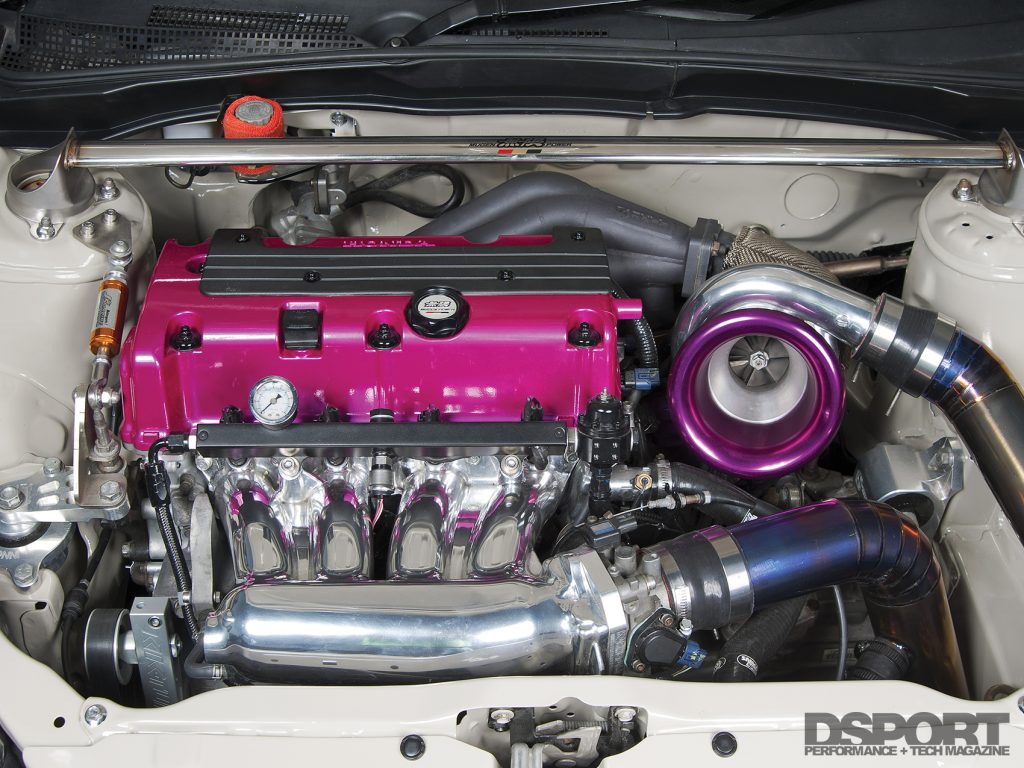 Headstrong Valvetain
The factory iVTEC cylinder head features Honda's iVTEC technology on both the intake and exhaust valves. iVTEC changes the lift and duration of each camshaft in addition to controlling camshaft phasing. Hong reinforced Honda's valvetrain with a set of Supertech valves, valvesprings and titanium retainers. In addition to increasing airflow, the valves offer increased protection from the higher cylinder head temperatures seen from the boost. The Supertech titanium retainers help in reducing valvetrain mass while working in conjunction with the valvesprings to return the valves to their respective seats properly while avoiding valve float. A 3-angle valve job ensures even and consistent airflow into and out of the combustion chamber while the cylinder head's port-and-polish treatment further increases the head's ability to cope with large volumes of pressurized incoming air.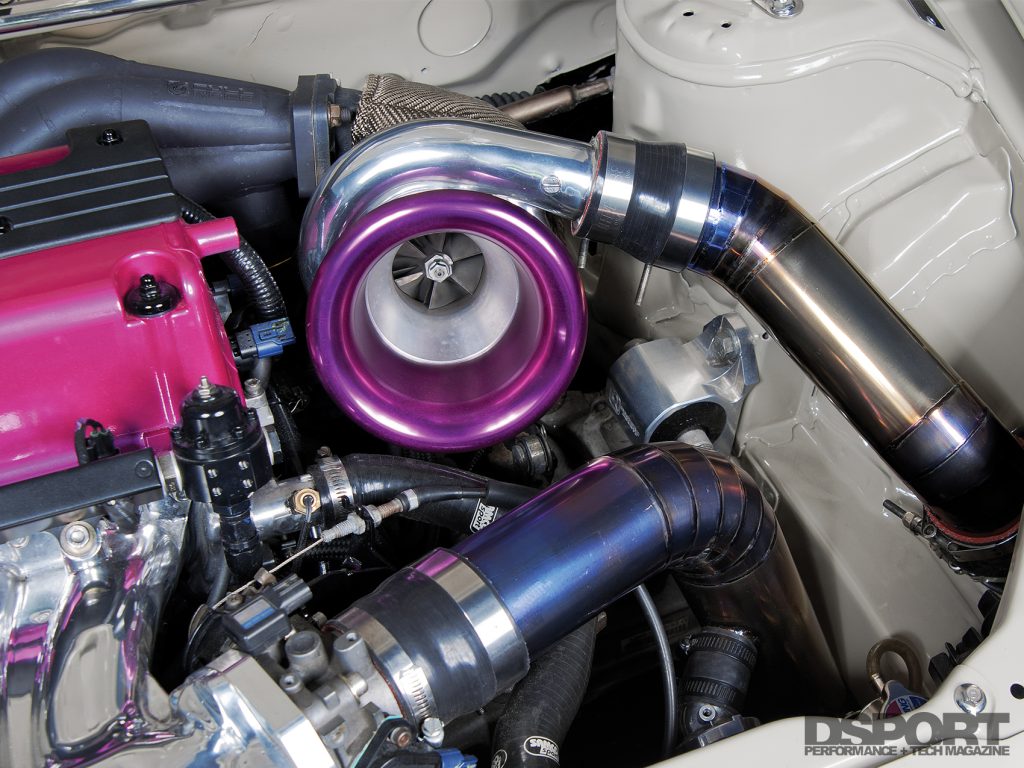 Turbo Time
With all the ancillary and supporting parts in place, Hong pulled the trigger on adding more "go" to hisshow car. This came in the form of a Garrett GT3582R ball-bearing turbocharger. This straight T3- framed turbocharger features a cast Inconel turbine wheel for extreme temperature and boost applications. Hong's setup runs the turbocharger tucked back against the firewall with an open-face intake configuration mated with a Full Race stainless steel exhaust manifold that allows the 2.0-liter K20A2 engine to spool the massive Garrett turbocharger. The custom front-mounted intercooler and piping send the cool, compressed air into a RBC intake manifold that houses four Injector Dynamics 1,000cc/min injectors. These are fed 93-octane pump gas by a Walbro in-tank fuel pump supplemented by a Bosch in-line pump.
Show Tunes
Not wanting to be just a show car with awesome dyno numbers, Hong was not content to simply bolt on the turbo kit and call it a day. Instead, he took the build to Kinetic Motor Works' Rick Fedas for installation and tuning of the Hondata KPRO engine management system. Fedas set the Blitz SBC ID boost controller to limit boost to 26psi where, on a Land and Sea Dynomite Dynamometer, the converted RSX put down 566.9 horsepower to the wheels and 397.1 lb-ft of torque. With those numbers repeatable and recorded, Hong was finally satisfied that his build was equally as formidable on-highway as it looked surrounded by velvet ropes off-highway.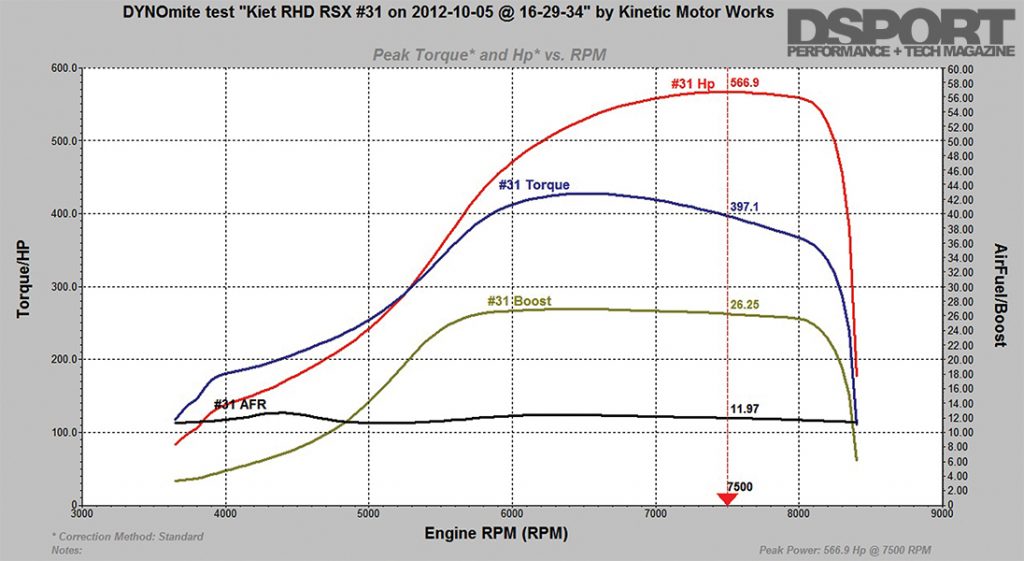 Almost Done
"The key to building a bad-ass car is being patient and building it the way that you really want it," Hong admits. "California is home to the most elite import cars in the country," he adds, "so if you can place in a car show there, you are one of the elite. If you can take a first place win, you are undoubtedly the best." With that said, he doesn't deny it was somewhat bittersweet to take Best of Show at several events in California as winning a car show strips the value of the vehicle's power potential. "Since I'm done with the Integra conversion, the only thing left for me to do is make more power and get out on the track more." With 1,000 whp B18C-powered Integras on record all over the world, we'll have to see just how completely "Integrated" Hong will take his platform next.