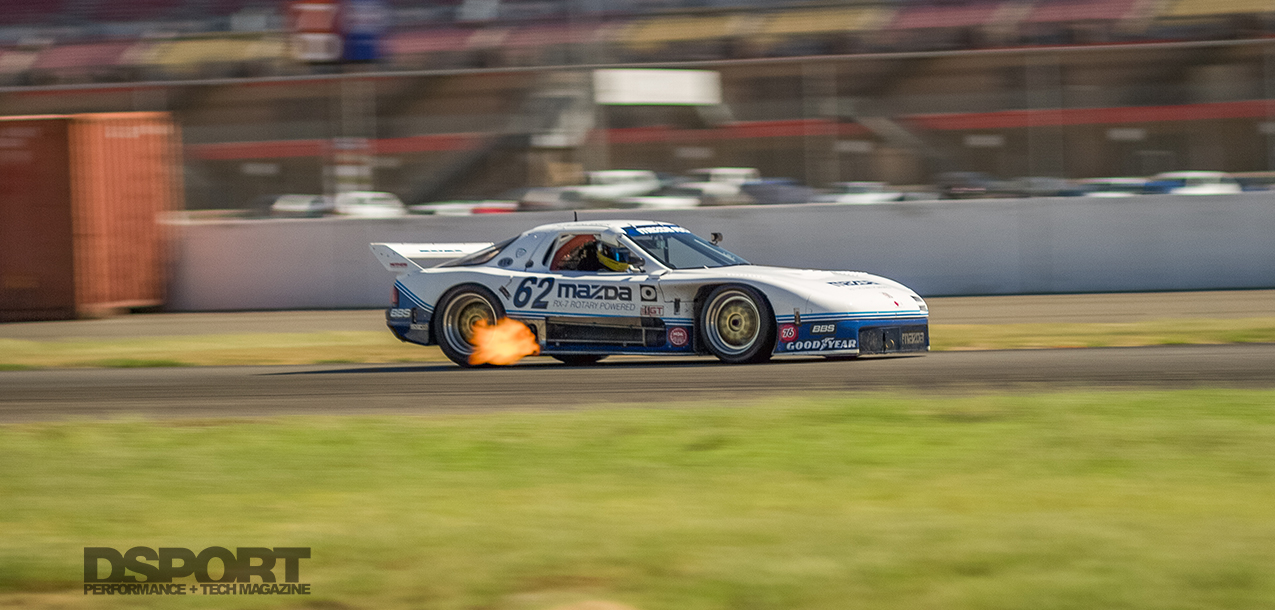 Despite what some seem to think, the Wankel (rotary) engine platform is far from dead.
There's no denying that rotaries take up only a small population of the cars you'll find on the street, however, the fanbase revolving around these unique engines is as loyal as ever. On October 1, 2016, The Southern California RX Club and RotaryNews.com hosted its 19th Annual SevenStock event, celebrating Mazda RX-vehicles and rotary engines. Enthusiasts gathered at Auto Club Speedway to track, show and share their beloved rotary-powered cars on this sunny Saturday afternoon.
Text by Cameron Parsons // Photos by Aaron Eusebi
---

Showroom Floor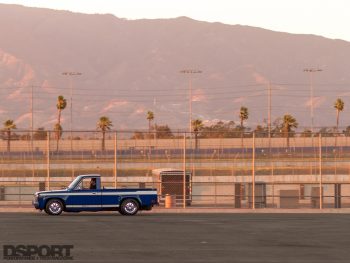 Hundreds of cars rolled into Auto Club Speedway's infield, sprawling the lots between and next to the garages to show the extensiveness of the RX model lines and rotary-powered vehicles. As expected, plenty of RX-7s and RX-8s crowded the lots to show off their many different styled builds. One could find any and every type of build possible for these platforms here, including street performers with widebody kits and mild engine modifications, up to all-out builds with three or even four-rotor power plants. Numerous older vehicles made their showing as well, including the likes of the RX-3, the Cosmo and even the rotary engine B-Series pickup trucks. While many of the pristine vintage models and modern performance cars might steal the show at some events, Mazda supplied a few very special cars that the paddock crowded around to see all day.

Rotary Racecars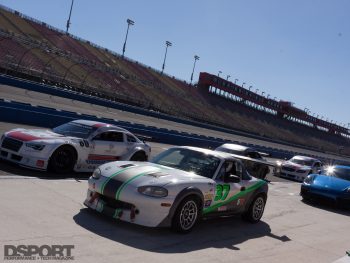 Any Wankel engine model produces a distinct sound, but in racing trim these engines made for some of the best sounding cars ever to hit a racetrack. Filling the Auto Club Speedway stadium with high-pitched fuel-burning screams, Mazda ran some of its most famous racecars around the track for the fans to see and hear. This included decades-old models with the RX-3, FC and FD RX-7 racecars, up to the glory days of prototype racing with the 767B, 787 and RX792P, arguably the greatest sounding rotary car made. Although these cars spend much of their days in storage at Mazda's US headquarters, they still get to play on the racetrack for events like these. These weren't your typical parade lap exhibition runs, Mazda set these cars on track to demonstrate how they perform at full tilt. The drivers wound up the engines to redline, attacked the curbs on the infield, and showed off plenty of exhaust flames under deceleration to make for perfect photo ops.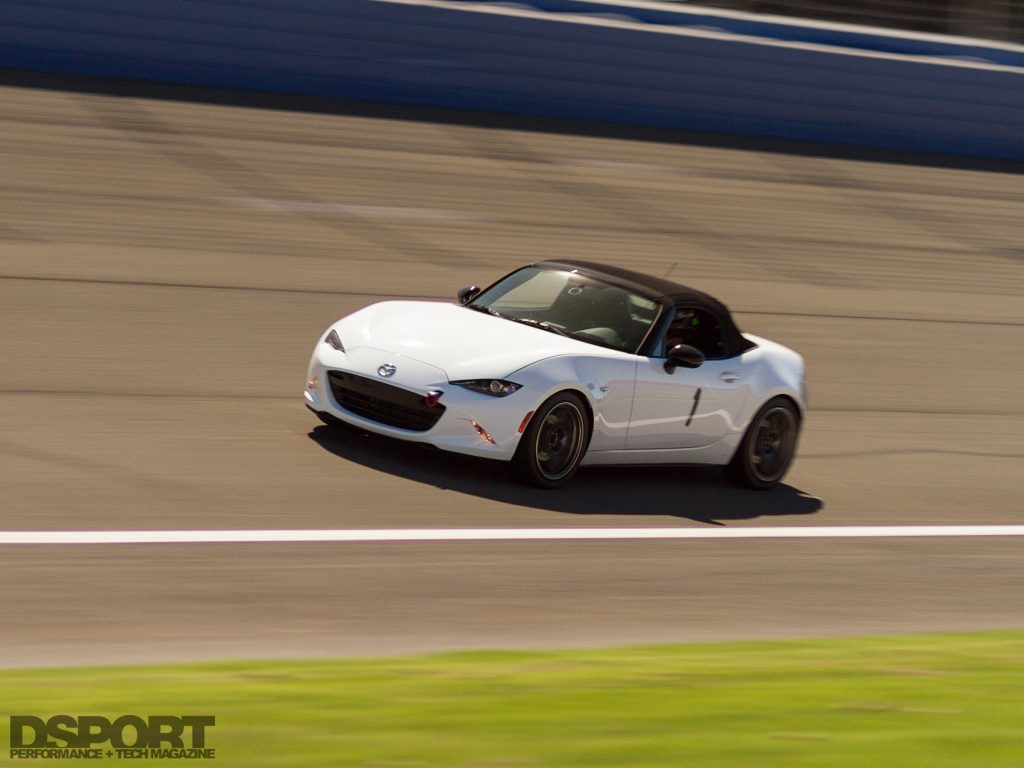 The D'Garage MX-5 Miata took laps on track throughout the day
Until Next Time
In its 19th running, SevenStock and the rotary show no sign of going away any time soon. Although the Wankel engine struggles to make it into modern day racecars and streetcars, largely due to its uphill battle against racing rules, emissions requirements, and poor fuel mileage, its fanbase continues to support the platform. Despite its downfalls, the engine represents a willingness to engineer something wildly different from the competition, taking part in the automotive industry's need to innovate new ideas and put lessons learned toward future technologies. It just so happens that the rotary engine also produces a great power-to-weight ratio out of the box, spits out flames, and sounds really, really good.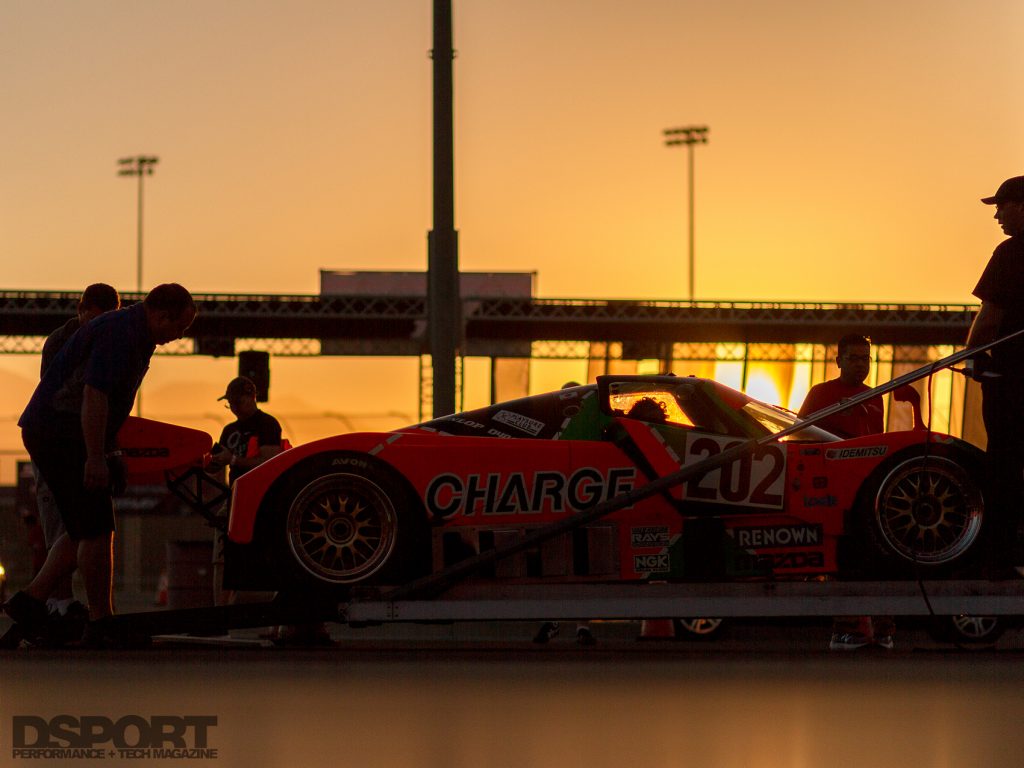 ---
Periscope Live Stream Replays @DSPORT
In the vintage pits at SevenStock
https://www.periscope.tv/dsport/1MYxNEoDeyRJw
Mazda heritage racecars on track
https://www.periscope.tv/dsport/1eaKbXgmNPVJX
SevenStock car show and vendor village walk-through
https://www.periscope.tv/dsport/1DXxyLjXMryJM