Hard to Believe that we've only just barely found out about Ana Cheri considering she lives within a stones throw from DSPORT HQ. When she stopped by our office for a test shoot, she immediately won us over with her humor and ridiculously good looks. We also tend to get along with girls who eat things other than just plants, so Ana fit right in.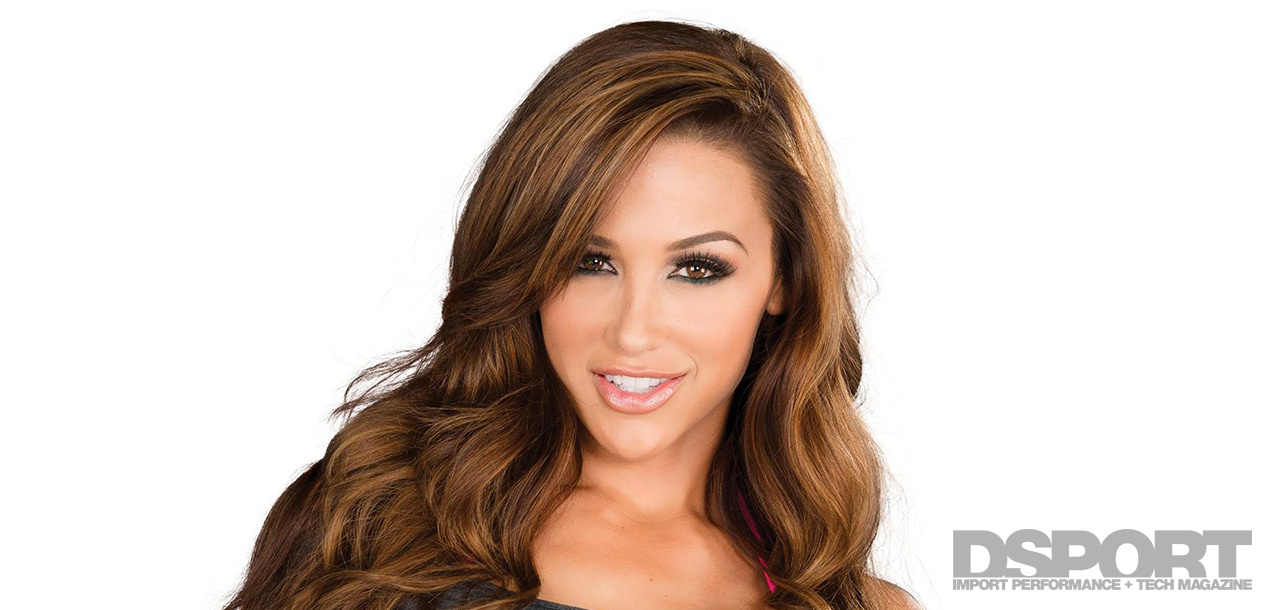 Go ahead and give everybody a little intro.
Hi, I'm Ana Cheri from Huntington Beach, California, and I like puppies (laughing). I was born and raised in Orange County, so you could say I'm an OC girl.
Everyone that has a soul loves puppies and any girl born and raised in Orange County is an OC girl. Tell us something we don't know. What's your ethnicity? Our guesses range from "Indian with a feather" to angel from Heaven. Care to shed some light?
Good guesses. I'm part Native American, part Hispanic and part Caucasian.
That's funny. I always have trouble finding Caucasia on a map. If you want to keep your specific ethnicity a mystery, let's talk shop. How did you get into modeling?
I always wanted to be a model. In high school, I had low self esteem and doubted that modeling was for me. When I graduated I came out of my shell and gave it a try. Long story short, my stepmom actually convinced me to go to this small audition. Everything took off from there.
Based on how much input you provided when we asked what you'd like to eat for lunch, you obviously enjoy food. What are your favorites?
Yes. I am a total foodie, in the weirdest way. I love the worst kind of food. I'm all about junk food. Chips, candy, chocolate… all of it. My favorite junk food is Reese's Peanut Butter Cups. They are the perfect blend of sweet and salty. If you really want a food adventure, try going to a convenience store and putting nacho cheese in a bag of Flaming Hot Cheetos. It's sooooo good.
Maybe you could get away with that due to your looks. We'd probably get rolled by security if we tried that. You mentioned that you had done some modeling in the automotive performance industry. Are you into cars at all?
I've always been into cars. My first and favorite car of all time was my 1986 Chevy Camaro. It was my baby. I loved it. My current car, a Jeep Grand Cherokee is nice but not very sporty. I love fast cars, but I tend to drive too fast. When I had my BMW, I got speeding tickets on a regular basis.
A 1986 Camaro and a bag of Flaming Hot Cheetos doused in convenience store nacho cheese. That is some serious junk. Have you considered counseling? Not sure if I want to eat lunch anymore. But seriously, what is the root of your passion for junk food?
I grew up with all boys, so I'm a total tomboy. I love playing sports and eating junk food. I'm always down to just hang out with the guys. I grew up really really close to my brothers. We talk almost everyday. I love them.
Tell us about your worst date?
I'm still trying to forget it, but I'll tell you what I remember. It was around New Year's Eve or 4th of July because of the fireworks… just listen. This guy asks me if I want to go to Disneyland to see fireworks. I was like, "hell yeah. We're going to Disneyland." But no. Instead, we drive to a parking lot down the street from Disneyland with half of a view of the fireworks. He pulls out a bottle of wine and says "we're watching the fireworks!" At that point, I just said "No, this isn't happening. Just take me home." I was really disappointed, I had my Mickey ears in my backpack and was so looking forward to the happiest place on Earth.
Three favorite things, GO!
Number one, "fuzzy things." You know kittens, puppies, blankets, anything fuzzy. Number two "junk food." We covered that already. And, let me think. Um. "Photoshoots" are number three. I get paid to dress up, smile and hang out with the DSPORT guys.
Any last words?
Thank you to all of the DSPORT crew. A big thank you to my make up artist Val. For all you readers, if you want to keep up with me follow me on Instagram @anacheri.
---
[ajax_load_more post_type="post" posts_per_page="1″ max_pages="15″]