Thirteen thousand square feet. Fully-equipped precision engine machine shop. A 2,000-wheel-horsepower, all-wheel-drive dynamometer. A dedicated fabrication area and garage. We put just about everything that any import performance enthusiast would dream of under one roof. And here's why we did it.
Text by Jun Chen // Photos by Jun Chen and Richard Fong
A Look Behind the DSPORT Logo
Having worked out of a small shack in the back corner of a strip mall for over nine years, we realized that our expansion needed to include more than just office space. We needed to build a facility that enabled us with the tools to deliver content that trumps what you can find online or in any other publication. With that specific goal in mind, we set out to design and build our dream facility.
Garage Life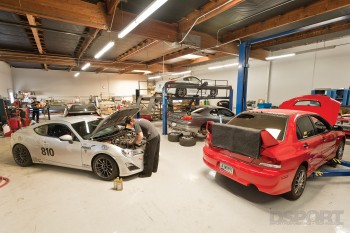 Originally housed in a 1,440-square-foot office, we set our sights on a pair of 6,500-square-foot adjacent buildings to become the next DSPORT headquarters. Working on our cars in driveways, cramped garages and in the parking lot behind our old office madeproject-car builds long and difficult. At the time, our relationship with XS Engineering and other facilities helped us tremendously; however, it was frustrating that we had to outsource any project or task that involved a lift, dyno or machine work.
---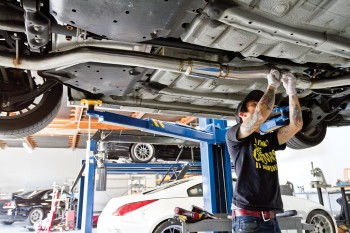 For the new facility, a full-service garage positively ranked high on our list. To this end, we definitely met the mark. Our garage incorporates both a two- and four-post lift, Snap-on tools, Royal Purple and ENEOS lubricants, a welder and our lead designer and fabricator, Len Higa. Having worked at A'PEXi in the R&D department, Design Craft Fabrication and built concept cars for Scion and Lexus, Len helps DSPORT take on some of the loftiest project builds in the industry. He's put back together the RH9 R33 GT-R from scratch, engineered and fabricated solutions to problems like the VQ35 trans in our Project 240SX and much more. Previously, project builds would take countless weeks, months and sometimes years of back and forth trips to the shop to finish. However, having his skills harnessed in house has cut down that time to a fraction of what it once was.
---