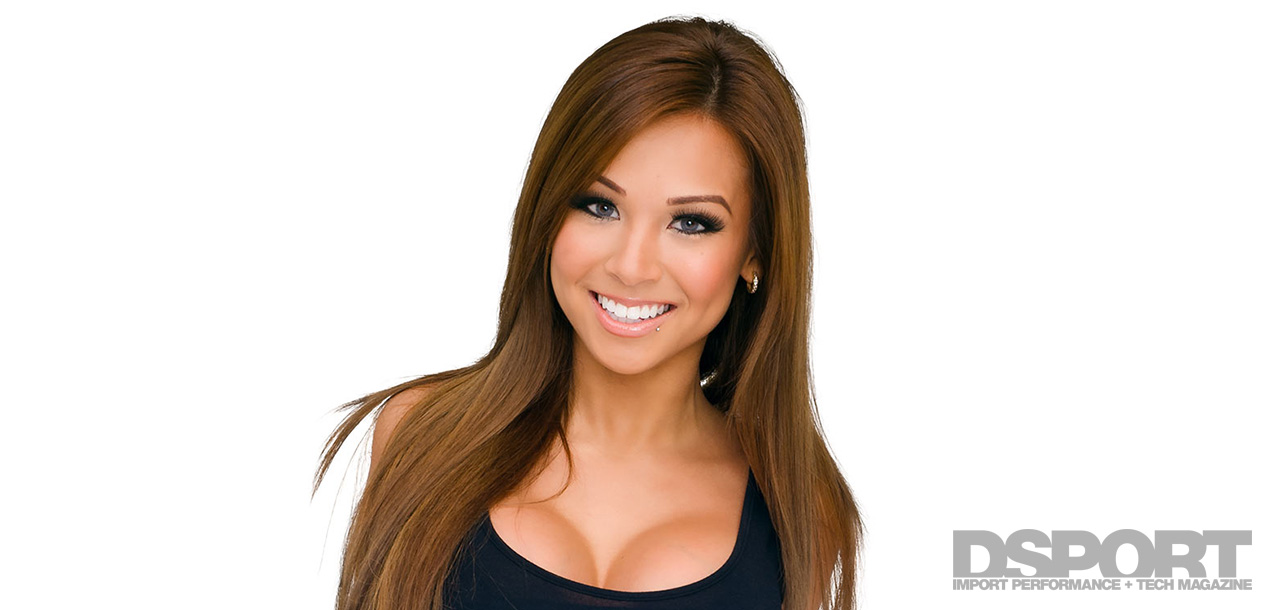 Import model superstar Dannie Riel first graced the cover of DSPORT Magazine #51
when she was a fledgling maple leaf just out of Manitoba, Canada. Since then, she's continued modeling and branched out into other areas of entertainment including singing and acting. Of course, she still models regularly and can be found all over the internet thanks to her various online social networks and public appearances. In fact, she was voted as one of the Top 10 Models in our 100th Issue last year. We caught up with the Winnipeg wonder to get the "Riel" scoop on Dannie.
It's been five years since your last cover. How is Dannie Riel different today than when she was on the cover of Issue 51?
I've matured a lot over the past five years but I'm still the same crazy old Dannie! I've been exploring singing and acting and really trying to make a push into the entertainment industry.
You were chosen as one of the Top 10 DSPORT Models of all time in our 100th Issue last year. Do you find a lot of people recognize you from that cover or your import scene appearances?
People recognize me because I'm awesome! Just kidding – the DSPORT cover helped me out a lot, especially in getting coverage in the import scene in the US since I'm based out of Canada. Actually, at the airport on the flight here, I ran into a fan that was pretending not to know how to fill out her declaration form. I saw her grab a form and bring it up to me without even looking at it, then she asked if I could help her fill it out. When I told her to just read through it and I would help her if she still needed it afterwards, then she jumped right into, "Oh, are you Dannie Riel?" It was funny.
Did you make any New Year's Resolutions for 2012 that you've already failed to keep?
My resolution was to eat anything and everything I wanted for ten days straight. I was in Los Cabo, Mexico for New Years so it was really easy to find good Mexican food. Eating makes me happy so eating like a pig for ten days without any guilt was simply amazing. I highly recommend giving yourself some time to just "let go," as long as you have the will power to get back to the gym afterwards.
Well, it looks like you were able to get back to the gym in time for our shoot. Tell us about this rainbow sprinkles doughnut you're eating right now.
No. Next question, please.
Do you have any famous model friends that you hang out with regularly?
Nope, sorry! I think most models have different interests than I do. For me, there's pleasure in the simple things that life has to offer. I stay close to a handful of people because I'm big on loyalty and these days finding someone loyal is getting more and more difficult. I would rather be able to count all of my friends on two hands than to have hundreds of friends that will never truly look out for your best interests.
Since your modeling career is going well, is there any chance that we'll still be able to ask you back for your Third Date in five years?
If you play your cards right, you might get lucky the third time around. Kidding again! I'd love to come back and shoot with you guys. I just hope it's way sooner than five years – holy smokes!
Fantastic. Would you like to close with some parting words for DSPORT readers and your fans?
I want to give a big shout-out to all of my supportive fans who have stood by me all these years; I really do appreciate it. A special thanks goes out to my family for being so understanding and for being as solid as I need you all to be. Lastly, thanks again to DSPORT for having me back again and I hope I'll be seeing all of you soon!
---
[ajax_load_more post_type="post" posts_per_page="1″ max_pages="15″]