Neither Kim Lee nor Natasha Yi is a stranger to DSPORT. In fact, both models have graced the cover twice in the past. This month, a new movie called SPEED DATING hits select theaters. Both Kim and Natasha had roles in the movie, so be sure to check it out. For those not familiar with Kim and Natasha, here's what we can tell you.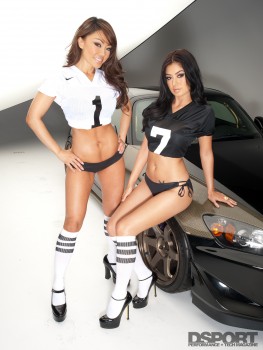 Natashi Yi may look familiar because she seems to show up just about everywhere. Natasha has worked on TV game shows, appeared in music videos, modeled for print campaigns, appeared on dozens of magazines and appeared in motion pictures. Natasha first appeared in DSPORT with issue #25. This was our January 2005 edition that set a sales record for its time. Natasha again made the cover for issue #38, just before she made a move to New York City for a couple of years. Now spending time between Los Angeles and San Francisco, Natasha is still one of the busiest models in the industry. Recently she bumped into fellow DSPORT cover model Kim Lee while on the set filming the motion picture SPEED DATING. The two girls hit it off and when Kim mentioned that she got her big break with DSPORT, Natasha decided to give us a call and convince us to put both of them on our December 2010 edition (issue #97). After seeing some pictures from their latest shoots, we couldn't say "no."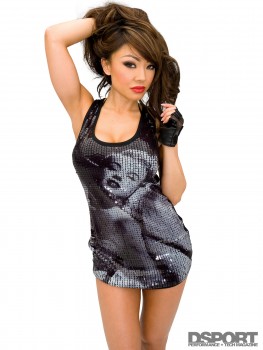 DSPORT: Welcome back to So Cal, how did you like New York?
Natasha Yi: New York City was quite an experience. The food, culture and fast pace environment were all awesome. I did miss the So Cal weather and driving a car. I'm really happy that I went there, but I'm even happier to be back.
DSPORT: So tell us a bit about this movie?
Natasha Yi: It's called SPEED DATING and just hit select theaters around the country. Kim and I have some interesting roles. I don't want to spoil it, but we both had lines. It was fun and I look forward to more work in film.
DSPORT: So what's your secret to keeping so busy with work?
Natasha Yi: You have to be willing to go wherever there is action. Los Angeles is the place to be for models and aspiring actors, so that's why I spend so much time there. If you were to check out my twitter feed, you'd see that 90-percent of the tweets are about upcoming jobs.
---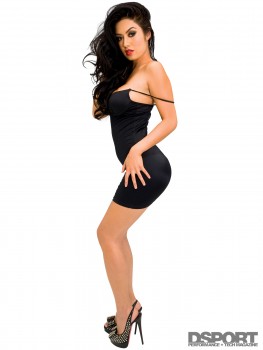 As everyone in the office knows, Kim Lee is a favorite of someone on the staff. We don't want to give it away, but we will say that this person shares the same initials as Richard Fong. We originally discovered Kim Lee when she sent in some test shots to us. After receiving the shots, we put together a cover shoot. This was Kim's first-ever shoot and needless to say, Kim's only gotten better with time. When shot for issue 66, Kim was looking good. But for this issue, we think that Kim is looking even better.
DSPORT: So you met Natasha on the set of SPEED DATING and just hit it off?
Kim Lee: Yeah. We got to speaking about some of the work that we had done and when I mentioned DSPORT, she told me that she had also shot twice for the cover. She said that we should shoot together and promote the movie.
DSPORT: Was it fun to do this film?
Kim Lee: I really enjoyed it. I just got a part in the upcoming Hangover 2. This will be my first Hollywood big-budget film.
---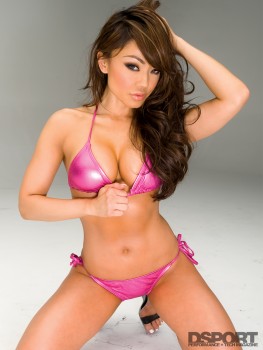 DSPORT: We also noticed that the other posts are usually about food or exercise. What's the secret to staying fit?
Natasha Yi: There isn't really a secret. Eat better and move more is a good motto. I really try to eat healthy with good portion control and then I train hard too.
DSPORT: Anything else new in your life?
Natasha Yi: I don't think so. Did I mention I hate interviews?
DSPORT: Yes about six times, but we didn't write that down. Come to think of it, you sent us a fairy tale story for your first model interview and then you tried to send along a general question and answer work file for this interview. You really do hate interviews.
Natasha Yi: See. I wasn't joking. I hate interviews, but I love interacting with my fans. So don't get the wrong idea. In fact, check out my website or my twitter feed. My tweets will inspire and motivate you. If they don't, you'll enjoy wasting your time reading them. Thanks again to everyone at DSPORT and to all the fans. Love ya.
---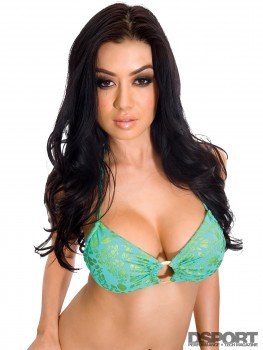 DSPORT: Wow. You've come a long way in the past few years. So now you're Hollywood. We heard a rumor that you were dating Kanye West too.
Kim Lee: What? What did Natasha tell you? Hey Natasha!
DSPORT: Wait. Don't kill Natasha. She didn't say anything. We saw something on a website post.
Kim Lee: Oh. OK. I'm not dating Kanye. We did meet at a video shoot. He's just a friend.
DSPORT: Hold on. That RF guy in the office is singing some Biz Markie…"But you say he's just a friend." Are you a Biz Markie fan?
Kim Lee: Electro or dance music that's pretty much what I listen to. It's music that makes me happy.
DSPORT: That's actually music that makes us angry. What else are you doing now? Are you a student, a worker, both, neither?
Kim Lee: I'm a working machine. I can't sit around and do nothing. I'm constantly going to auditions, making calls everyday and taking care of the salon. Basically, a little bit of everything. "Work like you've never been rich," that's what I tell my friends.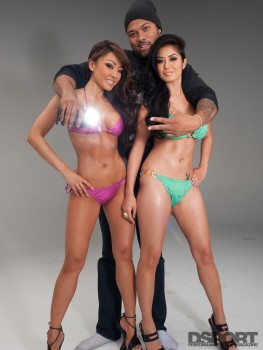 DSPORT: What's your plan for the future?
Kim Lee: I love modeling, but I really love doing business. I'm investing my money and I can't wait to launch my clothing line next year. My partners and I have been planning this for a while and we're finally doing something about it. So I'm excited and motivated. I'm at that age where I feel like I'm ready to do bigger things. I feel like you have to believe in yourself. If you don't, no one will. If you want something, go for it and don't give up until you get it.
DSPORT: Have you any parting words for DSPORT readers?
Kim Lee: First I want to thank Mike, Mitsuko, Vinh and Jeren at DSPORT for giving me an opportunity to work with you again. This is my third cover! It was like just yesterday I was a young lil' girl and now look at me! It's always fun seeing u guys. To all my fans and the people that have been supporting me and showing me love, thank you for all the kind messages and comments. I love you all. XOXO
---