Bangkok Auto Salon took place at Impact convention center in Bangkok, Thailand from July 3rd through July 7th. The event is one of the largest modified shows in Thailand. Every year the event features cars from Tokyo Auto Salon. This year's featured cars were the Honda Civic Type R by HKS, Mazda MX-5 RevYou ND Roadster, Toyota Hilux Revo Pandem, Toyota 86 Future Sports, FIRSTCLASS Rocket Bunny Nissan GTR, Suzuki Jimmy Black Bison, Subaru VARIS X RUNDUCE STI, and Liberty Walk LB works X Y'z One BMW I8. The Liberty Walk I8 is a special collaboration with Y'z One in Japan. 
Text and Photos by Brandon Johnston
---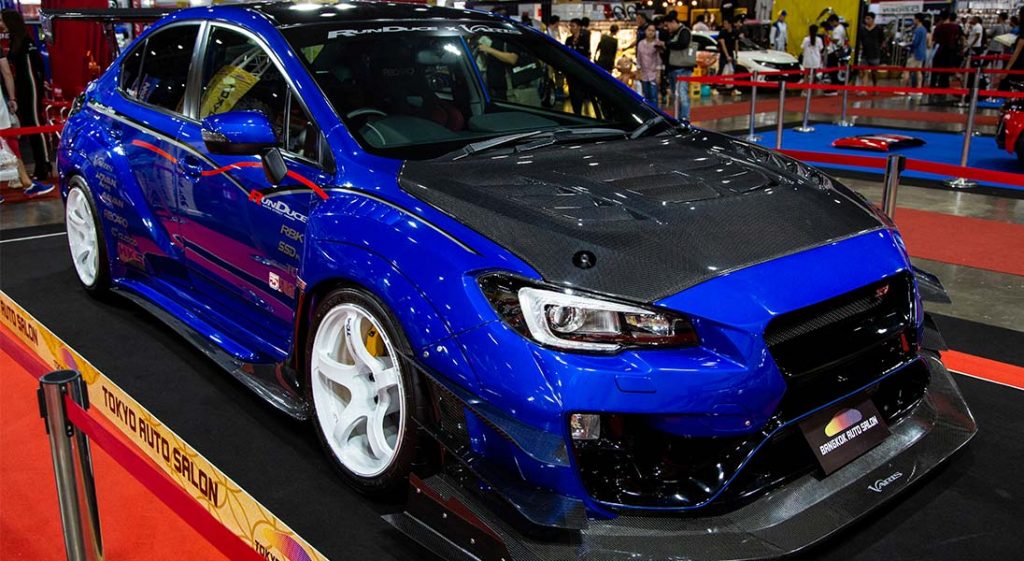 Special guests drift king Keiichi Tsuchiya, Tatsuru Ichishima (head of Spoon), and Japanese race queens Hazuki and Koto were seen at the show. Hazuki and Koto were the main attraction for this year's sexy car wash held every day of the show. Popular booths this year were Liberty Walk Thailand powered by Infinite Motorsport, Garage Unique, Drift to Drive academy, PP Superwheels, and Oak CLub Thailand. Drift to Drive academy along with Nexzter brakes displayed their DC competition drift cars and the Toyota Hilux Revo Pandem. Oak Club Thailand held special autograph sessions with Tatsuru Ichishima while showing off their latest spoon builds. Liberty Walk Thailand powered by Infinite motorsports had a unique booth combined with Garage Unique and sponsored by Idemitsu oil. Liberty walk had on display LB works Nissan GTR R35 type 2, LB nation DAIHATSU COPEN GT-K, LB works BMW 4 series, and LB nation kit on a Toyota 86 drift car.  Garage Unique displayed their custom Honda S2000, ToyotaMR2, and BMW Z4.  PP Superwheels showed off a Toyota 86 from Garage Unique and Toyota Hilux Revo sporting their wheels along with their tire and wheel selection.
Multiple car clubs joined Autosalon and held meets at the event. On July 3rd clubs Fast2Fly and WestLost held meets. Toyota MR2, Liberate, Yaris Mania, Honda City , A31 club, and Honda FC club came out on the 4th of July.  WWorks held their Stance day along with Toyota MRS, Hiace Clubs on July 5th with JC Pepino from Works Japan was in attendance. Honda lovers showed up on July 6th for I heart Honda bkk and the RX-7 club Thailand held there RX-7 day meet at the event on July 7th.