A picture is worth a thousand words, but for the 2019 DSPORT TAS Tour, we decided to add a thousand words as well to truly do this trip justice. When I am asked who this trip is suited for, I always say it is not only for automotive enthusiasts, it also caters to any travel enthusiast. For 2019, the schedule combined non-stop fun with the freedom of exploring. From the Tokyo Auto Salon show, to tuner shops, exclusive tours, and of course, the drift experience. Join us in this story as we take you to the other side of the world.
Text by Bassem Girgis // Photos by Bassem Girgis, Tyler Hirashima, Kareem Girgis, Michael Ferrara, Brian Howley, Guy Eriksn, Steve Sawicki, Tu Tran, Jeffrey Dowgiert, Alvin Chiang, and Marcell Levi
DSPORT Issue #205
Registration is currently open for the 2022 DSPORT TAS Tour! Click here to register!
---

GT-R LM Steve Sawicki prays to the GT-R Gods in front of the only road-legal R33 GT-R LM. It was built to take part in the 1996 Le Mans.
Nissan Heritage
Jet lag is usually not an issue. If you stay up the day you arrive and not go to sleep until 10:00PM, you should have plenty of energy to keep you going, especially when you see the cars at the Nissan Heritage Collection. We had the opportunity to get an exclusive guided tour of the museum. If you're a fan of Nissan or automotive history in general, this place tells the perfect story, from the beginning of the Datsun/Nissan era, to the production of some of the most capable vehicles in motorsports' history. After a brief introduction and history lesson, the guided tour started, going through each car that played a role in Nissan getting on the motorsports' map. After the tour, attendees were able to walk around and get a closer look at some of their favorite cars. The history of the legendary GT-R is displayed within these walls, from the very first model to the current Nissan R35 GT-R.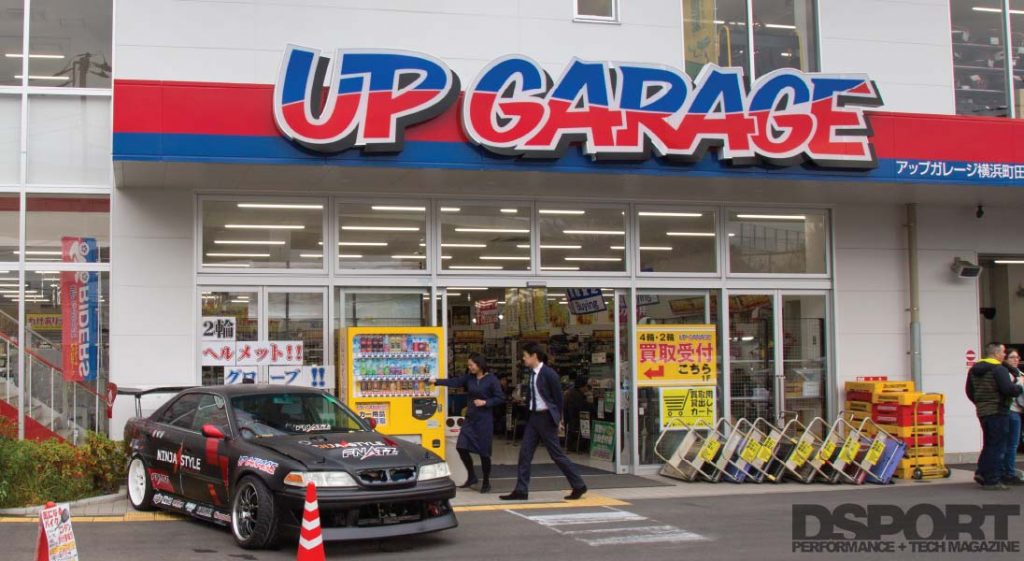 Shortly after, we made our way to Up Garage, where attendees explored the used auto store looking for fortunes. You never know what you can find, from parts you can never find in the USA, to parts you didn't know you needed, but you will always find something during the Up Garage stop.

Tomei Powered
After admiring the history of Nissan and Datsun at the Nissan Heritage Collection, we made our way to the legendary Tomei Powered. Tomei Powered has been a force to be reckoned with in the aftermarket tuner scene for over 50 years. If you're a fan of anything import performance, you know this tuner shop. We got a tour of the facility and their production process of their camshafts, exhausts, etc. The attention to details we saw cemented the Tomei name as one of the best on the market. An interesting sight was a gentleman that has been with the company for a few decades. He can tell the measurements of camshafts' lobe sizes by just feeling them with his hands. Attendees had to purchase Tomei stickers and emblems, knowing they will add some Tomei Powered parts to their cars when they get home. This place might be small in size, but the level of quality is simply unmatched.

Mine's MotorSports
You may know them because you're a Nissan GT-R fan, you may know them because you're an import performance enthusiast, or you may know them from the Paul Walker YouTube video where he visited Mine's and drove two of their GT-Rs. Mine's shop was established in 1985 in Ashina, Yokosuka City. Since then, they have been creating quality performance solutions for the R32, R33, R34, and R35 GT-R. They are no strangers to breaking records. Mine's has been setting records since 1988 almost every year until 2009. One of their latest records was the fastest lap time at Tsukuba Circuit with their R35 GT-R piloted by Tetsuya Yamano. Michael Ferrara, Publisher of DSPORT Magazine, had the chance to drive Mine's R34 GT-R. Through his experience, he explored the quality of the builder and how difficult it is to make a U-Turn on the streets of Japan. From there, it was time to rest up and prepare for TAS.
Jeff Dowgiert

This was my second time going on the DSPORT TAS Tour, and by no longer being a tour rookie, I thought I knew what I was getting into, but the DSPORT TAS 2019 tour proved me wrong and provided more fun and excitement than I ever imagined. From cruising in Mari-Karts over the streets and bridges of Tokyo, to visiting iconic tuner shops such as Mine's and Tomei, to riding shotgun with Japan's drift legends, and of course the always impressive and overwhelming Tokyo Auto Salon, all while having Japan and its unique culture as the backdrop. But when people ask why I enjoyed this trip so much, it's simple… I look back at the people I met along the way, whether they were fellow DSPORT TAS Tour members, DSPORT staff, or local citizens, and realize how amazing, helpful, and friendly everyone was. I can say I left Japan with new friends, fond memories, and a new nickname. Would I go back? Yes, of course. I just need to know when DSPORT requires my TAS 2020 deposit.

Tokyo Auto Salon
Finally, it was the big day. If you live anywhere outside of Japan but you're a fan of Japanese performance cars and the aftermarket scene in Japan, there is no better place to be than the world famous Tokyo Auto Salon. Even the DSPORT tour has Tokyo Auto Salon in its title. DSPORT Tokyo Auto Salon Tour attendees got the chance to walk the aisles of the Tokyo Auto Salon show a few hours before the general public is allowed into the arena. This gives us all plenty of time to get good, close looks at some of our favorite tuner booths and cars before we are drowning trying to make our way through the show. Top Secret was an important stop for all. Of course, there was no shortage of GT-Rs at this booth, all built with a classy "Top Secret" touch. Fortunately, Smoky, founder of Top Secret, was available to take photos with everyone and sign whatever they wanted.

More TAS
The Tokyo Auto Salon show has been described as an overwhelming event with more colors that you've ever seen under one roof. Some cars may be over the top, some may look stock, while most are done just right. However, for all of us import fans, being at the Tokyo Auto Salon show is an absolute must in order to experience the Japanese car culture and get some ideas for our very own builds. As always, the show never lacks Nissan GT-Rs, Mazda RX-7s, Toyota Supras, and Subaru STIs. Attendees had to split up and seek their own favorite tuners to see what they're up to. Although it was cold in Japan, the show was simply on fire. The response from the tour attendees regarding the Tokyo Auto Salon show stop was great. With how popular this stop is, we may be adding an option on our DSPORT Tokyo Auto Salon Tour for attendees only wanting to attend the show and do some Japan sightseeing.
Marcell Levi/ aka Blackbird – Tour Veteran

What a GREAT way to start off the New Year! Joining DSPORT old friends and making more new friendships is what it's all about! I am a longtime "Tour Veteran" and I have to say that I love coming to the tour each time to see what else I can absorb from the Group and Japan itself.

Japan is a wonderful land of fun and quirky things, but most importantly for us car fans, it's a Mecca for being able to see all of the iconic cars we all grew up playing with on Tokyo Extreme Racer or Gran Turismo when we were younger. Each year I learn more and more about Japan to the point where I feel more and more comfortable venturing out on my own. If you have wanted to go to Japan but are hesitant due to maybe not knowing enough Japanese yet or maybe you are apprehensive on traveling abroad without any safety of friends to watch out for you, then I STRONGLY ENCOURAGE joining the tour next year!