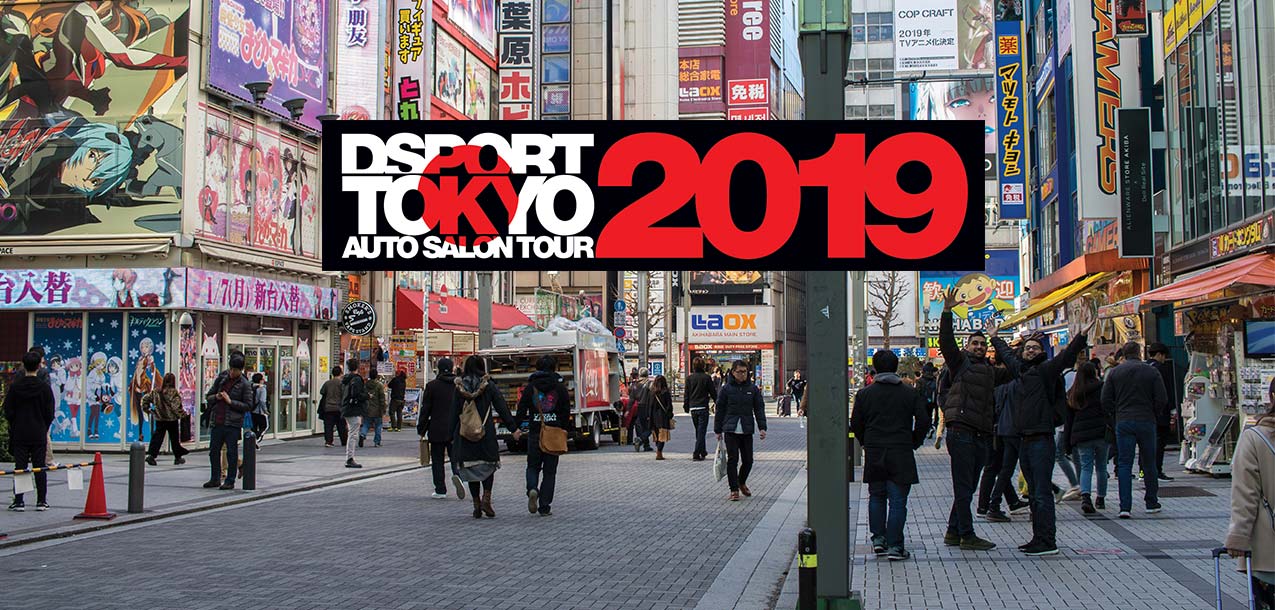 Goodbye TAS
One of my personal favorite things about the Tokyo Auto Salon show is seeing the creative artwork that tuner shops like to add to their cars. Whether it's a GT-R or a Lamborghini, the Japanese have their own animated way of expressing themselves on their cars. Although these decals may not be received well in the United States, seeing them in their own elements and seeing how open the Japanese are about giving their cars a unique touch is simply mind-blowing. Within the walls of the Tokyo Auto Salon, you may find the fastest cars, the best quality builds, as well as non-functional cars built just to show off. Regardless of the purpose, this show will provide you with just the right visuals, ideas, and madness to go home with a few stories to tell. It was time to wrap up the Tokyo Auto Salon stop and head back to the Prince Shinagawa Hotel to rest up before another favorite stop on the DSPORT Tokyo Auto Salon Tour the next day.
Joaquin J Garcia / "Average Joe" – Tour Veteran

The sights, the sounds, the smells of Tokyo! Where the tradition of geisha and The Coming of Age Day run head on into the eclectic dress of Japan's modern youth and the sweet smell of crepes that lingers in the air. This intersection is Harajuko. This is my third year in a row on the DSPORT tour and the absolute best part of it all are the people. The DSPORT staffers are just as interesting as the participants. Mike is a nerd. His intimate technical knowledge of everything Skyline is amazing. I can't keep up, but the enthusiasm he has in sharing a little of what he knows keeps your attention. And he karaokes a mean Neil Diamond! Bassem fubs the rap lyrics, and Kareem can kill a pitcher of beer before the end of the second verse! But every moment they didn't have a camera or mic in hand, they were always asking participants about ways to make the trip better, and even feedback on the magazine itself. Finally, if it wasn't for Mikiko, we would all be "lost in translation."

Mari Car
Whether you call it Mari Car, Mari Karts, or Mario Cars, this stop has become one of the most popular stops on our DSPORT Tokyo Auto Salon Tour. On this day, we get to dress in superhero costumes and drive Mario Cars around the streets of Tokyo for almost two hours. Tour Veterans will tell you to wear everything you have for this, because once you get past the cold, you are faced with an immense amount of thrill. There is no feeling like going over the Rainbow Bridge driving an extremely responsive Mario Car, and seeing the water from the Tokyo Bay around you. This stop combines sightseeing with adventure and pure adrenaline. You've got control of your throttle, so you can go as slow as you want. However, for all tour attendees, the pedal was always floored and speeds of over 55 mph were achieved with these little cars. From there, we winded down by going to Odaiba where the famous life-sized unicorn Gundam Statue stands for some food and sightseeing.
Alvin Chiang

The DSPORT Tokyo Auto Salon Tour was definitely a memorable and amazing experience! I highly recommend anybody that wants to experience Japan and the car culture to do this tour as it gives you a good variety of things to do. There are just too many highlights for me to list!! Not only did we get to go experience the Tokyo Auto Salon, but also got to eat so much delicious Japanese food, dress up as characters and drive Mari Cars around the city, and go drifting with professional D1 Grand Prix drivers. I definitely will come back on this tour with DSPORT. I would like to thank DSPORT staff, Mike, Tyler, Bassem, and Kareem for being our wonderful hosts and guides and for making the trip an unforgettable experience along with all of the new friends I got to make and got to experience this trip with.

Japan, We See You
How can we describe Japan? It is the land of some of the politest citizens you will meet. It is a country that values the same cars as we do. It's a place where you can get amazing food, where pork is almost a completely different animal and tastes entirely different than what we have here in the United States. It is also where you will see some of the craziest shows in the world. The Robot Restaurant was a quick stop for some of the tour attendees seeking some entertainment. You have never activated all five of your senses simultaneously quite as much as you would watching this show. The lighting will get all of your attention, the music can be heard and felt, and the smell of popcorn will distract you. Just as you're distracted thinking about the next break when you can get yourself a bag of popcorn, a giant dinosaur will enter from one side to fight a robot. You will quickly forget about your appetite and only get it back after the girl gets eaten by the dinosaur and the curtains lower.
Tu Tran

At first I wasn't sure if I should attend the DSPORT TAS 2019 Tour by myself since I did not know anyone. However, after talking with my friend, John Bauer, who has attended the tour multiple times in previous years, I knew that this would be the best opportunity for me to experience the JDM car culture. Reflecting on the trip after I arrived home, I was not disappointed at all!

I really enjoyed the friendly banter we had with the group on the long bus rides to TAS and the Honjo racetrack. The late night outings eating Izakaya and Sukiyaki, the intriguing experience at Robot Restaurant, playing hilarious games at One Piece Tower, and finishing with bowling on the last day were all memorable experiences that will stay with me for a long time. It shows you don't have to be a car enthusiast to have a great time on the tour with DSPORT.

Free Days
A free day may sound relaxing and uneventful, but when you're in Japan, you never want to lay low. On all of the free days throughout the DSPORT Tokyo Auto Salon Tour, attendees got the chance to explore whatever they wanted, whether it was car related or not. Coincidently, one of the free days was the Coming of Age day in Japan. This is the day Japan celebrates those who've reached 20 years old. Girls get to wear Kimonos that day, giving this experience the perfect cultural touch. For the true car enthusiasts, there was no shortage of places to go on these free days, like visiting Daikoku Futo, one of Japan's most famous parking lots. At night, the parking lot turns into a car meet where you will see all of your dream cars in one place. Free day doesn't mean you're on your own, however, the staff sends a message with some of the places they can take attendees, so you will always have somewhere to go if you're a first-timer.

Tuner Challenge
Then there is this! They say save the best for last, and although the tour is filled with "bests," deep down we know we are still leaving the best for last. The last stop at the DSPORT Tokyo Auto Salon Tour was the Tuner Challenge. We rented the entire Honjo race track and gathered some of Japan's finest pro-drifters. Tour attendees get to ridealong in these drift cars all day long. This could very well be considered the best stop on the tour.
We believe in bigger and better. Each year, we try to make the DSPORT TAS Tour that much more exciting. This could be by adding unique stops, emphasizing on the favorite stops, and always trying to get feedback from the attendees. We've been fortunate enough to have many returning attendees each year. We're always trying to make the next year the best one. Be sure to join us on the 2020 DSPORT Tokyo Auto Salon Tour.
Registration for the DSPORT TAS 2020 tour is now open! Visit
dsporttas.com
for more information.