TURBO BY GARRETT USP PRO SPORT COMPACT CLASS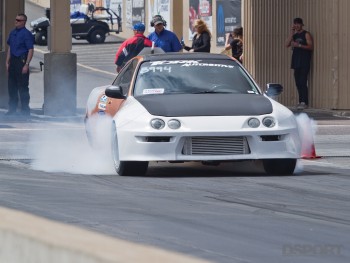 After seeing the heads-up "street" cars click off some impressive times in the first round of qualifying, expectations were high for the pro sport compact class. The pro cars are allowed to run slicks up to 10.5 inches in width and can run lower minimum weights. However, they still must maintain the factory chassis. Ninety percent of the field was composed of Hondas, the quickest and fastest being Eric Ketels and his 1991 Honda Civic. Ketels set the standard with a 10.255 second pass at 145.94 mph.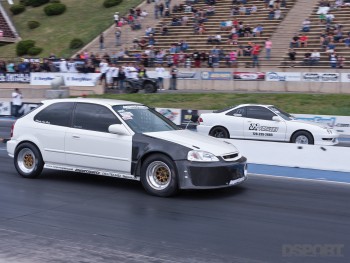 Three others were also into the ten-second range, including second seed Steve Sampier (10.686 seconds at 135.13 mph) and third seed Taylor Anderson (10.920 seconds at 120.87 mph.) Unfortunately, quick passes were offset by less than ideal passes. Like the competitors in the Street Sport Compact group, some of the eighteen in the pro class suffered from breakage and mechanical gremlins.
Turbo by Garrett Pro Sport Compact
Pos
Driver
Car
Time
MPH
1
Eric Ketels
91 Honda Civic
10.255
145.94
2
Steve Sampier
00 Honda Civic
10.686
135.13
3
Taylor Anderson
92 Honda Civic
10.920
120.84
4
Michael Ontiveros
92 Honda Civic
10.966
132.75
5
Eric Peterson
96 Honda Integra
11.619
124.08
6
Brandon Dale
95 Acura Integra
11.755
117.16
7
Todd Williamee
89 Honda CRX
11.913
106.84
8
Travis Gower
98 Honda Civic
11.946
116.16
9
Darren Kovash
97 Honda Civic
12.088
126.28
10
John Firth
97 Toyota Supra
12.441
122.58
11
Dan Willoughby
88 Honda CRX
12.556
114.48
12
Ryan Sturtevant
90 Honda Civic
12.593
77.48
13
Ryan Kendrick
94 Honda Prelude
14.040
118.66
14
Collin Walton
93 Honda Civic
14.042
114.88
15
Josh Smith
91 Honda CRX
14.447
92.54
16
David Arias
95 Acura Integra
19.199
56.75
17
Paul Richmond
89 Honda Civic
24.095
53.84
18
Brett Higlect
05 Dodge SRT-4
28.680
0.00
Low ET
Top Speed
10.255 sec
145.94 mph
Eric Ketels
Eric Ketels