With the American sports compact market hurting for more competition, Honda answered the many prayers with their introduction of the Honda Civic Type R to the U.S. market for the very first time. Battling models like the Subaru WRX STI, Ford Focus RS, and the Volkswagen Golf R; Honda had to make this one count.
Text and Photos by Chiaki Kumon
---

The King of the Nurburgring
The success of Honda's latest addition to the American market truly showed at the 2017 SEMA show, and there weren't many corners in the Las Vegas Convention Center that didn't have the Civic Type R near it. There is more to the Type R than just a flashy red logo, the exotic Japanese creation is the world's fastest production front-wheel drive car in the world. The Civic's accomplishment went beyond factory data when it broke the Nurburgring track record for FWD cars with a lap time of 7:43.8.

Unapologetic Aggression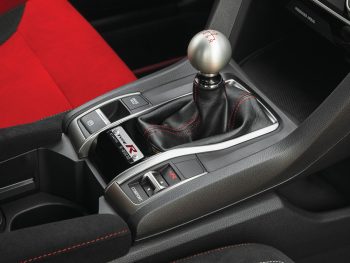 The Type R was announced to go on sale in 2017, and it already smashes records thanks to its turbocharged 2.0-liter VTEC engine, which delivers 306 horsepower and 295 lb-ft of torque. The six-speed manual transmission sports car was able to defeat the Golf R's record with the help of its multi-link suspension in the rear, limited slip differential, and adaptive damper system; not to mention the intense aero body that is an engineering masterpiece of airflow and downforce.

Type R Crate Motor
The big news that emphasized on the Type R's popularity at the 2017 SEMA was Honda Racing Line program's announcement of the Type R Crate Motor, which will be available for purchase in the United States. Honda enthusiasts have waited patiently for many years, as they watched Asian and European racers install these engines in their cars. The K20C1 motor being available in the USA could very well change the game.
Numerous manufacturers chose the Honda Civic Type R to present their products and bring all the eyes to their booths, displaying suspension products, exhausts, carbon fiber products, wheels, tires, and much more. The 2017 SEMA show was a success, and it is safe to say the Honda Civic Type R received a tremendously warm welcome from the U.S. market and its industry specialists.