If the DSPORT TAS Tour isn't already on your bucket list, this year's adventure might put it on the top of your list. If you love Japanese cars, Japanese culture and Japanese food, there is no better way to experience Japan in eight days and seven nights than on the DSPORT Tokyo Auto Salon tour. For the 2017 experience, 31 attendees joined Tyler, Mikiko, Yuko and me for a Tokyo and Yokohama experience second to none.
Text by Michael Ferrara // Photos by Mikiko Akaogi, Arvin Arrozal, Tyler Hirashima, Alex Martinez, Oliver Severino and Asad Taj
DSPORT Issue #179
---

Day 1: Flight & Check-In
While a dozen of the attendees made their own flight arrangements to arrive in Tokyo, the main body of the tour assembled at Los Angeles International Airport (LAX) on Tuesday, January 10th. An All Nippon Airways (ANA) Boeing 777-300ER provided us with extended legroom, on-demand video, in-seat USB power and available Wi-Fi for the 12-hour flight. The efficient and polite flight attendants that provided a great flying experience are a stark contrast to the angry and rude flight attendants found on most domestic carriers in the States. Free beer and wine and decent food helped the time pass quickly. After a few hours of rest and a few movies, we were in Japan!
Immigration, baggage claim and customs at Narita Airport took about the same time it takes to receive your baggage on a domestic flight. Once assembled in the terminal we united with those tour members that arrived on earlier flights. A chartered tour bus took our group and luggage directly to our hotel for check in. At the hotel, everyone received their pocket Wi-Fi for the stay. After dropping off bags, we hit the local streets to grab our first taste of Tokyo on the trip. Some people hit the Hamburg Steak restaurant, others got ramen while some of the larger groups explored the variety of offerings at the Izakaya restaurants. The mission of our first night in Tokyo was to grab a good meal and stay up until at least 10pm to synchronize our bodies to the new time zone with minimal jet lag. While some were able to stay in slumber until 6am, many woke up around 4:30am raring to go. 
Day 2: VIP Visits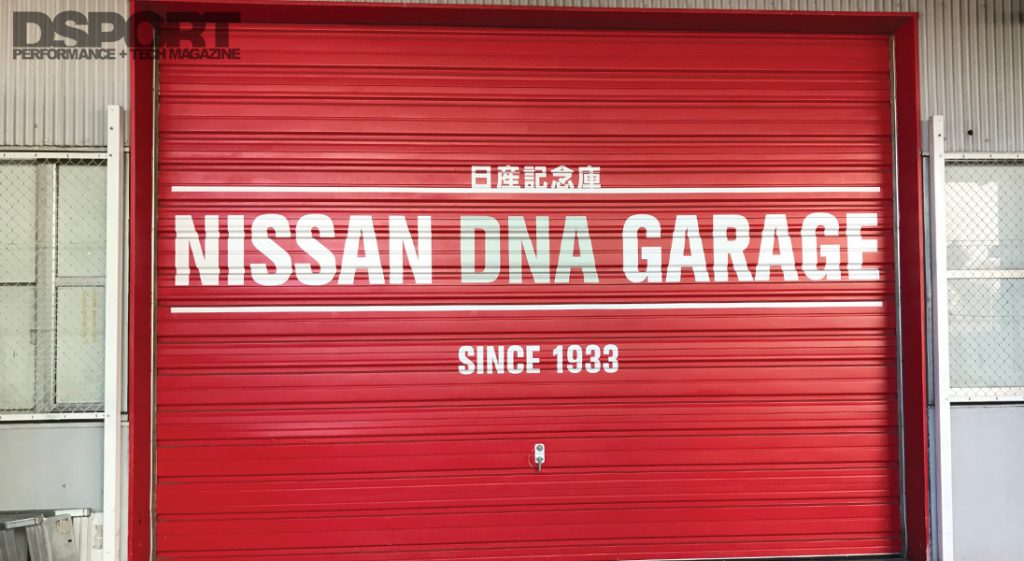 An 8:30am departure put our chartered bus on route to the Nissan Zama facility that features the Nissan DNA Garage and Heritage Collection. Arriving about an hour later, our group was given a guided tour of the vast collection that spans from the 1930s to present-day before having time to explore the collection on their own. While Zama has become a regular stop on the tour, even DSPORT TAS repeat offenders (anyone that's been on the tour more than once) discover new favorites in the always-rotating collection each year. After a break for lunch at an outdoor mall, we followed up with visits to UpGarage GT Parts and UpGarage headquarters. For those unfamiliar with UpGarage, imagine an auto parts store filled with used and new wheels, car audio and performance parts. The result is a treasure-hunting adventure. In past years, we've found rare electronics, an RB26 A'PEXi VMAX crankshaft, a brand new R33 GT-R transfer case and turbine housings all purchased for pennies on the dollar. While our staff didn't personally uncover any treasures, the tour attendees purchased everything from seats to a complete set of wheels. Thanks to our relationship with UpGarage, they were able to arrange shipping of all of the larger items to the States. From UpGarage, we cruised over to Nissan Global Headquarters to raid its gift shop for Nismo bits and to check out the latest lineup of offerings. More than half of the new cars on display will not even be sold in the States. From Nissan's Global HQ, we headed back to base camp at our hotel. A few that were still fighting the jet lag simply had dinner and took it easy while the rest explored Tokyo. Mini groups headed out to Akihabara (electronic city) and Shibuya/Harajuku (fashion and nightlight area) districts for some food and fun while having the experience of riding on Japan's rail system via a Suica card.
Day 3: Tokyo Auto Salon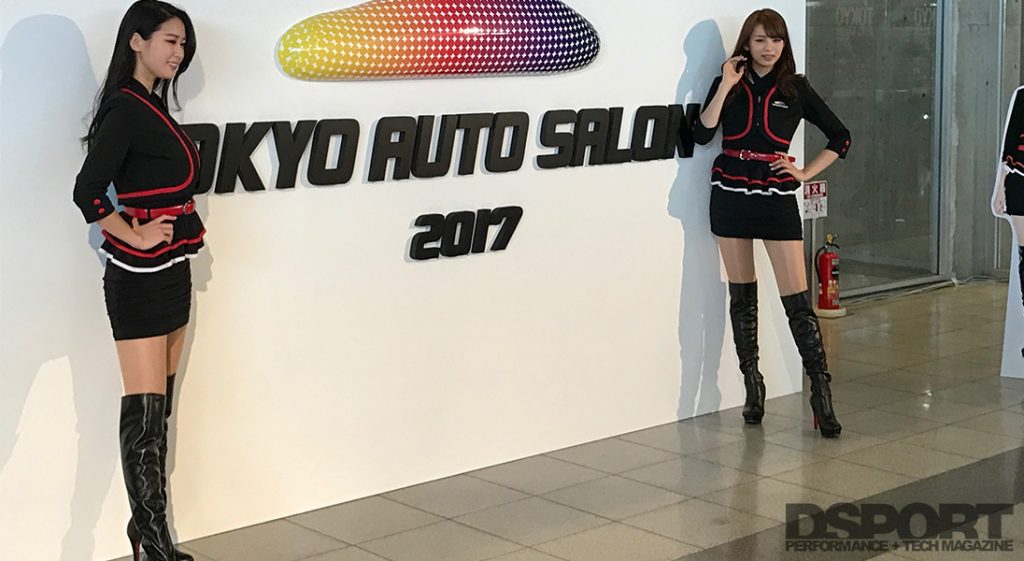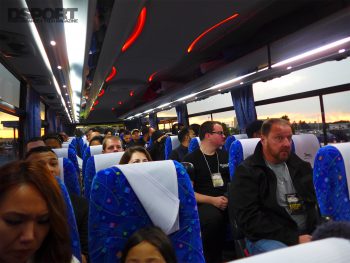 At 7:30am, we boarded our bus to the namesake attraction "Tokyo Auto Salon 2017." About an hour later, we arrived with a few minutes to spare. This free time was used to check out some of the streetcar builds in the parking lot. By 9am, our VIP passes got us in with the press to be the first to see the stars of the show. For four hours, our group had the opportunity to check out the show before the massive influx from the opening to the general public ticket holders. This was the time to get the best shots of the cars, parts and models. Once the doors opened to the general public, the aisles filled with thousands of Japan's modified car enthusiasts. We stayed until 5pm before heading back to the Shinagawa Prince to get freshened up for a night on the town. The bulk of the group decided to head to Shinbashi for a yakitori experience. While "yakitori" literally means grilled chicken, today yakitori restaurants serve a variety of meats, seafood and vegetables placed on skewers and cooked over a charcoal grill. The salty or sweet-and-salty seasoning of the food makes it a perfect companion to draft beer or sake. Since it was a Friday night and restaurants in Tokyo are not set up for a party of 35, we spread out across a dozen restaurants. Saturday's itinerary had a later wake-up call, so a few stayed out later to check out the scene.
Day 4: Odaiba Morning
At 9:30am, our group assembled in the lobby before heading to the train station to hop on the connections to get us to Odaiba. Odaiba is a large man-made island in the Tokyo Bay. Originally built in the 1850s to serve as cannon batteries to protect against foreign navies, it was redeveloped in the early 1990s to become Tokyo's largest leisure area with museums, restaurants, malls and arcades. The location will host both beach volleyball and gymnastics at the 2020 Summer Olympics. We explored Odaiba to check out Mega Web. Mega Web is a massive two-story facility that showcases the newest vehicles and technologies from Toyota. We also visited the classic car collection on site before heading to Diver City for lunch. We also paid a visit to Super Autobacs to check out Japan's premier retail destination for car enthusiasts. Imagine a Pep Boys sized location full of car audio, performance parts and accessories with a service center that performs the installation and maintenance of vehicles. A few tour attendees were even lucky enough to get a ride in the Super Autobacs performance electric vehicle. The rest of the afternoon was open for attendees to do as they please before we met up again for DSPORT's world famous Izakaya experience.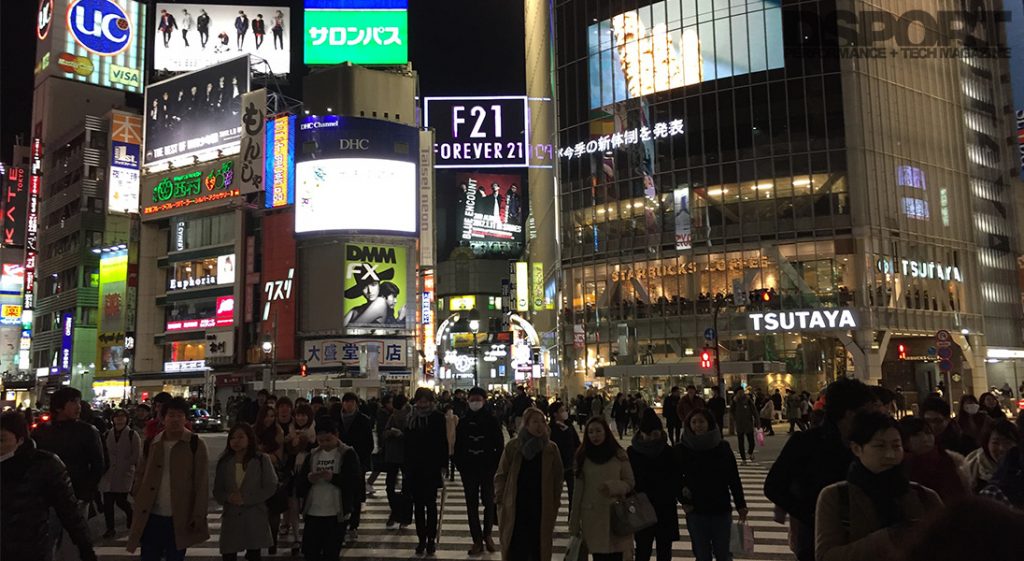 Our Izakaya experience in Shibuya featured a two-hour all-you-can-eat and all-you-can-drink dinner. This year's group may not have been the rowdiest, but they definitely knew how to have fun. After Izakaya, a few people hit the clubs before catching the last train back to the hotel.
Day 5: Free Day or Optional Nismo/Yokohama Experience & Robot Restaurant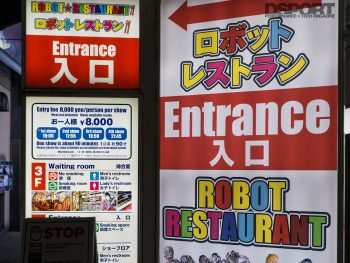 Originally planned as a free day or an opportunity to head back to Tokyo Auto Salon on its final day, this Sunday offered some optional tour activities. Over half of the group visited the NISMO Omori factory before a half-day of shopping in the Yokohama area. That night, about half the group headed to the Robot Restaurant in Shinjuku. Robots, lasers, bikinis, samurais, dinosaurs and even a giant panda are part of the 90-minute culture shock that can only happen in Tokyo.
Day 6: DSPORT Tuner Challenge
Thanks to the efforts of D1GP driver Takahiro Ueno and his staff at T&E Vertex, DSPORT Magazine was able to host its first-ever tuner challenge event in Japan. Over 50 amateur drift and grip racers joined 10 of the top D1GP and Formula D Japan drivers for a day of tire melting at Mobara Twin Circuit. Tour attendees took ride-alongs in the pro cars for a once in a lifetime experience.
Day 7: TOMEI & TEIN Factory Visits
To provide the tour attendees with a taste of R&D and manufacturing in Japan's aftermarket, we first paid a visit to TEIN's suspension factory before visiting TOMEI Powered to watch camshafts being made. TEIN's facility and staff kept to a precision schedule to demonstrate the quality and capabilities of the company. The testing and evaluation equipment is second to none and the cleanliness in the assembly room exceeded operating rooms. Every employee is encouraged to be his or her best in the effort to produce the highest quality components possible. From a manufacturing standpoint, we were impressed to see how many process-specific machines were in the assembly line. While TEIN's operation was large scale and extremely efficient, TOMEI Powered's operation was impressive for being able to do so much with so little space. If a similar operation was present in the States, it would have likely had four to six times the space.

Day 8: Wrap it Up
Thanks to some smart planning, the tour was able to get a full day in Tokyo before having to head to Haneda airport for the return flight. For many, this day served as the souvenir shopping day or the day to visit some shrines and historical sites around the city. For others, it was just one more opportunity to hit a maid café or owl café for the last time. All in all, the DSPORT 2017 Tokyo Auto Salon tour will go into the books as the best to date. With a limit of just 40 seats available for the 2018 tour, you may want to reserve your spot on March 1st when tickets go on sale. Visit dsporttas.com for 2018 DSPORT TAS Tour signups.