In the 100th issue of DSPORT Magazine, we evaluated and ranked the major automotive manufacturers in our segment. Although that was only six years ago, a lot has changed since then. Ford rolled out a huge presence with its EcoBoost lineup, Honda delivered the Civic Type R to the U.S., the EVO saw its demise in the form of the Final Edition, and Toyota and Subaru introduced the 86/BRZ/FR-S platform. We decided to take a look back and reassess the manufacturers' ability to offer relevant performance vehicles in our market from 1990 to today. We then graded each company based on its current vehicle offerings, their performance levels out of the box and their potential for tuning.
Staff Report
DSPORT Issue #184
---
BMW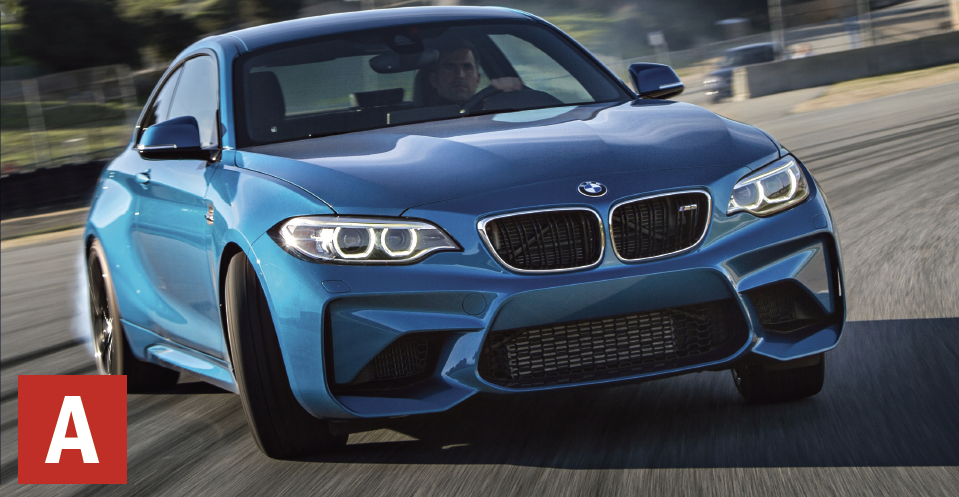 It's hard to go wrong with the M badge. BMW was never a stranger to the performance world, especially when the 1990s delivered some of the most popular BMW chassis that are built, tracked, and raced on a regular basis. Since then, the cars have gotten significantly heavier but also more powerful. Although the parts and tuning aftermarket for BMW models haven't matched the widespread popularity of other platforms, the truth is that there's little need to modify any M-badged BMW when it rolls out of the factory. Now that the 2, 3, 4, and 6 series models have received the M treatment, there's no question that the German brand aims to outperform the competition
1995 E36 M3 released…..B
1997 Z3 M released…..B
1999 E39 M5 released…..A
2000 E46 M3 released…..A
2006 Z4 M released……B+
2007 E90 M3 released…..B+
2011 F10 M5…..A
2014 F22 M2, F80 M3, F32 M4 released…..A
2016 BMW M2 becomes coupe only…..A
2018 BMW 550i xDrive …..A
Our recommendation:
When the M2 was announced, all eyes were on BMW. This car represents what BMW calls an "entry level" luxury car. However, its performance capabilities and its price at just over $50K should make the other OEs nervous, as the car is dangerously close to reaching a new market of consumers. We'd like to see BMW continue to explore what lends to the success of the M2 and roll with it.
---
Ford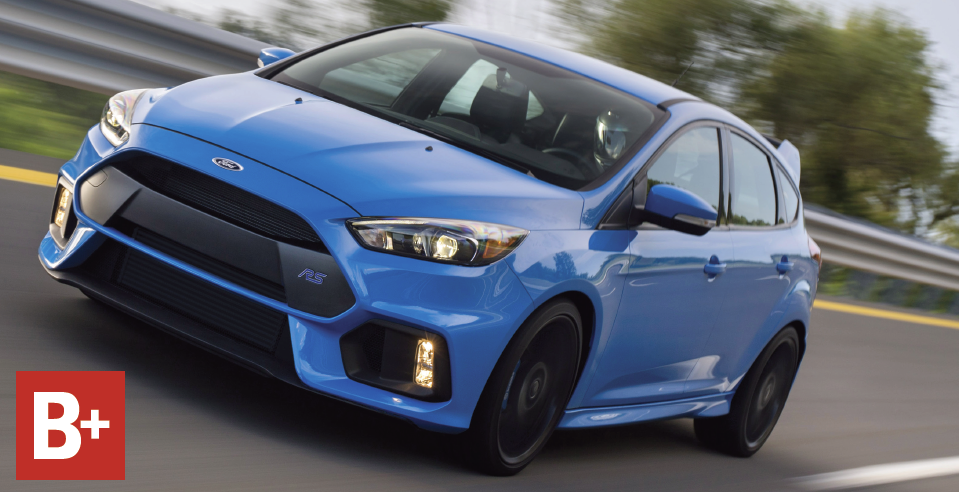 It's only been six years since we last graded the OEMs, and back then there was no mention of Ford. Suddenly, the famous blue oval is all over our radar. Ford's heavy push of the Focus ST and Fiesta ST certainly got our attention with their turbocharged small displacement engines. Then they rolled out the Mustang with the EcoBoost turbocharged 2.3L engine, quickly followed by the Focus RS brought stateside. We've been spoiled with so many excellent platforms in just the last few years. It's exciting to see a major manufacturer offer performance vehicles for multiple income demographics, built on multiple platforms with FWD, AWD, and RWD configurations so that there's something for everyone.
1994 SN-95 Mustang released…..D+
2005 D2C Mustang released…..C
2012 Focus ST released in U.S……B
2014 Fiesta ST updated w/ 1.6L EcoBoost…..B
2015 Gen 6 Mustang released w/ 2.3L EcoBoost, V6, and V8…..B
2016 Focus RS released in U.S……A
2018 Focus RS Limited Edition…..A
Our recommendation:
The 2017 Focus RS is one of the best recent cars we've driven. It gets nearly everything right with suspension, its Advanced Torque-Vectoring AWD system, and of course the 350 horsepower at your right foot's disposal. Unfortunately, Ford giveth and Ford taketh away, as the Focus RS is already due to end production in 2018. If Ford is going to take away what is arguably the company's best offering to the consumer-level performance market, we'd like to see them rework the branding for the EcoBoost Mustang. It's the first good-handling Mustang since, well, ever. The car could be a strong contender for a track day car, a straight-line drag racer, or even a drift car, but no one seems to know that and Ford isn't doing anything about it.
---
Honda/Acura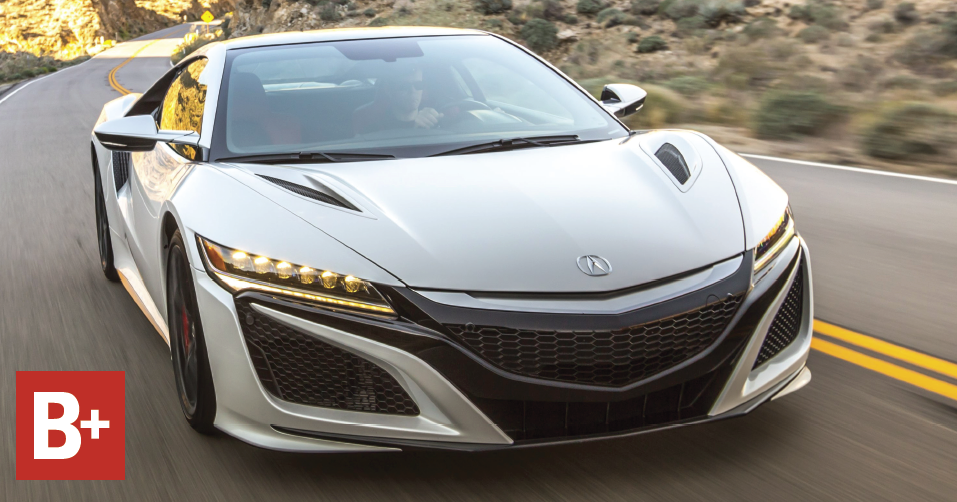 Last time we graded the OEMs, Honda/Acura earned itself an F. This of course pissed off a lot of people. The truth is that Honda at the time entered a dark period of boring cars following the death of the NSX and S2000. But the company is on its way to making a comeback. The NSX, although a hybrid, made its return in the form of a 500 horsepower mid-engine, AWD supercar. At the consumer level, the tenth-generation Civic is offered with a 1.5L turbocharged engine that, as we discovered in Issue #177, takes very well to aftermarket modifications. Honda more recently upped its game by bringing the Nürburgring record holder Civic Type R to the United States. There's some catching up to do from the shortcomings of the last decade, but Honda is definitely bringing it back.
1990 Acura releases NA1 NSX…..A
1992 EG Civic, DA Integra, BB1 Prelude…..C+
1994 DC2 GSR w/B18C VTEC released…..B
1996 EK Civic released w/ SOHC VTEC…..C+
1997 DC2 Type R released in U.S……B+
1999 EM1 Civic Si and AP1 S2000 available…..A
2001 EP3 Si released. Acura kills DC2 Type R…..C
2002 Acura replaces Integra with RSX…..B
2010 CR-Z hybrid released…..D
2016 2nd-Gen NSX, 10th-Gen Civic released…..B+
2017 Civic Type R released in U.S……A
Our recommendation:
Honda's on the right path, so we ask that the company doesn't stop now and lose momentum. The turbo Civic and Type R stand out as the company's current highlights and are earning our respect for the Civic name again. Although the NSX doesn't match the simplicity and spirit of the first generation model, there's no denying that the car is quick and gorgeous. So what's left? The sorely missed S2000. Rumors continually float around the industry that the S2000 will be back to celebrate Honda's 70th anniversary in 2018. The original S2000 was lightweight, RWD, and groundbreaking with its 240 horsepower VTEC F20C engine. If Honda can deliver a modern update to a similar concept, we'll have a lot to be excited for.
---
Mazda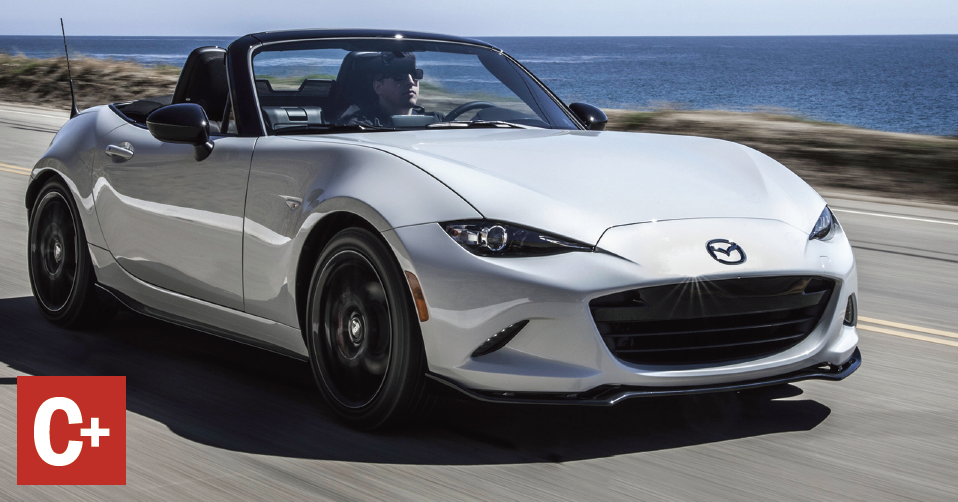 The RX-8 left a bitter taste for many enthusiasts that hoped to see a revival of what made the rotary-powered RX-7 great. The infamously poor engine reliability didn't help, either. Matters worsened when the beloved Mazdaspeed3 came to an end in 2013, leaving enthusiasts little to enjoy from Mazda except for the NC generation Mazda MX-5. Mazda did impress, however, with the introduction of the ND generation Mazda MX-5 in 2015. The new model delivered a complete redesign of the long-running Miata name, offering the lightest car since the first generation, along with a suspension design that lent to an incredible handling vehicle. Mazda proved that it was capable of building an amazing platform, but for some reason held back on the SKYACTIV-G power plant. It's 2017, and the best they can do with the 2.0L engine is 155 horsepower?
1990 NA MX-5 Miata released…..C+
1993 FD3S released…..A
2003 SE3P RX-8 released…..C
Buyback of RX-8
2006 Mazdaspeed6 released…..C
2007 BK Mazdaspeed3 released…..B
2010 BL Mazdaspeed3 released…..B+
2011 SE3P RX-8 final year…..C
2013 Mazdaspeed3 final year…..B
2016 ND MX-5 released…..C+
2017 ND MX-5 RF released…..B-
Our recommendation:
We've heard it a million times before, "the rotary engine is coming back," "the Mazdaspeed3 is coming back." Mazda has already stated that it's too "mature" for the Mazdaspeed3, so that's not happening. However, the manufacturer continues to hint that it's investigating new sports car concepts and designs. The RX-7/RX-9/RX-Vision concepts brought hope to many that the rotary engine will soon find its way back under the hood of the next sports car offering. Although unlikely, we can still hope. All that remains in Mazda's performance showroom is the MX-5 which, although a great car, only satisfies a portion of Mazda's loyal following. All we can do for now is beg and plead for Mazda to change their minds about the Mazdaspeed3, or to take a chance on something new and different for the sports car market.
---
Mitsubishi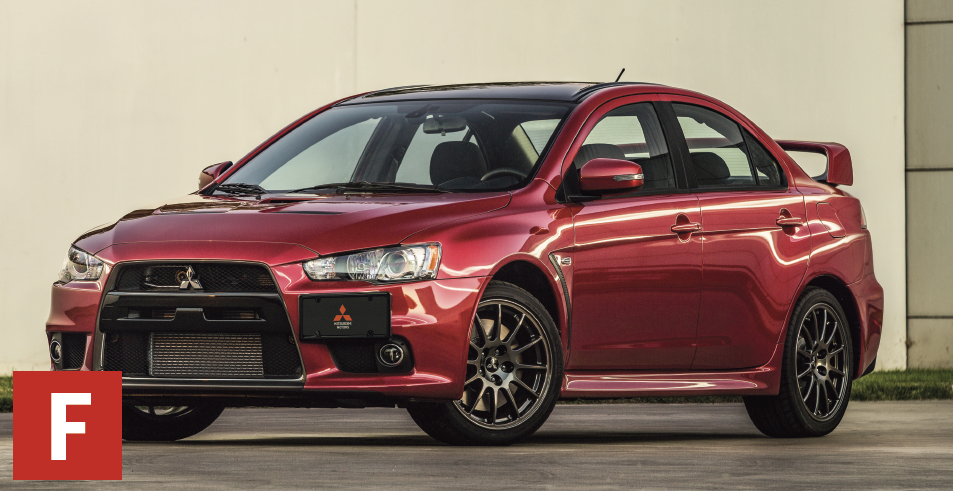 How did this happen? The popular EVO platform came into the United States with a bang, proving that Subaru wasn't the only AWD gang in town. The 4G63 followed by the 4B11T gave car owners and tuners a strong power plant with an even stronger aftermarket to support it. Unfortunately, Mitsubishi in North America struggled to sustain itself, leading to the closure of its North American production. As the dominoes fell, Mitsubishi announced the Evolution X Final Edition in 2015, cutting off its last performance vehicle offering. Not long after, Nissan announced a controlling purchase of Mitsubishi Motors. Although production in the United States came to a halt, the brand continues to sell vehicles here. As for what the future holds, we'll just have to wait and see.
1990 1G DSM and 3000GT released…..B
1992 1G DSM updates…..B
1995 2G DSM introduced…..B
1997 2G DSM and 3000GT updates…..B
2000 3G Eclipse FWD released, 3000GT final year…..D+
2003 CT9A  EVO VIII released in U.S……B+
2006 CT9A EVO IX w/ MIVEC,4G Eclipse FWD released…..A
2008 CZ4A EVO X released…..A
2012 Eclipse discontinued
2015 EVO discontinued with Final Edition
2015 North American operations close
Our recommendation:
There isn't much that we can suggest from here; Mitsubishi has hit a new low. One of the heads at Mitsubishi recently stated in an interview that the Evolution will have a successor. While this sounds good at first, he added that it won't happen for another six years and that it will likely be in the form of a crossover. The company needs some time to rebuild itself before it can offer performance models again, which is understandable. Six years is a lot of time for hype to build, revisions to take place, and opinions to change, so we sincerely hope that the wait is worth it. We just hope that the new model is worthy of the Evolution name, and that Mitsubishi returns to its rally-inspired success of performance sports cars again.
---
Nissan/Infiniti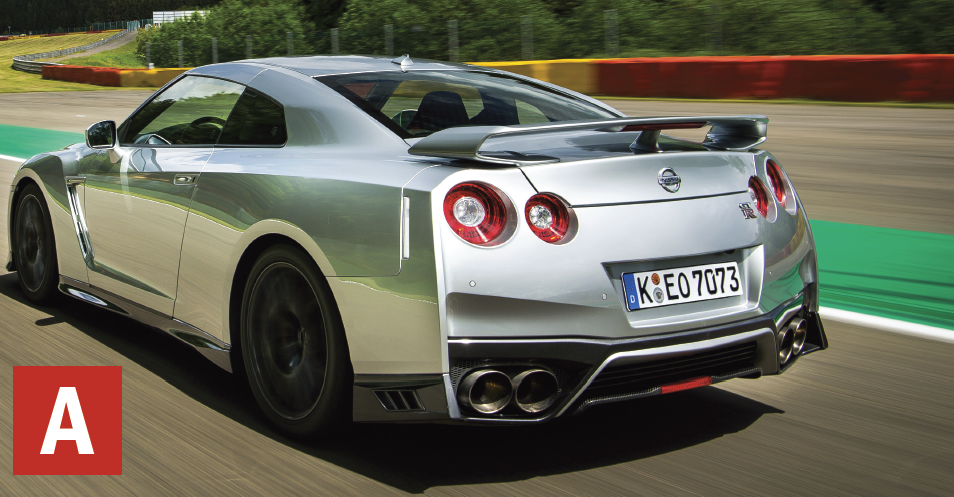 The Nissan brand has delivered nearly nothing new since the introduction of the 370Z and R35 GT-R. Then again, can you blame them? The R35 GT-R has held high rank among sports cars in its price range, with great performance capabilities out of the factory and unbelievable power ability with its strong aftermarket support. The R35 has taken to a few mid-cycle updates and performance bumps, but still remains very similar to the debut model year. It's still a strong contender in today's upper tier performance cars, but we hope we'll see a bigger update eventually. On the Infiniti side, the Q50 and Q60 models grabbed our attention with a new home for the VR engine. With a familiar engine family and 400 horsepower out of the box, we have high hopes that these models will really take off and influence the aftermarket support they deserve.
1990 300ZX Z32 release…..B+
1991 240SX S13 revision w/ DOHC version…..B
1995 300ZX Z32 discontinued, 240SX S14 introduced…..B
1997 240SX S14 cosmetic upgrade…..B
1998 240SX discontinued…..B
2003 Z33 350Z introduced…..C+
2009 Z34 370Z, G37, R35  GT-R introduced…..A
2014 Q50 and Q60 introduced…..B+
2015 NISMO GT-R model released…..A
2017 GT-R updates…..A
Our recommendation:
The R35 is still largely unrivaled in its class, so we have no problem with Nissan riding that wave for a while. As for the 370Z, the platform has run its course. We'd like to see Nissan either kill or update the 370Z, and to quit bumping prices up on what is essentially the same car it was nearly 10 years ago. It's really the Infiniti side that's recently built our excitement, as there is so much potential in the Q50 and Q60 models. We'd like to see Infiniti push for some branding and recognition for these models sporting the VR engine. These cars are on their way up into hitting serious mainstream success, all that's left is for the right buyers to become interested and for the aftermarket to follow.
---
Subaru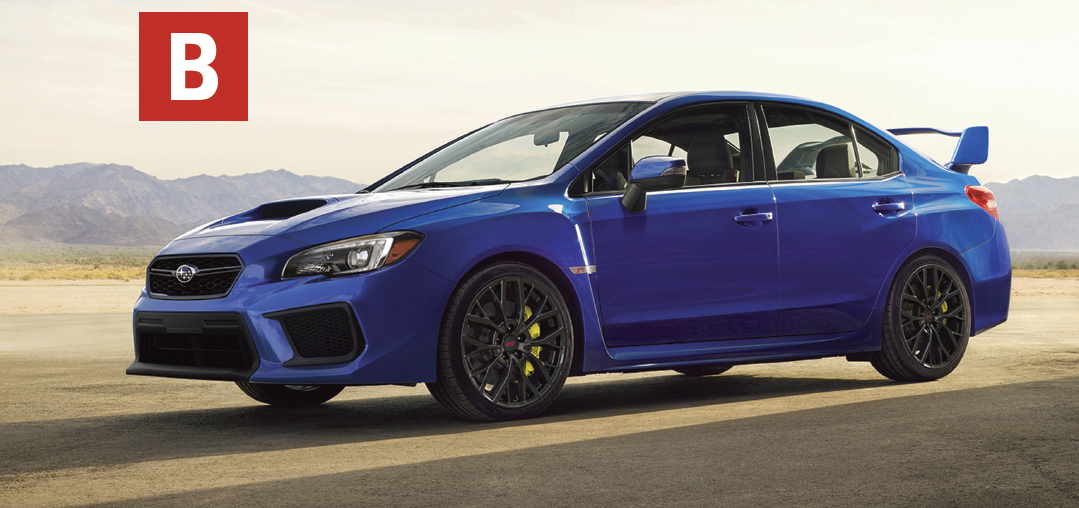 The past few years unveiled the joint Subaru and Toyota project in the form of the 86/BRZ/FR-S, as well as a new generation of the WRX and STI. The BRZ was a welcome concept to the industry, offering a fun driving experience in a low, lightweight, two-door sport compact. Although a bit underpowered, the car sits on a strong chassis and suspension and is supported with limitless aftermarket options. The new sedan-only VA chassis for the 2015 model WRX and STI introduced a significantly stronger performing chassis than ever before. Under the hood, the WRX carries the turbocharged variant of the new FA20 2.0L flat-four. This proved to be a huge step up from the past turbo EJ engines that the car carried before. Although the WRX model received an engine update, the STI trim still employs the same turbocharged EJ257 of previous years. It's a known and well-supported engine platform, but its age is starting to show. With the STI model starting at $36K and the WRX trim at nearly $10K less, the closing performance gap for the VA generation makes it difficult to justify the cost of the STI.
2002 GDB WRX released…..B
2004 GDB WRX STI released…..B+
2008 GRB WRX STI – wagon only…..B
2011 GRB WRX STI – sedan option…..B
2012 BRZ introduced…..B+
2015 VA WRX and STI – sedan only…..B
2017 BRZ Performance Package…..B
2018 VA WRX and STI updates, STI Type RA and BRZ tS…..B+
Our recommendation:
The BRZ is a blast to drive and is a great car for the price, but the automotive fanbase has been extremely vocal about its cravings for more power. The BRZ has received regular updates throughout its life, but even the most recent tS isn't enough. We've tested numerous BRZs on track and on the dyno to discover that forced induction brings the car to near perfection. We hope that Subaru will eventually give the BRZ the treatment it deserves. We sorely miss the hatchback WRX and STI, and thankfully it sounds like one will be on the way in just the next couple years. As for the engine, it's still an unknown. We hope that the delay to packing an FA turbo engine into the STI is due to ongoing R&D, because the car is overdue for an update. When that happens, the STI will surely be a force to be reckoned with.
---
Toyota/Scion/Lexus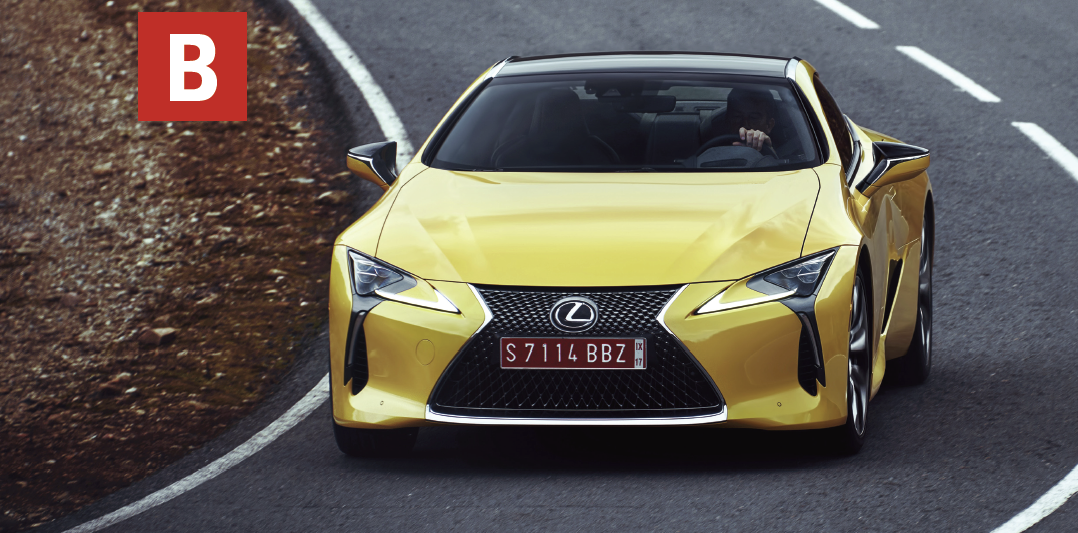 There's been a lot going on around the Toyota brands since 2010. In this time, Toyota and Subaru put together the joint project that led to Toyota's and Scion's 86 and FR-S offerings. Just a few years later, however, Scion closed its doors for good in 2016 and took the tC model with it. At least the 86 gets to live on under the Toyota name. In the meantime, Lexus has been busy rolling out more performance models than we can keep track of. The Lexus F marque rolled out in the late 2000s, only to be continually updated with revisions and new models through today. Lexus is out to prove that it is more than just luxury, especially with the latest model LC500 that carries a 5.0L V8 that produces 471 horsepower and nearly 400 lb-ft of torque. Although Lexus is diving in head first with luxury performance vehicles, it feels like the luxury aspect is still taking precedence as most of these cars still feel heavy and lacking for a raw driving experience. Customers will find that they are largely paying for the luxury component, as the performance per dollar still isn't even in the same realm as the competition in its class.
1990 SW20 MR2 Turbo released…..B
1993 JZA80 Supra MKIV Twin Turbo released…..A
1995 SW20 MR2 Turbo final year…..A
1998 JZA80 Supra MKIV final year…..A
1999 ZZT231 Celica released…..C+
2000 MR-S released…..B-
2004 FW21 Scion tC released w/ 2AZ-FE…..C
2008 ISF released…..B
2011 AGT20 Scion tC released w/ 2AR-FE…..C
2012 FR-S/86 released…..B+
2014 RC F released…..B
2015 GS F released…..B-
2016 Scion brand is discontinued
2018 LC 500 introduced…..B
Our recommendation:
A new Supra is in the works, which is reason enough for us to be both excited and nervous for Toyota. Reviving such an iconic name in the industry is a risky move, but can be a godsend if done right. All that we ask here is that Toyota doesn't screw it up. Keep it a two-door, front-engine, rear wheel-drive beauty with a durable engine and we'll be happy. On the Lexus side, we have to commend the brand for working so hard at producing sports cars that stand out in any setting. However, Lexus has some hard decisions to make. The price range of these Lexus models puts the brand's cars up against the likes of BMW, Cadillac, Jaguar, Mercedes AMG, and even entry-level Porsche 911s. In most of these cases, the Lexus models don't have as much to offer in terms of performance. Whether it's a change in pricing structure or simply making the cars quicker, Lexus needs to either offer more bang for the buck or just admit that luxury is still the brand's primary focus.