What should your next upgrade be? Asking yourself this question can send you down a rabbit hole of unnecessary and expensive mods if you're not careful. So before window shopping catalogs and forums for new parts, decide first what you want to do with the car. If you plan to track your car with HPDE and similar track day events, then wheels, tires, and brake upgrades should top your to-do list. In the way of brakes, new hardware in this area becomes essential not just for stopping power, but for heat tolerance and longevity to withstand the abuse of the race track.
Text by Cameron Parsons // Photos by Joe Singleton
DSPORT Online Content
---
Track Prep
One of our more recent projects in the D'Garage is the 366,000-mile AP1 Honda S2000, introduced in DSPORT Issue #184 where we began preparing the car for track use. This started with regular, much-needed maintenance on items such as the bushings, ball joints, motor mounts, hoses, and clutch. With the majority of these essentials out of the way, we could move on to more performance-oriented upgrades. The car was already running on 255/40R17 Nitto NT05 tires mounted on 17×9.5 Volk Racing CE28 wheels, so our first priority was the braking system.

Front Brake Upgrade
Given the D'Garage S2000's intended purpose of mixing streetability with track-readiness, we aimed specifically for a front big brake kit for the car. While there are plenty of upgrade packages available to change out the braking components at all four corners, there are some advantages to increasing the capability of only the front end. For anyone on a budget, the most obvious advantage is having to pay for only half of the hardware, as opposed to buying a set of four rotors, calipers, pads, and lines. With this setup, there's a good chance you'll still end up with capable enough brakes to satisfy 99-percent of your needs.
But what about the balance of the car? In road racing, cars like to run with extra brake bias set to the front end. This setup provides a few advantages to the car and driver. First, deceleration shifts weight toward the front of the car. This plants the front tires harder onto the pavement, delivering more grip and thus greater stopping ability. In turn, this also reduces rear end grip. By increasing the workload of the front brakes relative to the rear, this maximizes available stopping power and ensures extra stability under braking. If the rear brakes and tires ever experience lockup, the rear end will try to come around and send the whole car spinning in circles. For the track day enthusiast, and even many built race cars, upgrading only the front brake components works great. On our D'Garage S2000, we turned to NEO Motorsport for its Front Big Brake Kit offering.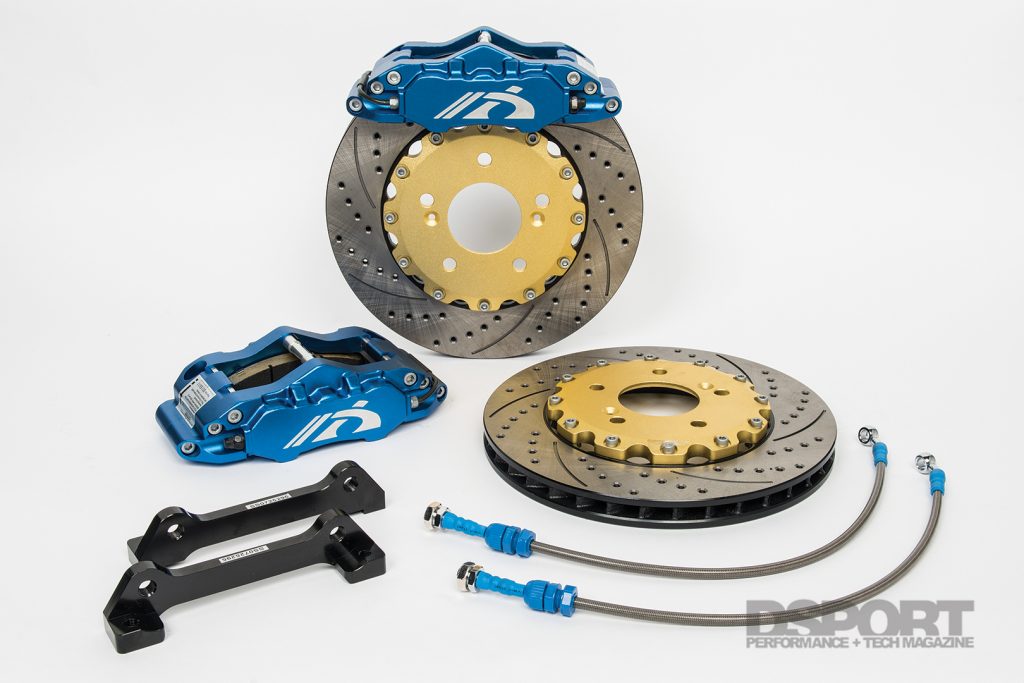 Neo Motorsport S2000 Front Big Brake Kit
NEO Motorsport offers an ever-expanding list of applications for brake upgrades. Its caliper lineup includes the F300, F400, F500, and R400 Series models, covering a broad range of vehicles and purposes from simple street upgrades to GT and endurance racing hardware. In the case of our D'Garage S2000, the F300 Series calipers as part of the Front Big Brake Kit would more than suffice. This kit replaces the factory single piston floating calipers with significantly larger four-piston forged aluminum alloy components, along with 12-inch rotors to take the place of the stock 11.22-inch ones. Adding to durability and improved pedal feel, the kit also includes steel-braided lines and NEO Motorsport SP600 Brake Pads.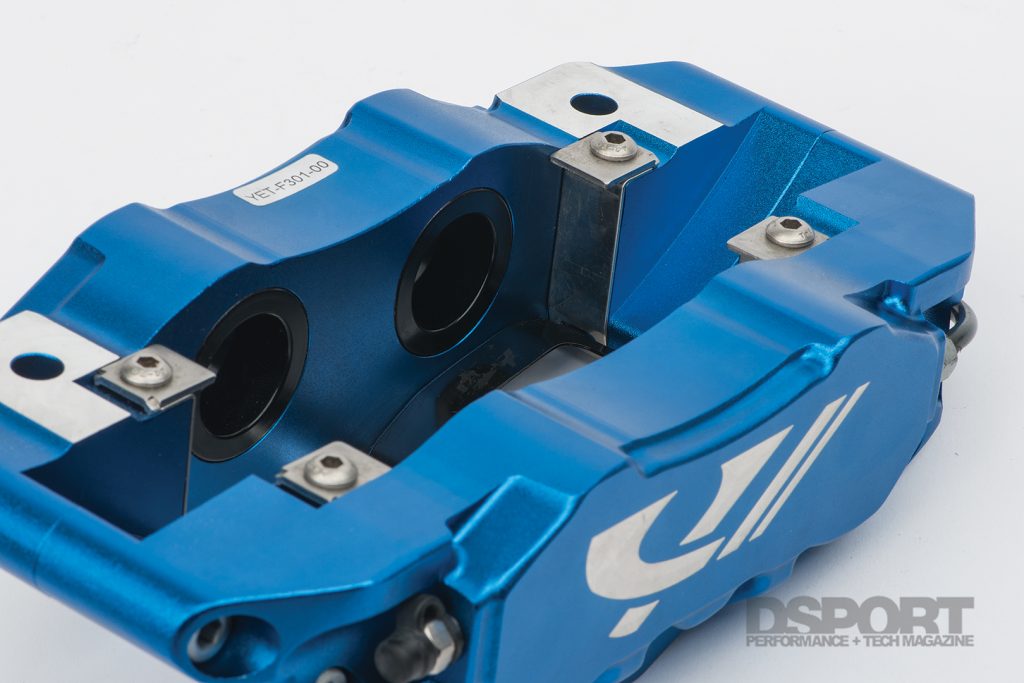 As far as sizing goes, there isn't much different about the NEO Motorsport option versus other brands. Where NEO really prides itself is in the finer details of its product design and construction. The two-piece calipers are hot forged from AL6061-T6 billets with up to 42,000psi tensile strength and 35,000psi yield strength. They also go through 500 million complete reversed cycles tested on an RR Moore test machine and specimen. As for keeping the debris out and the fluid in, the calipers utilize a twin-seal design around the pistons. Special polymer seal grooves sit within the caliper seals to prevent outside contaminants from getting in, while an inner, air-tight pressure seal eliminates any chance of fluid escaping. On top of added strength and durability improvements, the NEO calipers weigh in at just 5.2 pounds each, nearly 5 pounds lighter than the factory equipment.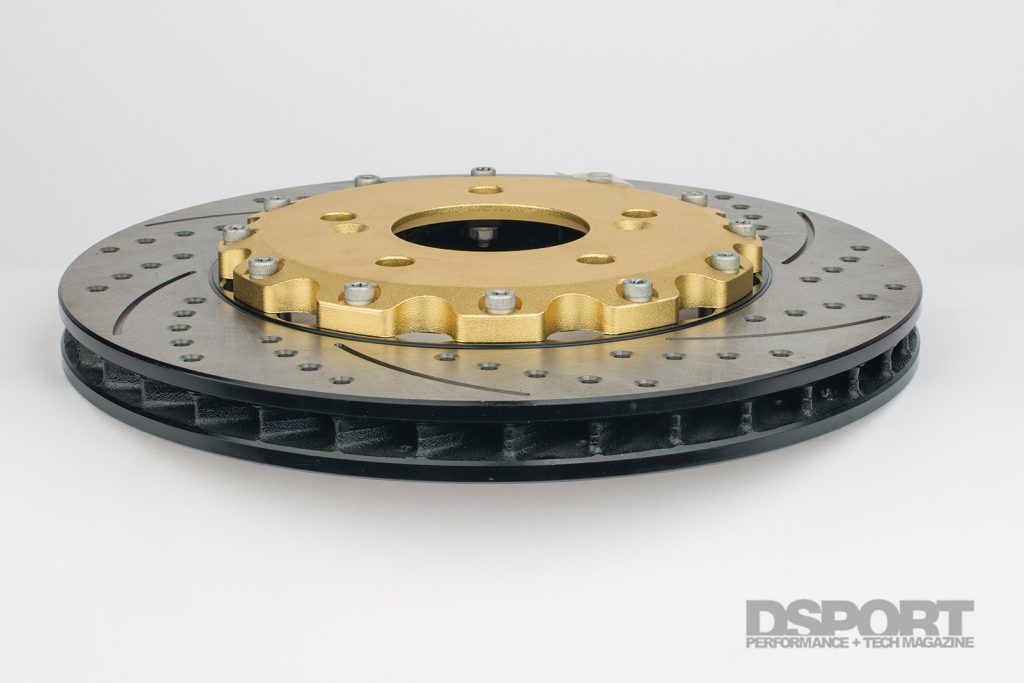 The NEO Motorsport 12-inch rotors are intended for use on both the street and track, so consistency and heat tolerance are high on the priority list. The rotors are constructed from FC250 grey cast iron, designed with a high graphite micro-structure, intended to reduce solidification shrinkage and therefore less chance of warping rotors. While the rotors don't save as much weight at only a 1.5-pound advantage over factory equipment, the material, ventilation, and cross-drilled holes and slots on the face offer much more capable cooling. With overall significant weight savings, more durable braking hardware, and increased pad area now up to 5,190 square millimeters, we expect the car to be well-prepared for track use.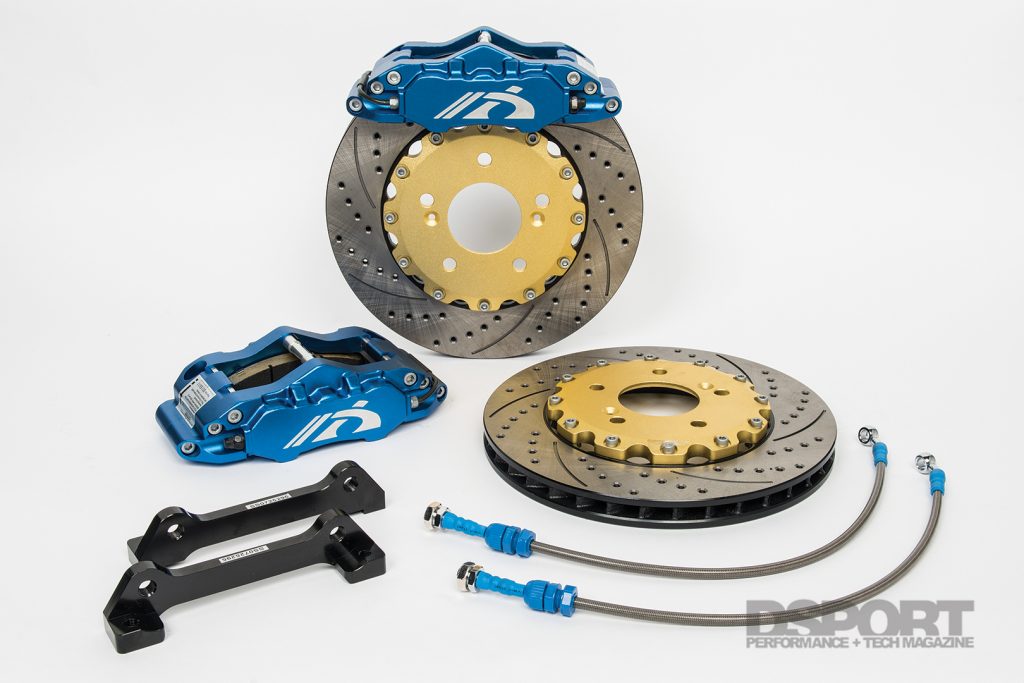 Road Tested
While we await the S2000's next trip to the race track, we've had some time with it to see how it fares for street use. The increased caliper size and piston area is plenty to increase stopping power without affecting pedal feel and travel, especially with the help of the steel-braided lines. Pad noise thus far is kept to a minimum, however, we have found some brake squeal begin to develop if we really start to build some heat from repeated stops. It's louder than your typical street pad, but still nowhere near what you'd find on race-specific pad materials. So far, the NEO Motorsport S2000 Front Big Brake Kit appears fit for our D'Garage project without at all going overkill, only improving the car's streetability as opposed to hurting it. We can only estimate that performance on track will make strides as well. Stay tuned as we put this S2000 to the test later on.