TURN 14 DISTRIBUTION ADDS ALCON COMPONENTS TO LINE CARD
Text By Turn 14
Horsham, PA (June 19, 2019) — Turn 14 Distribution, the industry leader in performance parts distribution, has added to its line card with the introduction of brake systems from Alcon Components.
"The addition of Alcon Components and its high-quality line of direct-fit big brake systems offers Turn 14 Distribution's customers a one-stop solution for the specific vehicles the company supports," said Kyle Shelley, Turn 14 Distribution's Director of Sales.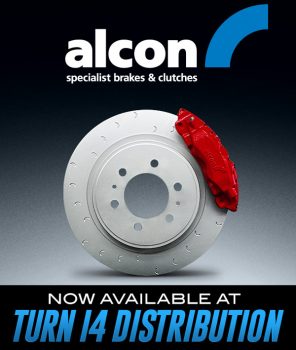 "Kits are available to fit the Jeep JK and JL platforms, the BMW M3 F80 chassis, and Nissan Skyline GT-R R35. Alcon has also developed the leading big brake kit on the market for the Ford F-150/Raptor, and has plans to continue adding to this product line in the future, with F-250/F-350 kits coming later this year, among others."
Alcon has been at the forefront of motorsport braking innovation for over 30 years. Established in 1983 by engineer and sports car racer John Moore, Alcon initially made brakes for Audi Sport's Group B Quattro rally cars. Today the company provides braking solutions for the top echelons of motorsport, all from its factory and HQ in Tamworth, England. They supply parts around the world to customers who demand the very best, not only in motorsport but in the OEM and performance after-market sectors, too.
Whether supplying innovative race-winning technology to teams in F1, or providing the stopping power for Sébastien Loeb and Citroën to take seven successive World Rally Championship Driver's titles, Alcon learns and applies its expertise at the very pinnacle of motorsport. The company's latest involvements include some of the best teams in World and Global Rallycross, all cars in the Formula E series, and a number of teams in the off-road series of America.

About Turn 14 Distribution
Founded in 2007, Turn 14 Distribution is a leading Performance Warehouse Distributor. It offers a range of proprietary online tools like real-time inventory, exact shipping quotes, international shipping quotes, and manufacturer-direct drop-shipping. Turn 14 Distribution's goal is simple; to serve as a true resource and provide consistently exceptional service to all of its customers. For more information about Turn 14 Distribution, visit its website at www.turn14.com.